Fall is the perfect time for pumpkin desserts, and this dairy free and vegan Pumpkin Cheesecake is a great decadent treat for fall parties or a weekend indulgence!
Well friends, it's happened… the recipe I've been thinking about for a couple years has finally made it into a blog post!
Every month, I make a list of recipes I want to add to the blog, but they don't always get made. This dairy free and gluten free Pumpkin Cheesecake is a recipe I've been dreaming of for a while now, but just hadn't made it until now.
Better late than never I say, especially when it comes to dessert! 😉
This dairy free Pumpkin Cheesecake is quite rich, so you might want to cut these into smaller pieces. We topped our slices with a dollop of non-dairy coconut Reddi Wip, but you can even add a drizzle of chocolate syrup if you want.
Or eat it plain – it's still amazing by itself!
How to make Gluten Free Vegan Pumpkin Cheesecake
On one of our last cheesecake recipes, people would ask about good substitutions for Daiya cream cheese. I haven't made these recipes with a different brand of non-dairy cream cheese since Daiya fits our allergies, but since this recipe is no-bake, I bet any plain dairy free cream cheese would work in this recipe.
The same goes for the So Delicious CocoWhip: if you have coconut allergies, you can find a different brand of non-dairy whipped cream to use if you like, just make sure that it holds it's shape well, or your pumpkin cheesecake won't be firm enough.
Reddi Wip just came out with some new non-dairy whipped creams made with either coconut or almond (the coconut version is on top of the cheesecake). I haven't tried the almond version yet, but the coconut Reddi Wip is not too bad, it is very coconut-ty tasting.
I like the So Delicious CocoWhip better since it doesn't have as strong a coconut taste as the Reddi Wip coconut whip does, but out Walmart carries the non-dairy Reddi Wip to it's nice to get in a pinch if the health food store is closed since that's the only place in our town I can buy So Delicious CocoWhip.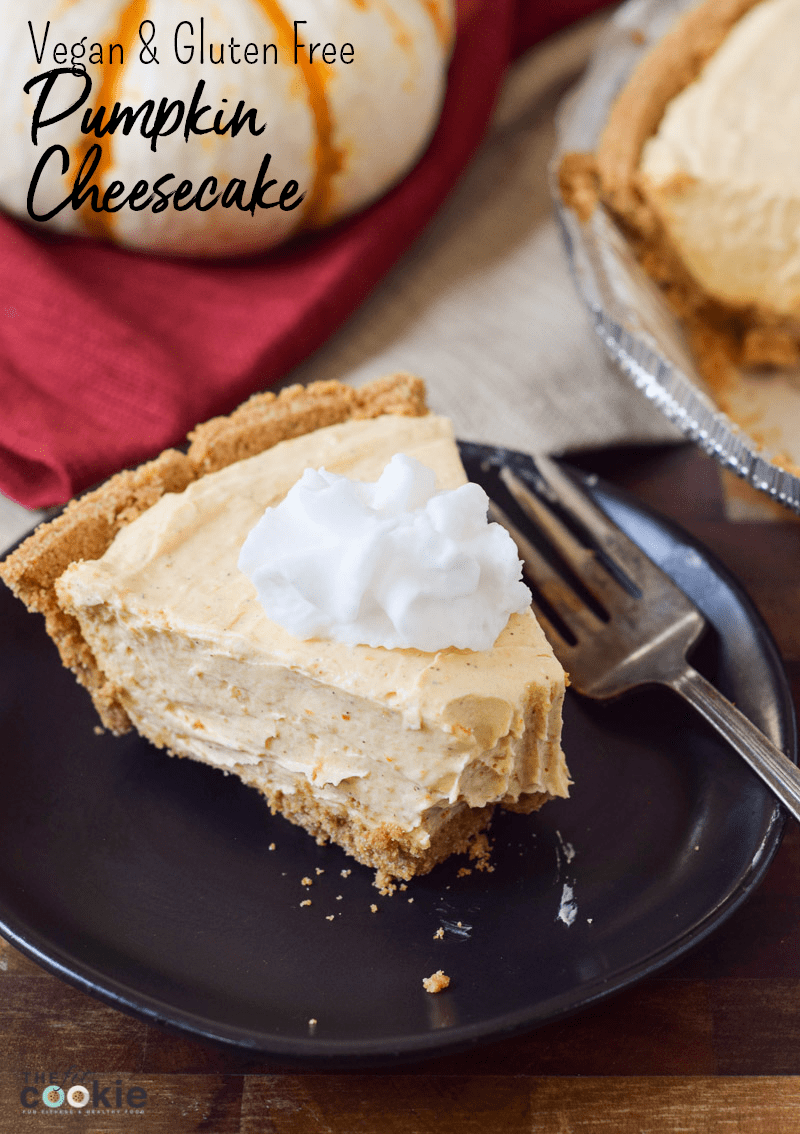 For the crust, I used the Mi-Del gluten free graham crust for this recipe, and it tastes really good, but it is a bit crumbly. They also make a gingersnap cookie crumb crust that would be great in this recipe, too, if you want a bit more spice.
If you have a favorite homemade graham crust, that would also work great in this recipe! I like fewer steps in recipes, so the prepared crusts work great and still fit our allergies.
Kitchen tools you'll need for this recipe:
Check out our other no-bake vegan cheesecakes made without cashews!
Vegan Pumpkin Cheesecake (Gluten Free)
Fall is the perfect time for pumpkin desserts, and this dairy free and vegan Pumpkin Cheesecake is a great decadent treat for parties or anytime!
Gluten free, vegan, dairy free; Free of: eggs, soy, peanuts, tree nuts (except for coconut)
Print
Pin
Rate
Instructions
In a medium bowl, beat the Daiya non-dairy cream cheese with a hand beater or stand mixer until smooth.

Add the pumpkin puree, powdered sugar, pie spice blend, vanilla, and 1/2 the container of CocoWhip to the Daiya cream cheese and beat until smooth and blended completely.

Using a spatula, fold in the other 1/2 of the CocoWhip container into the cream cheese mixture until blended.

Spread the pumpkin cheesecake filling into the Mi-Del gluten free crust, cover, and chill for about 6+ hours until the cheesecake is set.

Slice into 8-10 slices and serve (this is rich, so smaller slices are best). Enjoy!
Notes
*Any non-dairy cream cheese should work in this recipe
** So Delicious CocoWhip is a non-dairy coconut-based whipped cream 
Nutrition
Calories:
293
kcal
|
Carbohydrates:
29
g
|
Protein:
2
g
|
Fat:
18
g
|
Saturated Fat:
10
g
|
Polyunsaturated Fat:
0
g
|
Monounsaturated Fat:
0
g
|
Trans Fat:
0
g
|
Cholesterol:
0
mg
|
Sodium:
92
mg
|
Potassium:
18
mg
|
Fiber:
0
g
|
Sugar:
15
g
|
Vitamin A:
1400
IU
|
Vitamin C:
0.4
mg
|
Calcium:
2
mg
|
Iron:
0.1
mg
Did you make this recipe?
Share a photo on Instagram and tag us @TheFitCookie!
Sarah Jane Parker is the founder, recipe creator, and photographer behind The Fit Cookie. She's a food allergy mom and healthy living blogger based in Wyoming. Sarah is also an ACSM Certified Personal Trainer, ACE Certified Health Coach, Revolution Running certified running coach, and an ACE Certified Fitness Nutrition Specialist