In today's world, it's a bit harder to get outside since so much of our work, community activities, and workouts are often indoors. But making the time to get outside can have many health benefits! Here are 11 health benefits of being outdoors and easy ways to add more outdoor time to your day.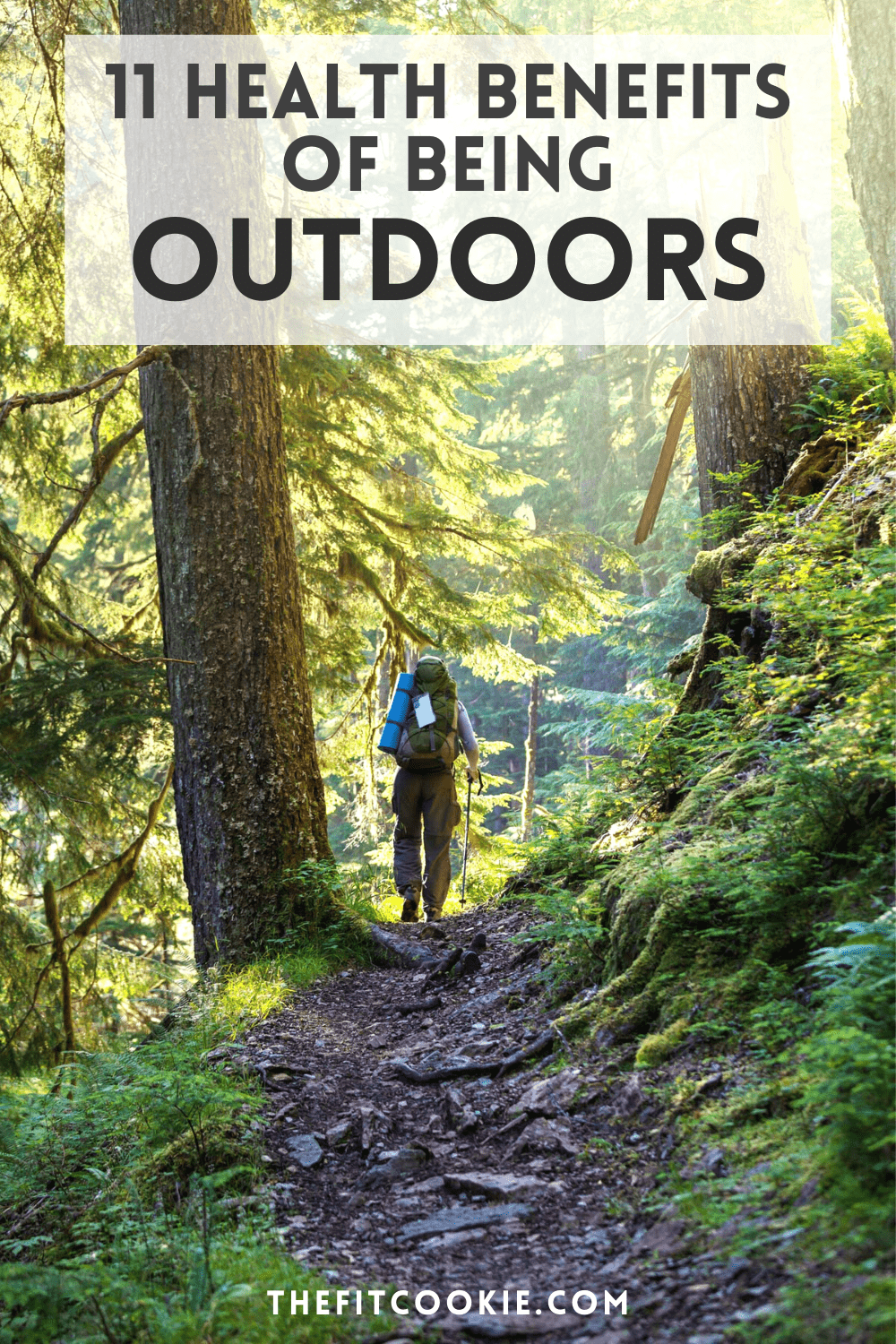 Hey friends, I wanted to take a break from our regular posts and share a guest post with you today about the benefits of being outdoors.
I know I've mentioned this before, but we're living in some really weird and unprecedented times right now, and so many things in our daily lives feel like they're completely turned upside down.
One thing that many of us can do right now that can help just a little is spending some time outdoors each day or each week, whether it's taking a walk in our neighborhood or just sitting on our doorstep soaking up some sunshine.
Right now, our mental health is being regularly challenged by the frustrations we're dealing with, and stepping outdoors can play a role in keeping us mentally and physically healthy.
Enjoy the read and stay healthy, friends!
---
11 Health Benefits of Being Outdoors (and ways to add more outdoor time to your day)
Written by Hank Gulbrandsen, Brays Island Plantation
Mom always said spending time outside, especially in green spaces (near trees or other vegetation) or blue spaces (near a body of water), is the quickest way to improve your health and happiness.
But what's the science behind your mom's advice to get outside? Let's explore 11 unique health benefits of being outdoors so you can reap the many mental health and physical health benefits.
Health Benefits of Being Outdoors
1. Improved mental health
Even just being exposed to trees and other features of the natural world can improve your mental health. A recent survey published in the journal Frontiers in Psychology compiled a long list of mental health benefits associated with time spent outdoors, including:
Improved cognition in children with attention deficits
Lower levels of stress
Reduced symptoms of depression
Reduced symptoms of anxiety
As mental health forms an essential bedrock of happiness and well-being, these benefits are a great reason to enjoy the outdoors.
2. Increased physical activity
Individuals who spend more time outside are often more physically active. In turn, physical activity is associated with a significant number of health benefits, including reduced risk of premature death and many chronic diseases.
Check out our tips for beginning runners!
3. A sense of connection to your environment
Any relationship is built on time spent together. When you spend time outside, you build a relationship with the local environment and get in touch with nature.
You might find yourself more connected to and knowledgeable about the local wildlife. You may discover that you have a deep and abiding love for natural history or fossil-hunting, beekeeping or mushroom foraging.
4. Boosted self-esteem
Even five minutes of outdoor exercise can boost your self-esteem and sense of well-being, according to recent research. Water and greenery help to enhance these self-esteem-boosting effects.
Maybe it's the sense of moving through a meaningful outdoor space that's rich with life. Maybe it's feeling your body power you through an activity you enjoy. Either way, it's good for you!
5. Increased Vitamin D Levels
Vitamin D deficiency is linked to a loss of bone density, osteoporosis, rickets and weak muscles, as well as some autoimmune conditions.
Spending time outside is a natural way to boost your vitamin D levels and reap the benefits, which include:
Promoting healthy immunity
Improving nerve and muscle function
Effectively absorbing calcium
6. Stress reduction
Stress is linked to a rise in cortisol – one of the body's stress hormones – as well as an increase in both blood pressure and inflammation.
Not only can spending time outside reduce stress and lower levels of cortisol, but it can also lower your blood pressure and reduce inflammation.
This can improve your sleep, boost your energy and leave you feeling happier and healthier.
Try yoga outside with our favorite relaxation yoga poses
7. Quicker healing
A 2005 study at the University of Pittsburgh states that spinal injury patients who spent more time in natural light reported lower levels of pain, fewer uses of pain medication and lower stress levels.
This seems to show that natural light can promote quicker healing. While more studies are needed to establish a causal link between time spent outside and decreased healing time, it's certainly promising.
8. Improved cognition
Not only has time spent outside been linked to increased cognitive function in children with attention deficits, but it's also been linked to a long list of cognitive improvements across the board.
Simply taking a walk outdoors can reduce rumination, the repeated circling over negative thoughts, and calm the fight-or-flight response.
This, in turn, can help improve memory, critical thinking and problem-solving, helping you to function more effectively throughout other areas of your life.
9. Reduced risk of chronic disease
Time spent outside is often linked to increased levels of physical activity which, in turn, is linked with the reduced risk of a number of chronic diseases such as metabolic syndrome, obesity, insulin resistance, type 2 diabetes, coronary heart disease, stroke, congestive heart failure, and more.
Scientists also believe that breathing in phytoncides, which are produced by plants, increases white blood cell count levels to help fight off infection.
10. Improves Seasonal Affective Disorder (SAD)
Shorter days and less daylight in the winter can trigger Seasonal Affective Disorder (SAD). Spending time outside, even if it is overcast, can improve the symptoms of anxiety and sadness.
Some research has shown that people with SAD tend to need more light than study controls, so often people with SAD may still need supplementary light in the winter, but natural light still helps!
11. Improved sleep
Scientists at the University of Colorado discovered that camping recalibrates your body's circadian rhythm to help you overcome insomnia.
Even walking barefoot for a few minutes outside can improve your sleep due to grounding with the Earth's surface electrons.
"Earthing" or grounding with the earth's electrons is a new fairly new concept and seems to be beneficial, but needs more research to establish proven health benefits.
Check out more of our tips for better sleep!
Want to enjoy more of these outdoor benefits for yourself?
Here are some ways to incorporate the benefits of the outdoors into your everyday life:
Take your everyday life outdoors
Getting outside doesn't have to be a massive step. Have emails to answer? Take your phone or tablet outside, even if it's just to the patio or a parkside bench.
Take lunch breaks or your breakfast outside and savor the fresh air for a few minutes before heading back indoors.
Time it right
Are the mornings and evenings frigid in the fall and winter? Is the lunch hour unbearably hot in the summer? Try timing your outdoor ventures.
In the summer, venture outside in the morning and evening hours when the sun isn't too intense. In the cooler months, try to head outside when the day reaches its warmest point to keep it comfortable.
Take walks
Walk where you can, even if it's just to the grocery store or the pharmacy. Try to spend as much time in green spaces as possible: spaces with trees, grass, flowers or bushes.
Alternatively, spend time near the water. Take a stroll along your city's river on your lunch break or walk through a nearby outdoor education center and get in touch with nature.
Stop and smell the roses
Research shows that scents like pine, roses, and freshly cut grass provide natural aromatherapy to make you feel more relaxed.
Learn a new skill
Taking up a new hobby such as how to shoot trap, ride a horse, or take photos of wildlife provides the double reward of learning a new skill and spending time outside.
Final thoughts
If you need the motivation to make time to get outside, consider how spending time outdoors is linked to many health benefits. It can leave you feeling better mentally, emotionally and physically.
Find ways to incorporate the outdoors into your everyday life and share the many benefits with your friends and family. You might find that Mother Nature is one of the greatest healers.
Sarah Jane Parker is the founder, recipe creator, and photographer behind The Fit Cookie. She's a food allergy mom and healthy living blogger based in Wyoming. Sarah is also an ACSM Certified Personal Trainer, ACE Certified Health Coach, Revolution Running certified running coach, and an ACE Certified Fitness Nutrition Specialist