Cozy up in chilly weather with this delicious and allergy friendly homemade Cappuccino Mix. It's dairy free, gluten free, and can be made low sugar, too!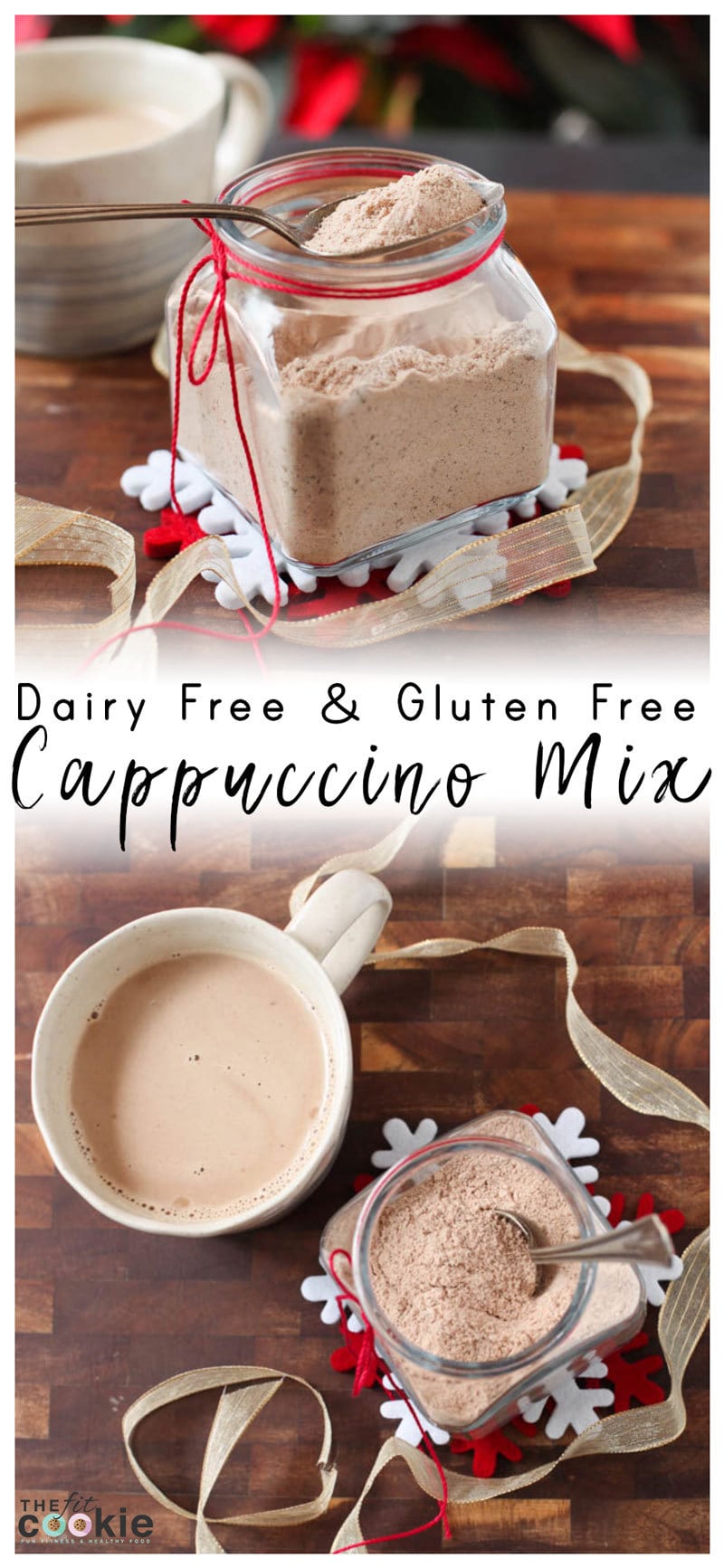 Chilly days call for hot drinks and a warm fireplace, or at least Netflix and a warm blanket 🙂
Oddly enough, our weather the past couple weeks hasn't been super cold (40's mostly), but it's been chilly enough for me to crave some hot teas, hot coffees, and my favorite homemade dairy free hot Cappuccino Mix.
This recipe is slightly adapted from a recipe from Taste of Home. They had featured a recipe for cappuccino mix back in 1993 that my mom would make all the time. I copied down the recipe years ago and found it again a couple weeks ago and decided to remake it allergy friendly.
my version of the cappuccino mix, I didn't add any cocoa mix since I didn't have any dairy free cocoa mix made up, but you can add 1-2 Tablespoons of cocoa powder to this mix if you want to have a bit of chocolate. I think it tastes great without it, so I left it out.
Making low sugar (or sugar free) cappuccino mix
My dairy free Cappuccino Mix can also be made low sugar, but with the creamer I use it's not completely sugar free since the Simple Truth coconutmilk creamer still has a little bit of sugar in it (2 grams of sugar per serving). You can make this recipe low sugar by replacing the sugar with baking stevia as noted in the recipe.
You can also make this cappuccino mix lower sugar by using half sugar and half baking Stevia. I've made this recipe with all varieties: sugar only, stevia only, and half-sugar-half-stevia and they all taste great.
If you're not a fan of stevia, you can try a monk fruit, xylitol, or erythritol powder instead (although I wouldn't recommend the erythritol or xylitol powder if you have IBS). Another way to make this is using palm sugar, date sugar, or maple sugar instead of cane sugar. I haven't tried these variations myself, so I'm not sure how they would taste in this recipe.
You can make this mix completely sugar free if you use a different powdered dairy free creamer than the Simple Truth creamer I use and a sugar-free natural sugar alternative. If you try this recipe with a different brand of creamer, let me know in the comments how it turns out!
Printable Gift Labels
I'm adding some fun to this post and recipe: printable gift labels to go with this cappuccino mix! This mix makes a great gift for friends who have food allergies and like to eat healthier. Just download the PDF and print them on nice card stock, cut out, and attach how you like to your jar.
You can add a "to/from" on the back of the label, or add an ingredient list so your giftee knows what the ingredients are (super helpful if they have allergies).
Just make sure that if you're giving this gift to friends with food allergies that you always check ingredient labels on your chosen ingredients and avoid cross contamination if they have severe food allergies!
Some creamers contain sodium caseinate (a milk derivative), so if you're making this mix for friends of family with food allergies, make sure to check the labels on all your ingredients.

Click the image below or click this link for the printable cappuccino mix gift labels
Dairy Free Cappuccino Mix (Gluten Free & Vegan)
Cozy up in chilly weather with this delicious and allergy friendly homemade Cappuccino Mix. It's dairy free, gluten free, and can be made low sugar, too!
Makes about ⅔ cup mix (you can double this for bigger batches and gifts)
Gluten free, vegan, sugar free option; Free of: peanuts, soy, dairy, eggs 
Print
Pin
Rate
Instructions
In a small jar or bowl, mix together all the ingredients.

If your instant coffee is not a fine powder and has larger pieces, you can add this to a small food processor or blender to grind it up to make the cappuccino mix more uniform.

To use the mix, add 2 Tablespoons of mix to 8 ounces of hot dairy free milk (I love adding it to unsweetened almond coconut milk).

You can double or triple the recipe to make gifts, add this mix to decorative jars for friends!
Notes
* Nutrient info is calculated with cane sugar and is for the mix only, it doesn't include the non-dairy milk. Here are the nutrient estimates for the mix if you use Stevia instead (the Simple Truth Creamer has 2 grams of sugar in it per serving, so it's lower sugar but not completely sugar free): 
cal: 87, fat: 4 g, sat. fat: 4 g, carb: 12 g, sugar: 3 g
Nutrition
Calories:
126
kcal
|
Carbohydrates:
22
g
|
Protein:
0
g
|
Fat:
4
g
|
Saturated Fat:
4
g
|
Polyunsaturated Fat:
0
g
|
Monounsaturated Fat:
0
g
|
Trans Fat:
0
g
|
Cholesterol:
0
mg
|
Sodium:
0
mg
|
Potassium:
70
mg
|
Fiber:
0
g
|
Sugar:
13
g
|
Vitamin A:
0
IU
|
Vitamin C:
0
mg
|
Calcium:
3
mg
|
Iron:
0.1
mg
Did you make this recipe?
Share a photo on Instagram and tag us @TheFitCookie!
Sarah Jane Parker is the founder, recipe creator, and photographer behind The Fit Cookie. She's a food allergy mom and healthy living blogger based in Wyoming. Sarah is also an ACSM Certified Personal Trainer, ACE Certified Health Coach, Revolution Running certified running coach, and an ACE Certified Fitness Nutrition Specialist