Short on time and equipment but still want to squeeze in a cardio workout in? Try this Quickie Home Cardio Workout to get moving anywhere!
It's time for another workout! I actually love putting together fun workouts that people can do anywhere. A lot of people can't make it to the gym or afford to go to the gym all the time, so it's nice have different options, especially for cardio. I don't know about you, but figuring out cardio workouts to do at home (before I got my treadmill) was challenging.
I recently dipped my toe in the water to try out online training to see how it works and if I like it or not. I joined a couple platforms but decided that I like the video-based online training websites the best. For the next week or 2 I'm using my friends as guinea pigs to experiment on with the live video training platform.
I created this Quickie Home Cardio Workout the other day for a friend when we did an online workout together on Fitaborate. I did this one with my friend and it only took us about 15-20 minutes to get through with adding a cooldown and stretching at the end. Pretty quick! I used an interval timer app on my phone to set up the HIIT intervals and it worked like a charm 🙂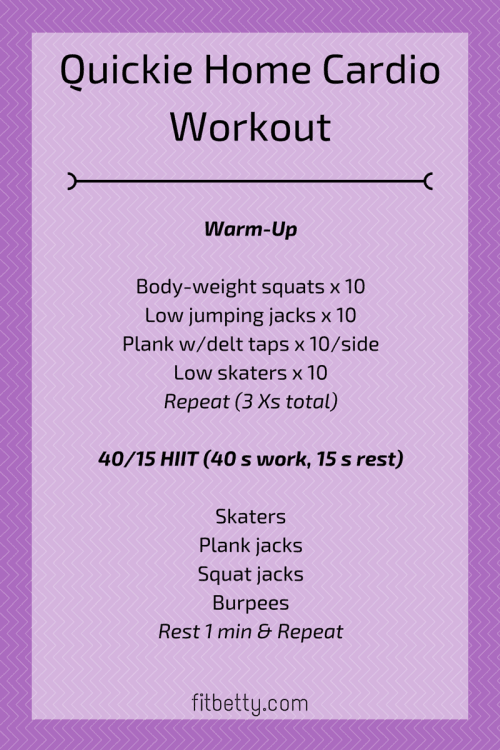 This workout is high intensity and high impact, but you can tailor this to fit your needs. For low impact & lower intensity if you have joint problems or are a beginner:
Replace skaters with a step-touch or marching in place
Replace squat jacks with regular squats
Keep burpees low impact by cutting out the jump at the top and instead of jumping back into the plank position, step back one foot at a time
For the warm-up: make sure you keep the jumping and impact to a minimum in the first 5 minutes until your joints and muscles are warm. That's why I listed low skaters and low jumping jacks – keep them lower intensity at the beginning, you can crank it up later on. And don't forget to cool down and stretch at the end
I am also working with Fitnet to try them out as well, but that one isn't live video. On Fitnet, I record videos that people can watch and mix & match for full workouts. It's pretty cool! Since the videos are per-recorded and can be used by many people, Fitbet would be a big time-saver.
After working with these websites for a little while I'm hoping to put together a review/Q&A type post for trainers who might be interested in using those websites for online training.
Sarah Jane Parker is the founder, recipe creator, and photographer behind The Fit Cookie. She's a food allergy mom and healthy living blogger based in Wyoming. Sarah is also an ACSM Certified Personal Trainer, ACE Certified Health Coach, Revolution Running certified running coach, and an ACE Certified Fitness Nutrition Specialist