If you're traveling to St. Augustine, Florida, there are great places you can eat if you are dairy free and gluten free! Here's a list of our favorite allergy friendly places to eat in St. Augustine.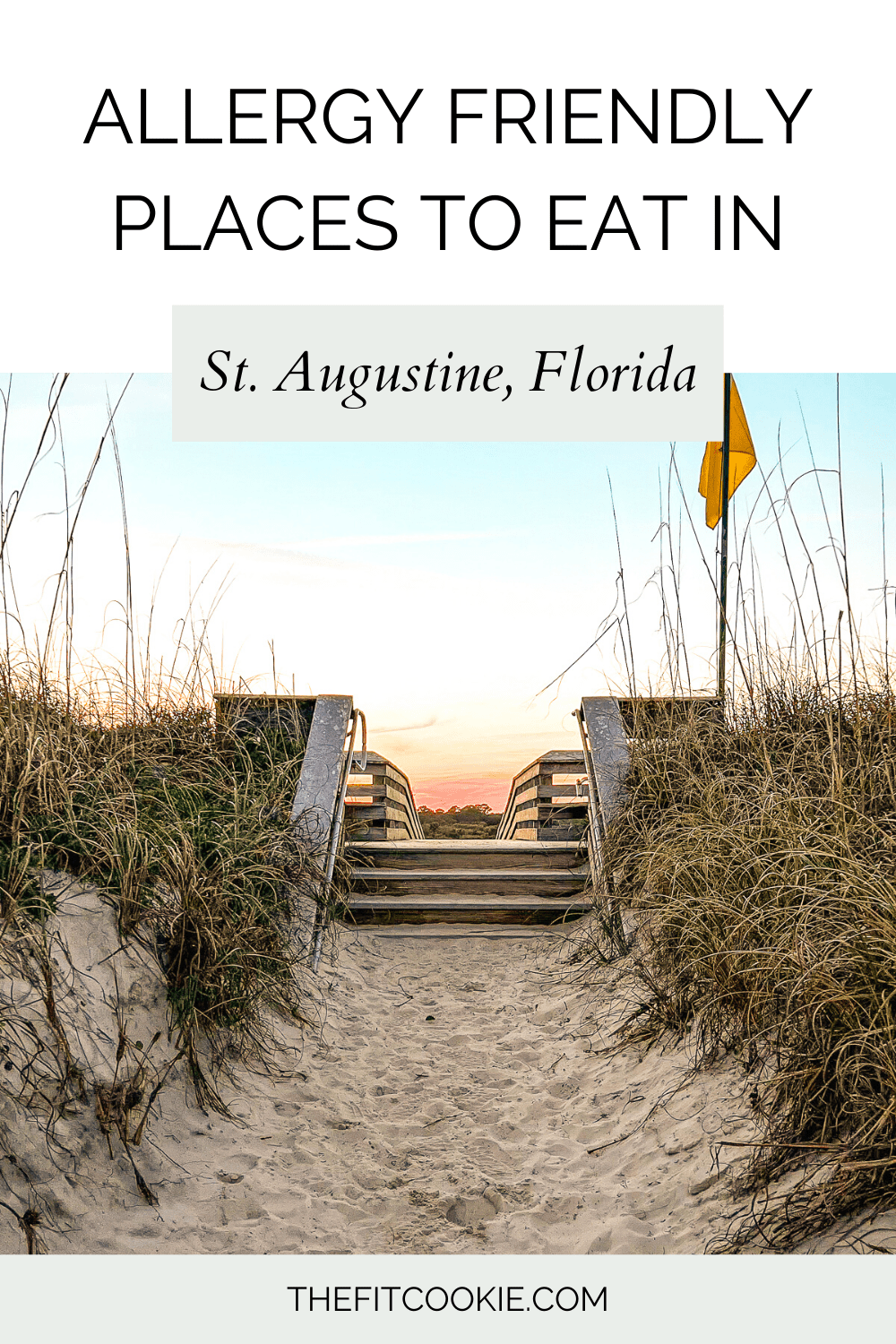 A couple months ago, we spent some time in St. Augustine, Florida, for some much needed rest and relaxation. I shared a lot of my food on my Instagram account, but I wanted to do a blog post that shared the allergy friendly places to eat in St. Augustine that we enjoyed.
This isn't a comprehensive list, I'm sure there are quite a few other allergy friendly places to eat there that we didn't get to check out yet. These are just the places that we actually got to visit while we were there.
Most of these places were recommended to us by our friends who live in St. Augustine on Anastasia Island, but a few places we found on our own (like The Grilled Cheese Gallery).
Each place linked here goes to their Google page so you can easily pull up driving directions and reviews!
Allergy Friendly Places to Eat in St. Augustine
Here are the places we found in St. Augustine that had gluten free and dairy free options or had options that easily fit into our food restrictions.
Please note that everyone's allergies are different, are of varying severity, and menus change over time, so what works for me might not work for you. It's a good idea to call ahead to any restaurant you are considering visiting if you have severe food allergies.
The Grilled Cheese Gallery
The Grilled Cheese Gallery in historic downtown St. Augustine was SO good. Their menu looked really good, so we decided to pop in once they opened and ask if they had any dairy free options available and they did!
I got their Duchess chipotle crab grilled cheese sandwich made with dairy free cheese (Violife cheddar) that had a side of chipotle aioli and homemade tomato soup to dipping.
They also have gluten free bread options and they use oil on their griddle (not real butter)! This was a great lunch spot, I highly recommend it!
Kookaburra Coffee
Kookaburra Coffee is a local coffee shop in St. Augustine and has 4 locations in the area, we went to the Kookaburra Coffee Beachside location several times.
They offer dairy free milk options for lattes (every coffee shop we went to had alternative milks) and they had baked treats for people with food allergies. It was nice to be able to have a baked treat from a coffee shop that I could actually have!
Big Island Bowls
The Big Island Bowls food truck was in a small area with several other food trucks to create a food truck dining spot with places to sit and a small coffee bar.
Big Island Bowls is a poke bowl food truck (they also have sushi burritos) with lots of good options here, my bowl has a sweet and spicy local datil pepper sauce 👌🏻
There was a line to the truck and only one person taking orders and making the food, so it took a while, but it was yummy and worth the wait.
Osprey Tacos
We went to Osprey Tacos on Anastasia Boulevard twice while we were in St. Augustine and loved it! They only have outdoor seating (unless you go to the brewery next door), but we took our food to go both times we ate there so that wasn't an issue.
They have several options that are gluten free and dairy free, and I was able to get subs or have certain things like cheese removed easily. They have soy options as well or veggie tacos for people avoiding meat.
My favorite taco that I had there was the Cuban taco (without the Swiss cheese). The prosciutto on the crispy pulled pork was so yummy and it all tasted great together!
Le Macaron
Even though Le Macaron is a chain and isn't a local shop, I mention this here because I've actually never been to one before and discovered at the location in St. Augustine that their fruit flavored macarons are dairy free macarons, and all of their flavors are gluten free!
All of these are made with almond flour and eggs of course, so if you have tree nut allergies or egg allergies, this isn't a good option. But if you need dairy free and gluten free options, they have several fruit flavors that are dairy free and delicious.
I got the mango, raspberry, and key lime strawberry macarons, and my husband got the large macaron ice cream sandwich (he said it was good but it was a bit too sweet for him to finish).
Caps on the Water
One of our favorite places to eat was at Caps on the Water that has a really beautiful deck overlooking the Tolomato River. We went in the evening, so we got to see an absolutely beautiful sunset during our dinner!
The service was amazing, our waiter was fun and pleasant. There were a lot of things on the menu that weren't allergy friendly, but I was able to find things I could have and they made substitutions for me, like making sure my food was cooked in olive oil instead of butter.
I got the grilled octopus and arugula salad. Several menu items have nuts, so just make sure if you have nut allergies that you visit with the staff about cross contamination.
We also had some delicious raw oysters as well, I even got a small pearl in one of mine! We had also gotten some raw oysters at the the Salt Life restaurant near the beach, but the ones from Caps on the Water were better tasting.
Creative Juices
Creative Juices Natural Cafe had a lot of great allergy friendly options, this is their Sunrise Surfer juice (beet, ginger, lemon, apple, orange, carrot). They have gluten free and vegan quinoa muffins that are yummy!
Swing and a miss: Ancient City Brunch Bar
The Ancient City Brunch Bar was recommended to us for allergy friendly food so we decided to go there for breakfast the day after we arrived.
The little shop in the historic area in St. Augustine was really cutely decorated and they had some nice things on the menu, but it was rather expensive and the seating was very limited. We still decided to get something even though I didn't see a ton of options I could have. We placed our order for coffees and breakfast items, and waited.
And waited. And waited.
There was 1 guy working who seemed really slow moving and hungover or a little high (or both). We waited a full 45 minutes and didn't even get our coffee. At first we thought it was just because he was by himself and maybe they were short staffed, so we patiently waited. But it became clear that this guy wasn't actually doing very much at all, and he was messing up what he was doing.
My husband watched the guy cooking and burning multiple meals in the toaster oven while we waited. We finally found a seat to sit at after some people left, and we noticed that the people who left the table left their food on the table and had barely touched their food because it was burnt.
We finally decided that it was too expensive there to eat burnt food, so we went to cancel our order and get our money back. It had been almost an hour at this point and he had just started on our food (there were no other people in front of us at this point).
I had to ask for our coffees and got a refund on everything else. Plus a walking tour group had just come in shortly before we left to order their food as well, I can't imagine how long they would have had to wait for the dishes to be cleared and food to be prepared.
We left the cafe hangry, disappointed, and with 2 mediocre but expensive lattes. It was getting close to 10:30 at this point, so we decided to just eat an early lunch at Harry's when they opened at 11.
Harriet and Oak (Rapid City)
Harriet and Oak isn't in St. Augustine, but I wanted to include it since we ate there when our flight came back into Rapid City on our way home from Florida.
They have allergy friendly options for coffee and food, I got their açaí bowl. It's allergy friendly and uses their homemade vegan granola. It was yummy, a little bit too sweet for me with the sweet granola and bananas added, but still delicious!
Non-allergy friendly places worth mentioning
There were a couple of places we went to that weren't allergy friendly but I wanted to mention here!
Les Petits Pleasures
My husband loved the Les Petits Pleasures French cafe with authentic French pastries. I couldn't have their treats (lots of real butter!), but my husband loved it. My husband went there several times to get their pastries, including a croissant breakfast sandwich and fresh cheese Danishes.
The owners of this cafe are from France and create authentic french pastries from scratch. If you don't have food allergies (mostly dairy, wheat, or nuts), this is a must-try.
Island Donuts
My friend was telling me about the pineapple fritters from Island Donuts so I cheated a bit and went to go get one (I don't have anaphylactic allergies). They are massive. They are not allergy friendly at all but I had to try one! They are huge and very rich, I just had part of it since it was pretty big and it was too sweet for my husband.
I ate some of it at the beach in the morning and I was pretty much being stalked by a seagull who was intensely eyeballing my pineapple fritter.
Harry's Seafood Bar and Grille
Harry's New Orleans style food was great and the service was excellent (there was a line forming at the gate before they opened for lunch), but most of the food had cream or butter, so it was difficult to find something allergy friendly to eat on the menu.
If you don't have food allergies, Harry's is worth a try for good food that was surprisingly affordable. But if you have multiple food allergies (especially dairy allergies), it was difficult to find things to have on the menu that didn't have cream or butter.
Sarah Jane Parker is the founder, recipe creator, and photographer behind The Fit Cookie. She's a food allergy mom and healthy living blogger based in Wyoming. Sarah is also an ACSM Certified Personal Trainer, ACE Certified Health Coach, Revolution Running certified running coach, and an ACE Certified Fitness Nutrition Specialist