Eating right can be tough sometimes: balancing macronutrients, getting enough vitamins and minerals, tracking your veggie, fruit, and water intake…. If you haven't already made some of these things a regular habit, it can be a challenge to stay on top of everything you need to do for your nutrition. If you have food allergies and intolerances, then the challenge is even greater.
But it doesn't have to be difficult! My personal nutrition challenges is eating enough vegetables and getting plenty of protein while keeping my sweet tooth under control. I made it a bit easier to take care of all of those things (veggies, protein, and sweet) in one shake: my Chocolate Thin Mint Protein Shake. Pretty sweet (and minty)!
If you are looking for a new protein shake recipe, here's a fun one that features one of my favorite flavor combos: Chocolate Thin Mint Protein Shake made with SunWarrior Classic Chocolate Protein and Peppermint Ormus Greens.
This is a healthier take on those Thin Mint Girl Scout cookies that are super addicting but not so good for you. And with the SunWarrior Peppermint Ormus Greens, this is also a fun way to get some greens in your diet too. If you don't have Peppermint Ormus greens to use in this recipe, don't worry: just use a little extra peppermint tea 🙂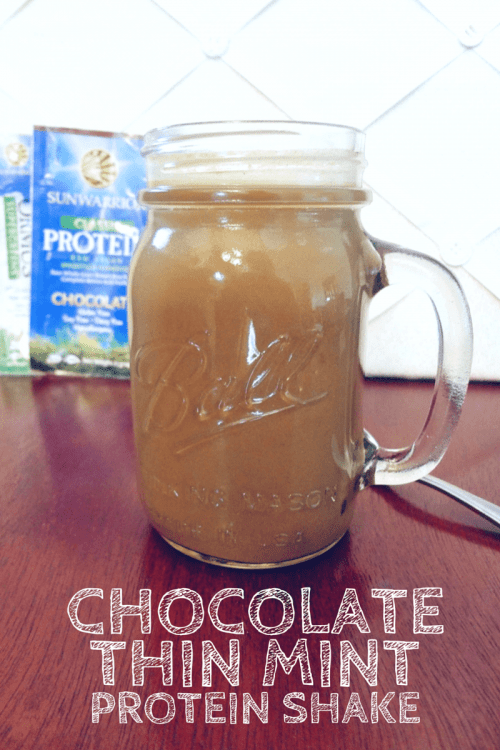 SunWarrior sent me sample packs of their products to try out along with a nice SunWarrior Blender Bottle! I was already a fan of their brown rice protein powder from back when I ate more brown rice protein powder (I have moved to a more grain free diet recently), so I was really looking forward to trying out their supplements.
Here's my breakdown of the supplements I got from SunWarrior:
Classic Protein (Vanilla & Chocolate): The SunWarrior Classic Protein powder is sprouted, fermented, processed without chemicals, raw, vegan, soy free, and non-GMO. This protein has a high assimilation rate (about 98%) which is awesome for a plant-based protein. Of all the brown rice protein powders that I have tried, this one has been my favorite for years. It blends better and tastes better than most that I have tried. I don't use brown rice protein powder anymore since I have been eating mostly grain free recently, but if you use brown rice protein powder than this is a great choice.
Ormus SuperGreens (Regular & Peppermint flavor): The Ormus SuperGreens are a blend of various powdered greens and powdered green juices such as wheat grass, alfalfa, spinach, and moringa. I think the parsley leaf and ginger make this greens blend slightly bitter tasting, but all in all this is a healthy greens blend.
Liquid Light: Liquid Light is a natural fulvic acid complex rich in trace minerals combined with magnesium, silica, zinc, and selenium. This is tart so you can take it as it is or mix it in with water if it's too tart for you
Immune Shield: This one is a natural fulvic acid complex with added silver for an immunity boost. Just like the Liquid Light this one is tart as well so you can take it as-is or mix with water.
Warrior Blend Protein (Vanilla & Chocolate): I only tried a couple small tastes of this since I can't have pea protein powder, and I much prefer the taste of the SunWarrior Classic Protein to the Warrior Blend. This protein is certainly an acquired taste, but they have worked to improve the flavor of this blend. I suggest blending this with other ingredients like bananas or berries. The Warrior Blend has pea protein, cranberry protein, and hemp protein in it along with some natural flavor enhancers like sea salt and stevia. The Warrior Blend is gluten free, soy free, raw, vegan, non-GMO, and has a complete amino acid profile.
Activated Sprouted Bio-Fermented Barley: I didn't give this one a try since it's not gluten free, but if you can have gluten, this is a low-glycemic and slow burning carbohydrate source with active enzymes that is great for longer lasting energy. This would be a great addition to your diet if you are an endurance athlete or anyone looking to keep their energy levels steadier throughout the day
Chocolate Thin Mint Protein Shake
Vegan and gluten free
Ingredients
1

packet

or 1 scoop SunWarrior Chocolate Classic Protein

1

packet SunWarrior Ormus Peppermint Supergreens

1

cup

unsweetened almondmilk

1/2

cup

strong brewed peppermint tea

chilled

1

Tablespoon

cocoa powder
Instructions
In a small blender or blender bottle, combine all the ingredients and blend/shake well. Enjoy!