If you're looking for a quick and allergy friendly treat, mug cakes are the best! We gathered up some great dairy free and gluten free mug cake recipes for whenever the dessert mood strikes. We included plenty of nut free, vegan, and paleo recipes as well.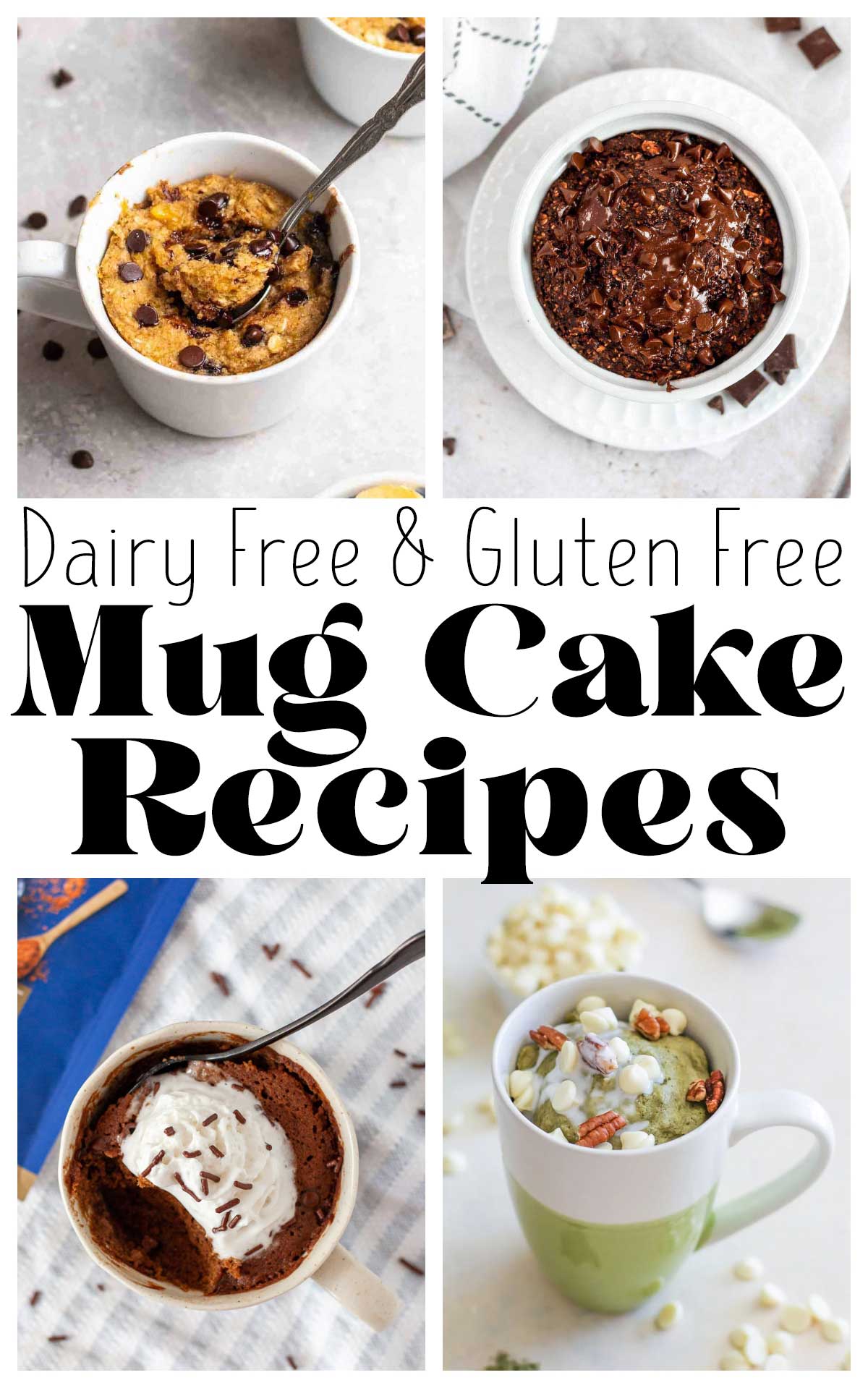 Whether you're short on time and want a quick dessert, or the weather is hot and you don't want to turn on the oven, mug cakes come to the rescue!
These easy single serving cakes are perfect for quick treats whenever the mood strikes, and every recipe we included in this roundup is gluten free and dairy free.
We also included plenty of nut free, vegan, paleo, and healthy options as well. If chocolate isn't your thing, there are a lot of non-chocolate options here, too, like lemon and matcha cakes.
And just for a little bit of fun, these recipes don't just include mug cakes, but also a few other mug desserts such as brownies and cobblers!
If you're traveling and want/need a cake on the go, there are a few brands that actually make some dairy free and gluten free mug cakes and muffins, such as Udi's Gluten Free (contains eggs) and Blue Diamond (contains almonds and egg).
King Arthur Flour makes some gluten free single serving cakes, but they contain dairy ingredients. If you have multiple allergies, making your own at home is the best way to go!
Allergy friendly mug cake recipes
When you want a quick and easy single-serving dessert, here are 18 delicious dairy free and gluten free mug cake recipes. Bookmark this page so you can come back to it whenever you want a new mug dessert recipe to try.
We'll work on updating this post as we create new mug cakes as well, so stay tuned for more recipes as we create them!
Sarah Jane Parker is the founder, recipe creator, and photographer behind The Fit Cookie. She's a food allergy mom and healthy living blogger based in Wyoming. Sarah is also an ACSM Certified Personal Trainer, ACE Certified Health Coach, Revolution Running certified running coach, and an ACE Certified Fitness Nutrition Specialist