We revamped a family favorite and made it allergy friendly! Our Dairy Free Tater Tot Casserole is creamy, cheesy, and delicious, plus it has lots of veggies and doesn't call for condensed soup! It's a great comfort food recipe that has quickly become a favorite meal in our home.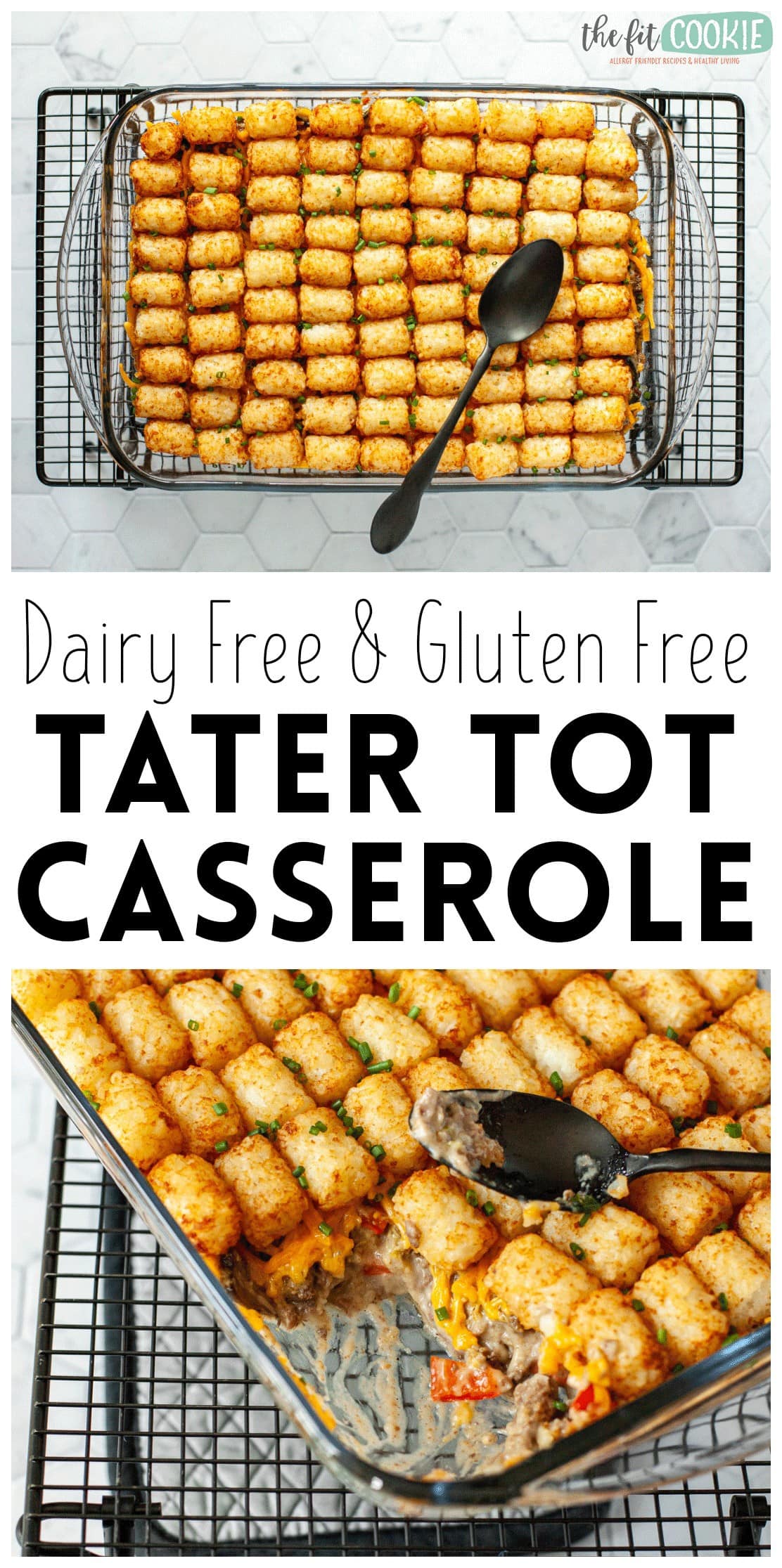 I took a little time off of doing blog posts for Christmas and New Years, and it was nice to have a short break. But we're back at it today and bringing you a delicious and allergy friendly comfort food recipe: Dairy Free Tater Tot Casserole!
When I asked in our Facebook group about recipes people would love to see, readers said they'd love to see some casseroles and easy main dish recipes. So I took an old family favorite and recreated it to be allergy friendly.
Our dairy free tater tot casserole (aka tater tot hotdish) is creamy, cheesy, and delicious, and my family absolutely loved it. It's dairy free, gluten free, and soy free depending on the tater tots and dairy free cheese you choose.
There's no need for a canned condensed soup in this recipe, we make our own creamy sauce right in the pan with the ground beef and veggies!
This tater tot casserole isn't necessarily healthy or anything, but it's great comfort food. You can reduce the fat and calories in this recipe by using less dairy free cheese and using potato hash browns instead of tater tots.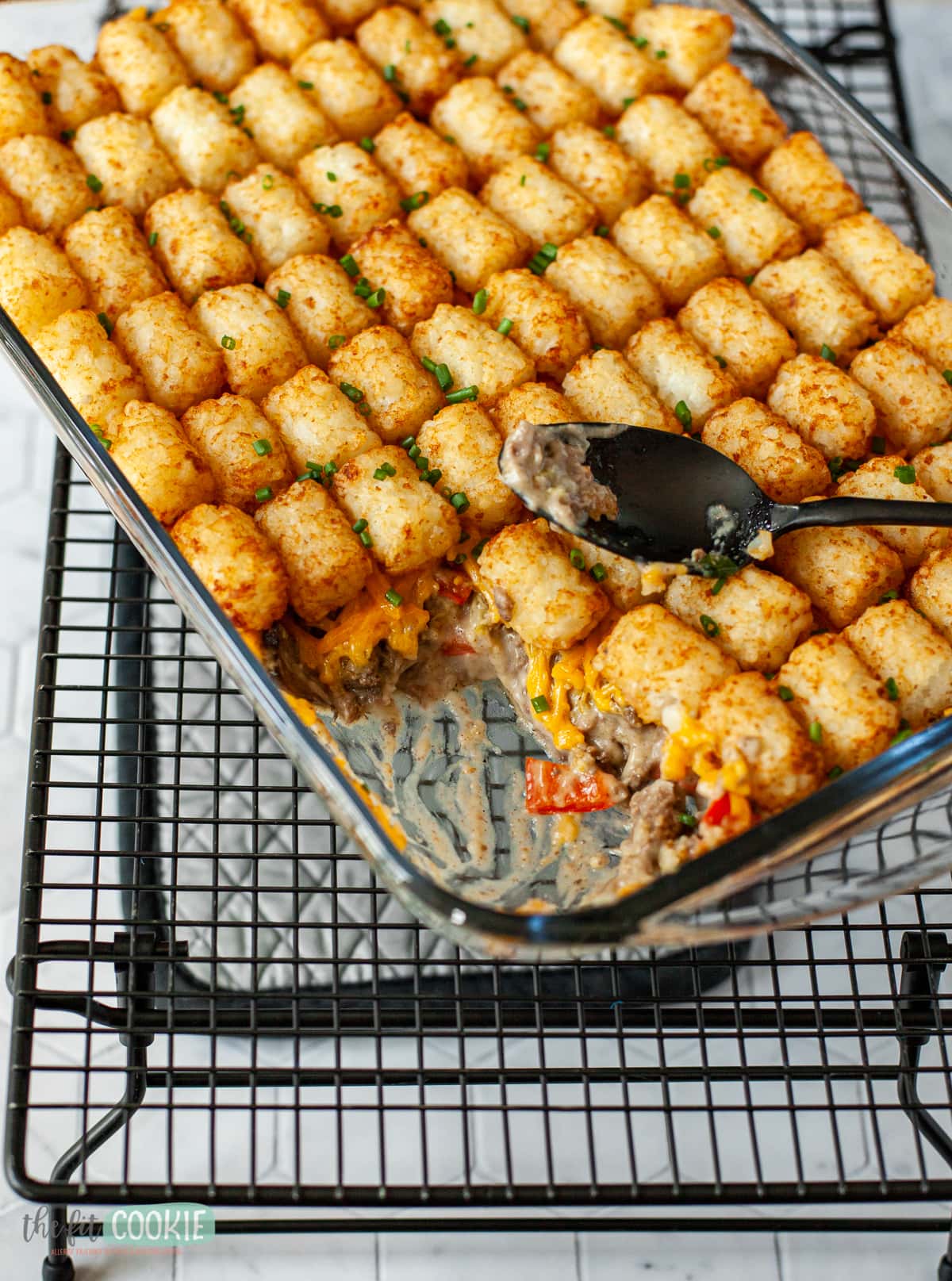 How to make dairy free tater tot casserole
This dairy free tater tot casserole is super delicious and a crowd pleaser. You can always make 2 of these and put one in the freezer for later!
Here are the steps for making this recipe (the full recipe card is at the end of the post):
Cut up your vegetables and start sauteeing them in a large skillet until they begin to soften a little.
Preheat the oven to 400 degrees F.
Add your ground beef and seasonings to the skillet and cook with the vegetables until the meat is fully cooked (the vegetables will also be cooked by this time as well).
Leaving the heat on, whisk together the coconut milk and the cornstarch and pour into the pan with the beef and vegetables. Stir to combine and cook until the sauce thickens (this usually only takes a minute or 2).
Spread the beef mixture into the bottom of the pan, top with dairy free shredded cheese, and then top that with the tater tots or hash browns.
Bake for 30 minutes.
Allow to cool a bit before topping with chopped chives and serving.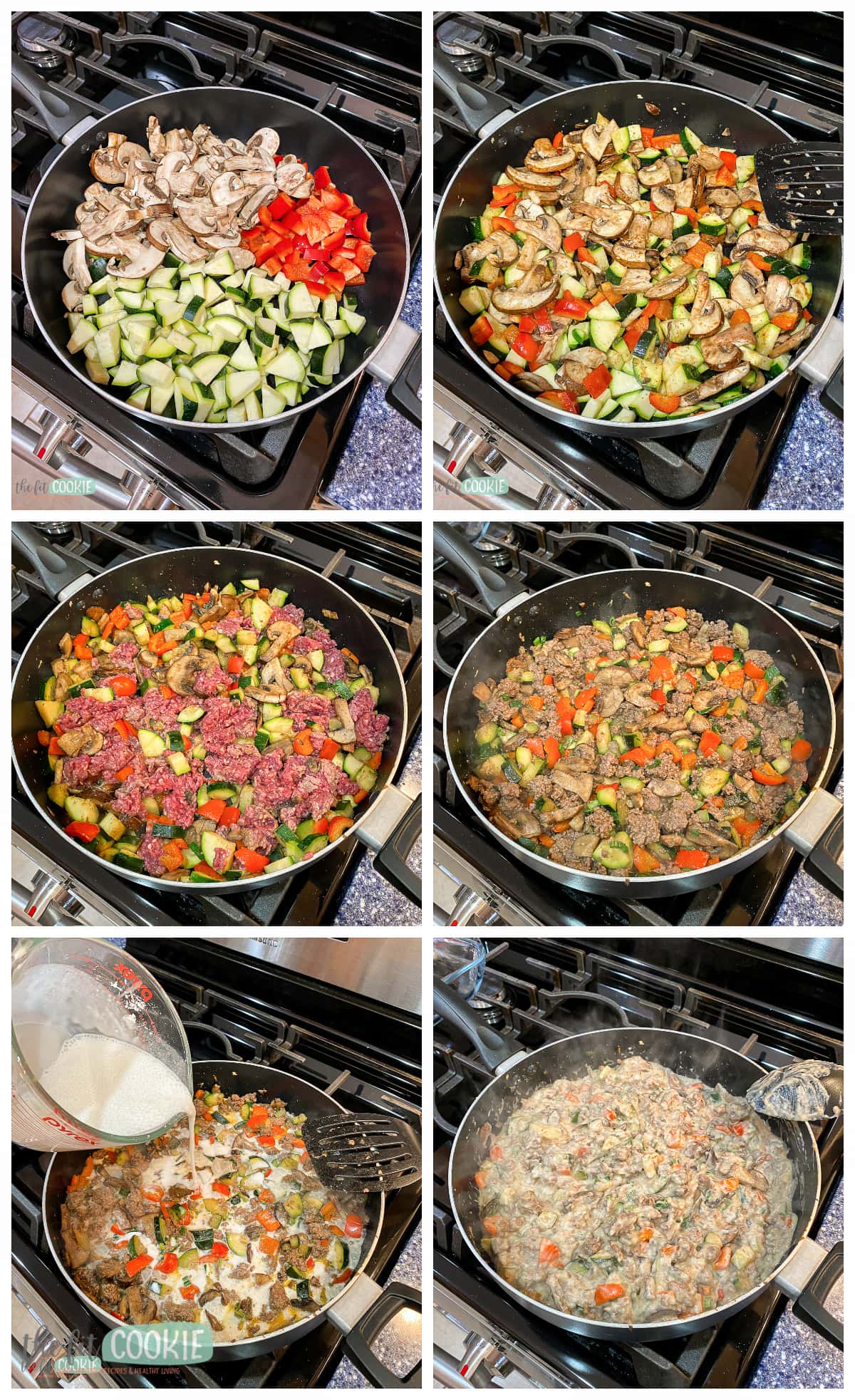 Ingredient notes
Since I can't have a lot of onions, I used some onion powder in this recipe instead of actual chopped onions. But if you can have onions and want to add them with your vegetables, you can add those in.
If you decide to add onions, saute them alone for a few minutes before adding the other vegetables to the skillet to make sure that they are fully cooked by the time you add them to the casserole dish.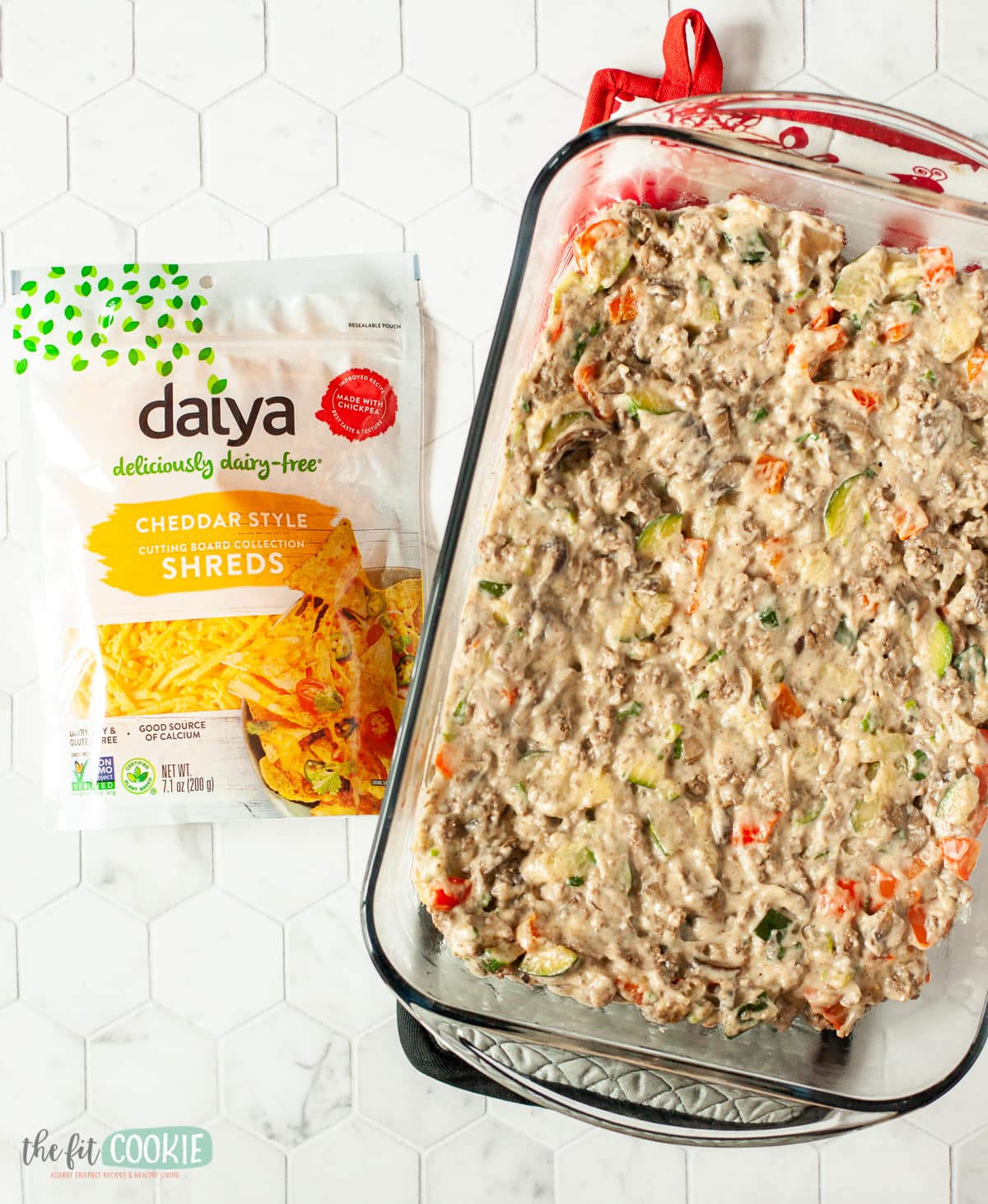 We have also added chopped green onion to this recipe to add onion flavor as well but without the high fodmap onions if those bother your stomach. This works good! I just add the green onions to the recipe with the coconut milk slurry.
You might be wondering why I add fresh garlic and garlic powder to this recipe.
Garlic powder is usually made from roasted garlic, which have a different flavor than fresh garlic. I love adding fresh garlic and garlic powder to get the fresh bright and pungent flavors of the fresh garlic and the more mellow and sweet flavors of the garlic powder.
We used Daiya cheese in this recipe since it's easy for us to find here, but if you don't like the Daiya brand of shredded cheese, you can use any of your favorite brand of dairy free cheese that melts well.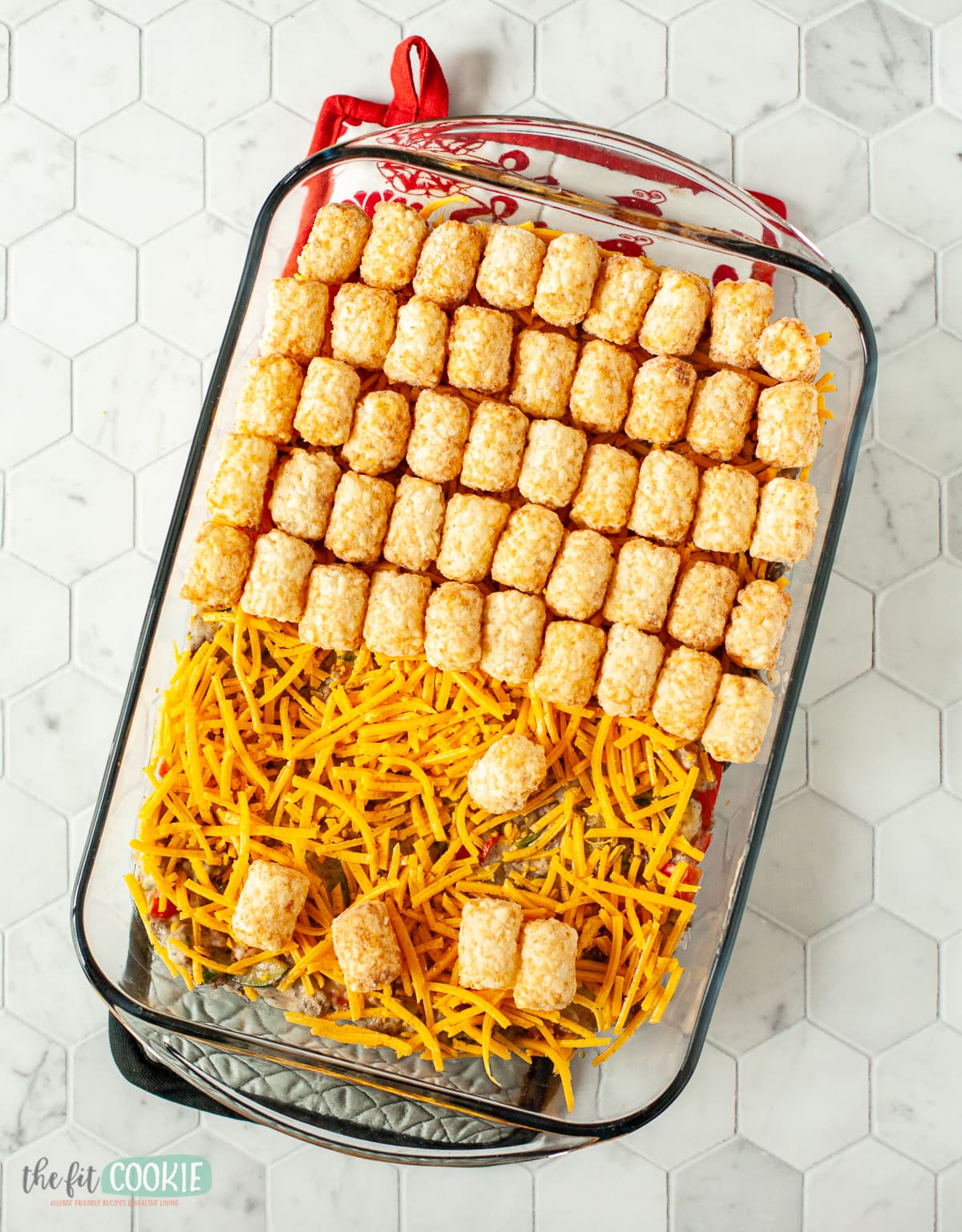 Finding soy free tater tots
If you have soy allergies like we do, finding frozen potato products can be tricky since most brands use soybean oil in them or a blend of soy and other oils. It's hard to find tater tots or frozen french fries that don't have soybean oil!
For quite a while I was buying the O Organics frozen potato puffs at our local Albertsons, and these don't have soybean oil in them. But our local store stopped carrying them, so I've been stuck without tots 🙁
The Alexia brand Yukon Select potato puffs are also soy free!
I'm sure there are other brands that make soy free and dairy free tater tots, but our town is fairly limited in that regard (we don't have access to stores like Whole Foods, Trader Joe's, or Natural Grocers).
If you can't find frozen tater tots that fit your allergies, you can also replace them with frozen hashbrowns in this recipe!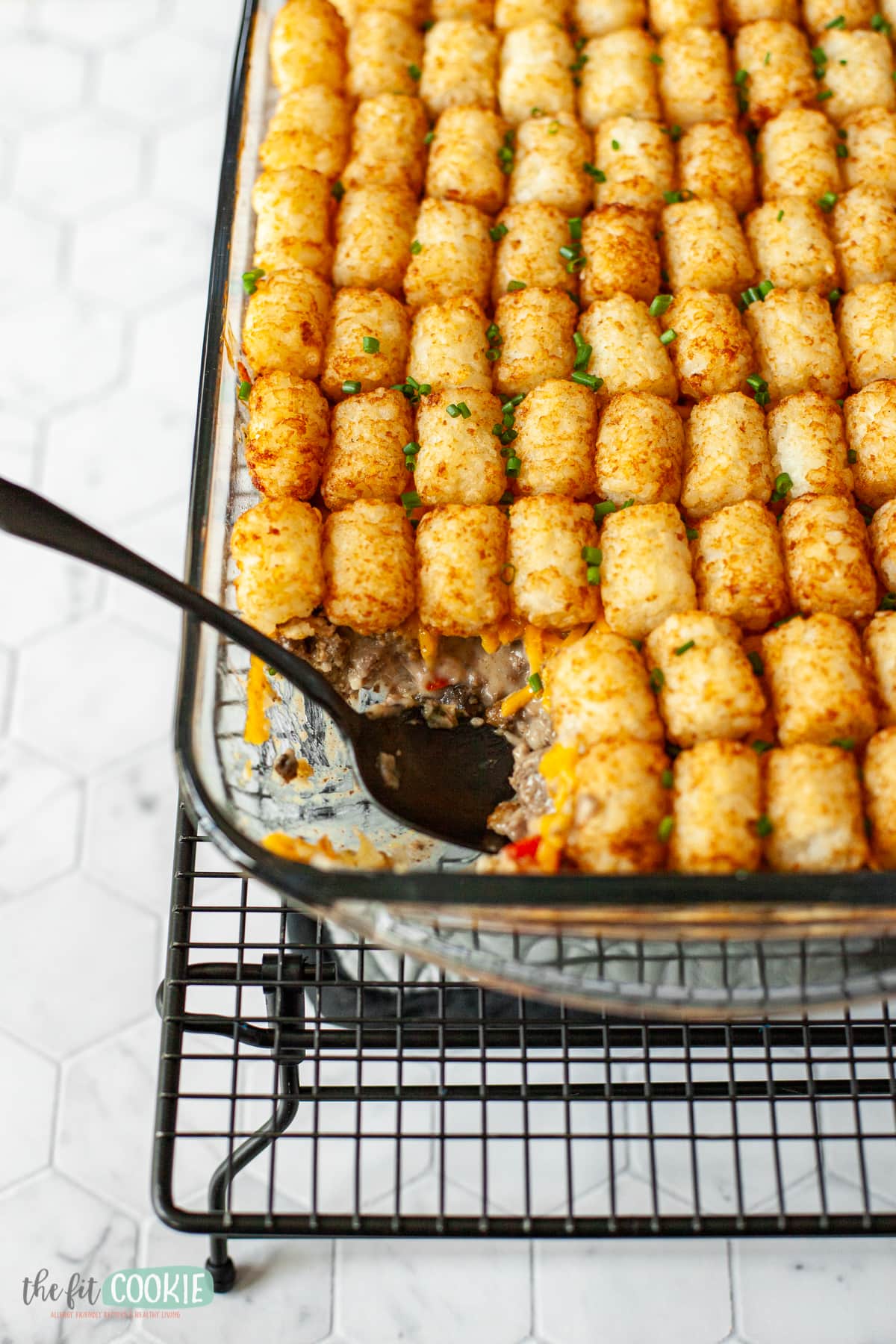 We've made this recipe using the Alexia hash browns instead of tater tots and it turned out delicious. The hashbrowns don't get crispy on top like the tater tots do, but we actually preferred the casserole with the hash browns on top instead of the tater tots.
The Alexia hash browns don't have soy or dairy and they also have garlic and onion powder in them to add some flavor, so they taste really good.
The bag is pretty large, so we didn't use the entire bag of hash browns on top of the casserole (we only used about 3/4 of the bag).
I thought about doing this recipe as just a hash brown casserole instead of a tater tot casserole, but most people only search for hash brown casseroles as as a type of breakfast bake. So I decided to stick with a tater tot casserole this time but with a hash brown option.
Check out our dairy free gluten free comfort food roundup!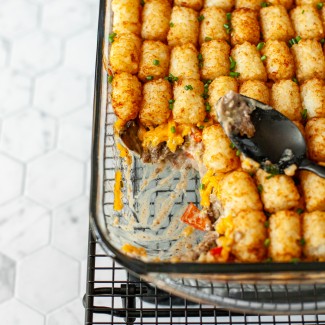 Dairy Free Tater Tot Casserole (Gluten Free)
We revamped a family favorite recipe and made it dairy free! Our Dairy Free Tater Tot Casserole is creamy, cheesy, and delicious, plus it has lots of veggies and doesn't call for condensed soup!
Gluten free, dairy free; Free of: peanuts, soy (depending on ingredients), eggs
Print
Pin
Rate
Ingredients
1-2

Tablespoons

olive oil

3

cups

chopped zucchini, unpeeled

8

ounces

sliced mushrooms

1

red bell pepper, chopped

2

cloves garlic, minced or pressed

2

teaspoons

creole all purpose seasoning

(we use Tony Chachere's but if you are celiac, choose a certified gluten free brand)

1

pound

93/7 ground beef

1/2

teaspoon

garlic powder

1/2

teaspoon

onion powder

1/4

teaspoon

ground black pepper

1/4

cup

sliced green onions

2

cups

canned coconut milk

3

Tablespoons

corn starch

2

pound

package tater tots that fit your food allergies*

1

7 ounce package Daiya cheese

(or other favorite dairy free shredded cheese)
Instructions
Place the olive oil in a large skillet and heat over medium/low heat.

While the pan is heating up, chop your zucchini and bell pepper.

Add the zucchini, mushrooms, bell pepper, and creole seasoning to the pan and cook over medium or medium/low heat for about 10 minutes until veggies begin to soften.

Preheat the oven to 400 degrees F.

Add the ground beef, black pepper, garlic and onion powders to the veggies in the skillet and cook over medium heat until the meat is cooked through (about 10 minutes). The vegetables will be cooked and soft at this point as well.

Whisk the cornstarch into the coconut milk and pour into the meat and veggie mixture and cook for a couple minutes until thickened, stirring constantly to prevent sticking. This will thicken almost immediately or within 1-2 minutes.

Turn off the heat and scoop the creamy meat and veggie mixture into a 9×13-inch glass pan.

Sprinkle the package of dairy free cheese on top of the beef mixture, and then top with the tater tots or hash brown potatoes.

Bake in the preheated oven for 25-30 minutes.

Allow the casserole to cool for about 10 minutes before serving. Top with sliced green onions or chives as a garnish.
Notes
*If you can't find tater tots that fit your allergies, I've used frozen hash brown potatoes instead. They don't get crispy on top like the tater tots do, but they still taste delicious and work well in this recipe! 
Nutrition
Calories:
437
kcal
|
Carbohydrates:
36
g
|
Protein:
15
g
|
Fat:
27
g
|
Saturated Fat:
14
g
|
Cholesterol:
28
mg
|
Sodium:
627
mg
|
Potassium:
733
mg
|
Fiber:
5
g
|
Sugar:
4
g
|
Vitamin A:
638
IU
|
Vitamin C:
31
mg
|
Calcium:
32
mg
|
Iron:
3
mg
Sarah Jane Parker is the founder, recipe creator, and photographer behind The Fit Cookie. She's a food allergy mom and healthy living blogger based in Wyoming. Sarah is also an ACSM Certified Personal Trainer, ACE Certified Health Coach, Revolution Running certified running coach, and an ACE Certified Fitness Nutrition Specialist