Need help with healthy meal planning if you have food allergies? We gathered up over 25 gluten free and dairy free healthy dinner recipes to help you eat healthier and allergy friendly. Our roundup includes recipes that are soy free, egg free, nut free, paleo, low carb, and vegan!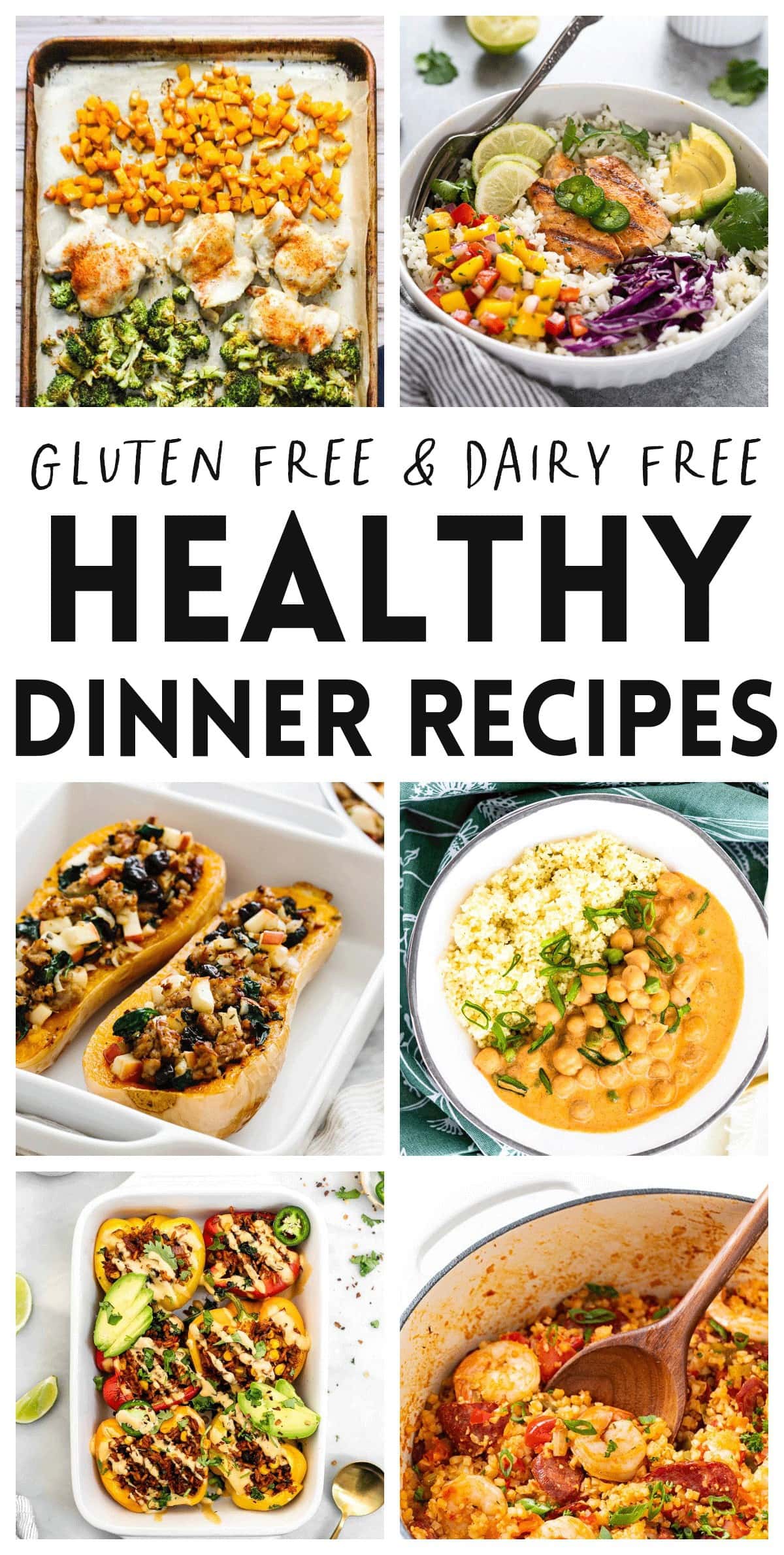 Last month, we did a recipe roundup with a bunch of gluten free and dairy free comfort food recipes. Lots of casseroles, mac and cheese, creamy soups, etc., In other words, heavier food that's perfect for winter.
We got so many dinner recipe submissions for our recipe roundup request that I decided to do another roundup for gluten free dairy free healthy dinner recipes!
Since it's January and many people are trying to kick off the New Year by eating healthier, this healthy dinner recipe roundup seemed like the perfect fit.
Now everyone's definition of healthy is a bit different, some of these recipes are still a bit heavier than others we've included. But we focused this roundup on gluten free and dairy free dinner recipes that are:
Majority whole food based
Have minimal added sugars
Don't rely on heavily processed ingredients
Don't have heavy sauces
Every recipe in our roundup is not only gluten free and dairy free, but there are plenty of soy free, egg free, nut free, paleo, and low carb recipes as well.
We've also included recipes for chicken, beef, seafood, as well as meatless recipes so you can mix it up!
We'll also try updating this post with new recipes as we find great ones, so check back regularly. At the top of our post we have a "modified" date next to the publish date so you can see when we've updated the post recently.
Enjoy!
Gluten Free Dairy Free Healthy Dinner Recipes
Sarah Jane Parker is the founder, recipe creator, and photographer behind The Fit Cookie. She's a food allergy mom and healthy living blogger based in Wyoming. Sarah is also an ACSM Certified Personal Trainer, ACE Certified Health Coach, Revolution Running certified running coach, and an ACE Certified Fitness Nutrition Specialist