One of my favorite family cookies we made around the holidays, made vegan and gluten free: Chocolate No Bake Cookies! These are a favorite around our house and so addicting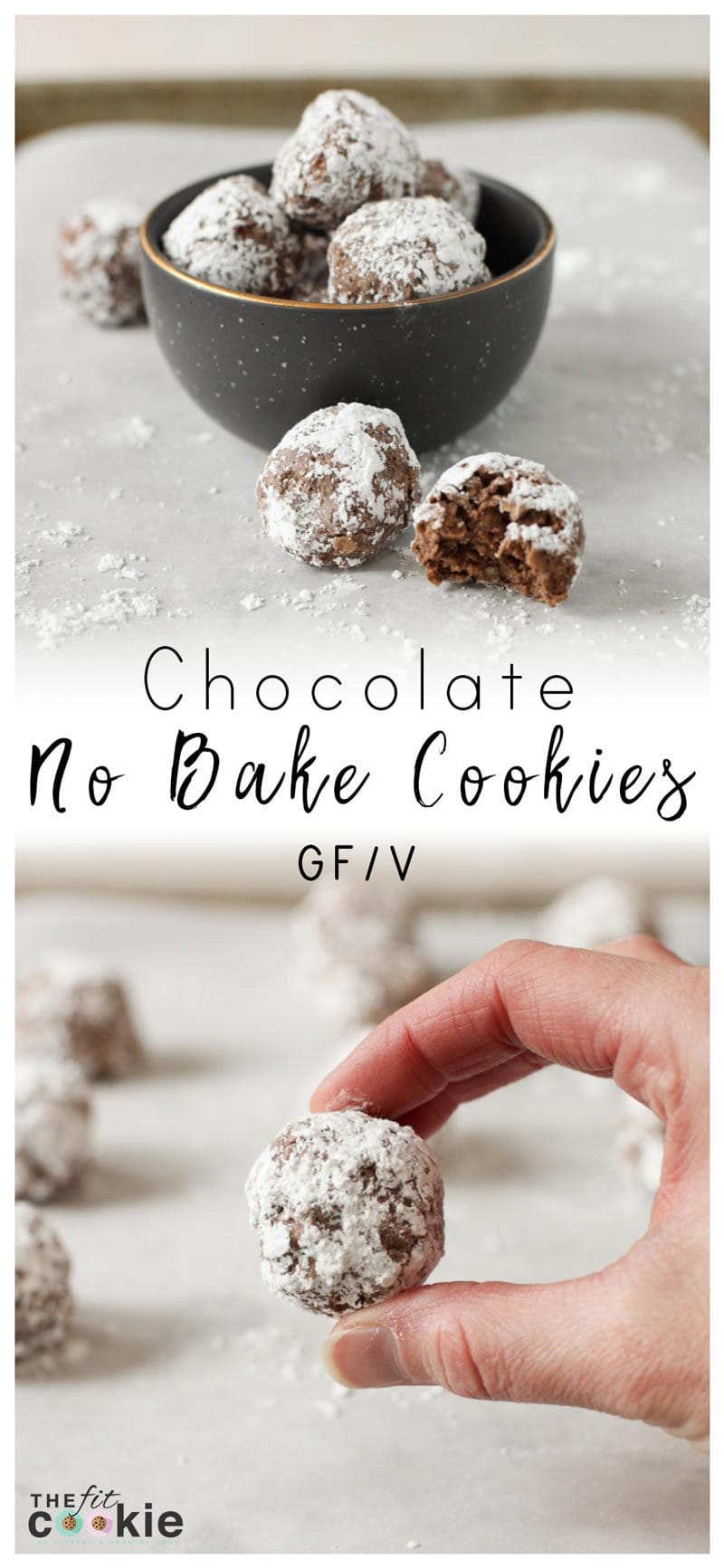 Hey friends, what are some of your favorite food memories?
Some of my favorite food memories are holiday cookie, confection, and candy making. If you know of my sweet tooth, then you can understand why this was one of my favorite times of year. My Mom always baked breads, scones, biscuits, and cookies all year round, but cookie and candy making was in full force around Christmas and I loved it!
Of course when I was a kid, I did less of the cooking and more of the sampling and sneaking into things, but they were still great memories anyway 😉
During the holidays we made fun stuff like tiger butter that my dad would mix up, English toffee covered in chocolate and walnuts, buttery shortbread, and our favorite chocolate No Bake Cookies rolled in powdered sugar that we called Eskimo cookies. I loved Eskimo Cookies: so easy to make and delicious!
There are tons of variations around for no bake cookies, but I adapted the recipe my Mom used to make when I was a kid. This is the easiest no bake cookie recipe – no stovetop cooking required like some other recipes. I could eat a bowl of this stuff with a spoon (not that I ever did though haha).
I have a serious sweet tooth, so I try not to make super rich and sugary things very often, these are seriously addicting. These aren't a healthier remake of the original recipe, but they are allergy friendly. Even people with food allergies love a little indulgence now and then 🙂
In these Vegan No Bake Cookies, I used Earth Balance Soy-Free Margarine in this recipe for the nice buttery flavor. This is great stuff: it's non-hydrogenated, gluten free, vegan (no dairy!), and non-GMO. We use it for a lot of our cooking and bread-buttering and it tastes good too.
The photo with the ingredients is an older one, so the ingredients may have slightly changed since I took the photo.
Someone once got after me on Facebook for using margarine once (cuz healthy people assume all margarine is the devil, right?!), so I wanted to share the ingredient label and why I used this particular brand to fend off the food nazis.
I recently tried this recipe out with the Country Crock plant butter sticks, and it worked great! The Country Crock plant butter stays more firm at room temperature than the Earth Balance does, so these turned out even better with the Country Crock plant butter.
Vegan no Bake Cookies (aka Eskimo Cookies, Gluten Free)
One of my favorite family cookies we made around the holidays, made vegan and gluten free: No Bake Cookies! These are a favorite around our house

Gluten Free, Vegan; Free of: eggs, soy, dairy, nuts
Print
Pin
Rate
Instructions
In a medium bowl, cream together the margarine (or coconut oil) and the sugar until well combined and the margarine is softened a bit.

Add the vanilla, cocoa powder, and quick oats and mix again.

Take a Tablespoon of the cookie mixture and squeeze it together into a ball, then roll in powdered sugar.

Refrigerate until set and firm. Store in the fridge.

Enjoy!
Nutrition
Calories:
115
kcal
|
Carbohydrates:
12
g
|
Protein:
0
g
|
Fat:
6
g
|
Saturated Fat:
1
g
|
Trans Fat:
0
g
|
Cholesterol:
0
mg
|
Sodium:
64
mg
|
Potassium:
27
mg
|
Fiber:
0
g
|
Sugar:
8
g
|
Calcium:
3
mg
|
Iron:
0.3
mg
Did you make this recipe?
Share a photo on Instagram and tag us @TheFitCookie!
Sarah Jane Parker is the founder, recipe creator, and photographer behind The Fit Cookie. She's a food allergy mom and healthy living blogger based in Wyoming. Sarah is also an ACSM Certified Personal Trainer, ACE Certified Health Coach, Revolution Running certified running coach, and an ACE Certified Fitness Nutrition Specialist