If you're on a dairy free journey, here's a handy guide on how to replace dairy in cooking and baking. Learn how to replace butter, cream, evaporated milk, and more!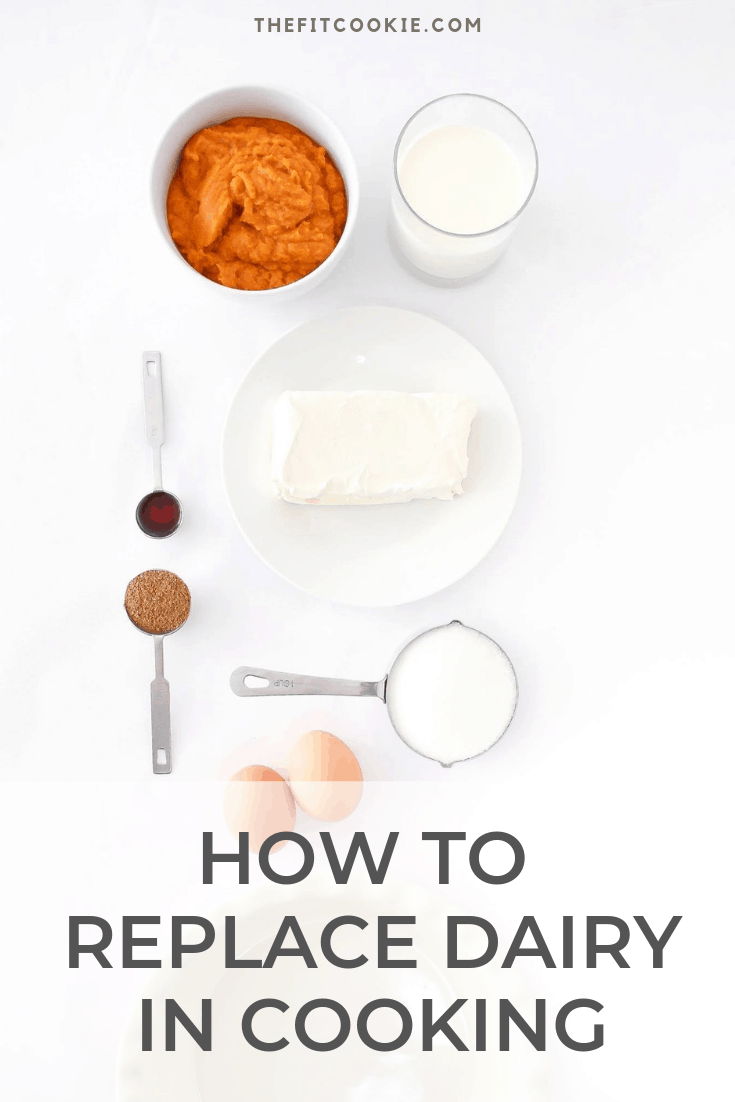 Photo by Heather Ford on Unsplash
Hey friends! If you're a regular reader of The Fit Cookie, you know that we post dairy free recipes here due to food allergies in our house. My daughter has grown out of her dairy allergy, but I definitely haven't and my son is still having trouble with dairy, so we still cook dairy-free in our house.
My dairy free journey started when I was about 9 or 10 years old, we discovered that some of my health problems were from dairy, which I adored. I ate cheese and drank milk all the time.
So we gradually replaced milk products over time, until I was completely dairy free by the time I was a teen (we didn't cut out things cold turkey then). My sensitivity to dairy has only increased as I've gotten older, and hasn't improved at all with age, so I have to be careful of what I'm eating or I end up with some pretty awful GI problems, rashes, bladder pain, acne, etc.
If you're on a dairy free journey and wondering how to replace dairy in your cooking and baking, here's a guide for you from a 15+ year dairy free veteran. I've learned a lot over the years of baking completely dairy free, and I'm passing on that knowledge to you with much love.
I'll try to update this post as I find new brands and alternatives, and as I try out new products. We have a handy "modified by" date at the top of each post to let you know when we last updated our posts to keep things current.
Please note we haven't tried every product listed here, so we can't vouch for the quality or taste of each product we list here as dairy alternatives. Also, please read the labels on each product since we can't guarantee that they are not made in facilities with dairy or other allergens.
How to replace milk
Replacing regular milk in baking is probably the easiest thing to replace when you're cutting out dairy because milk is typically only added for moisture and not usually for structure, so almost any liquid will work.
For example: when making pancakes, it's nice to have a non-dairy milk alternative to use for a bit of added flavor and maybe a little bit of fat (as in the case of coconut milk), but you can easily use water if you're out of dairy free milk. In most cases, any non-dairy milk will work to replace regular dairy milk in baking.
When cooking savory recipes (like gravies, soups, etc.) where using a creamy milk alternative is important, you'll want to find a non-dairy milk that's unsweetened and something you enjoy the taste of. Using a sweetened non-dairy milk in a savory recipe will make your recipe not taste right, so choose unsweetened if you can.
Non-dairy alternatives to regular dairy milk:
Almond milk
Cashew milk
Coconut milk
Rice milk
Oat milk
Hemp milk
Flax milk
Dairy free milk blends (like almond coconut milk)
Macadamia milk
Soy milk (if tolerated)
Hazelnut milk
How to replace butter
Replacing butter in cooking can get a little complicated, but generally isn't too hard to do.
When cooking savory recipes, you can easily replace cooking butter with coconut oil or a dairy-free margarine, like Earth Balance. Coconut oil and Earth Balance heat up well in a skillet and hold up well with broiling, sauteing, etc.
Baking with butter substitutes can get a little bit tricker. For the most part, replacing real butter in baking recipes in a 1-to-1 ratio with a dairy free margarine works fine, but the texture may not be quite the same. Butter often gives baked goods a nice crisp texture, but you may not get the same crisp texture using dairy free margarine, but you can get a similar texture with coconut oil.
If replacing real butter with coconut oil in baking (not sauteing or cooking meats, etc.), you won't replace it in equal parts. I've found that with certain recipes, like cookies, I can't replace butter with the same amount of coconut oil or the cookies are too oily. I usually have to reduce the amount slightly, but it depends on the recipe. Unfortunately, you have to do some experimenting with this to find what works best for each recipe.
For recipes like frostings, palm oil works really well since it's more shelf stable than some dairy free margarines and coconut oil (palm oil also works great in pie crust instead of butter or Crisco shortening). You can find dairy free butter-flavored palm oil and coconut oil in several brands if you want to add a nice butter flavor to your pie crusts and frostings.
Dairy free butter alternatives:
Flora plant butter (non-GMO, this is very firm butter and delicious!)
Earth Balance and Earth Balance Soy Free: we use the Earth Balance Soy Free regularly and love it
Coconut oil: some brands also have non-dairy butter-flavored coconut oil
Palm oil: great for frostings and pies, also comes in non-dairy butter flavors (Nutiva and Spectrum sell sustainable palm oil shortening)
Smart Balance Dairy Free: the label does say "natural flavors", and I haven't confirmed with the company if these are dairy-based natural flavors or not.
Country Crock Plant Butter (some of these do have soy and almond oil, so check the labels if you have these allergies)
Pure Blends: vegan, contains soy
I can't Believe It's Not Butter Vegan: contains soy
Wayfare Vegan butter: contains beans
Note: ghee is not dairy free. Ghee is clarified butter, which has been cooked and the solids are removed, but it's still dairy. Some bloggers and brands incorrectly label ghee as dairy free or non-dairy. You can't remove the dairy from butter to make ghee. Ghee is just a refined type of butter, and has the lactose and casein removed, but it is dairy.
How to replace cream cheese
Replacing regular cream cheese with non-dairy cream cheese works great in most non-cooked recipes (like dips, our cheesecakes, and as cold spreads), but some non-dairy cream cheeses I've used do not cook well.
We've tried making things like jalapeno poppers stuffed with dairy free cream cheese, and the cream cheese just melts out of it. I haven't tried making baked cheesecake with eggs and dairy free cream cheese, so I don't know how some of them would work for a recipe like that, but just be aware that some non-dairy cream cheeses do not cook well, they'll basically just melt.
There are lots of brands of non-dairy cream cheese these days, you'll just have to find a brand that tastes good and works for your allergies!
Dairy free cream cheese alternatives:
Make sure to check each and every product for allergen info and cross contamination info if you have severe allergies since many brands will change recipes or manufacturing facilities without warning.
Violife cream cheese (our personal favorite, only good for cold recipes since this doesn't hold up to baking or cooking)
Daiya (tastes pretty good, although some people really dislike this one, we have used it and don't mind it)
Philadelphia plant based cream cheese (this is a newer one, I haven't tried it yet)
Kite Hill (made with almonds, I haven't tried this one yet)
Treeline cream cheese (this one doesn't have great ratings on Amazon, but their website listing has good ratings, so check ratings on this one, I haven't tried this one myself)
Wayfare Foods (contains butter beans and oats)
Miyoko's cream cheese (contains cashews)
Toffuti (soy based, I haven't eaten this brand for literally at least 15 years so I can't remember if it's good or not)
Go Veggie cream cheese (contains soy)
Homemade soft cashew or almond cheeses (lots of recipes for these online)
Soft and spreadable dairy free cheeses (maybe not quite cream cheese but soft and spreadable, great for crackers or dipping):
How to replace cheese in recipes
Fortunately, replacing cheese in recipes is pretty easy to do these days! There are tons of options now for non-dairy cheeses, you'll just have to find one that you like and that fits your food allergies.
I've found that most dairy free cheese cooks well, so they do nicely in place of cheeses in casseroles, cheese sauces, mac and cheese, etc. We haven't had too many problems with cooking with dairy free cheese. So you can do a 1-to-1 replacement of dairy free cheese in your recipes!
Dairy free cheese replacement options:
Many of these brands feature a variety of dairy free cheese options: shreds, sticks, blocks, slices, and ricotta.
Homemade cheeses (there are tons of recipes for these online, some recipes don't call for nuts at all but use agar agar and tapioca starch)
Daiya cheese slices, blocks, sticks, and shreds
Violife cheeses (feta, parmesan, shreds, etc.)
Siete cashew cheese queso
Good Planet Foods cheese
Mauxarella (contains almonds)
Follow Your Heart (I really like their smoked gouda cheese slices!)
MozzaRisella
Various small brands, like Wendy's Nutty Cheese, Chicago Vegan Foods, Vital Eats, etc.
Frauxmagerie
The Happy Vegan Notcho Nocheese cheese spread
So Delicious
Miyoko's Creamery (contains cashews)
Kite Hill (contains almonds)
Tofutti (contains soy)
Chao (contains soy)
Leahey Gardens cheese sauce mix
Bit Baking Co. cheese sauces
CORE + RIND cheese sauces
Beyond Better cheese sauce mix (contains cashews)
Free & Easy dairy free cheese flavor sauce mix
Vtopian cheeses (soft and firm cheeses)
Dairy free feta cheese alternatives
Since feta cheese is a little bit of its own category, I decided to add a special section here specifically for dairy free feta cheese!
Violife feta cheese: my favorite dairy free feta cheese! It's best for cold dishes since it does not cook well (it gets pretty liquidy when cooked).
Daiya feta cheese: this one is pretty good, I prefer the Violife personally, but the Daiya one holds up better to cooking if you want to make a dairy free feta pasta. I did a video about the Daiya feta cheese and the Halloumi-style cheese on YouTube.
Follow Your Heart: I haven't tried this one yet, but it's pre-crumbled so it's easy to just sprinkle on your salad.
Treeline vegan goat-style cheese: this is made with cashews and has 3 different flavors: original, blueberry, and garlic basil.
How to replace dry milk powder
As mentioned above, some kinds of non-dairy milk alternatives are available in powder form, like rice milk and coconut milk. In some recipes that call for small amounts of nonfat dry milk powder, you can skip it if you need to. Like some homemade bread recipes call for milk powder and I just don't put it in there and the bread turns out fine.
That works if it's a small amount, like a couple tablespoons, but wouldn't work if the amount is important for the integrity of the recipe. If you have a recipe that calls for milk powder in larger amounts, like a homemade cocoa mix, you can use rice milk powder or a dairy free creamer powder instead.
If you have dairy allergies, just watch out for some "dairy free" creamers since some of them contain sodium caseinate (a derivative of casein, a milk protein), and therefore isn't truly dairy free. Depending on the severity of your dairy allergies, this may or may not be a problem for you.
Dairy free alternatives to dry milk powder:
There are various brands that produce dairy free milk powders, so I've just listed the most common options for dry milk powder below:
Coconut milk powder: harder to find and doesn't dissolve well in cold liquids (we've tried the Native Forest coconut milk powder). Brands include Anthony's, Z Natural Foods, Health Works, Wildly Organic, Nutricost, Opportuniteas). You'll need to check the labels on coconut milk powders since some do include sodium caseinate (a dairy derivative).
Rice milk powder: if adding to cold liquids, needs some blending or vigorous whisking. The brand we have used is lower in sugar. Brands include Better than Dairy (we've used this and like it), Namaste Foods, Nutra Organics, Essona Organics, and possibly others. The only one we've personally tried is the Better than Dairy rice milk powder, and we've been happy with it.
Coconut milk non-dairy creamer: we use the Simple Truth coconut creamer and it is lower in sugar and works great in recipes like cocoa mix or cappuccino mix
Soy milk powder: there are several brands of soy milk powder, but we have soy allergies so we haven't tried them.
How to replace cream
One of the best replacements for dairy cream and heavy whipping cream is full-fat canned coconut milk and canned coconut cream. There are a few other options (I mention them below), but coconut milk and cream have the high fat content for creamy recipes that works great for replacing cream, which also has a high fat content.
If you don't want coconut products, there are also some thickened non-dairy cooking milks out there that you can use in place of cream. Carnation has an almond cooking milk that works well and is unsweetened, and certain kinds of oat milk are thick, but just don't have the fat content that canned coconut milk and coconut cream does. (update: the Carnation almond milk has been discontinued).
Another option for replacing cream is using coconut milk, almond milk, or oat milk to make a thick cream bechamel-type sauce using the non-dairy milk and cornstarch or flour. You can see an example of this type of sauce in our mac and cheese recipe.
When making sauces and gravies, coconut cream works well in place of real dairy cream, but it will not replace heavy whipping cream for making whipped cream unless you follow directions specifically for a whipped coconut cream recipe.
Coconut milk and coconut cream often won't work in slow cooker recipes unless you add it to the very end of the recipe. I've tried replacing canned coconut milk in slow cooker recipes, and it ends up doing some weird things (it looks curdled), so if a slow cooker recipe calls for cream, try to add it to the end of the recipe instead of at the beginning.
Silk just released their new half & half and heavy whipping cream products, and their heavy whipping cream actually whips up into whipped cream (check out the video I did on it)!
The Silk heavy cream and their half & half are both unsweetened and great for adding to both sweet and savory recipes, and also great as a coffee creamer.
Cream and heavy cream replacements:
Condensed milk and evaporated milk substitutes:
How to replace whipped cream
Since real heavy whipping cream is different than thick coconut milk, it won't work quite the same to make whipped cream, but you can find recipes online for whipped cream made from coconut milk. Whipped cream made with coconut cream won't be quite as fluffy and airy, but coconut whipped cream still works.
Dairy free whipped cream alternatives:
So Delicious CocoWhip: we think it tastes better than Cool Whip, and it works great for topping on pies and recipes like my no bake cheesecakes.
ReddiWhip almond milk or coconut milk whipped topping: we've only tried the coconut milk whipped topping so far and not the almond milk one (since my kids have almond allergies). It works great, but we prefer the taste of So Delicious CocoWhip better, and the cannisters of whipped topping don't make it work well for recipes.
Rice Whip by Soyatoo: We haven't tried this ourselves yet so I'm not sure if it tastes good, but it is made in a facility with soy, milk, and nuts, so cross contamination concerns have kept us from trying this particular product.
Gay Lea coconut whipped topping
Nature's Charm coconut whipping cream
Vivian's whipped topping mix
Photo by Toa Heftiba on Unsplash
Other dairy substitutes:
Dairy free condensed soups and sauce alternatives:
Dairy free sour cream substitutes:
Dairy free caramel and toffee substitutes:
Dairy free chocolate
This list of chocolate is not comprehensive, we're still looking for more brands to include here!
Dairy free white chocolate
Various names for dairy
Here are some other names for dairy in ingredient lists. Some are pretty clear (like milk or milkfat), but others aren't very clear (like sodium caseinate).
Milk powder
Ghee
Butter
Butter oil
Milk fat
Butterfat
Powdered milk
Milk powder
Sodium caseinate
Casein
Whey
Whey powder
Reduced protein whey
A word on ghee
TLDR: Is ghee dairy free? Is ghee vegan? No and no. Ghee is dairy, just a refined/clarified form of butter.
Ghee (clarified butter) has grown in popularity recently as an easier to digest option for people with lactose intolerance. It has gained widespread use in the past few years and it's making an appearance in many foods, especially keto and paleo products.
Ghee is made by heating dairy butter and scooping off or straining the solids that rise to the top (the solids are usually whey and casein).
Most people know that ghee is dairy since it's clarified butter, but I have seen products containing ghee labeled as dairy free, and have seen recipes made with ghee labeled as dairy free.
Some people who have intolerances to dairy (not necessarily allergies) and lactose intolerance sometimes seem to tolerate ghee better because the solids containing proteins are removed. But it doesn't change the fact that ghee is still dairy and should never be labeled as dairy free.
Removing the solids may remove some of the risk of allergic reaction, but clarifying butter into ghee doesn't change that it's still a form of dairy butter.
Some allergists believe that redefined oils are okay for people with allergies (such as refined peanut oil for people with peanut allergies), but other allergists do not recommend consuming refined oils since the risk for allergic reactions is too high.
Also I personally have reacted to refined oils. I am allergic to pumpkin seeds, and actually had worse allergic reactions to the refined pumpkin seed oil vs. the pumpkin seed protein powder. I'm not sure why, but it is still possible to react to even refined oils.
If you have lactose intolerance or mild dairy intolerance, you may be fine using ghee. But if you have severe or anaphylactic dairy allergies, it's not worth the risk to use ghee.
Bloggers and companies should not label products with ghee as dairy free. It's dangerous to consumers who may be new to eating dairy free and might have severe reactions allergic reactions to dairy.
If you have severe dairy allergies, make sure you keep an eye out for recipes and products labeled "dairy free" that contain ghee (it's often found in health foods, keto, and paleo products).
Sarah Jane Parker is the founder, recipe creator, and photographer behind The Fit Cookie. She's a food allergy mom and healthy living blogger based in Wyoming. Sarah is also an ACSM Certified Personal Trainer, ACE Certified Health Coach, Revolution Running certified running coach, and an ACE Certified Fitness Nutrition Specialist