Try something new with this Mod WOD Workout: I modified and combined 2 CrossFit workouts for a fun new workout that doesn't take much time!
Lately I have been itching to add some new routines and variety into my workouts. It can't seem to do the same thing for more than a couple weeks before I get a little bit bored. So, I decided to use the CrossFit WODs (Workout of the Day) occasionally to add some variety and challenge into my workouts.
I don't do CrossFit regularly and I pick and choose the WODs I do to fit into my other workouts.
Last Friday I did the CrossFit WOD for 130302 (Sat. March 2) and then I added push-ups and burpees at the end. I loved that workout – it fried my legs! But it was excellent since I carry my weight in my legs and that is the hardest place to lean out for me.
I decided to do that workout again, but I liked today's WOD, too, so I  modified it and put them together for an awesome total body workout.
"MOD" in the title simply refers to the fact that I modified today's CrossFit WOD: instead of doing my body weight in bench presses at least 60 times (um…not happening for me anytime soon!), I did pushups instead to meet the rep range and to incorporate some stability core work.
Then I finished it with the amazing leg workout that is the 130302 WOD: running, walking lunges, and body-weight squats. Good stuff 🙂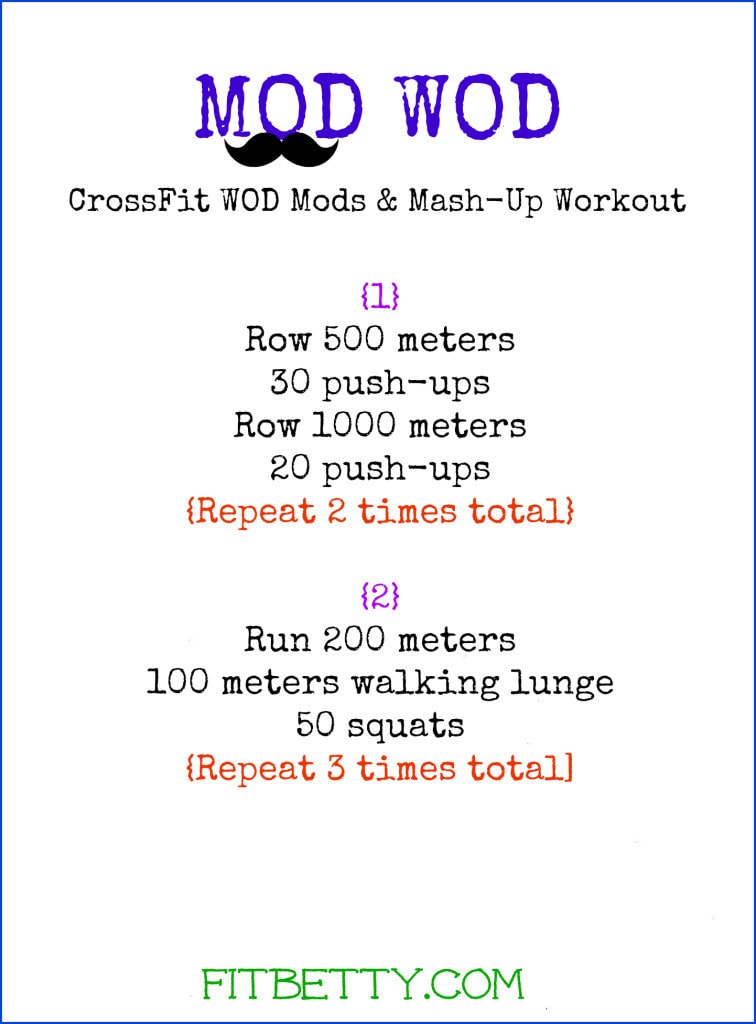 If you don't have access to a rowing machine or you want to do this workout at home, sub in seated resistance band rows for the rowing machine. You can put the band around your feet or (as I prefer) loop it around something very sturdy, like the leg of a table. For the 500 meters, do 2-3 minutes of rows, and for the 1000 meters, do 5-6 minutes of rows.
Sarah Jane Parker is the founder, recipe creator, and photographer behind The Fit Cookie. She's a food allergy mom and healthy living blogger based in Wyoming. Sarah is also an ACSM Certified Personal Trainer, ACE Certified Health Coach, Revolution Running certified running coach, and an ACE Certified Fitness Nutrition Specialist