Help treat acne naturally with this zinc oxide-based cream. This Natural DIY Acne Cream is easy to make and can be made with your favorite ingredients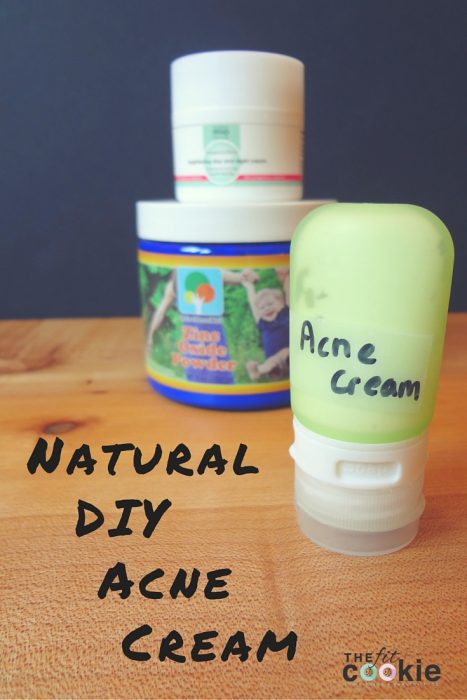 Hey friends! Sometimes it's just crazy how our bodies change over time. I'm only 31, but things are way different for me than they were just 10 years ago, and my skin will continue to surprise me as I get older. My skin is changing and not necessarily in a good way…
In my late 20's my skin actually got worse than when I was a teenager! I really didn't have too many skin problems when I was a teen – mostly just when I ate dairy (since I'm intolerant) or when my hormones changed. But now that I have gotten older, my breakouts have gotten more frequent and definitely more annoying. Ugh.

Along with watching my diet (certain foods trigger breakouts for me), one of the things I do to keep acne under control is watching my skincare routine and using some natural zinc oxide acne cream. Zinc oxide is a natural anti-inflammatory and it has healing properties (it's in diaper rash ointment too!), making it a great addition to your skincare routine.
Fellow healthy living blogger Emily Saunders (co-founder and writer at Momsanity) and her husband created a brand of health and wellness products called Raise them Well. So far they are carrying the zinc oxide powder and the magnesium oil, but they will be expanding their product line as they grow!
Raise them Well sent me a free jar of their zinc oxide powder to review and share a recipe with my readers. I also have a coupon code to share at the end of the blog post, so don't miss that!
Zinc oxide is a versatile powder and can be used to make your own natural skincare products, like acne cream (I'm sharing a recipe!), diaper cream, and sun screen. The zinc oxide powder from Raise them Well is:
Non-nano (won't be absorbed into the body)
Lab tested lead-free
100% pure
Toxin-free
Non-micronized
Uncoated
You can read up a little bit on the benefits of using zinc oxide and using a natural zinc oxide sunscreen that is made from non-nano particles rather than nano particles that can absorb into your skin and bloodstream. Natural zinc oxide cream may also be useful for eczema, rosacea, dandruff, sunburns, and psoriasis. It can create a protective barrier over damaged skin to protect it and heal. It's definitely worth trying if you have skin issues!
On a side note, studies have shown that people who suffer from acne often have lower zinc levels then those who don't have acne. If you have acne, you may consider seeing your doctor about getting tested for low zinc levels. Always check with your doc first before taking anything new! And take note that the Raise them Well zinc oxide powder is for topical use only so don't eat it 😉
Here is the zinc oxide recipe taken from the Raise them Well e-book. When you purchase the zinc oxide from their Amazon store, each purchaser will get an e-book with natural skincare recipes in it for their zinc oxide. There are recipes for DIY sunscreen, diaper cream, and sunscreen so you can skip the chemicals and make your own skincare products.
For my recipe, I changed it up a little: I didn't have good aloe vera gel so I used my Mama Mio Brightening Day and Night Cream that is all-natural and has some essential oils in it already. I notice that the cream does get a little dry at times when you go to apply it, so sometimes I will mix in a little more face cream before applying.
Disclaimer: This website contains general information about health and fitness. This information is not advice, and should not be used to replace medical advice from a doctor or other professional healthcare provider. If you have any specific questions about health or fitness matters, you should consult your doctor or other professional healthcare provider.
Sarah Jane Parker is the founder, recipe creator, and photographer behind The Fit Cookie. She's a food allergy mom and healthy living blogger based in Wyoming. Sarah is also an ACSM Certified Personal Trainer, ACE Certified Health Coach, Revolution Running certified running coach, and an ACE Certified Fitness Nutrition Specialist