Hummus is great, but not everyone can tolerate beans. If you're missing traditional hummus, try this creamy Bean Free Paleo Hummus made with zucchini (zucchini hummus aka Zummus)!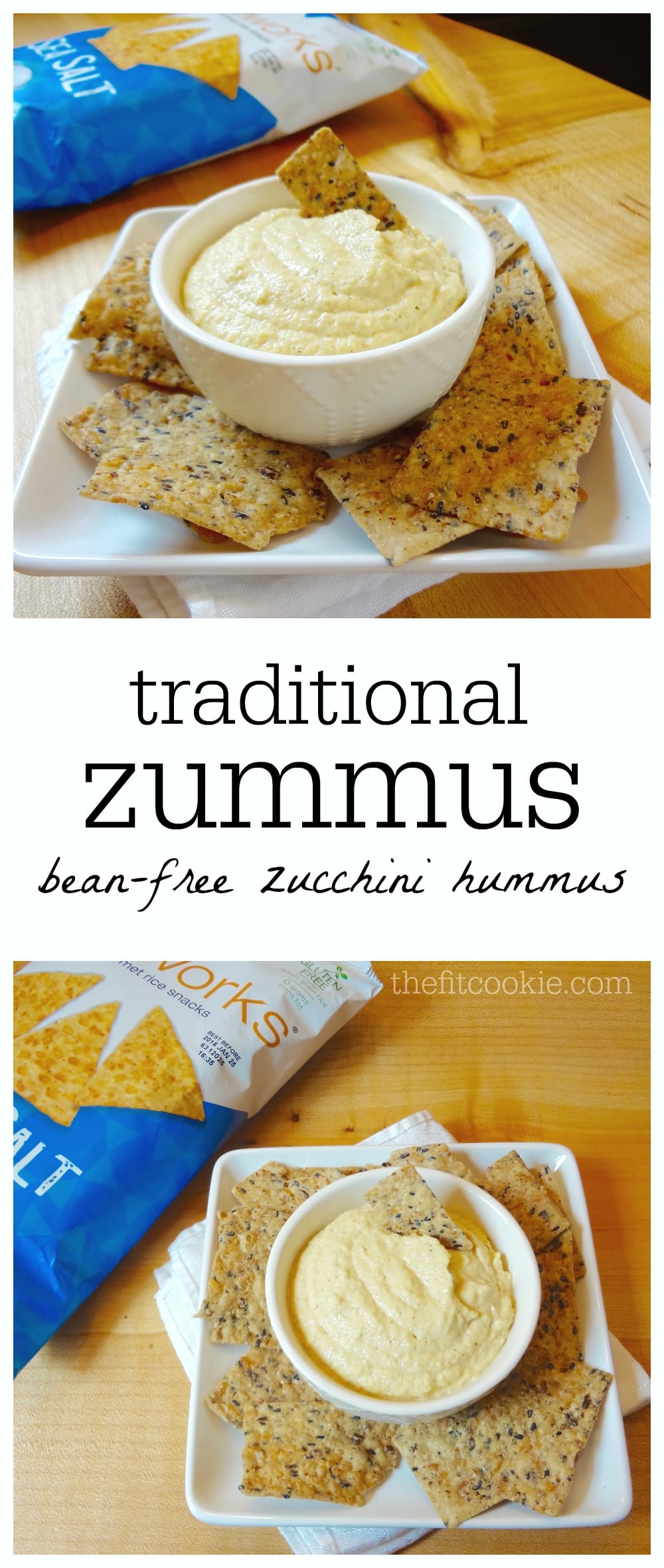 Hey friends! I'm back with another recipe for you to try, and I'm pretty excited about this one! It's a recipe that I have been wanting to make for a while and I finally got around to making it: paleo and bean-free zucchini hummus, aka Zummus!
My journey with food has been…well, interesting is the best word I would use to describe it. My food intolerances have morphed over the years so my diet is more limited than I would like, and some of my favorite foods are off the menu. Like hummus.
I love traditional hummus but legumes don't like my stomach too much, or my stomach doesn't like legumes… Either way, anything with legumes (beans, soy, etc.) is a no-go for me. Ironically, I can eat peanuts without a problem, but my kids have peanut allergies, go figure. Another one of life's great mysteries.
My goal was to make a bean-free hummus that I could enjoy with everyone. Everyone else in my house can have beans and chickpeas, so they love hummus with carrots, and I feel a little left out sometimes 😉 But I made Zummus so I can have dip, too! Bean-free zucchini hummus that fairly easy to make. I'm doing a happy dance over here – that Zummus is pretty awesome.
The clever name "zummus" is actually from my cousin! The other day I was trying to figure out what to call my zucchini hummus, so I asked my friends and family on Facebook and my cousin Heather came up the name zummus for my recipe. Thanks for the name Heather!
If you're on a gluten-free diet, then make sure you check out the gluten-free section at your local Walmart: they have a growing selection of gluten-free and organic brands at affordable prices. It makes it easier to stay on budget when you have food allergies and are on special diets.
We actually do the bulk of our grocery shopping at our Walmart, and I use their Savings Catcher app and save some money that way, too. Win win!
One of those gluten free brands Walmart carries is Riceworks, gluten-free chips made with whole grain rice. They come in 10 great flavors (some do contain dairy or soy so read the labels). The chips in the photos with the zucchini hummus are the Sea Salt and Black Sesame flavor – so yummy!
Our local Walmart has a small section dedicated to gluten-free foods, but most of the gluten-free items are found all over the store. So if you can't find what you're looking for in the gluten-free section, check out the rest of the store. The Riceworks chips were in the snack section of our store by the other gourmet chips.

You can serve this dip warm right after making it, but the zucchini hummus thickens up as it chills, so it works really well to make this ahead of time and chill for a few hours before serving. Then it is the texture and thickness of real hummus.
I also didn't have any lemon juice or fresh lemons on hand for this recipe (I forgot to buy some), so I used apple cider vinegar. If you have lemons, use fresh lemon juice. The apple cider vinegar tastes fine in this recipe, but lemon juice is more traditional and blends with the other flavors better.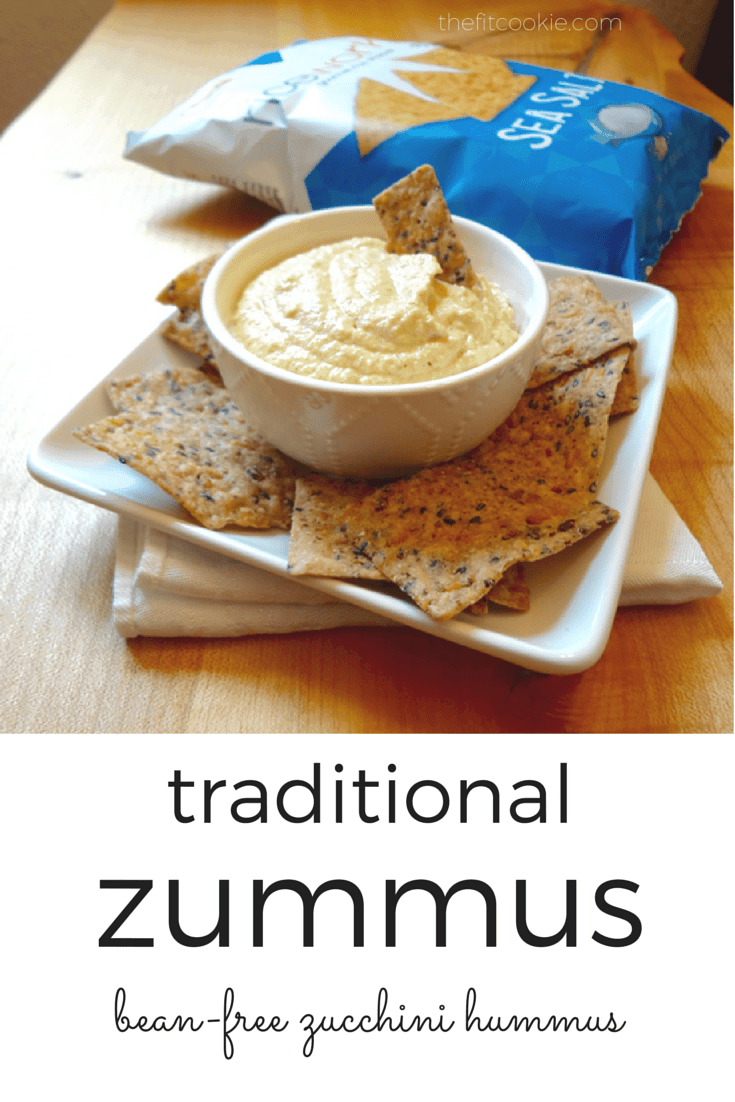 Peeling the zucchini keeps your zummus from turning green color and helps it blend more smoothly. If you want green zummus, you can keep the peel 🙂
Roast the zucchini until softened, but not mushy
Bean-Free Zucchini Hummus (Zummus)
Vegan, Gluten-free, Grain-Free; Free of: peanuts, tree nuts, coconut, soy, eggs, dairy
Makes about 1-1/2 cups dip
servings (2 Tablespoons each)
Print
Pin
Rate
Servings:
12
servings (2 Tablespoons each)
Ingredients
4

cups

zucchini

peeled and chopped

1

teaspoon

olive or avocado oil

½

teaspoon

garlic powder

Dash salt + pepper

⅓

cup

tahini

unsalted

2

Tablespoons

egg-free and soy-free mayo*

½

teaspoon

salt

½

teaspoon

apple cider vinegar

or 1 tsp lemon juice

¼

teaspoon

garlic powder

¼

teaspoon

cumin

+ more if you prefer

¼

teaspoon

chili powder

Dash black pepper
Instructions
Preheat your oven to 400° F

While your oven is warming up, wash and peel zucchini, then cut it in chunks. You will need 4 cups of zucchini pieces

In a large bowl, toss the zucchini pieces with the olive oil, garlic powder, and dash of salt and pepper

Spread zucchini on a sheet pan and roast in the oven for 15-20 minutes. You want the zucchini to be soft but not mushy

Remove the roasted zucchini from the oven and let cool, about 15-20 minutes

Add the roasted zucchini to a blender along with the tahini, egg-free soy-free mayo, garlic powder, salt, cumin, chili powder, and pepper. Add more or less cumin and chili pepper to your taste preference

Blend until smooth, about 2 minutes, stopping to scrape down the sides a couple times

Chill for several hours before serving. The zummus thickens up as it chills, so it works well to make this ahead of time and chill for a few hours before serving if you want it thick like regular hummus. Letting it chill also allows the flavors to settle into the zummus

Enjoy with some gluten-free Rice Works chips!
Notes
* We love Hampton Creek's Just Mayo, which is also available at Walmart
Nutrition
Calories:
65
kcal
|
Carbohydrates:
3
g
|
Protein:
1
g
|
Fat:
5
g
|
Saturated Fat:
0
g
|
Cholesterol:
0
mg
|
Sodium:
116
mg
|
Potassium:
138
mg
|
Fiber:
0
g
|
Sugar:
1
g
|
Vitamin A:
100
IU
|
Vitamin C:
7.7
mg
|
Calcium:
16
mg
|
Iron:
0.5
mg
Did you make this recipe?
Share a photo on Instagram and tag us @TheFitCookie!
Sarah Jane Parker is the founder, recipe creator, and photographer behind The Fit Cookie. She's a food allergy mom and healthy living blogger based in Wyoming. Sarah is also an ACSM Certified Personal Trainer, ACE Certified Health Coach, Revolution Running certified running coach, and an ACE Certified Fitness Nutrition Specialist