Check out the products we're loving lately at The Fit Cookie, upcoming races, new things, and the butter LONDON lip crayons!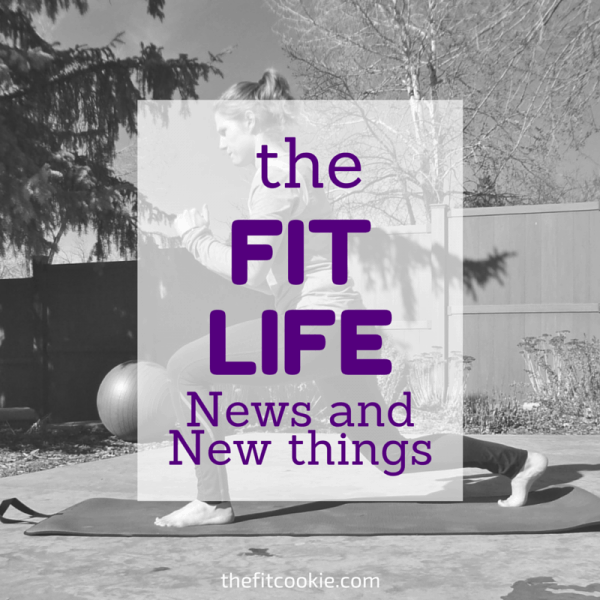 It's time for another round of The Fit Life: News and New Things! This one is #8, and there's lots of fun stuff in here! Make sure you enter the Butter LONDON giveaway! 😉
First things first: I got some awesome goodies from Butter LONDON! They sent me a pack of 14 lip crayons, 2 of each color.
Since I got 2 of every color (7 colors), I'm doing a giveaway for a full set of 7 ($140 msrp)! Enter to win below:
We are signed up for a couple fun events: we are doing the Rev3 Outlaw Challenge and the Wyoming Cares Ride with the Winds charity bike tour. Both events will be super fun, I'll post recaps! The Rev3 Outlaw Challenge is an orienteering "urban" adventure race. I use the word urban loosely since it's in small town Buffalo, far from truly urban if you've ever been there. I'm super excited for that one! Zach and I are racing together as team Yeti (Zach's nickname).
The Ride with the Winds bike tour is going to take some more prep on my part. We'll be riding 50 miles each day for 2 days. This one is fully supported with aid stations every 12-15 miles and lots of volunteers, so this will be a good first "official" ride for me. I'm a little nervous since I haven't done as much riding lately as I should, but I need to get my nutrition plan set up and pace myself.
P.S. If anyone is curious why I do sponsored posts and run ads on my blog, racing is one of the reasons why. Blogging is my part-time job and I don't make a ton, but it helps out, especially since we love to do races and events. So besides helping to support my family, I do sponsored posts here and run ads to help support my racing habit 😉
Lovely shrimp salad from one of our favorite places in Fort Collins: Enzio's Italian Kitchen. They have great food! If you're ever there get the steamed mussels and the lobster bisque, both are my husband's favorite dishes there
At one of our local 2-mile races I got second place in my age group! It's funny since I ran better last year but I'm in a new age bracket this year so now I'm placing in races. I guess getting older has it's perks! This year I seem to be a bit slower than last year since I was running a lot more last year.
I really packed my fitness schedule this year so I'm not getting my running in as much and I'm not doing as many interval sessions either. So much to do and so little time! It's all a matter of making time in my schedule for it, but making sure I'm recovering properly too.
I added some new fitness classes to my teaching schedule this summer so some days I am teaching 2 classes, and most days just 1, so my recovery and sleep needs to be on point.
I ran another 5K this past weekend and my runner's knee started hurting again. I haven't had tendinitis flareups with that knee for a while, so that was really a bummer. I had done a bunch of bodyweight lunges on Friday morning at my bootcamp class in the park and I suspect that may have contributed.
For some reason lunges seem to bother the tendinitis in my knee. I started going to physical therapy again to see if I could prevent flareups but it still happened. Oh, well, I just need to ramp up the rolling and e-stim again!
Mama Mio sent me some natural skin care kits to try out! I'm loving the Clean Slate face and body wipes and the Workout Wonder leg cream. The leg cream is awesome, it has peppermint and herbs to improve circulation in your legs to make them feel good.
The Mama Mio balancing skin set is also a great. The face wash has lavender in it and smells really good. The products are all natural and good for your skin. I love them!
NOW Foods sent me a few other goodies recently (even after the amazing things they gave to us on the blog trip!), and we got some NOW Bug Ban natural bug spray. This works! It smells great and works good against mosquitoes (not sure about ticks yet). It has a good blend of essential oils so it is effective.
If you're getting wet or sweating a lot, just make sure to re-apply this more frequently. We've been using this a lot lately since it has been unusually rainy and wet here the mosquitoes have been crazy!
NOW Foods also has a great special deal going on through 7/6 with Fitfluential
I found these little gems at the Whole Foods in Fort Collins: Missy J's Peanut Butter Carob Cups! They had a couple different flavors, and I picked the regular PB flavor. I was so excited to see a carob candy that actually tasted good since chocolate makes me break out bad and bothers my bladder ulcers (ugh). I really love chocolate but it doesn't love me back, so I have to be careful not to eat too much of it or very frequently.
 The Missy J's carob PB cups are yummy! And they are made in Longmont, CO, pretty close to local for me. I want to try their other treats!
When we're traveling, I grab a cold coffee from Califia (I can get these at Target and Natural Grocers). It's pretty tasty and cheaper than a latte at Starbucks. A bit high in sugar but it makes a nice treat 🙂
Speaking of sugar, I found some of this cashew milk ice cream at one of our local supermarkets and had to give it a try. I love it! I haven't tried the other cashew milk flavors but this one is pretty awesome. The cashew milk ice cream is creamier and tastier than the SO Delicious coconut milk ice cream. I found my new favorite!
Just wanted to share this one since it's beautiful: storm clouds over Gillette on Father's Day. The storms and clouds in Wyoming are epic – there is nothing quite like it. We lived in Washington state for a while and I really missed the sky. The clouds over there were pretty flat and low, nothing like what we have over here. It's awe inspiring! I love taking photos of big clouds. Yes, I understand that bad storms and tornadoes come out of those clouds sometimes, but that doesn't mean we can't look for the beauty in nature.
Sarah Jane Parker is the founder, recipe creator, and photographer behind The Fit Cookie. She's a food allergy mom and healthy living blogger based in Wyoming. Sarah is also an ACSM Certified Personal Trainer, ACE Certified Health Coach, Revolution Running certified running coach, and an ACE Certified Fitness Nutrition Specialist