Disclosure: This post may contain affiliate links. I receive a small commission at no cost to you when you make a purchase using my links.
If you have food allergies, then you might think that you'll miss out on great desserts. Think again! This Vegan Lemon Mousse recipe is dairy free, vegan, and gluten free

Do you remember the first time you had mousse? I remember when I first had mousse for dessert, back when I didn't have food allergies, we went to an Italian restaurant and I ordered chocolate mousse for dessert. It was one of the best sweets I had ever tasted!
Mousse easily made it onto my list of favorite desserts, but as I got older, we discovered I had a dairy allergy and I later developed new food allergies that included eggs, 2 of the main ingredients in traditional mousse recipes. So I decided to make an allergy-friendly mousse for Spring with the help of So Delicious!
This delicious Vegan Lemon Mousse recipe features the new So Delicious Organic Almondmilk with Cashew that has simple and purposeful ingredients, is certified organic, gluten free, vegan, and non-GMO. The So Delicious line of Organic Almondmilk with Cashew has 3 flavors: original, vanilla (which we use in this recipe), and unsweetened. And they are all delicious!
Not only is the Organic Almondmilk with Cashew made with 7 ingredients or fewer and made without carrageenan, the bottles are also pretty amazing, too. The bottles are 80% plant-based (made from renewable sugarcane) and recyclable.
This recipe for Vegan Lemon Mousse is fun to make and pretty unique in how it comes together. Usually, recipes for egg-free mousse call for gelatin, but this one doesn't use gelatin or agar (which can be hard to find for some people). In this recipe, we first make a lemon pudding, then stir in some So Delicious CocoWhip, and let it chill to make our mousse.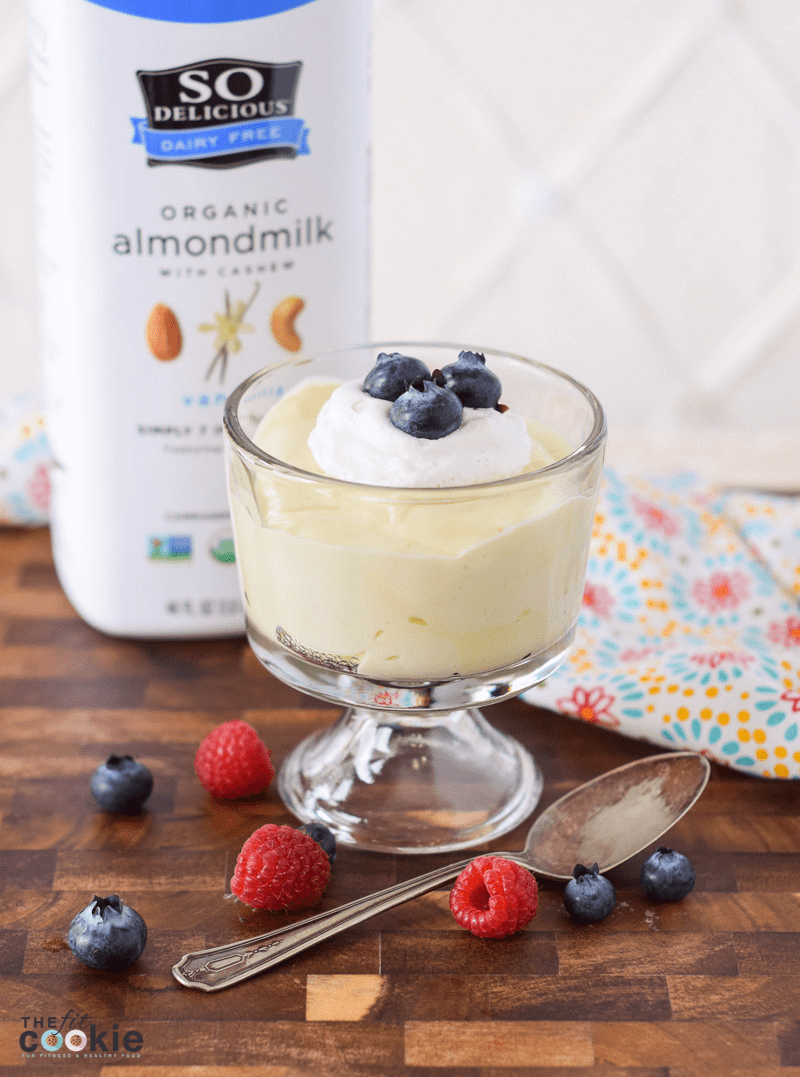 It almost seems like this recipe is way too simple, but that's exactly why I love it! All the ingredients are things that you should be able to find easily, and they are all dairy and egg free.
The fresh lemon and vanilla make the perfect flavor pairing for Spring, so this would be great for Easter, Mother's Day, or anytime you want a fun dessert. So Delicious uses real vanilla extract in their Organic Almondmilk with Cashew, so it's natural and has a bolder vanilla flavor that blends beautifully with lemon.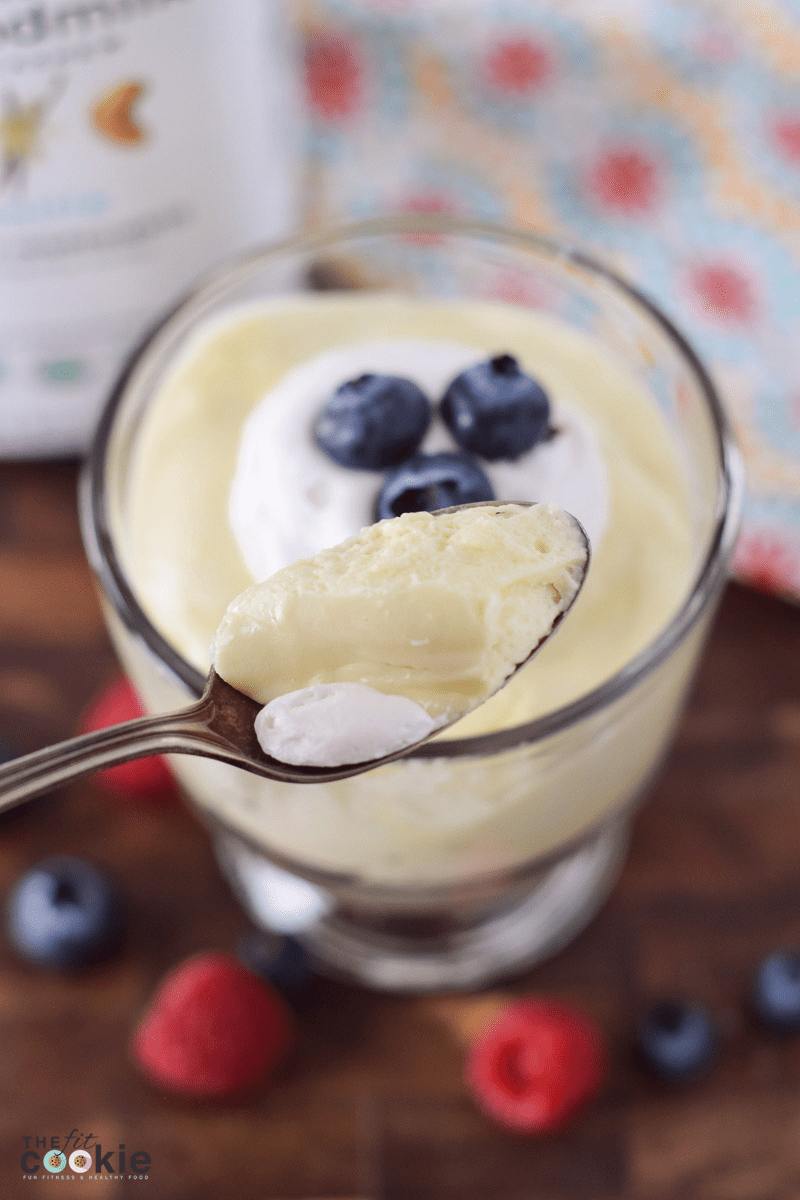 There is some lemon zest in the recipe to add a more lemon flavor, but if you don't want to run in to bits of lemon zest in your mousse, add the fresh lemon zest to a tea ball strainer and set it into the pan as the almond and coconut milk cooks. Remove it before you add the cornstarch, so you'll have lemon flavor without the bits of zest in your mousse.
I'll be making a chocolate version of this soon, so I'll share that in another blog post when I get that made as well! I'll be making the chocolate version of this recipe with the So Delicious Coconut Milk so my kids can have some, too. I'm excited to see how that turns out, stay tuned for that one!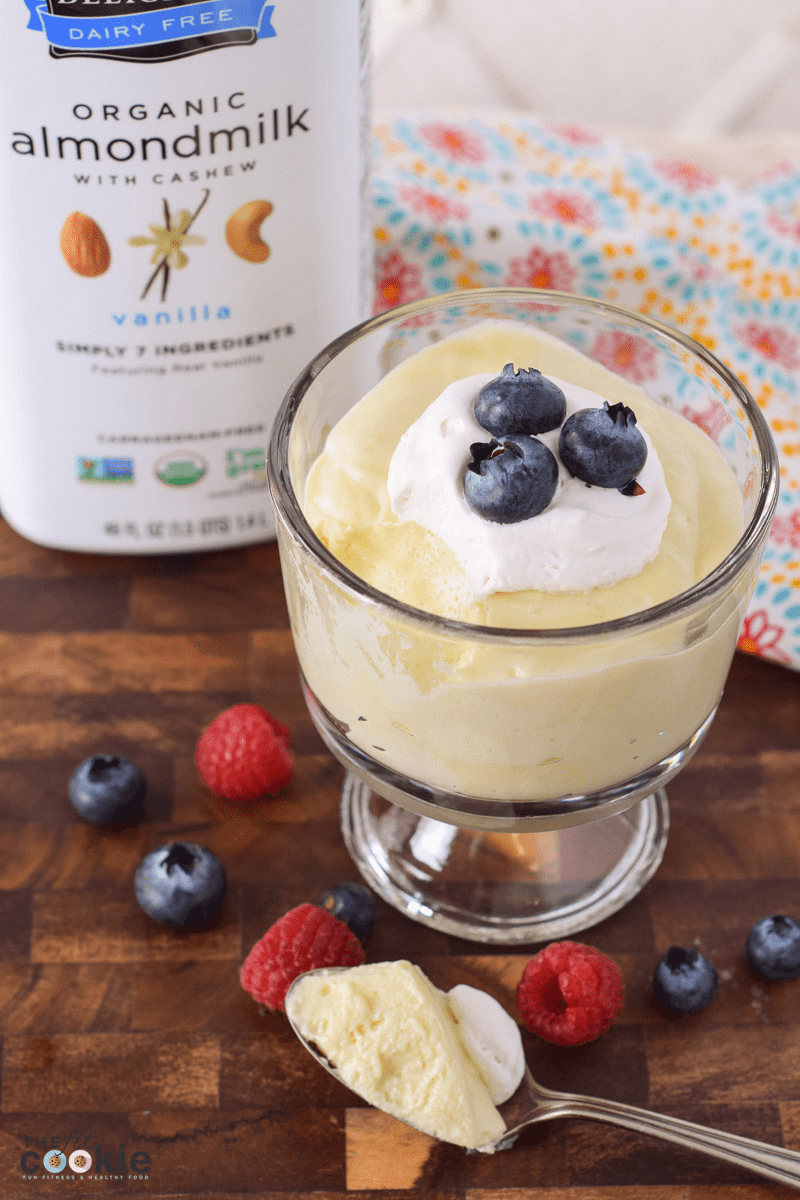 Vegan Lemon Mousse (Gluten Free)
If you have food allergies, don't miss out on great dessert! This Vegan Lemon Mousse recipe is dairy free, vegan, and gluten free
Vegan, gluten free; Free of: peanuts, dairy, soy. Contains tree nuts (almonds and cashews)
Instructions
In a small saucepan, combine the coconut milk, almondmilk, sugar, lemon juice, natural yellow color powder, and salt and whisk until combined.

Start out sparingly with the food color powder, and add more as you like. You can always add more, but you can't take it out once it's there.

Heat the milk over medium low heat, stirring often, until it begins to simmer. Scoop out about 1/2 cup hot milk into a small bowl and whisk the corn starch into the small bowl.

Pour the corn starch-milk mix into the saucepan, whisking constantly. The milk mixture should thicken immediately (you've made lemon pudding!). Continue to stir with a whisk or spoon until it is mixed well and there are no lumps.

Remove from the heat, stir in the vanilla extract, and cool for about 15 minutes, then scoop the lemon pudding into a large bowl. Cover it with plastic wrap and lay the wrap directly on the surface of the pudding (this prevents the thickened "pudding skin" on top that can create lumps when you mix it again).

Place in the fridge and cool for about 30-45 minutes. It doesn't have to cool completely, we just need it to cool enough to mix with the CocoWhip.

Once the lemon pudding has cooled a bit, uncover it and fold in the So Delicious CocoWhip with a spatula until well mixed.

Divide the lemon mousse into 4-6 ramekins, cover, and chill for several hours or overnight.

Top with more CocoWhip and berries if you like. Enjoy!
Notes
**If you don't want bits of lemon zest in your mousse, add the fresh lemon zest to a tea ball strainer and set it into the pan as the almond and coconut milk cooks. Swish it around a bit to get those good lemon flavors in your milk, then remove it before adding the cornstarch to the pan. 
Nutrition
Calories:
167
kcal
|
Carbohydrates:
15
g
|
Fat:
11
g
|
Saturated Fat:
8
g
|
Sodium:
31
mg
|
Potassium:
67
mg
|
Fiber:
2
g
|
Sugar:
9
g
|
Vitamin C:
3.5
%
Sarah Jane Parker is the founder, recipe creator, and photographer behind The Fit Cookie. She's a food allergy mom and healthy living blogger based in Wyoming. Sarah is also an ACSM Certified Personal Trainer, ACE Certified Health Coach, Revolution Running certified running coach, and an ACE Certified Fitness Nutrition Specialist