Missing dairy based treats like cheesecake? If you have dairy allergies, you don't need to miss out! Here are our 13 amazing dairy free cheesecake recipes that are family and reader favorites. Most of them are also gluten free or can easily be made gluten free!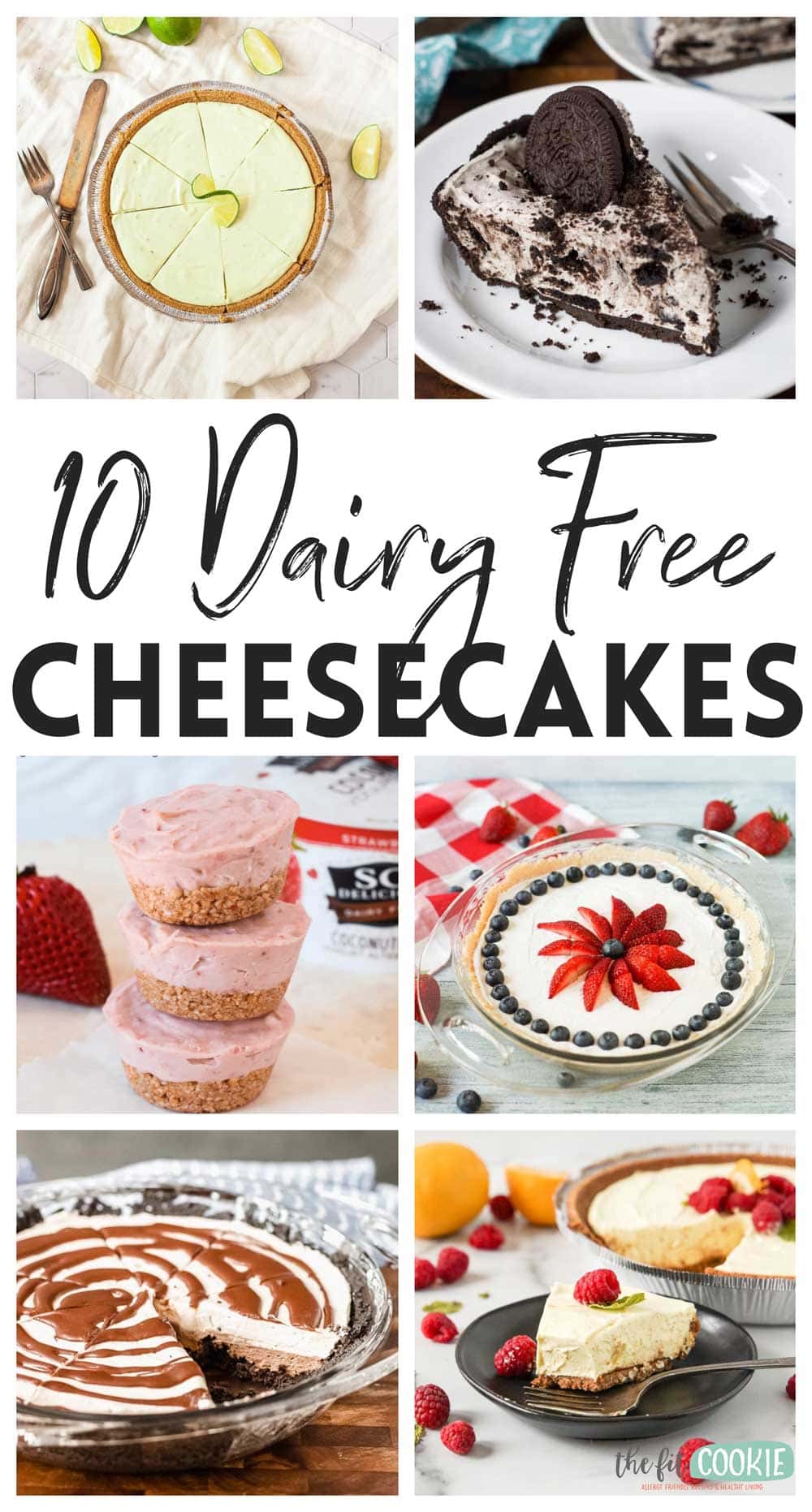 Craving an easy allergy friendly cheesecake? We've got you covered 🙂
A few years ago, I created a dairy free Oreo cheesecake for my husband and son's birthday (they share a birthday). I took some quick photos before I served it and posted it on The Fit Cookie on more of a whim not really expecting much with it.
Turns out my readers loved it as much as my family did! We all loved the cheesecake, even family members who could have dairy, and I decided to make several flavors of cheesecakes based on the same recipe.
Fast forward to today: we now have 10 dairy free cheesecakes under our belt so far, and we're making more as we come up with new flavor ideas.
All of the cheesecakes we have on The Fit Cookie are dairy free and vegan, and most of them are gluten free. The ones that aren't gluten free can easily be made gluten free with simple swaps!
Like with our first Oreo cheesecake, you can swap the Oreos for gluten free sandwich cookies in the filling and the crust and no one will even taste the difference!
What's different about our vegan cheesecake recipes?
The cheesecake recipes we have shared on our website are all no bake (no oven required!) and don't require cashews or a blender to make.
Don't get us wrong, cashew based cheesecakes look pretty delicious, but since my daughter has tree nut allergies we've never been able to make those kinds of cheesecakes.
So we stick with the cheesecake we know how to make best, no blender or oven required!
Our best dairy free cheesecake recipes
All of our dairy free cheesecake recipes are no bake and made without cashews! They're also all free of soy products like tofu, and are all peanut free as well (depending on your choice of ingredients).
Most of them are also gluten free or easily made gluten free!
Sarah Jane Parker is the founder, recipe creator, and photographer behind The Fit Cookie. She's a food allergy mom and healthy living blogger based in Wyoming. Sarah is also an ACSM Certified Personal Trainer, ACE Certified Health Coach, Revolution Running certified running coach, and an ACE Certified Fitness Nutrition Specialist