Want the perfect cool and fruity treat for summer? Make our dairy free and gluten free Key Lime Cheesecake! It's no bake (perfect for hot days) and made without cashews.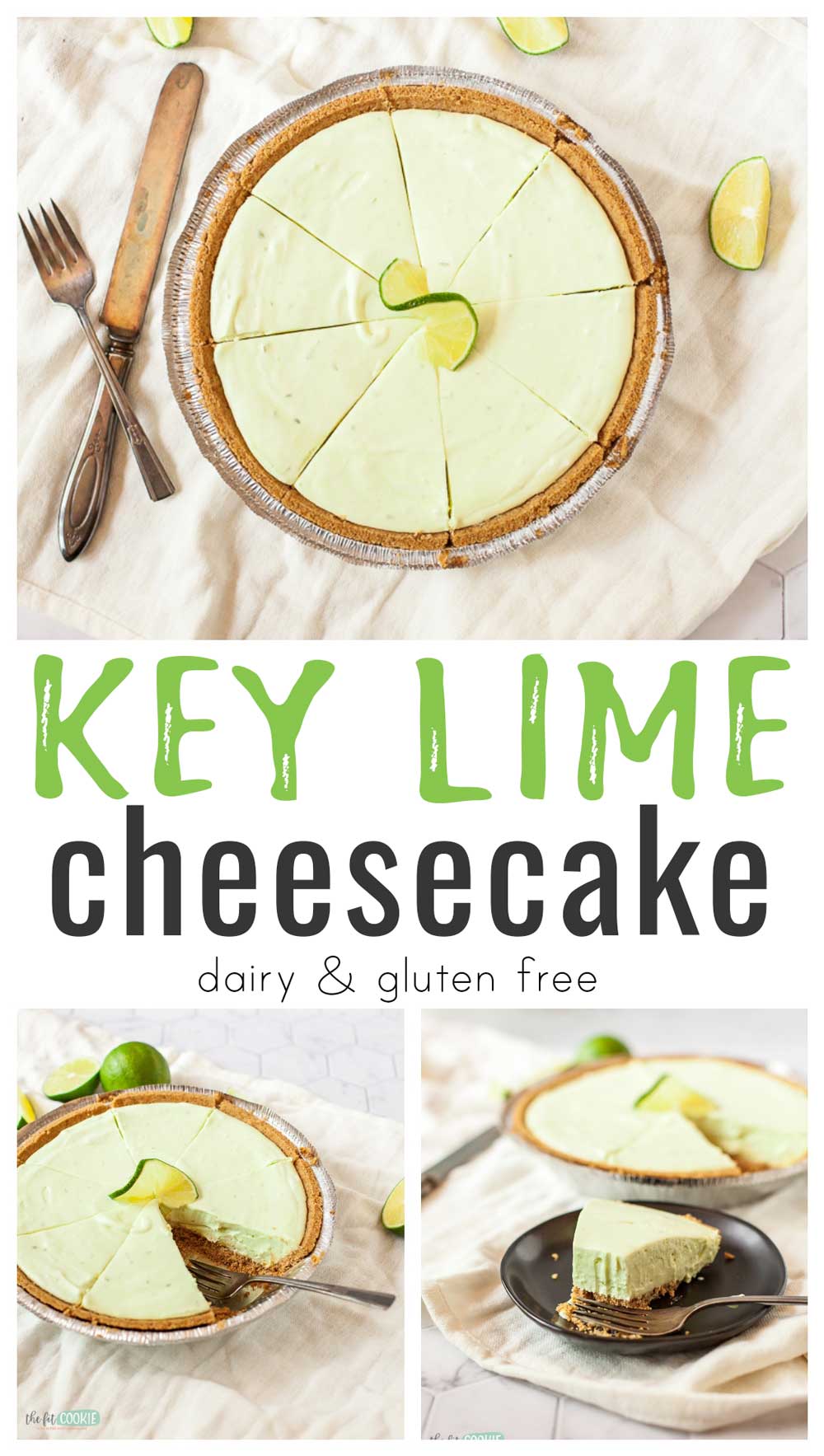 The 4th of July is this week and I don't really have any Independence Day themed recipes to share this year.
Life got ahead of me this spring and summer (for a ton of other people as well), so I feel pretty behind in some of my recipe making, but I still made some great summer recipes for y'all 🙂
We made another dairy free cheesecake recipe to add to our collection, this one is a Key Lime Cheesecake! This is no bake, dairy free, gluten free, soy free, nut free (except for coconut), and it's made without cashews.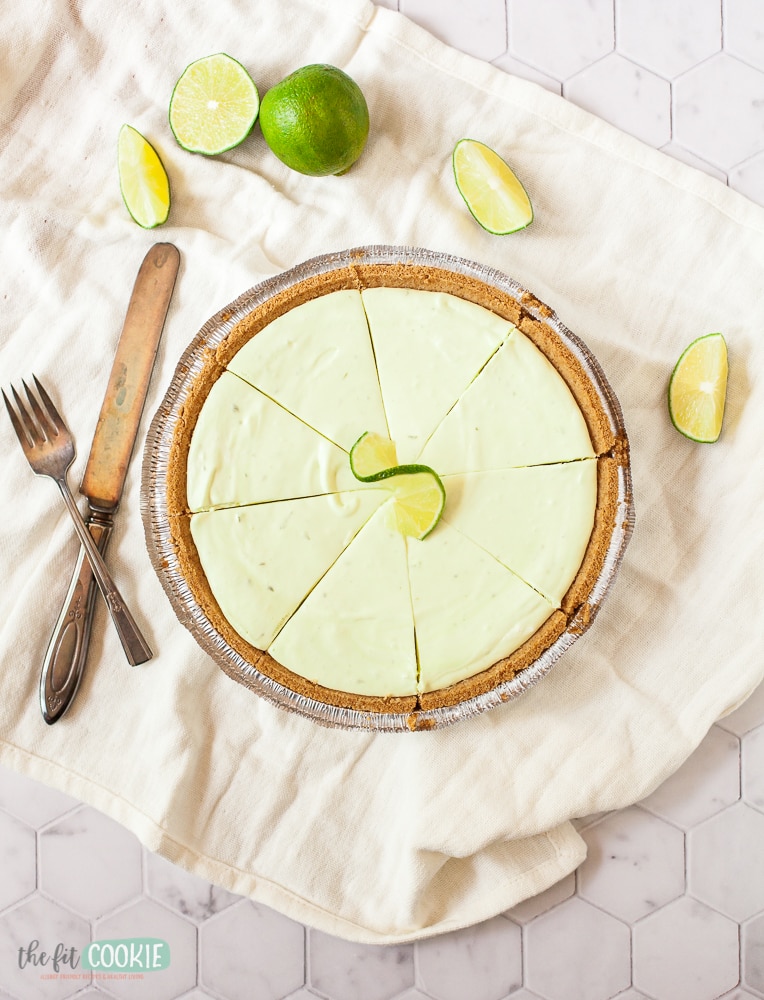 Plus it's very easy to make and it served chilled (a chilly treat for hot days).
Even though this dessert isn't red, white, and blue, this key lime cheesecake would still be an awesome treat for your July 4th BBQ.
It's cool, creamy, fruity, and would taste pretty amazing with a little extra dairy free whipped cream on top. Yum!
Read on for tips on how to make our dairy free key lime cheesecake (the full recipe card is at the end of the post).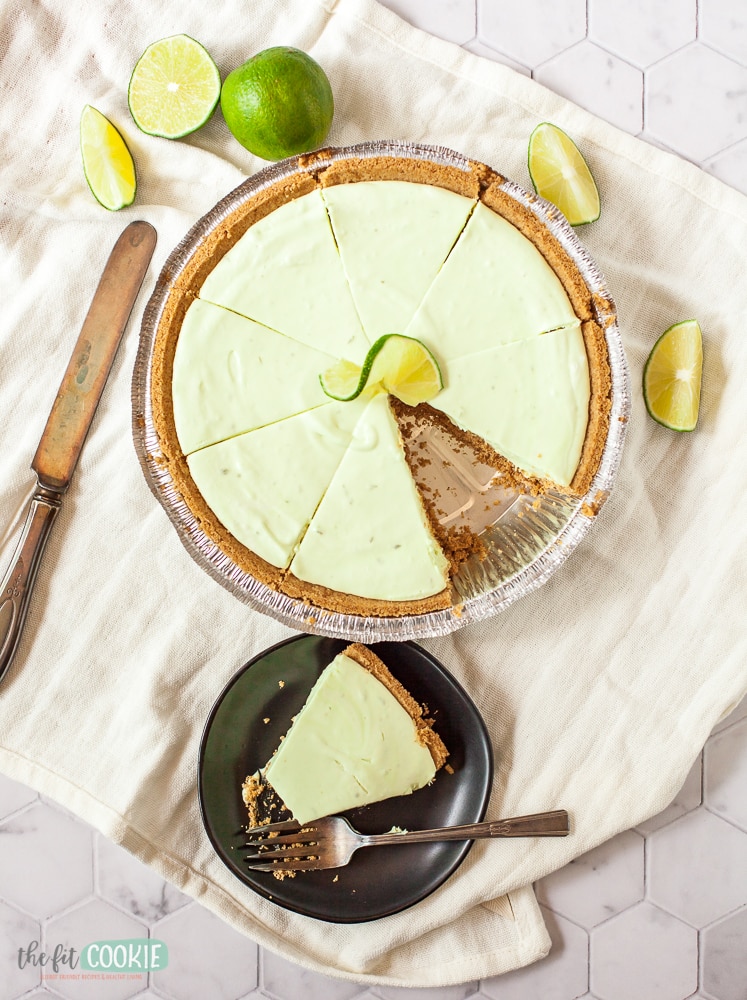 How to make dairy free key lime cheesecake
Our gluten free and dairy free key lime cheesecake is easy to make, no baking required! It just takes a bit of time for it to set up, but other than that, it's really easy to make and so creamy, silky smooth, and delicious.
Here are the steps for making this recipe. Please note: the actual recipe card with the full ingredients and instructions is at the end of the post!
If you're creating your own cookie crust, use the instructions for making your own crust.
In a bowl, beat the dairy free cream cheese (don't add anything else to it yet or it won't get smooth!).
Once the DF cream cheese is smooth, add your lime zest, lime juice, etc. and beat till it's smooth.
Fold in the dairy free whipped cream (we use So Delicious CocoWhip).
Spread filling into the premade crust or your homemade crust.
Chill for several hours until set.
I added a little bit of natural food color powder (we use McCormick) to this key lime cheesecake to give it a light green color. We used just a pinch each of yellow and blue color powder and kept adding tiny bits at a time and mixing until we liked the color.
You can skip the food color powder though if you want though. Leaving out the food color powder won't affect the flavor, the cheesecake will just have white filling with flecks of green lime zest, and will have the same delicious lime flavor.
Because this key lime cheesecake has more liquid in it from the lime juice, this cheesecake doesn't set up quite as firm as some of our other cheesecakes. So it's softer, but still delicious!
Can I use regular limes instead of key limes?
Cool key lime flavors are perfect for summer!
But guess what? This particular cheesecake doesn't have key limes in it, just regular limes. I didn't have access to key limes at the time I made this, so I used regular limes for it.
So it's perfectly fine to use regular limes instead of actual key limes!
I called this a "key lime" cheesecake instead of a regular "lime cheesecake" because that just sounds a bit weird, doesn't it? People are so used to hearing the words "key lime" for pies and cheesecakes, so I chose that name.
Key limes apparently have a more aromatic and less tart juice than regular store limes (which are Persian limes), so if you do use real key lime juice in this recipe, it might not be as tart.
If you want this cheesecake on the tart side, use regular limes. You'd likely have to use more key lime juice to get the same tartness and it likely won't set up properly if you add more lime juice than it calls for.
Gluten free cheesecake crust
For this key lime cheesecake, I used a store bought MiDel graham crust that's gluten free and allergy friendly. I love these crusts and our local Walmart carries them so they're easy to get, but they can be a little bit crumbly.
If you have some allergy friendly vanilla sandwich cookies, you can make your own cookie crust for this dairy free cheesecake. I like the Kinnikinnick sandwich cookies for crusts, they are gluten free, dairy free, and nut free.
To make your own cookie crust, just follow the crust directions in our vanilla cheesecake recipe post. Homemade cookie crusts are way better than the store bought ones, but the pre-made crusts are great in a pinch!
If you don't need to have this dairy free cheesecake gluten free, you can use vanilla Oreos to make your crust. Or even lemon Oreos for more citrus flavor.
Regular chocolate, vanilla, and lemon Oreos don't have dairy, but this may vary by country/region, so always check the labels for allergen information before buying them.
Check out our other dairy free cheesecakes, we have a bunch!
No Bake Dairy Free Key Lime Cheesecake (Gluten Free)
Want the perfect cool and fruity treat for summer? Make our dairy free and gluten free Key Lime Cheesecake! It's no bake (perfect for hot days) and made without cashews.
Gluten free, dairy free, vegan; Free of: soy, eggs, peanuts, tree nuts (except coconut)
pieces
Print
Pin
Rate
Instructions
In a large bowl, beat the non-dairy cream cheese with a hand blender to soften it and make it smooth.

Then add the powdered sugar, natural yellow and blue food color, and the lime zest. 

For the food coloring, add little bits of yellow and blue color powder to the filling until you get a light green color you like. The coloring is totally optional, however, and you can opt for no coloring if you like. It won't affect the flavor.

Beat in the lime juice and vanilla, mixing well so the cheesecake mixture is smooth.

Add 1/2 of the container of So Delicious CocoWhip to the bowl and beat together with the cream cheese mixture until it's smooth and mixed thoroughly, then fold in the remaining CocoWhip by hand with a spatula.

Spread the cheesecake mixture into the pre-made crust or the homemade cookie crust, spreading out to make it smooth on top. 

Chill for 4 or more hours, until it is chilled and has firmed up enough to slice.

Serve topped with lime slices or dairy free whipped cream. Enjoy!
Notes
* So Delicious CocoWhip is a coconut-based dairy free and soy-free whipped cream
Nutrition
Calories:
314
kcal
|
Carbohydrates:
31
g
|
Protein:
1
g
|
Fat:
19
g
|
Saturated Fat:
10
g
|
Polyunsaturated Fat:
0
g
|
Monounsaturated Fat:
0
g
|
Trans Fat:
0
g
|
Cholesterol:
0
mg
|
Sodium:
115
mg
|
Potassium:
6
mg
|
Fiber:
0
g
|
Sugar:
17
g
|
Vitamin A:
0
IU
|
Vitamin C:
2.6
mg
|
Calcium:
0
mg
|
Iron:
0
mg
Did you make this recipe?
Share a photo on Instagram and tag us @TheFitCookie!
Sarah Jane Parker is the founder, recipe creator, and photographer behind The Fit Cookie. She's a food allergy mom and healthy living blogger based in Wyoming. Sarah is also an ACSM Certified Personal Trainer, ACE Certified Health Coach, Revolution Running certified running coach, and an ACE Certified Fitness Nutrition Specialist