Serve up this pretty pink Strawberry Cheesecake for Valentine's Day or whenever the mood strikes. It's gluten free, dairy free, peanut free, and vegan!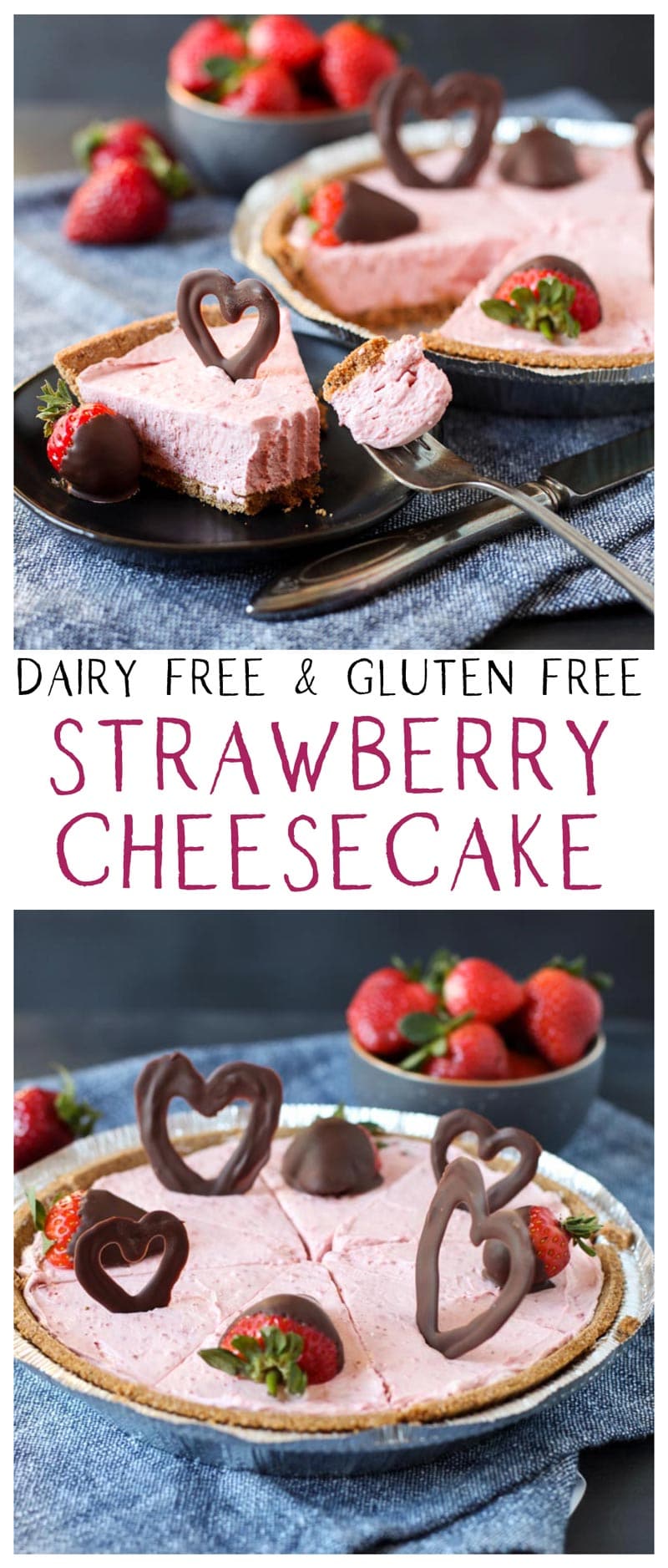 Sometimes the most popular recipes on our blog are the ones I almost didn't post!
A couple years ago, I made an Oreo Cheesecake for my son's birthday and took some quick photos before we ate it all up. I almost didn't get photos or a recipe written, but decided to anyway. Good thing I did, it has become our most popular recipe!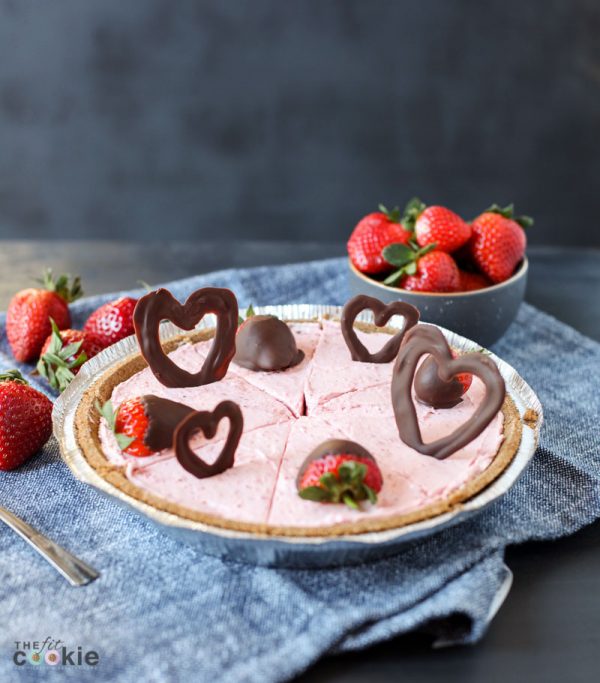 Since our Easy Dairy Free Oreo Cheesecake has been such a popular recipe on The Fit Cookie, I decided to make some more flavors. Our whole family (even the dairy eaters) love all of our allergy friendly cheesecake versions, so I plan on making more 🙂
With Valentine's Day is coming up, I decided to make a pretty pink colored dairy free Strawberry Cheesecake, but you can make this any time you want (no waiting for February!). We use freeze-dried strawberries in this recipe, so you don't have to worry about finding fresh strawberries out of season for this strawberry cheesecake, unless you want to garnish with dipped strawberries.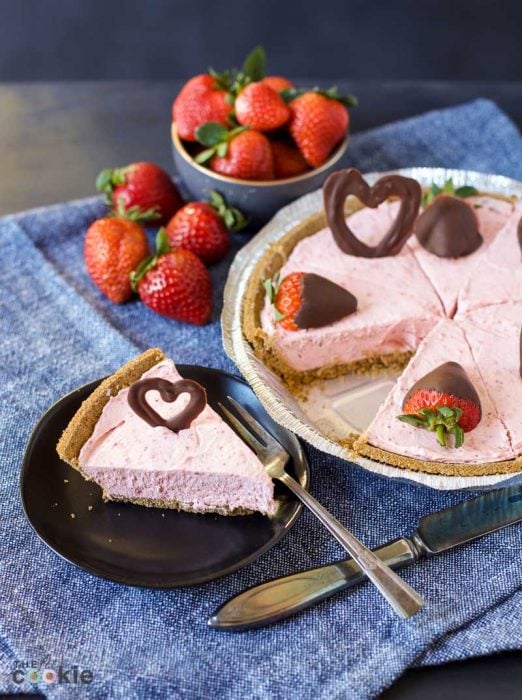 Vegan Strawberry Cheesecake Recipe Notes
The great pink color in this vegan cheesecake is completely all natural and from the strawberries, no food colorings are added. I personally like the lighter pink color of this cheesecake the way it is, but you can always add a natural food color powder or beet powder to this to make it brighter/deeper pink if you want.
We used a pre-made MiDel gluten free graham crust for this recipe, but you can always make your own crust, too. After we made this recipe, we did a bit of experimenting with another cheesecake recipe of ours (we'll post it in about a month) and made our own chocolate cookie crust for that new cheesecake.
Check out our Triple Chocolate Cheesecake recipe for instructions on how to make your own gluten free chocolate crust for this cheesecake.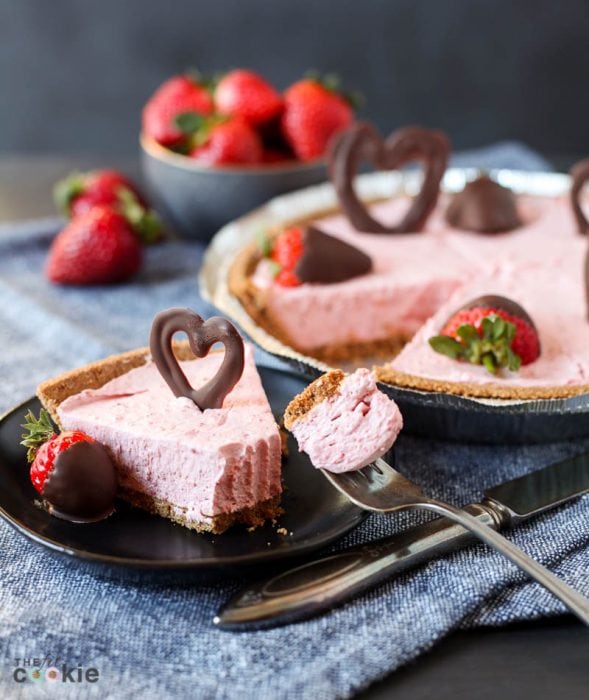 For the cookie crust on the other cheesecake, we put 25 Oreos (or gluten free equivalents) into a food processor and processed til they're crumbs. Then stirred in 1/4 cup melted coconut oil. Press this mixture into a pie plate, and chill till set. So yummy!
You can decorate your strawberry cheesecake a couple of different ways: with chocolate dipped strawberries, or homemade chocolate hearts.
For the chocolate dipped strawberries, I used small strawberries, left the stems on, and cut the strawberry in half lengthwise to make them sit flat on the cheesecake. Then we dipped them in melted allergy friendly chocolate, and set them on parchment-lined baking sheet and chilled till set in the fridge.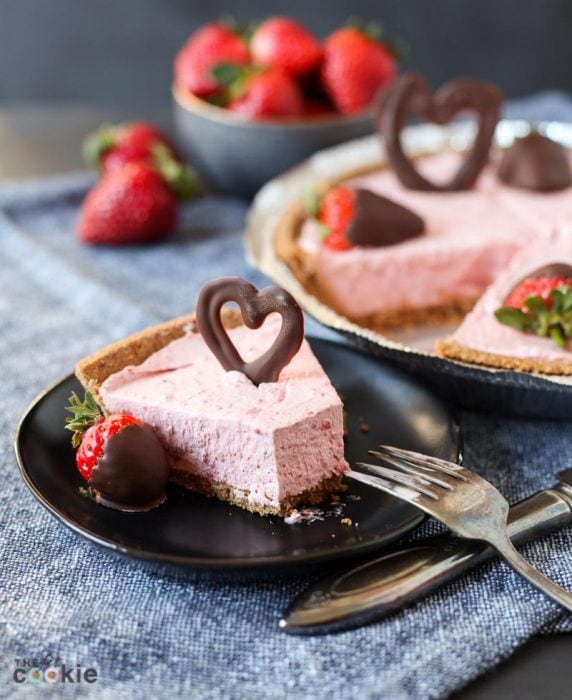 If you'd like to make the cute chocolate hearts, melt some allergy friendly chocolate, and draw shapes with it on a parchment-lined cookie sheet. Then chill till set. You can use a small spoon to make the shapes, a squeeze bottle with a small opening, or a plastic bag with a tiny part of the corner snipped off.
There are some companies that make tools for making shapes and molds for chocolate, but I haven't sprung for any yet (I definitely should!).
Ingredient notes for vegan no-bake cheesecake
We use Daiya cream cheese for all of our no-bake cheesecakes because we can get it locally and it fits all of our allergies, but you can use another brand of non-dairy cream cheese that fits your diet.
Most other brands of dairy free cream cheese should work great in this recipe, it might change the taste or texture slightly, but it won't be noticeable. You can see some tips on replacing cream cheese in our article about how to replace dairy in recipes!
So Delicious CocoWhip is a coconut-based whipped topping alternative that is allergy friendly. If you can't find CocoWhip in any stores, you can try ordering it online, or use a different brand of dairy free whipped cream.
Since I haven't made this cheesecake with other brands of ingredients aside from the ones I listed, I'm not sure how other brands of whipped cream will turn out in this recipe.
Kitchen tools you'll need for this recipe:
Check out our other no-bake vegan cheesecakes made without cashews: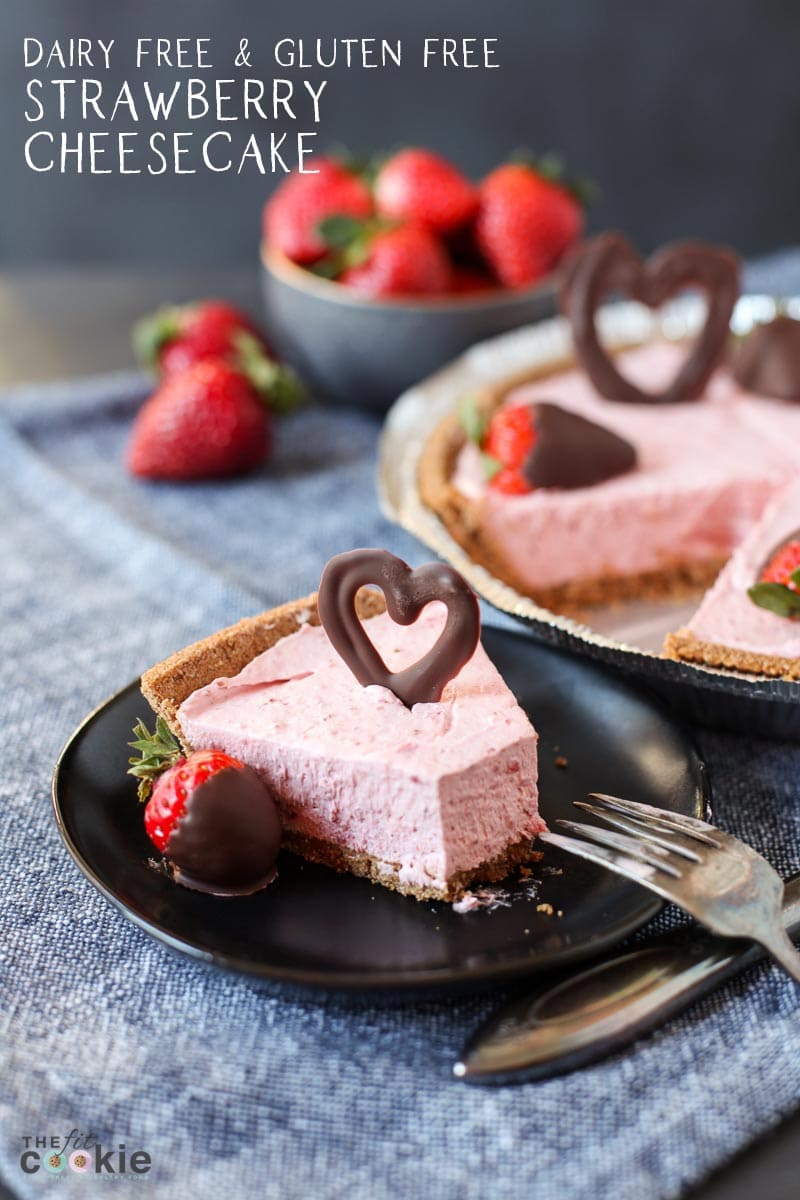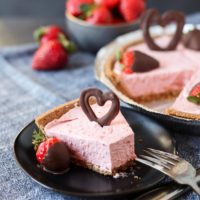 Dairy Free Strawberry Cheesecake (Gluten Free)
Serve up this pretty pink Strawberry Cheesecake for Valentine's Day or whenever the mood strikes. It's gluten free, dairy free, peanut free, and vegan!
Vegan, gluten free, dairy free. Free of: peanuts, soy, eggs
Print
Pin
Rate
Instructions
In a medium bowl, beat the non-dairy cream cheese with a hand blender until softened and creamy. Add the powdered sugar and vanilla, and beat again.

Add your freeze dried strawberries to a mini blender or food processor and process until it's a fine powder.

Add the strawberry powder and 1/2 the container of CocoWhip to the cream cheese and beat again until mixed.

Fold in the other 1/2 container of CocoWhip until mixed well, and spread the cream cheese mix into the gluten free graham crust.

Cover and chill for about 6-8 hours until set. Serve topped with your chocolate shapes or chocolate strawberries. Enjoy!
Chocolate garnish (optional)
For chocolate hearts or chocolate strawberries: melt 1/2 cup allergy friendly chocolate chips in a small bowl or cup set in hot water in a pan (microwaving is faster but less consistent).

Make shapes with the melted chocolate on a parchment lined baking sheet, or dip strawberries in the chocolate and set them on the parchment paper.

Place the chocolate shapes in the fridge until set, then add them to your cheesecake when you're ready to serve it.
Notes
** If you want to make your own cookie crust, put 25 sandwich cookies into a food processor and process til they're crumbs. Then stir in 1/4 cup melted coconut oil. Press this mixture into the bottom and up the sides of a pie plate, and chill till set. Once it's chilled for about 30 minutes, add your filling. 
Nutrition
Calories:
326
kcal
|
Carbohydrates:
34
g
|
Protein:
1
g
|
Fat:
19
g
|
Saturated Fat:
10
g
|
Polyunsaturated Fat:
0
g
|
Monounsaturated Fat:
0
g
|
Trans Fat:
0
g
|
Cholesterol:
0
mg
|
Sodium:
115
mg
|
Potassium:
56
mg
|
Fiber:
0
g
|
Sugar:
19
g
|
Vitamin A:
0
IU
|
Vitamin C:
52
mg
|
Calcium:
0
mg
|
Iron:
0.9
mg
Did you make this recipe?
Share a photo on Instagram and tag us @TheFitCookie!
Sarah Jane Parker is the founder, recipe creator, and photographer behind The Fit Cookie. She's a food allergy mom and healthy living blogger based in Wyoming. Sarah is also an ACSM Certified Personal Trainer, ACE Certified Health Coach, Revolution Running certified running coach, and an ACE Certified Fitness Nutrition Specialist