Homemade crackers are great for healthier appetizers and snacks! Our Gluten Free Garlic Herb Crackers are whole grain, dairy free, and peanut free too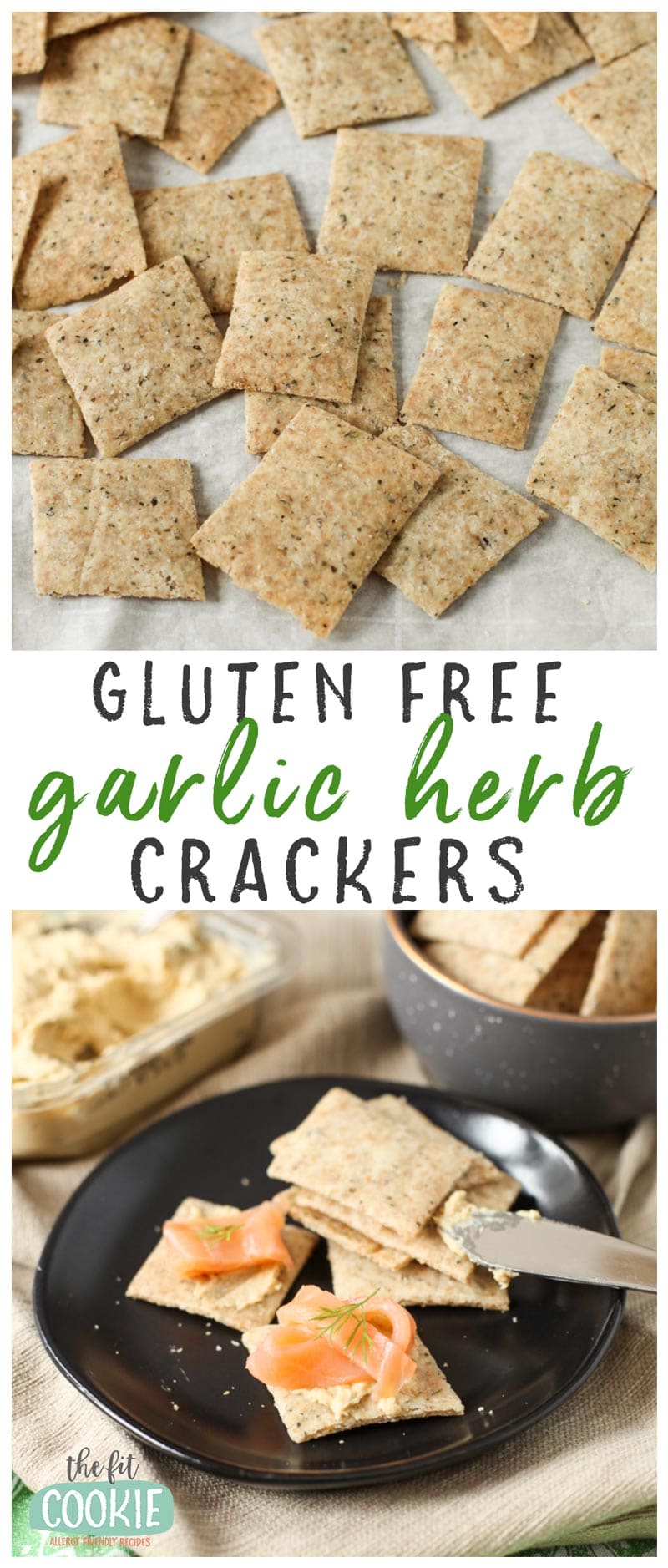 We're back with another homemade cracker recipe this week! I had planned on posting this Gluten Free Garlic Herb Cracker recipe last Thursday, but I got busy with setting up a new theme for the website. I'm excited with how it looks now!
These garlic herb crackers are a savory variation of the Cinnamon Sugar Crackers I posted a couple weeks ago. Making crackers at home is fun, easy, and you can make them fit your nutrition goals or your special diet.
These crackers are so versatile, too. You can eat them plain or paired with non-dairy cheese as a snack, or serve them with hummus, dip, or smoked salmon for appetizers. Lots of serving options!
And since these Garlic Herb Crackers are gluten free, dairy free, vegan, and peanut free, they fit many diets. These are also free of tree nuts if you don't count coconut as a tree nut (they are not botanically a nut at all but rather a type of fruit).
Making the Garlic Herb Crackers
When rolling out the gluten free cracker dough, you'll want to make sure it's rolled between 1/16-1/8 inch thick. This will help it get crispy without having to cook it for a long time. But more importantly, you'll want to make sure that the dough is rolled evenly and the crackers are cut mostly evenly.
Rolling and cutting the dough *mostly* even helps the crackers cook uniformly so you don't end up with burnt ones and undercooked ones in the same batch. I say mostly even because you don't have to make them perfect, just try to make them mostly uniform.
If you want to punch up the flavor even more on these crackers, you can try some flavored on top of them, like smoked salt or herb salt. Just lightly sprinkle any salt on top since the cracker base itself has some salt in it and you don't want super salty crackers.
Gluten Free Garlic Herb Crackers
Homemade crackers are great for healthier appetizers and snacks! Our Gluten Free Garlic Herb Crackers are whole grain, dairy free, and peanut free too. This makes about 30-40 crackers
Gluten free, vegan; Free of: soy, eggs, peanuts
Print
Pin
Rate
Instructions
Preheat oven to 350 degrees F.

In a medium bowl, stir together the flour, flaxseed, coconut sugar, baking powder, garlic powder, marjoram, basil, and salt.

With a fork, cut the coconut oil into the flour mixture until crumbly. Stir in the cold water until a crumbly dough forms.

Press the dough together into a disc and place between 2 pieces of parchment paper. Roll out the dough until it's about 1/16- to 1/8-inch thick (I roll mine out to 1/16 inch). Once it's rolled out, sprinkle lightly with the salt if you like.

Place the rolled dough along with the bottom piece of parchment paper together onto a baking sheet. Bake for 10 minutes.

Remove from the oven and cut into 1-inch pieces, separating the crackers so they can get crisp. Try to cut them as uniform as possible so the crackers can cook evenly.

Return the crackers to the oven, and bake for 10 minutes more. Some of the crackers from the inside of the dough will seem soft at first, but they will get crisp as they cool. If your dough is thicker, they will need a few more minutes to cook (start with 2 minute increments).

Allow to cool completely before putting in an an airtight container. Enjoy!
Notes
This makes a small batch, you can double or triple this recipe to make more. With bigger batches, you'll need to divide the dough into 2 or 3 portions for rolling and baking.
Nutrition
Calories:
103
kcal
|
Carbohydrates:
6
g
|
Protein:
1
g
|
Fat:
8
g
|
Saturated Fat:
6
g
|
Polyunsaturated Fat:
0
g
|
Monounsaturated Fat:
0
g
|
Trans Fat:
0
g
|
Cholesterol:
0
mg
|
Sodium:
149
mg
|
Potassium:
53
mg
|
Fiber:
1
g
|
Sugar:
0
g
|
Vitamin A:
0
IU
|
Vitamin C:
0
mg
|
Calcium:
20
mg
|
Iron:
0.3
mg
Did you make this recipe?
Share a photo on Instagram and tag us @TheFitCookie!
Sarah Jane Parker is the founder, recipe creator, and photographer behind The Fit Cookie. She's a food allergy mom and healthy living blogger based in Wyoming. Sarah is also an ACSM Certified Personal Trainer, ACE Certified Health Coach, Revolution Running certified running coach, and an ACE Certified Fitness Nutrition Specialist