Our perfectly sweet and tart No Bake Dairy Free Lemon Cheesecake is a great dessert for spring holidays! It's also gluten free, soy free, and vegan.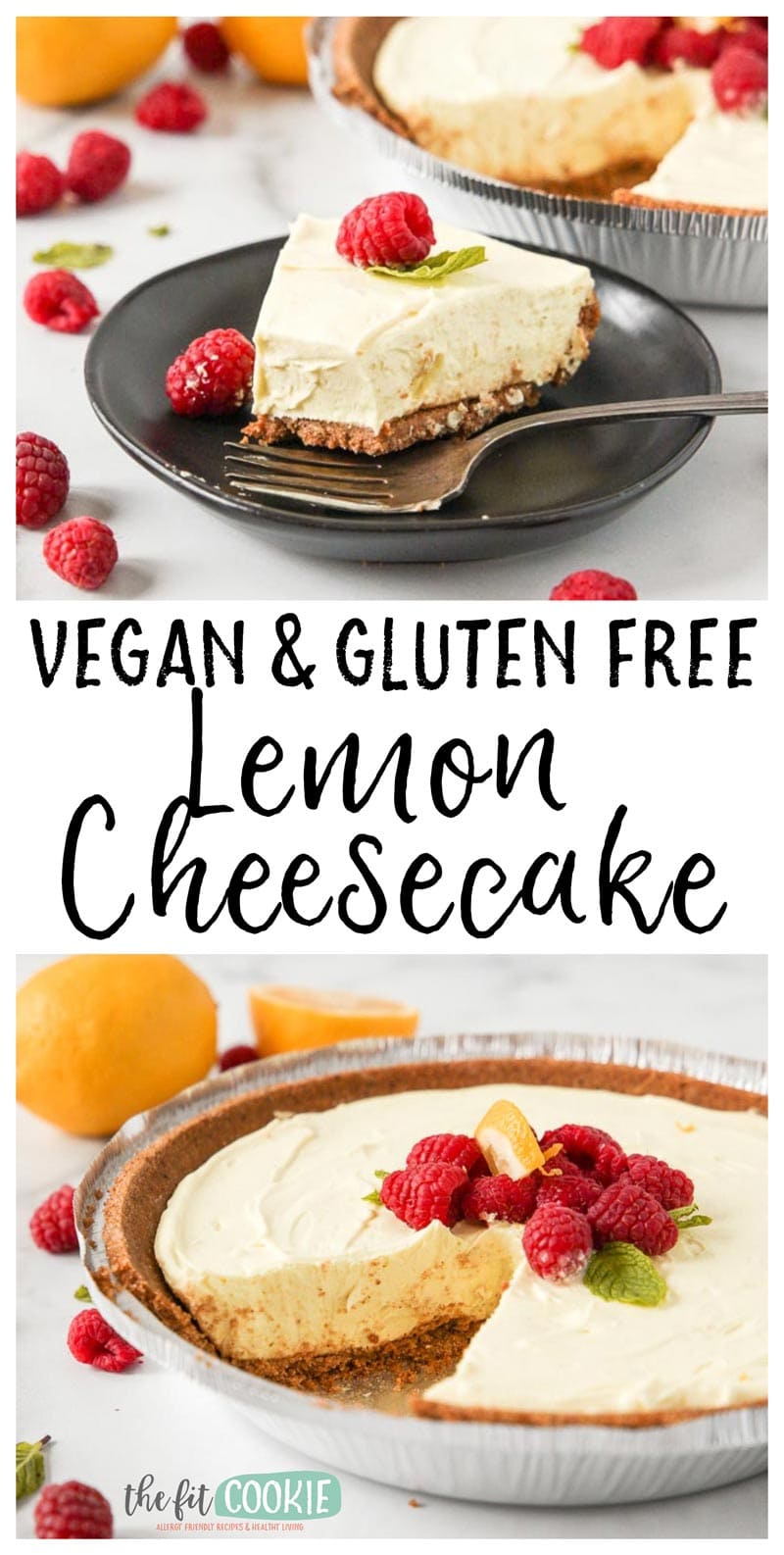 Even though spring is in full swing on the calendar, we just got a ton of snow yesterday and today. But in spite of the cold weather hanging on, we're still looking forward to fun spring gatherings for Easter and Mother's Day.
To celebrate spring holidays and add a bright and fruity cheesecake to our collection, I made a delicious and simple No Bake Dairy Free Lemon Cheesecake that's also gluten free and vegan!
We took some new photos of our lemon cheesecake recently and included them in the post!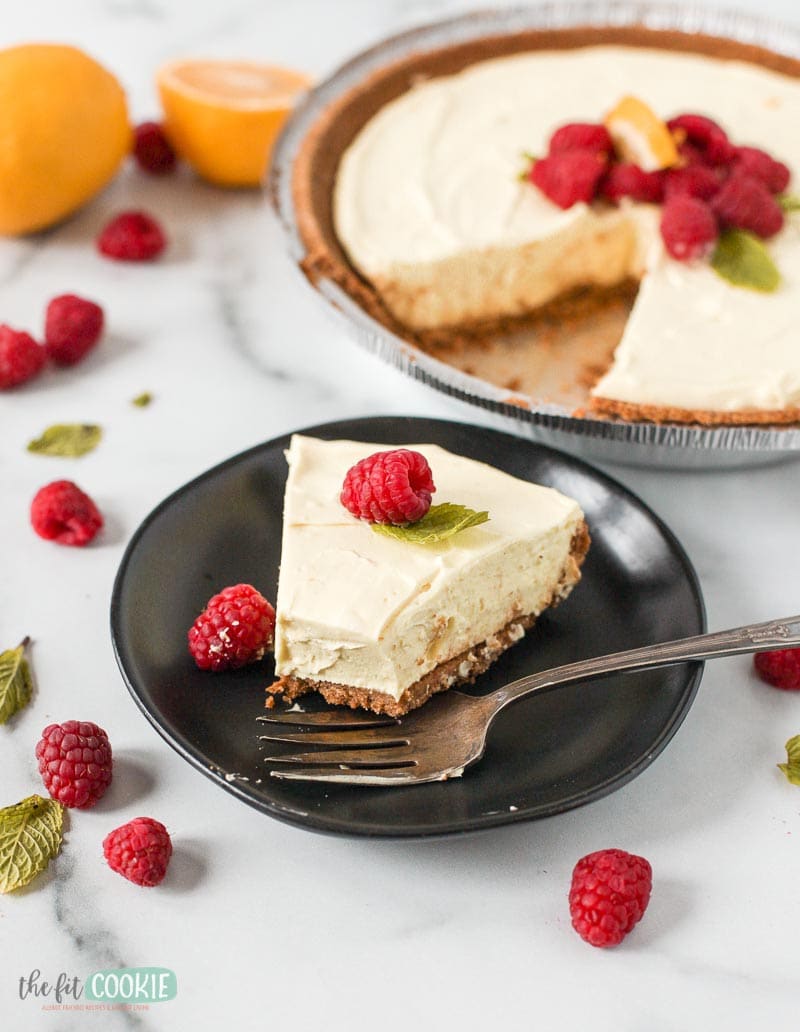 What's great about all of our cheesecake recipes is that they are made without cashews or other nuts, so they are allergy friendly if your family or friends have nut allergies! Just check the labels on your chosen ingredients (coconuts are not technically tree nuts, but check with your allergist if you're unsure if you should have coconut).
How to make our vegan lemon cheesecake
When mixing up your lemon cheesecake filling, make sure you soften the non-dairy cream cheese with a hand mixer first before adding anything else to it. The ensures that everything will mix up smoothly and not have any lumps in it.
Then you'll beat in the powdered sugar, lemon juice, and the other ingredients. If you add the lemon juice right away to the un-softened dairy free cream cheese, it will be a bit harder to mix and look lumpy at first.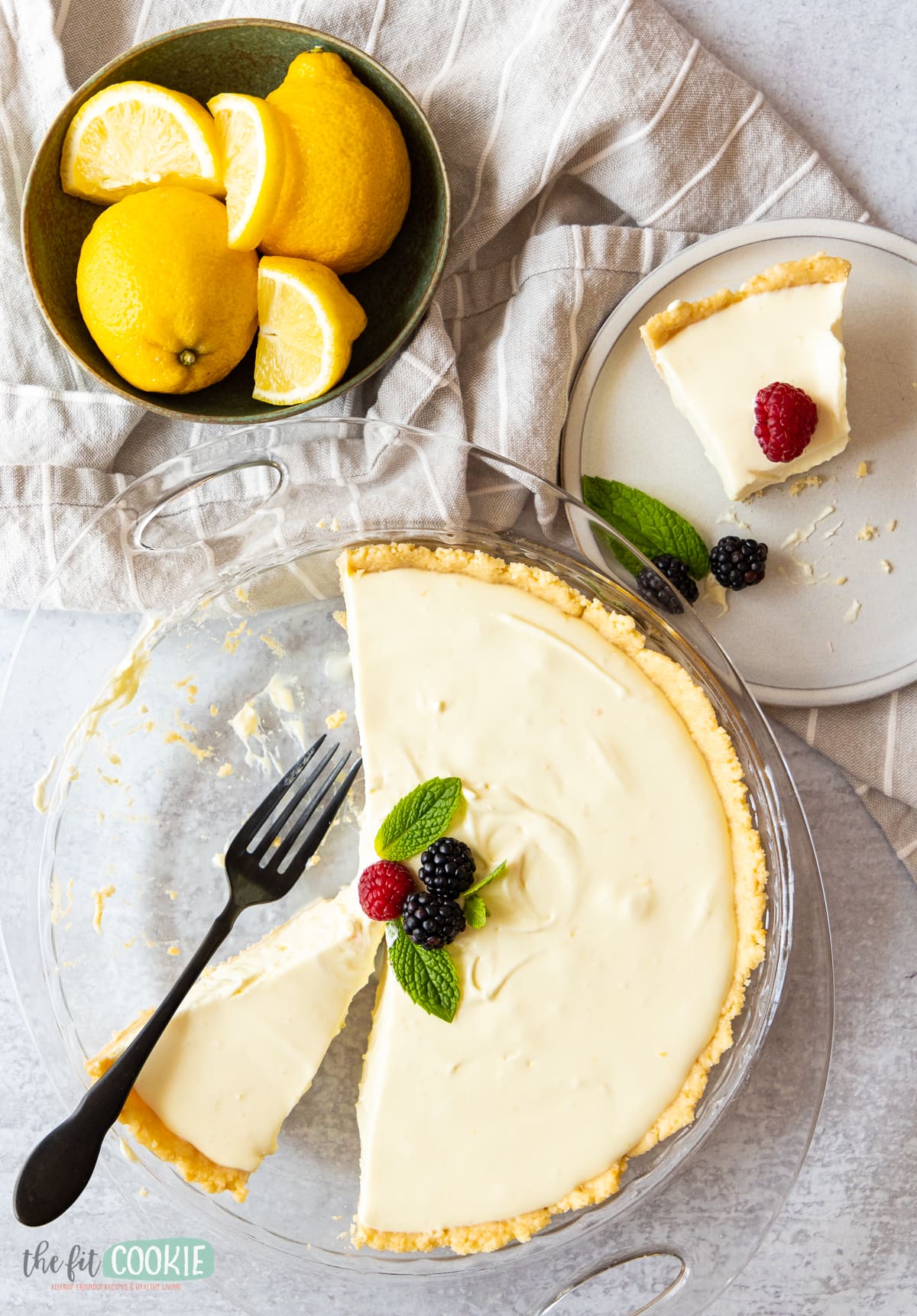 To add a nice yellow color to this lemon cheesecake, we added some natural food color powder from McCormick, but that's completely optional. You don't have to make this yellow if you prefer to keep it white. The McCormick natural yellow color I used has a slightly green tint to it, so it won't look quite like an artificially colored lemon cheesecake.
How do I make a cookie crust for cheesecake?
We use the Mi-Del gluten free graham-style pre-made crust in a lot of our cheesecakes since it's super easy to use and it's yummy, but you can always make your own gluten free cookie crust for this cheesecake using Kinnitoos vanilla sandwich cookies.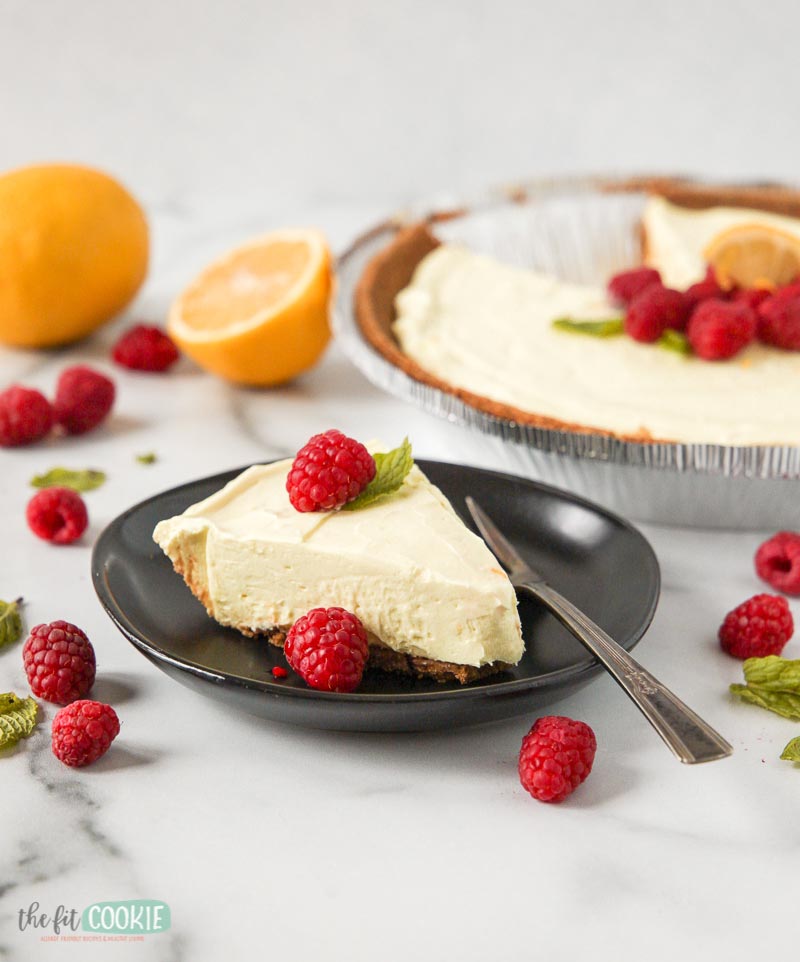 We show how to make a sandwich cookie crust in our Triple Chocolate Vegan Cheesecake recipe, all you'd need to do is replace the chocolate gluten free sandwich cookies with the vanilla Kinnitoos sandwich cookies for this recipe (unless you want chocolate and lemon together). It's really easy to make and makes an awesome no-bake cheesecake crust!
Our video in this post shows how we make the gluten free and dairy free cookie crust for cheesecakes. We have also included instructions on the vanilla crust in our vanilla cheesecake post, it is the same process as the chocolate cookie crust.
You process the sandwich cookies in a food processor, mix with some melted coconut oil or melted Earth Balance Soy Free margarine, press it into a pie plate, then chill till set (check out the recipe I linked above for exact measurements).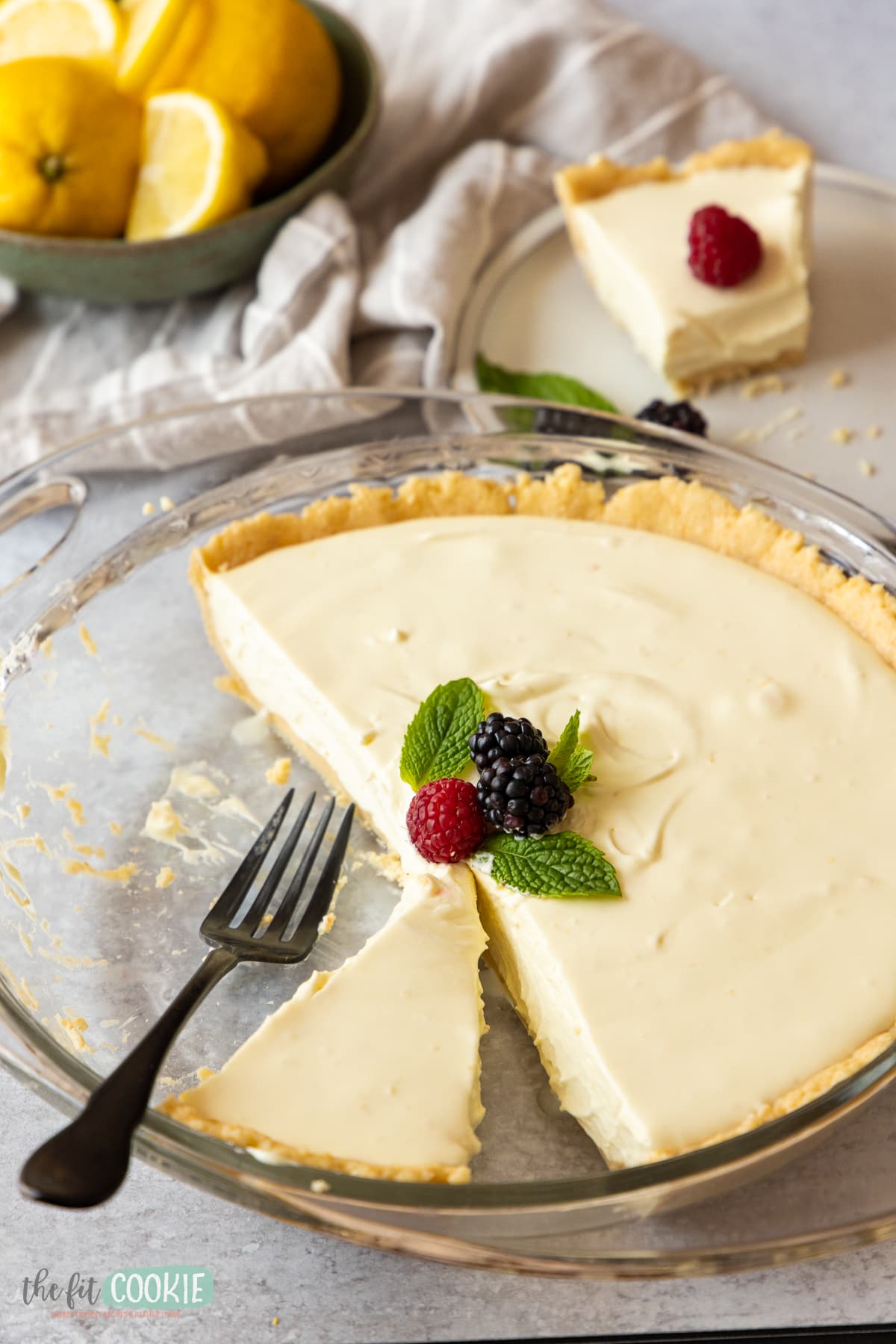 If you can have gluten, you can try making a cookie crust with lemon Oreo cookies if you want a bit more lemon in your dairy free cheesecake!
Dairy free cream cheese and whipped cream options for our lemon no-bake cheesecake
We use Daiya cream cheese for all of our no-bake cheesecakes (made without cashews) because we can get it locally and it fits all of our allergies, but you can use another brand of non-dairy cream cheese that fits your diet.
I do find that this cheesecake is more firm when made with the Daiya cream cheese vs the Violife cream cheese. Violife tastes awesome, but seems to result in a less firm cheesecake in this particular recipe than the Daiya.
Most other brands of dairy free cream cheese should work great in this recipe, it might change the taste or texture slightly, but it won't be noticeable. You can see some tips on replacing cream cheese in our article about how to replace dairy in recipes!
So Delicious CocoWhip is a coconut-based whipped topping alternative that is allergy friendly. If you can't find CocoWhip in any stores, you can try ordering it online, or use a different brand of dairy free whipped cream.
Since I haven't made this cheesecake with other brands of ingredients aside from the ones I listed, I'm not sure how other brands of whipped cream will turn out in this recipe. I don't recommend using the dairy free Reddi-Wip canned whipped cream for this recipe since their whipped cream tends to deflate pretty quickly and won't hold up as well as the CocoWhip will for cheesecake.
Coconut Reddi-Wip is great for adding to the top of desserts, but won't hold up well in this actual recipe.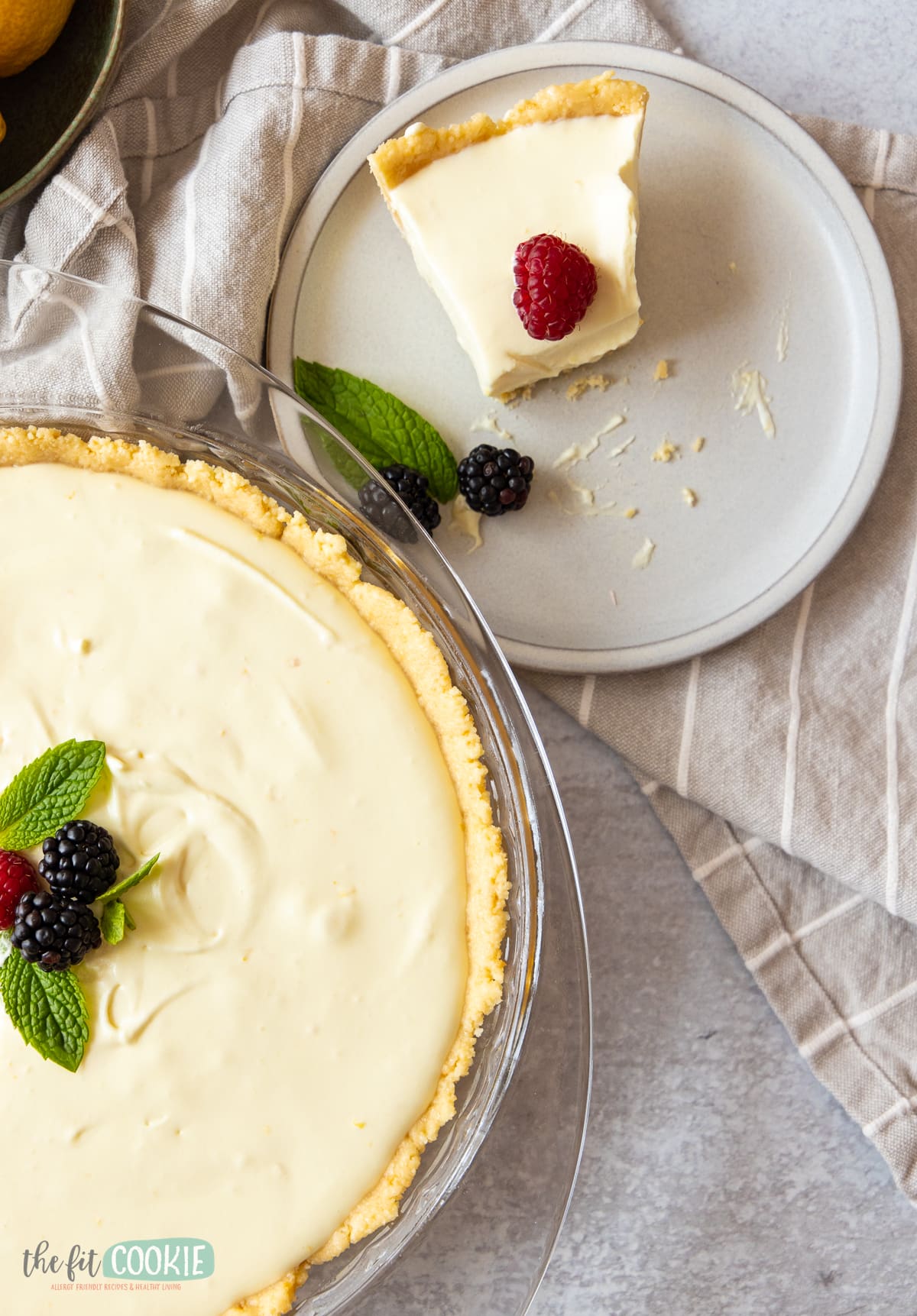 Natural food color options
I recently discovered that the McCormick natural food color powder that I loved to use for my recipes was discontinued as of September 2022. I had noticed I couldn't find it in any stores and I reached out to McCormick and they said they were no longer making it.
The McCormick natural colors were affordable and easy for me to get (our Walmart carried them), so I loved using them. Plus the color quality was pretty good. But since they are no longer making the natural colors, I'll be on the lookout for new natural color options.
You can always leave this cheesecake white if you want and leave out the yellow color, but here are some options for food coloring (we haven't tried these brands yet so I can't give my opinion on how good they are):
Don't forget to check the ingredients and cross contamination labels on these if you have multiple food allergies!
Check out our other no bake vegan cheesecakes made without cashews!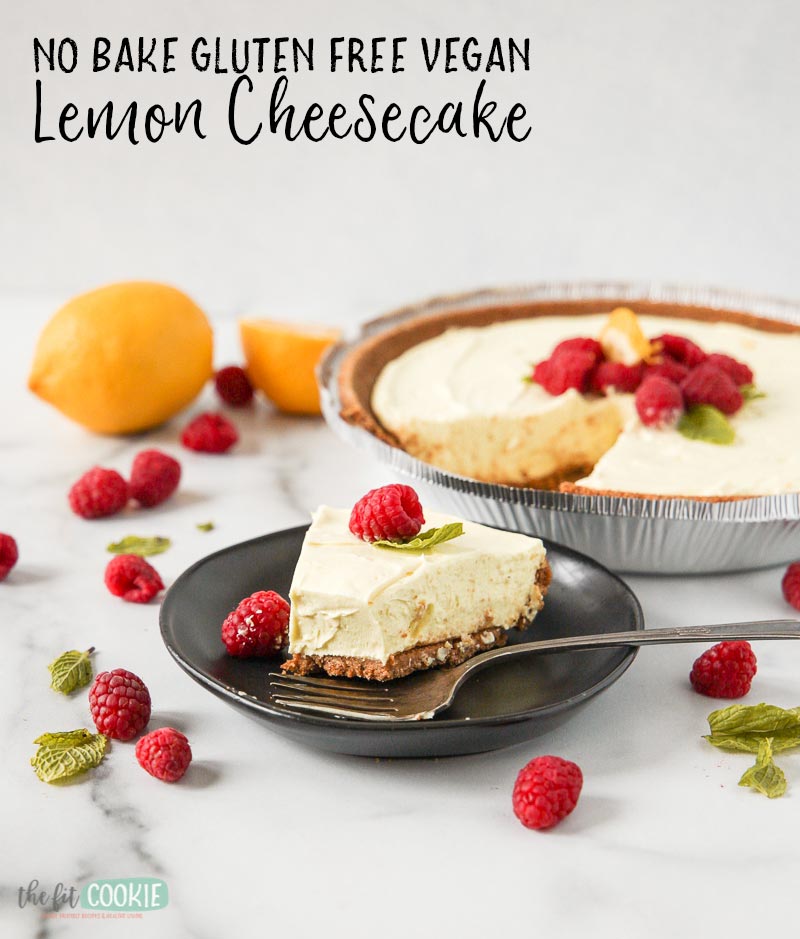 Kitchen tools you'll need for this cheesecake recipe:
No Bake Dairy Free Lemon Cheesecake (Gluten Free)
Our perfectly sweet and tart No Bake Dairy Free Lemon Cheesecake is a great dessert for spring holidays! It's also gluten free, soy free, and vegan.
Gluten free, dairy free, vegan; Free of: soy, eggs, peanuts, tree nuts (except coconut)
pieces
Print
Pin
Rate
Instructions
In a large bowl, beat the non-dairy cream cheese with a hand blender to soften it and make it smooth. Then add the powdered sugar, natural yellow food color, and the lemon zest.

Then beat in the lemon juice and vanilla, mixing well so the cheesecake mixture is smooth.

Add 1/2 of the container of CocoWhip to the bowl and beat together with the cream cheese mixture until it's smooth and mixed thoroughly, then fold in the remaining CocoWhip by hand with a spatula.

Spread the cheesecake mixture into the pre-made or homemade cookie crust, spreading out to make it smooth on top.

Chill for 4 or more hours, until it is chilled and has firmed up.

Serve topped with raspberries or strawberries and mint leaves for garnish. Enjoy!
Notes
* So Delicious CocoWhip is a coconut-based dairy free and soy-free whipped cream
Nutrition
Calories:
314
kcal
|
Carbohydrates:
31
g
|
Protein:
1
g
|
Fat:
19
g
|
Saturated Fat:
10
g
|
Polyunsaturated Fat:
0
g
|
Monounsaturated Fat:
0
g
|
Trans Fat:
0
g
|
Cholesterol:
0
mg
|
Sodium:
115
mg
|
Potassium:
6
mg
|
Fiber:
0
g
|
Sugar:
17
g
|
Vitamin A:
0
IU
|
Vitamin C:
2.6
mg
|
Calcium:
0
mg
|
Iron:
0
mg
Did you make this recipe?
Share a photo on Instagram and tag us @TheFitCookie!
Sarah Jane Parker is the founder, recipe creator, and photographer behind The Fit Cookie. She's a food allergy mom and healthy living blogger based in Wyoming. Sarah is also an ACSM Certified Personal Trainer, ACE Certified Health Coach, Revolution Running certified running coach, and an ACE Certified Fitness Nutrition Specialist