If you're looking for an easy but special sweet treat, then make this Easy Oreo Cheesecake! This is made without dairy or cashews, and is egg free with a gluten free option. Plus it's super easy to make (no baking!)

Birthdays are so much fun, but can be so much work sometimes! We don't always do a lot of entertaining, so when we have guests over for birthday parties I always have "performance" anxiety. "Is my house clean enough?". "What if my food doesn't turn out?". Silly things to be sure, but they still nag at me.
I have to choose to ignore that mental clutter!
When it comes to entertaining, I try to keep things really simple and something that I know will taste good. Typically no new or complicated recipes when we have people over, but this recipe was the rare exception.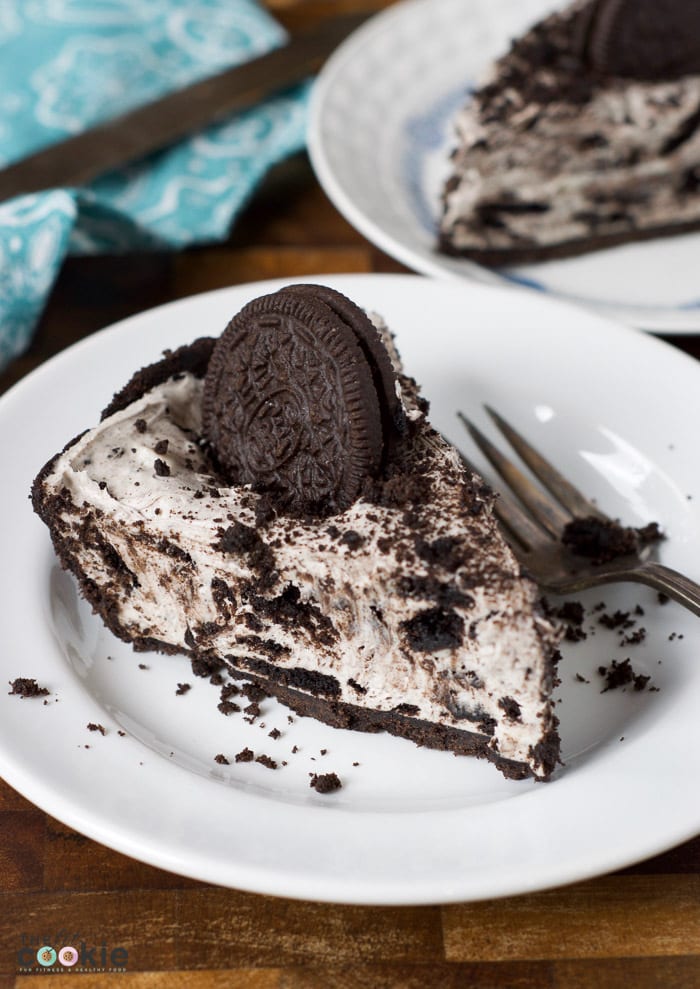 My son just had a birthday the other day and he decided he wanted an Oreo cheesecake instead of a regular cake this year. I had an idea in my head of how to make it, but I wasn't 100% sure it was going to turn out. I flew by the seat of my pants with this one and crossed my fingers (pretty rare when we have people over). It turned out awesome!
Just a note about this recipe: it is not what I would consider healthy. It's not low sugar, low calorie, or low fat, but it is allergy-friendly and delicious (no peanuts, dairy, or eggs, and it can be made gluten free).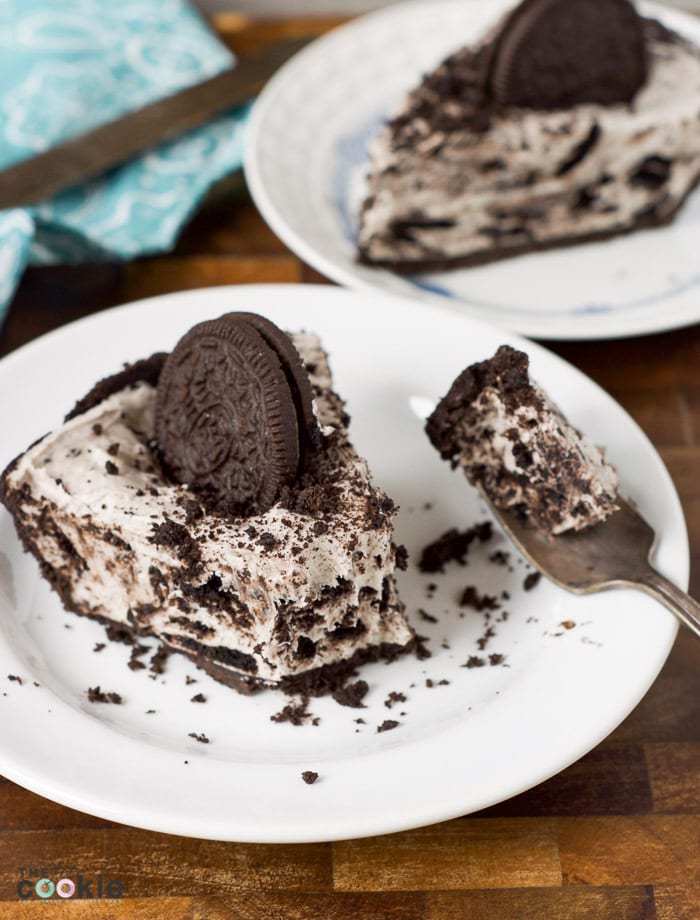 Since I made this for my son't birthday, I made it allergy-friendly without worrying too much about sugar or calories. I debated about whether I was even going to post this recipe or not since it isn't very healthy, but I decided to post it anyway since it's allergy-friendly and I don't want to hide the fact that I like dessert.
I love healthy and balanced food, but I also like having a high-calorie treat sometimes too. And sometimes I eat too many sweets and snacks. I don't want people to believe that I'm perfect or that I'm ultra-extreme-crazy strict with my food. I'm not. I believe in balance!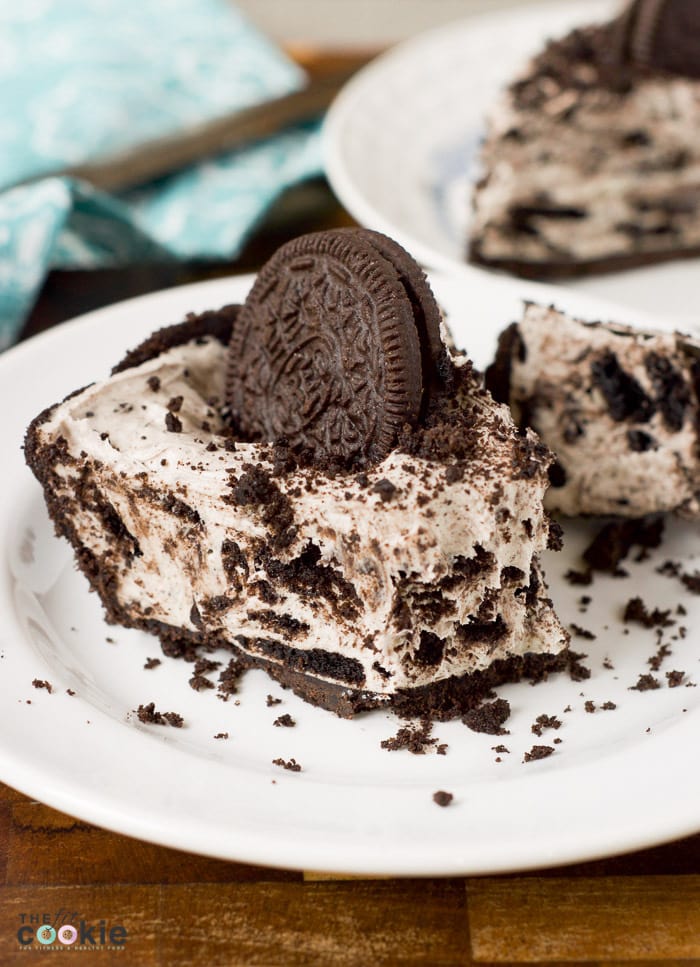 This cheesecake is quite thick and rich, but it's delicious (even friends with no food allergies loved it). If you want to watch your portions, feel free to cut this into more than just 8 slices if you want to make the portions smaller or opt for a half slice if you want to avoid over-doing it.
How to make vegan no bake Oreo cheesecake without cashews
We made this recipe with regular Oreos since my kids can have those, but if you want to make this recipe gluten free, you can find some gluten free sandwich cookies to use instead of Oreos (several brands like Glutino and Kinnikinnick make them, just check the labels for other allergens like soy, nuts, or dairy if you have multiple food allergies).
The Kinnikinnick brand sandwich cookies are soy free, peanut free, gluten free, and tree nut free, so they are a great allergy-friendly option in this recipe. The recipe will stay the same regardless of which brand of sandwich cookie you decide to use.
If you want to make this recipe gluten free, get instructions for our gluten free cookie crust in our Triple Chocolate Cheesecake recipe, and replace the Oreo cookies in the filling with Kinnikinick sandwich cookies (they are nut free, dairy free, and gluten free) or the gluten free Oreos.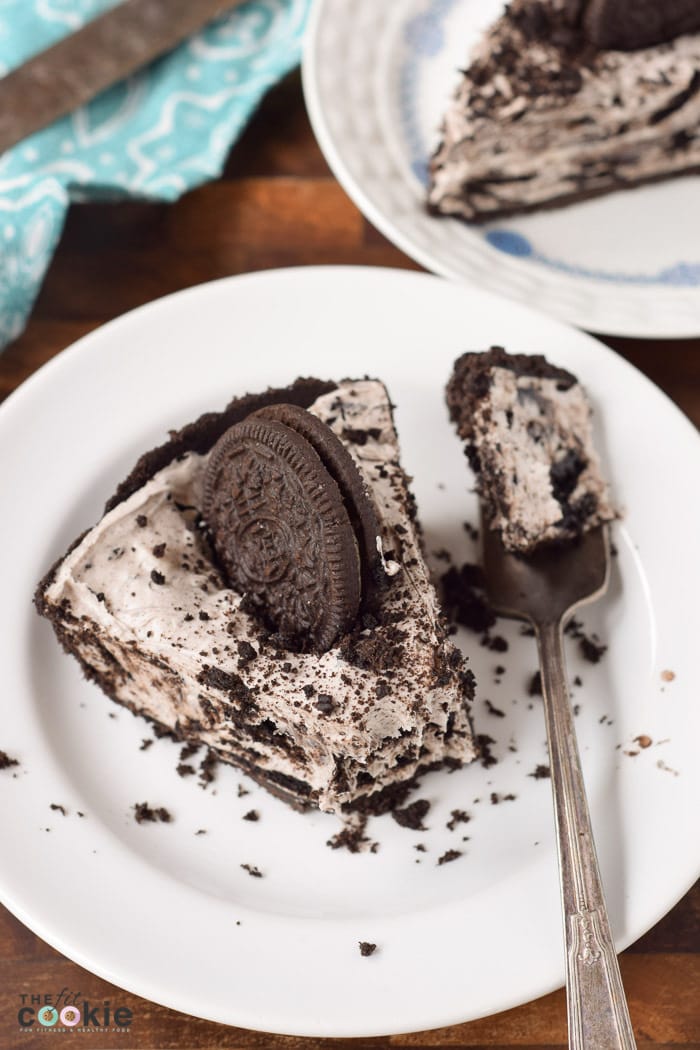 The plain Oreos have small amounts of soy lecithin in them, so they aren't completely soy free. If you have soy allergies those might not bother you, but check around for soy-free brands of sandwich cookies if that is a concern. Those small amounts of soy lecithin usually aren't a problem for us, but I just wanted to notes that this recipe isn't completely soy free if you use Oreos.
Also, some flavors of Oreos or other sandwich cookies are made in a facility with nuts. The plain Oreos we get are not made in a facility with nuts, but some of the other flavors of Oreos are, so read the label each time you buy them if nut allergies are a concern.
Manufacturers change recipes or facilities sometimes, so it's good to check those labels regularly even if you have been buying a product for a long time.
Ingredient notes for vegan cookies and cream cheesecake
Update: Oreo changed their recipe recently and they are now using a combination of soybean and canola oil. This recipe change has affected both the regular and gluten free Oreo varieties.
We use Daiya cream cheese for all of our no-bake cheesecakes because we can get it locally and it fits all of our allergies, but you can use another brand of non-dairy cream cheese that fits your diet.
Most other brands of dairy free cream cheese should work great in this recipe, it might change the taste or texture slightly, but it won't be noticeable. You can see some tips on replacing cream cheese in our article about how to replace dairy in recipes!
Please note: Our recipes are listed as allergy friendly based on the ingredients we use, but I cannot determine what foods will be safe for your individual food allergy needs. If you're unsure if you can have Oreos if you have a severe dairy allergy, do not use them.
So Delicious CocoWhip is a coconut-based whipped topping alternative that is allergy friendly. If you can't find CocoWhip in any stores, you can try ordering it online, or use a different brand of dairy free whipped cream.
Since I haven't made this cheesecake with other brands of ingredients aside from the ones I listed, I'm not sure how other brands of whipped cream will turn out in this recipe.
Kitchen tools you'll need to make this cheesecake:
Check out our other no-bake vegan cheesecakes made without cashews!
Easy Oreo Cheesecake (Dairy Free)
If you're looking for an easy but special sweet treat, then make this Easy Oreo Cheesecake! This is made without dairy, is egg free with a gluten free option, plus it's super easy to make (no baking!)
Vegan, non-dairy, egg free, peanut free, gluten free option
Print
Pin
Rate
Instructions
In a medium bowl, beat the Daiya non-dairy cream cheese until it is softened.

Beat in the powdered sugar (if using) and vanilla

Fold in the So Delicious CocoWhip and set aside

Prepare the cookie pieces: place 9 Oreo cookies in a large ziploc bag and break up into medium sized pieces (not super small). Break up the other 9 cookies into smaller pieces (I like a mix of small and bigger cookie bits)

Fold the cookie pieces into the cream cheese mixture until mixed well

Spread evenly into the Oreo crust (or your homemade crust), and place an Oreo where each slice would be (if you want) to garnish.

Cover, and refrigerate for several hours (we let this chill overnight). The cookies will soften and the cream cheese mixture will set up as it chills.

Slice and serve!
Notes
So Delicious CocoWhip is a coconut based whipped cream alternative
** For a homemade crust made with gluten free sandwich cookies, finely crush 25 sandwich cookies (you can use a food processor) and mix in 1/4 cup melted coconut oil (or dairy free butter like Earth Balance) and press the crumb mixture into the bottom and sides of a pie plate
Nutrition
Calories:
359
kcal
|
Carbohydrates:
39
g
|
Protein:
3
g
|
Fat:
20
g
|
Saturated Fat:
10
g
|
Sodium:
179
mg
|
Potassium:
83
mg
|
Fiber:
1
g
|
Sugar:
23
g
|
Calcium:
9
mg
|
Iron:
3.4
mg
Did you make this recipe?
Share a photo on Instagram and tag us @TheFitCookie!
Sarah Jane Parker is the founder, recipe creator, and photographer behind The Fit Cookie. She's a food allergy mom and healthy living blogger based in Wyoming. Sarah is also an ACSM Certified Personal Trainer, ACE Certified Health Coach, Revolution Running certified running coach, and an ACE Certified Fitness Nutrition Specialist