Let us help you with your meal planning! We put together our third gluten free and dairy free meal plan for our readers. The recipes included in here are all gluten free, dairy free, and there are plenty of soy free, nut free, and low carb meals and snacks as well.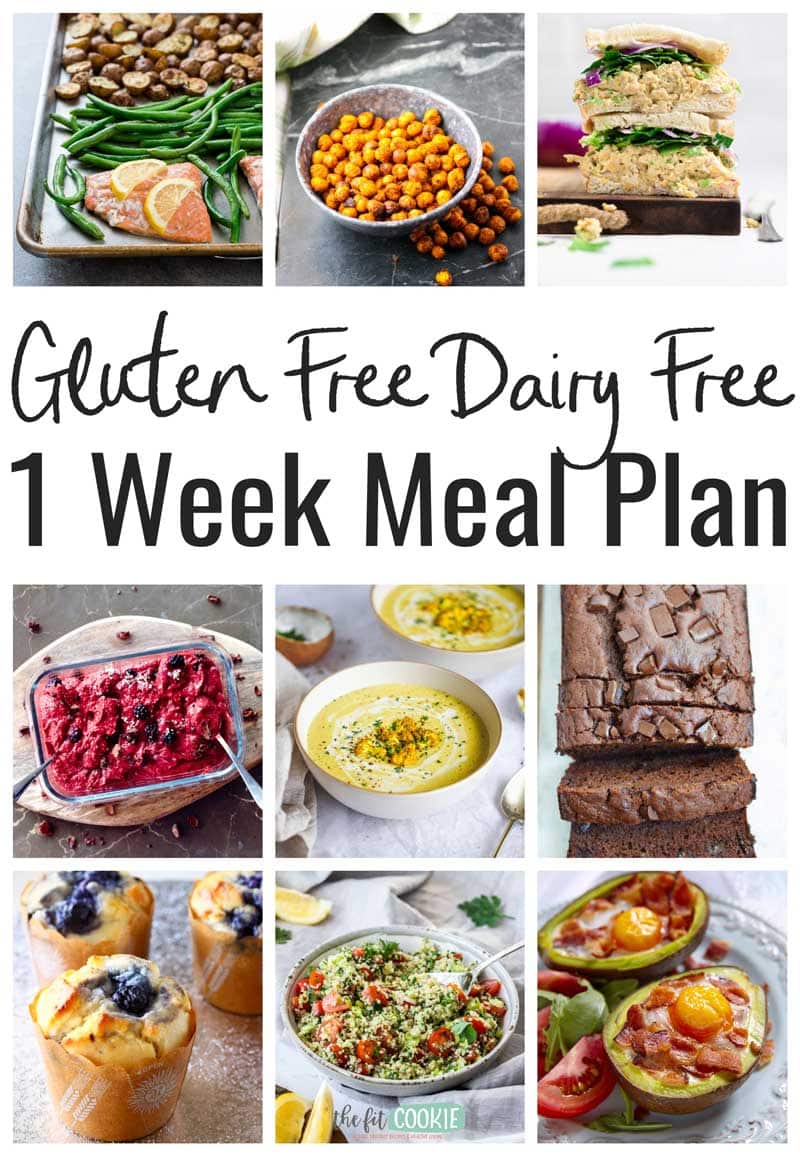 We're back with another gluten free and dairy free meal plan for this month!
I had planned on posting this a bit earlier this month, but I decided to take the week off of blogging last week to unplug a bit and have more family time for our anniversary.
If you haven't seen our previous meal plans, we're setting these meal plans up for 1 week of family friendly recipes that are all gluten free and dairy free.
Most of the recipes we've featured are also soy free and many are nut free as well. And most of them are healthy (or healthy-ish) so you can still plan on eating healthy with these recipes.
A lot of these recipes are also low carb if you make some small adjustments (like using cauliflower rice instead of regular rice with curry), so if you're watching your carbs, there are some good options here as well.
You can customize these meals: add as much fruits and veggies to each meal as you like, and for the recipes that are marked vegan you can add some protein to them as well if you want (like adding chicken to a salad).
Update: you asked and we answered! We just added the grocery shopping list for this meal plan! Sign up for our email newsletter below to get the printable menu and shopping list.
Please note that the shopping list only contains the ingredients needed for the recipes, it does not include additional items that might be listed in the printable menu.
Want a printable menu and shopping list for this meal plan? Sign up for our weekly email newsletter below and get the free printable PDF of the menu to put on your fridge.
Most of the recipes are family friendly and made for more than 2 people. All of the dinner recipes are family sized, and while some of the other recipes are set for 1 person, they can be easily adjusted to accommodate more people.
We hope this helps you with your allergy friendly meal planning!
Check out our other meal plans, we're planning on having 1 for each month so you'll eventually have 12 weeks of meal plans available!
Gluten Free Dairy Free Meal Plan #3
Here's your third gluten free and dairy free meal plan! This plan is 7 days, with a bonus 8th day (yay!) to make meal planning a bit easier for you.
We've included recipes from some of our favorite bloggers in this meal plan, we hope you find some other great bloggers to follow!
Loved our meal plan? Pin this post for later!
Sarah Jane Parker is the founder, recipe creator, and photographer behind The Fit Cookie. She's a food allergy mom and healthy living blogger based in Wyoming. Sarah is also an ACSM Certified Personal Trainer, ACE Certified Health Coach, Revolution Running certified running coach, and an ACE Certified Fitness Nutrition Specialist