If you're cutting back on sugar or following a keto or low carb diet, you can still enjoy some gluten free and dairy free cookies! Our keto sugar cookies are not only sugar free and low carb, but they're also grain free, egg free, dairy free, and vegan!
We don't always post super healthy recipes here, I still enjoy sharing healthier recipes because originally back when I created this website, it was nearly all healthy recipes.
I've moved away from mostly healthy recipes to allergy friendly recipes, but still have a passion for healthy eating since we cook pretty healthy in our house and let's face it, you can't live on cookies.
I originally created this low carb sugar cookie recipe several years ago (back in December 2013 to be exact) for my friend Gigi so she could enjoy some delicious cookies that still fit her diet.
Gigi has just as many (probably more!) food restrictions as I do, so I made it my mission to create a treat she could have. Our grain free and dairy free keto sugar cookies were born 🙂
Whether you have multiple food allergies or you're just watching your sugar and carb intake, these sugar free sugar cookies are a fun treat that will help with cookie cravings without the sugar hangover from traditional cookies, plus these cookies are grain free!
We even created a chocolate orange version of this recipe as well, you can make them chocolate mint or add some dairy free sugar free chocolate chips!
How to make dairy free and keto sugar cookies
You'll notice that our cookies don't have eggs in them but they still hold together well. We use ground golden flaxseed in a lot of our baking as a binder in place of eggs, so don't skip that ingredient!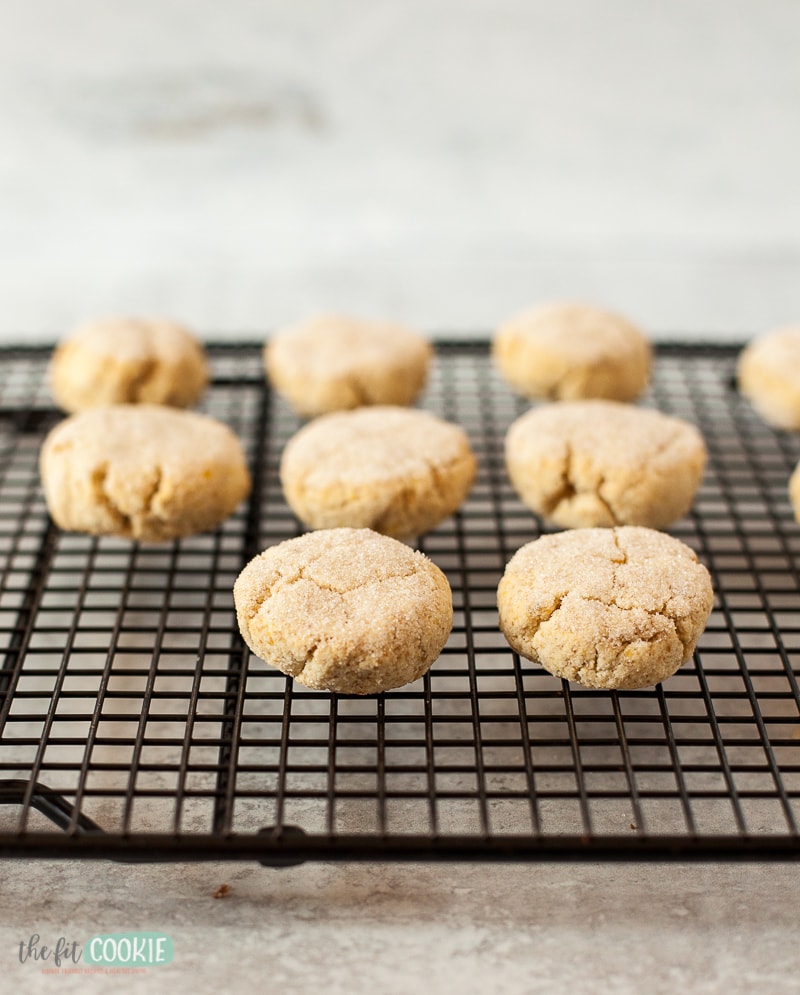 You can use regular brown ground flaxseed in this keto cookie recipe, but I like using the golden flaxseed meal since it won't change the color of light colored baked goods.
We originally used Swerve erythritol sweetener in this recipe, but when I remade this recipe, I used the Whole Earth brand of granulated erythritol and it worked out fine. So any brand of granulated erythritol will work in this recipe.
I rolled these into balls and then rolled just the top of the cookies in granulated erythritol to give them that nice sugar cookie look and texture.
If you'd like a more authentic sugar cookie feel, you can roll the entire cookie ball in granulated erythritol instead of just the top. The choice is yours!
You can leave these cookies rolled as balls or you can flatten them slightly. With our updated photos for this post, I flattened these just slightly so I could stack them.
If you'd like to add some sugar free chocolate chips to this recipe, the Bake Believe semi-sweet and dark chocolate chips are allergy friendly and dairy free. Their white chocolate chips do contain dairy though.
Erythritol and IBS
If you have IBS, you might consider reducing your consumption of sugar alcohols and swapping the erythritol for something like baking stevia.
Swapping out the erythritol for baking stevia will also make this recipe paleo as well since erythritol isn't necessarily paleo.
Erythritol typically does not cause as much gastric distress as other types of sugar alcohols (like sorbitol) for normal people. But if you have IBS you'll probably be even more sensitive to all sugar alcohols.
As my IBS has gotten worse over the years, I have increasingly not been able to tolerate sugar alcohols as well.
You can try making these with baking Stevia if you have IBS, but you may have to adjust the liquids since baking Stevia tends to dry out baked goods a little. Just add a little more water 1 teaspoon at a time until the desired texture is reached (cookie dough should be soft, not mushy or sticky).
Check out our other dairy free low carb recipes!
Keto Sugar Cookies (Gluten Free and Vegan)
If you're cutting back on sugar or following a keto or low carb diet, you can still enjoy some gluten free and dairy free cookies! Our keto sugar cookies are not only sugar free and low carb, but they're also grain free, egg free, dairy free, and vegan!
Grain free, low carb, sugar free, vegan; Free of: peanuts, dairy, eggs, soy, cane sugar
cookies
Print
Pin
Rate
Instructions
Preheat oven to 350 degrees F. Line a cookie sheet with parchment paper and set aside

In a small bowl, whisk together the warm water, melted coconut oil, ground flaxseed, vanilla extract, lemon juice and liquid Stevia. Set aside

In a medium bowl, whisk together the coconut flour, Swerve, baking powder, and baking soda

Combine the wet ingredients and dry ingredients, and stir together to make a thick dough

Roll dough into -inch balls and roll in additional granulated erythritol

Bake for 12 minutes and allow to cool completely

Enjoy!
Nutrition
Calories:
62
kcal
|
Carbohydrates:
4
g
|
Protein:
1
g
|
Fat:
5
g
|
Saturated Fat:
4
g
|
Sodium:
39
mg
|
Potassium:
31
mg
|
Fiber:
2
g
|
Sugar:
1
g
|
Vitamin C:
1
mg
|
Calcium:
12
mg
|
Iron:
1
mg
Did you make this recipe?
Share a photo on Instagram and tag us @TheFitCookie!
This post was originally published in December 2013. We recently updated this post and photos, check out one of our old photos from this post:
Sarah Jane Parker is the founder, recipe creator, and photographer behind The Fit Cookie. She's a food allergy mom and healthy living blogger based in Wyoming. Sarah is also an ACSM Certified Personal Trainer, ACE Certified Health Coach, Revolution Running certified running coach, and an ACE Certified Fitness Nutrition Specialist