This creamy dairy free tzatziki is naturally gluten free and is perfect as a sauce or dip! This tzatziki recipe is also vegan, low carb, and easy to make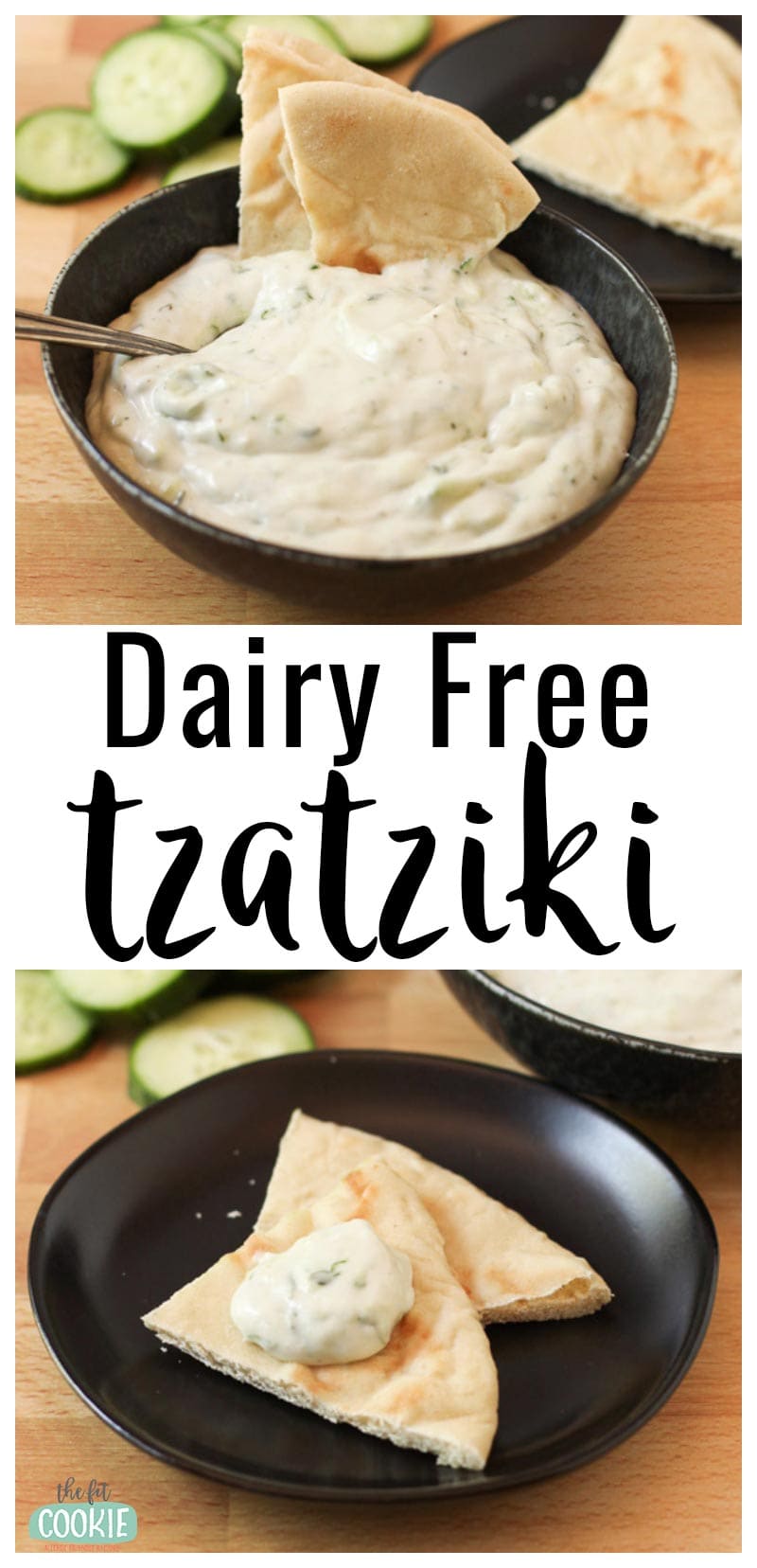 My family enjoys a huge variety of cuisines in our house: Japanese, Greek, Thai, Italian, Indian, Korean, Lebanese… you name it, we love it!
Greek cooking is one of my favorite foods to eat, but whenever we eat Greek food at home or at a Greek restaurant, my son and I can't enjoy the creamy tzatziki that is served with the meals.
Fortunately we can have the baba ganoush (which is incredible when the eggplant has been smoked!), but we've been longing for some good tzatziki to go with our souvlaki and pita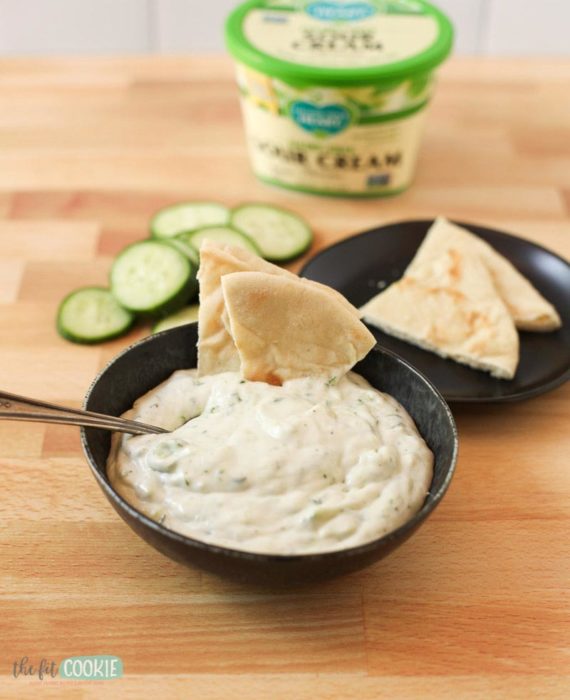 We found some dairy free, soy free, and nut free sour cream from Follow Your Heart at our local health food store, and I couldn't pass it up. I immediately knew when I saw it that I wanted to make dairy free tzatziki to go with our favorite Greek inspired meals!
Dairy free sour cream options
There are several brands of dairy free sour cream, but the only one I've tried so far is the Follow Your Heart dairy free sour cream. If you can't find any locally, you can try making some of your own.
Whichever brand or recipe you choose, it's best to have one that's thick for this tzatziki recipe, or it can get a little runny when you add cucumbers, even after they've been squeezed dry.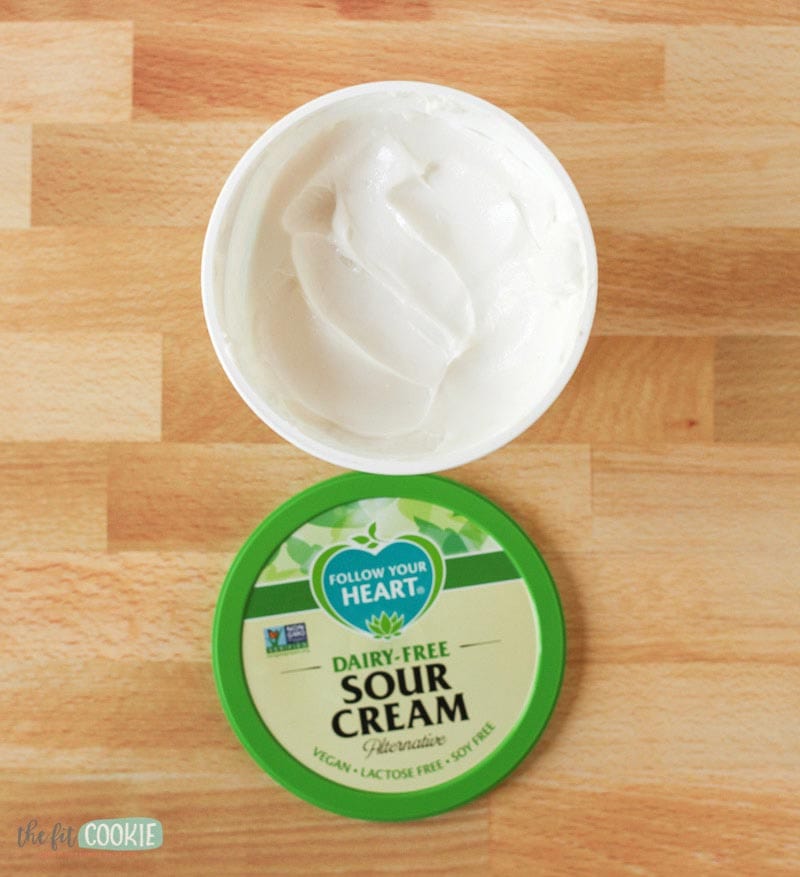 Some of the brands of dairy free sour cream available are:
I'm not sure if there are any more brands out there of dairy free/vegan sour cream, let me know in the comments if you've found new ones not listed!
Check out our guide on how to replace dairy in recipes and cooking!
How to make dairy free tzatziki
To shred/grate the cucumber, I used an extra coarse microplane to get smaller shreds than a regular grater but bigger than a regular microplane. But if you only have a regular grater, you can try that out too and it should be fine, the cucumber pieces will just be a bit bigger.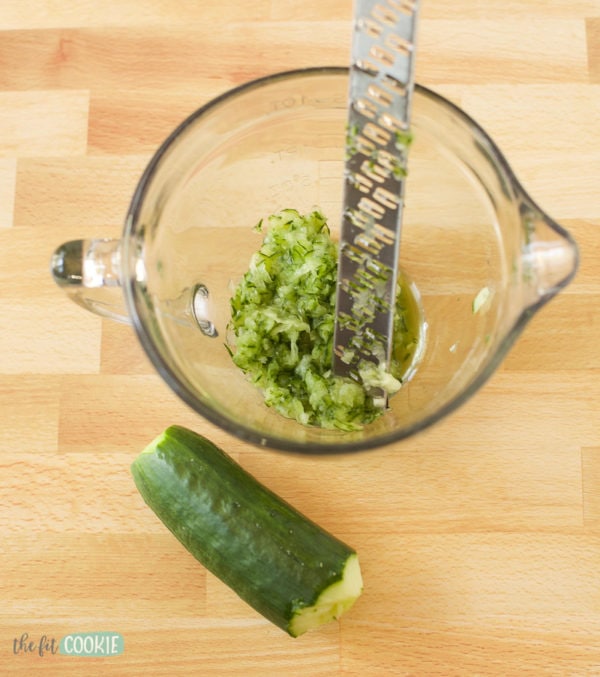 Once your cucumber is grated, you'll need to strain the shredded/grated cucumber by either pressing it in a small sieve, or putting it in 1-2 layers of cheesecloth and squeezing the water out.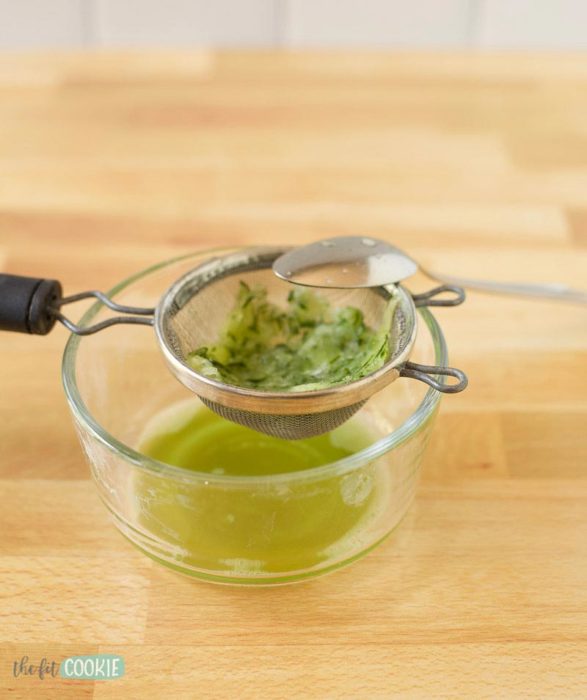 You don't have to worry about trying to get every last bit of water out since the dairy free sour cream is thick, but make sure that you're getting most of it out so your tzatziki isn't runny.
I used an English cucumber to make sure that my tzatziki isn't bitter since I leave the peel on. Sometimes regular cucumbers can be bitter, but the hothouse/English cucumbers are usually not bitter at all and the seeds are smaller so they are perfect for this recipe.
You'll notice that there is no dill in this recipe like most tzatziki recipes have. My husband doesn't like dill that much, so we made this recipe without dill.
But if you want dill, you can add a little bit of fresh or dried dill to this recipe. We loved this tzatziki without dill, so you don't have to add dill if you don't want to. You get to choose!
You'll also notice that we didn't use fresh garlic or onion in this recipe since garlic powder and onion powder is a bit more mellow and doesn't have a sharp bite like uncooked garlic does. But if you prefer fresh garlic, you can swap the garlic powder out for a clove of minced fresh garlic or minced or smashed roasted garlic.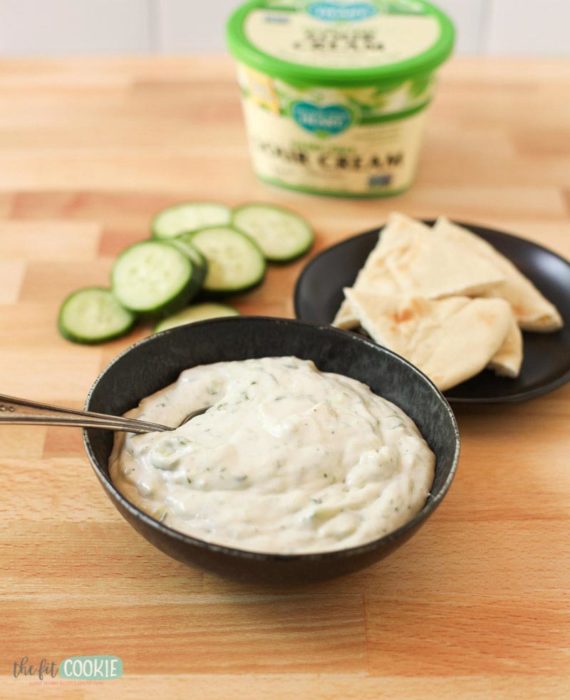 We love serving this tzatziki with one of our favorite easy chicken shawarma recipes from The Food Network, along with this homemade pita bread from The New York Times (these have wheat in them, I'll have to work on my own recipe for gluten free pita bread!).
You can also serve this as a dip with our variety of homemade crackers, our gluten free flatbread, or fresh cut veggies.
Tools you'll need for this recipe: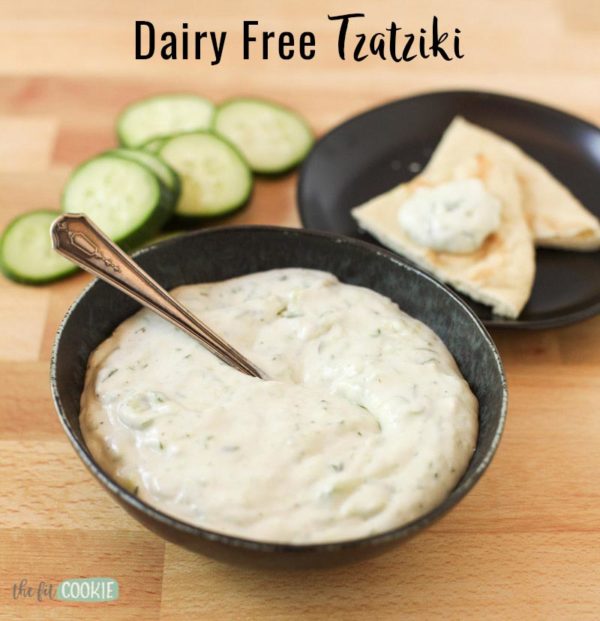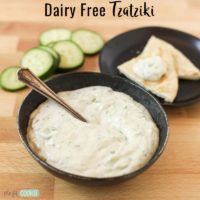 Dairy Free Tzatziki
This creamy dairy free tzatziki is naturally gluten free and is perfect as a sauce or dip! This tzatziki recipe is also vegan and easy to make
Makes 1 cup of tzatziki, 8 2-Tablespoon sized servings
Gluten free, vegan; Free of: tree nuts (except coconut), soy, eggs, peanuts
servings
Print
Pin
Rate
Ingredients
½

cup

shredded unpeeled cucumber, strained

¾

cup

Follow Your Heart dairy free sour cream

(or other brand of thick dairy free sour cream)

½

teaspoon

garlic powder

¼

teaspoon

to 1/2 teaspoon salt, to taste

¼

teaspoon

onion powder

⅛

teaspoon

black pepper
Instructions
Leave your cucumber unpeeled and shred it using a coarse microplane or a regular cheese grater. Measure out 1/2 cup of grated cucumber.

Squeeze out the excess water from the shredded cucumber by pushing it into a sieve or putting it in cheesecloth and squeezing out the excess liquid. You don't have to remove every bit of liquid, just make sure that you get most of it out.

Add the shredded cucumber and the sour cream to a medium sized bowl and stir until it is smooth and creamy.

Add the garlic powder, onion powder, salt, and black pepper, and stir until combined. Serve immediately or store in an airtight container for serving after it has chilled.

Store in an airtight container in the fridge for up to 3 days.
Nutrition
Calories:
69
kcal
|
Carbohydrates:
2
g
|
Protein:
1
g
|
Fat:
7
g
|
Saturated Fat:
3
g
|
Sodium:
92
mg
|
Potassium:
10
mg
|
Fiber:
1
g
|
Sugar:
1
g
|
Vitamin A:
7
IU
|
Vitamin C:
1
mg
Did you make this recipe?
Share a photo on Instagram and tag us @TheFitCookie!
Sarah Jane Parker is the founder, recipe creator, and photographer behind The Fit Cookie. She's a food allergy mom and healthy living blogger based in Wyoming. Sarah is also an ACSM Certified Personal Trainer, ACE Certified Health Coach, Revolution Running certified running coach, and an ACE Certified Fitness Nutrition Specialist