These homemade peanut-free SunButter Jam Uncrustables are a fun and allergy friendly lunchbox treat or after school snack! They can easily be made to fit any food allergies.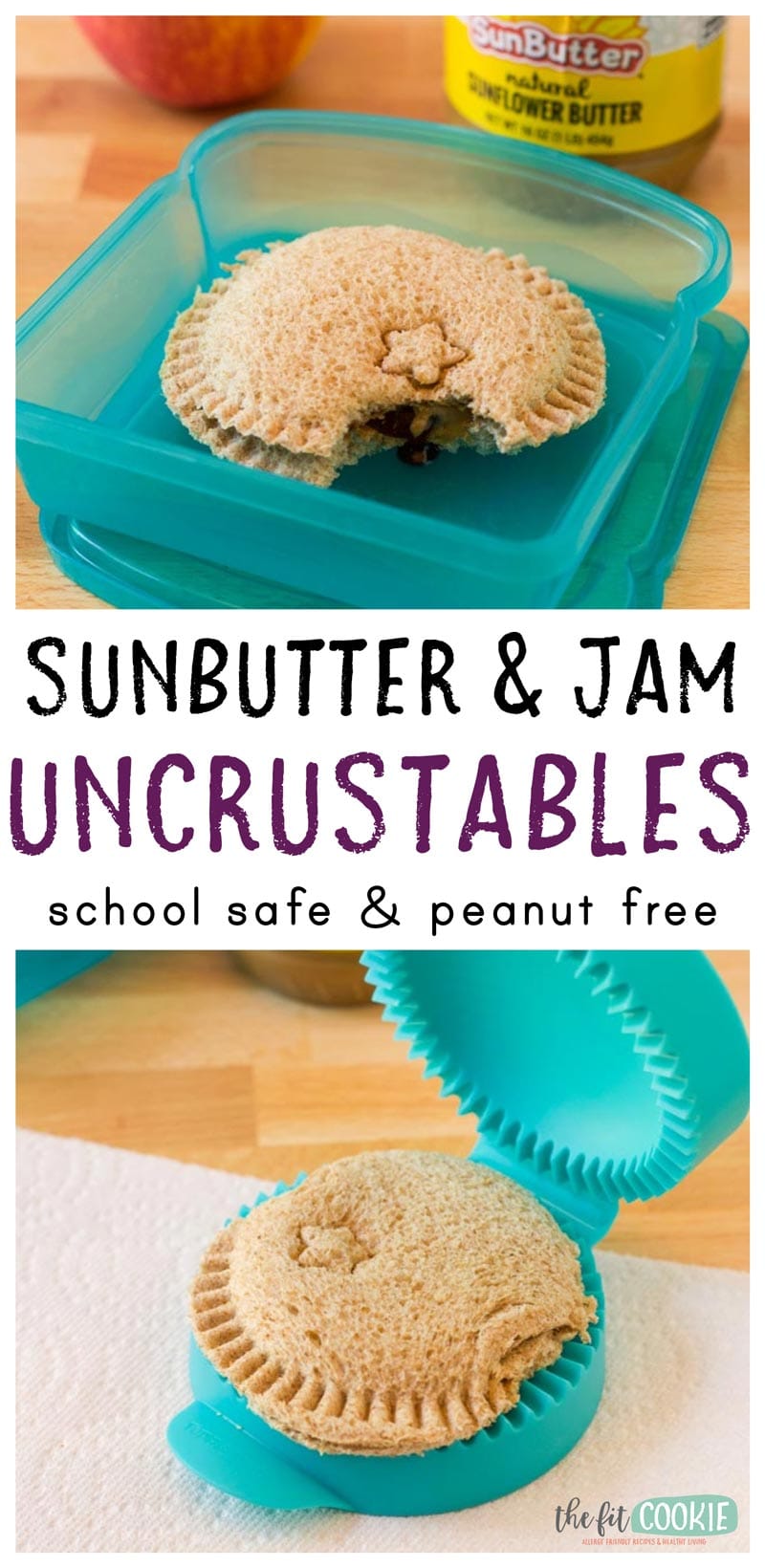 Labor Day just ended and school has started for pretty much everyone across the country. Our kids started school on August 19th, but some schools don't start until after Labor Day.
Pretty funny how there is a huge difference when school starts for each school district!
Because both of our kids have food allergies, they make their own lunches every day. They are in junior high and high school now, so they are pros at it since they've been making their own lunches for several years.
This year we decided to add something new to their lunches: SunButter and Jam Uncrustables. We got a sandwich press from Tupperware that cuts the bread and seals it, so we made some uncrustables for the kids for school and snacks. Even though they're older, they still love them!
How to make SunButter uncrustables
Making your own uncrustable sandwiches is super easy, you just need your favorite bread, SunButter and jam, and a sandwich press.
We used the Spread, Slice, and Seal set from Tupperware, but it didn't seal all the way around as well as we would have liked since it's hinged on one side (that's the one in the photos) and it doesn't look like it's available anymore.
But there are some other ones out there, like a sandwich cutter and press from Pampered Chef which looks nice, and some that come in a few different shapes.
My biggest complaint with the Pampered Chef sandwich press I have is that because it's hinged, the part of the sandwich towards the hinge gets more pressure than the rest of the sandwich, meaning I have to rotate it to get it even all the way around.
A sandwich uncrustable maker without a hinge would work the best I think, like this stainless steel one or one that comes in several different sizes (great for gluten free bread since it tends to be smaller).
You can also skip buying a special uncrustable sandwich maker and just use a drinking glass to cut the bread and use the tip of a fork to seal it like we did in our old tutorial for uncrustables. But our old post was pretty ugly and poorly written, so we replaced it with the one you're reading now 🙂
We made ours with a dairy free whole wheat bread that the kids can have, but you can use any soft bread that fits your personal food allergies. I wanted to make some with the BFree allergy friendly bread, but our local distributor was out when I went to buy it. Big bummer.
Whichever bread you choose to buy, make sure that it's big enough for your sandwich cutter/press! Our bread was slightly too small for the sandwich seal we have, so it didn't seal up well enough.
We like to use SunButter in our house since my kids have multiple tree nut and peanut allergies, but you can use any nut or seed butter you like as long as it's not really runny. SunButter works great for uncrustables because it's school safe, too!
These uncrustables will freeze fine if you want to make large batches of them, but we usually just made them as we needed them and put them in sandwich boxes to keep them from getting squished in the kid's lunch boxes.
Check out our other allergy friendly back to school snack and lunch ideas!
SunButter and Jam Uncrustables
These homemade peanut-free SunButter Jam Uncrustables are a fun and allergy friendly lunchbox treat or after school snack! They can easily be changed to fit any food allergies.
Dairy free, gluten free option; Free of: tree nuts, peanuts, soy, eggs
Print
Pin
Rate
Instructions
Cut out your bread into circles with a sandwich cutter or drinking glass that fits the bread.

Spread half the SunButter on each side of the bread circles, then add the jam. Having the jam between 2 sides of SunButter helps the sandwich not to get soggy from the jam.

Put your bread together and seal it with the sandwich sealer or the tines of a fork (like you'd seal pastry crust).

Serve for a lunch or snack immediately, put it in a lunchbox for later, or freeze in batches.
Nutrition
Calories:
203
kcal
|
Carbohydrates:
33
g
|
Protein:
9
g
|
Fat:
6
g
|
Saturated Fat:
1
g
|
Sodium:
224
mg
|
Potassium:
139
mg
|
Fiber:
4
g
|
Sugar:
8
g
|
Calcium:
60
mg
|
Iron:
2
mg
Did you make this recipe?
Share a photo on Instagram and tag us @TheFitCookie!
Sarah Jane Parker is the founder, recipe creator, and photographer behind The Fit Cookie. She's a food allergy mom and healthy living blogger based in Wyoming. Sarah is also an ACSM Certified Personal Trainer, ACE Certified Health Coach, Revolution Running certified running coach, and an ACE Certified Fitness Nutrition Specialist