Make your favorite cup of coffee even better with our delicious and simple homemade Paleo Vanilla Coffee Creamer that's completely vegan and keto friendly!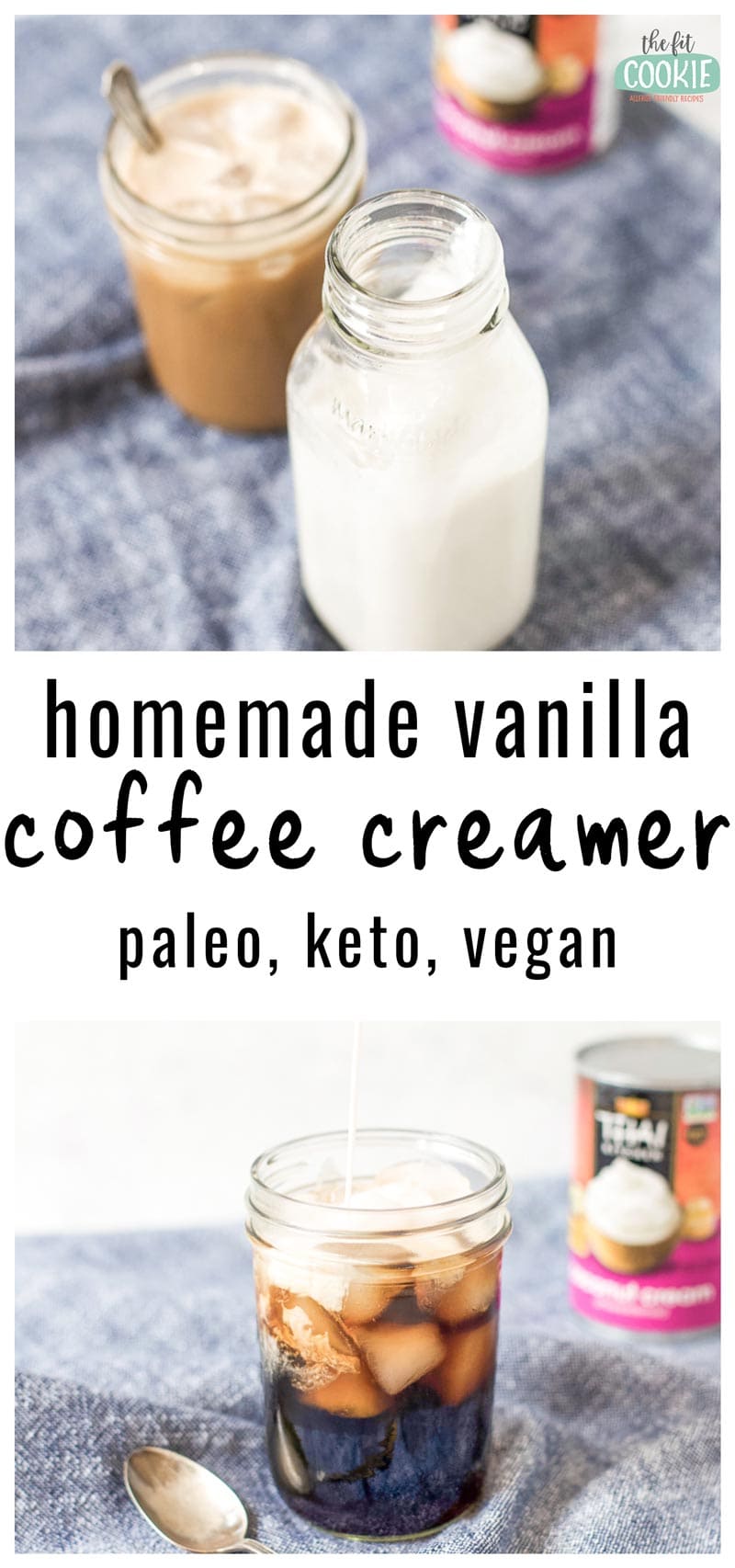 I am picky about my coffee, just like I'm picky about the jeans I wear. It takes me a while to find the right pair of jeans, sometimes I'll try on 20 pairs before I find the pair that fits me just right.
Coffee and creamers are about the same way for me. I used to not be a big coffee drinker until recent years, but I have grown to be quite particular about my coffee and dairy free coffee creamer and milk.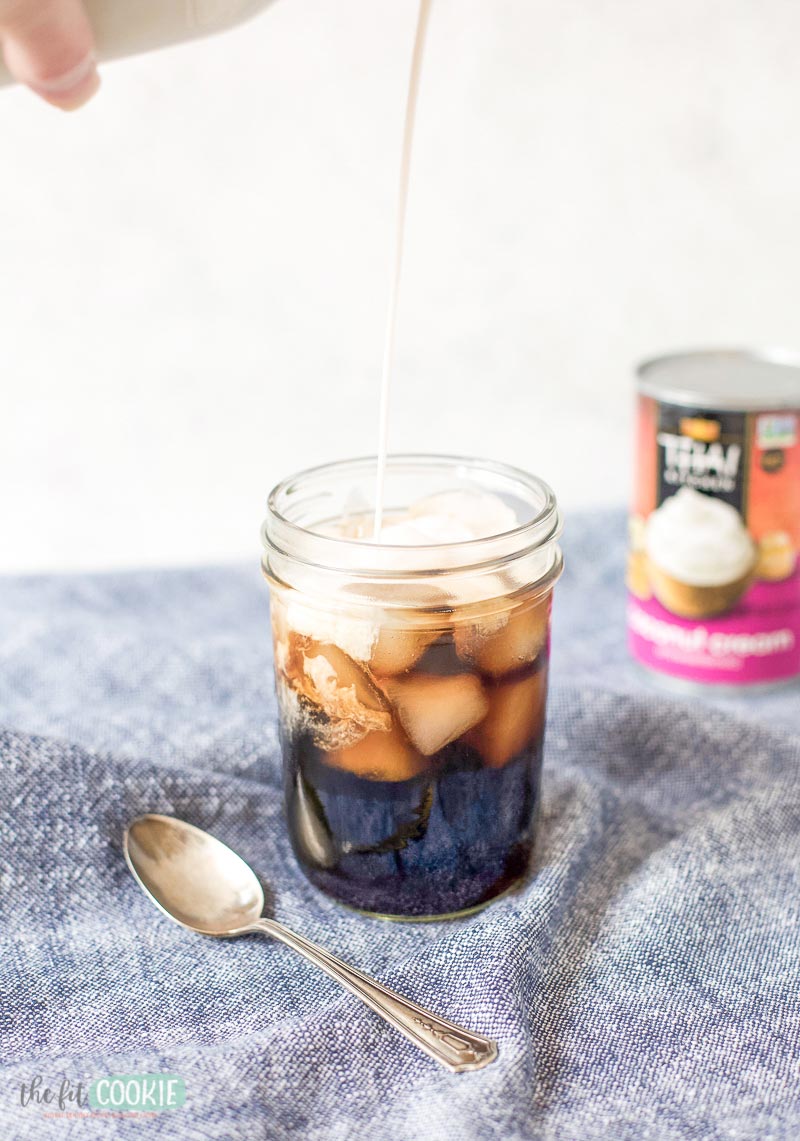 Nothing ruins a good cup of joe like icky dairy-free milk that's too sugary or too watery, so I am pretty picky about my milk and creamer, too. I usually use unsweetened almond milk in my coffee along with a great naturally sugar free creamer.
I love brewing my own high quality low-acid coffee and adding a great sugar free and dairy free Vanilla Coffee Creamer. Give me some homemade cold-brew coffee or fresh roasted Dark Canyon Coffee with dairy free milk and creamer and I'm set!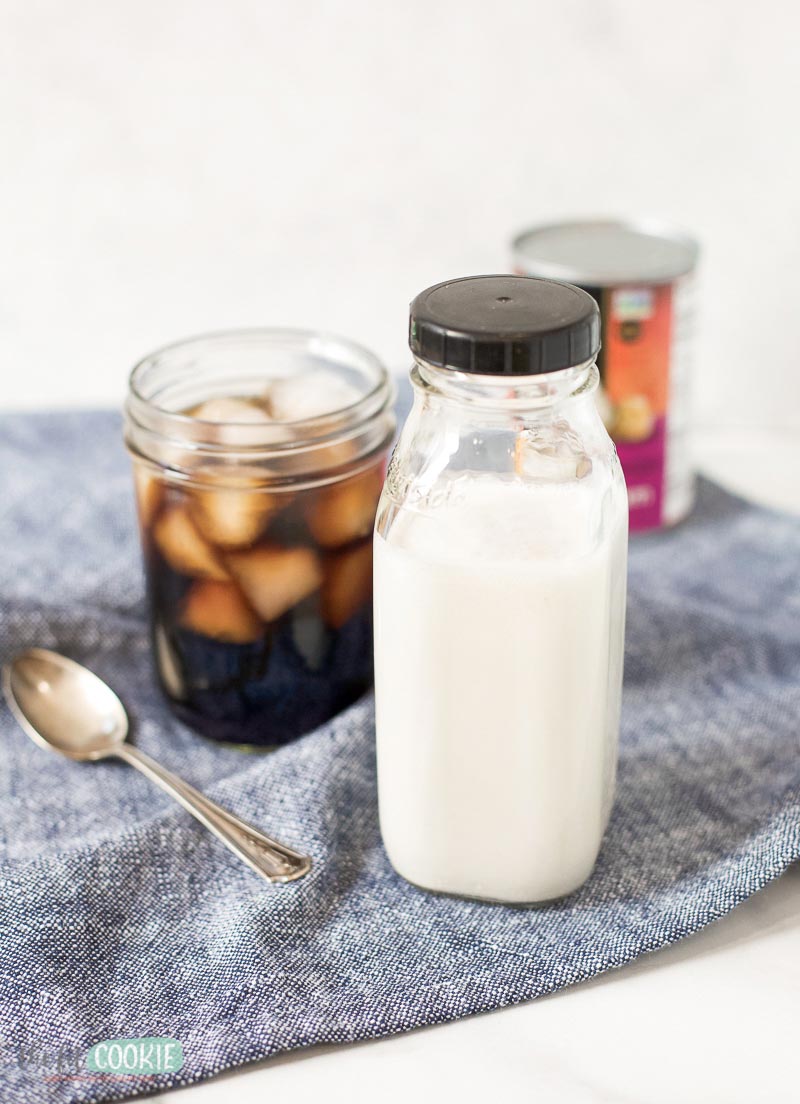 For me, taste matters when it comes to coffee. It's not just about the caffeine buzz (I drink decaf these days anyway). It's about enjoying the flavor, so I make sure that what I add to my coffee is just as high quality as the coffee itself.
Making homemade coffee creamer
A great quality coconut milk can make coffee taste pretty awesome, so I whipped up some homemade Vanilla Coffee Creamer made with just a few ingredients and canned coconut cream. This coffee creamer is keto friendly, paleo, dairy free, vegan, all natural, has only 4 ingredients, and can be made in 5 minutes.
For this recipe, I used a canned coconut cream (not to be confused with cream of coconut, which is sweetened), but you if you don't have access to canned coconut cream, you can use a can of coconut milk that has separated and use the solid cream at the top of the can.
I like blending the cream and water (or non dairy milk if you choose) because it lets me adjust the thickness of the creamer, but if you're in a hurry you can just use full-fat canned coconut milk that hasn't separated and add your vanilla and stevia drops to it. It just might not be as thick as you like.
Why make your own coffee creamer?
Making your own allergy friendly and low carb kitchen staples is great so you don't have to go searching for them in stores (we live in a smaller town and don't always have a great variety of allergy friendly products here).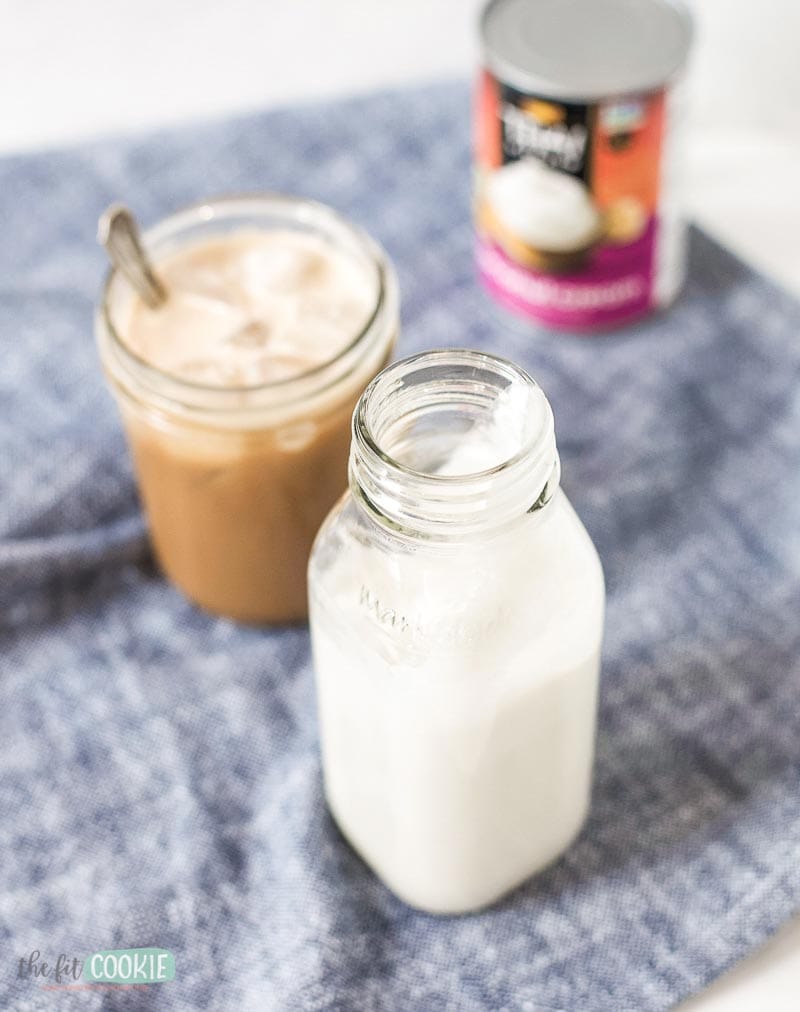 Plus, when you make your own coffee creamer, you can control exactly what goes into it! Your own homemade creamer won't have thickeners or anything artificial unless you choose to add it yourself.
You can use almond milk, hemp, or oatmilk in this instead of water to make it a bit thicker if you like as well.
If you want more flavor varieties, you can add cinnamon, or different flavored extracts instead of vanilla (like orange, maple, or rum flavor).
These days I even bring my cold brew coffee and non-dairy creamer with me on trips. I add my cold brew coffee to a big Nalgene water bottle and make sure our hotel has a fridge. Much tastier, more allergy friendly, and less expensive than buying coffee each day!
Use room temperature coconut cream and water to help everything mix together well, cold coconut cream might separate and appear to curdle.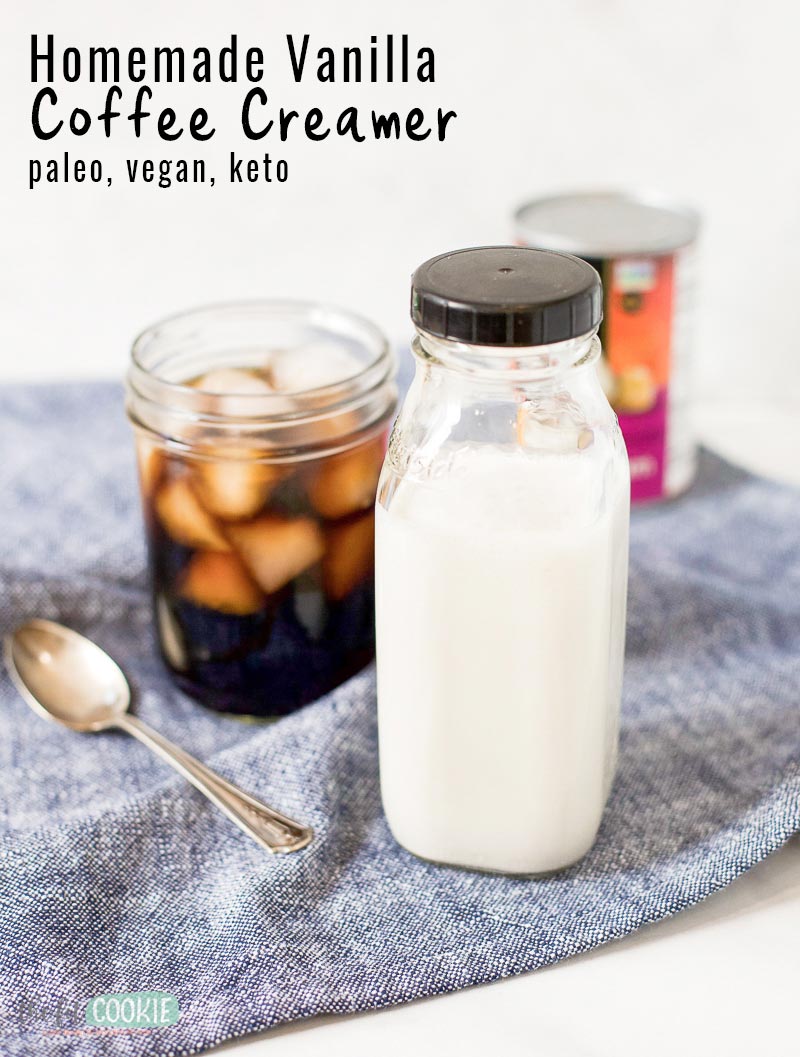 Vanilla Coffee Creamer (Dairy Free)
Elevate your cup of coffee and keep it healthy with some delicious homemade paleo Vanilla Coffee Creamer that's sugar free and vegan!

Sugar-free, Gluten-Free, Paleo, Vegan; Free of: soy, grains, dairy, eggs, peanuts
Makes about 1-1/2 cups creamer
servings (2 Tbsp each)
Print
Pin
Rate
Servings:
12
servings (2 Tbsp each)
Instructions
In a small blender or NutriBullet, blend together the solid coconut cream, water, vanilla, and stevia until well blended.

Add more or less stevia to taste, and add more or less cream for thickness

Store this in a sealed container or jar in the fridge and stir as needed to address any separation

Enjoy!
Notes
* If you don't have access to coconut cream, you can use 1-1/2 cups of your favorite full-fat canned coconut milk here if it's thick and is not separated. If you open a can of full-fat coconut milk and it's separated, just put it in a blender for a bit to mix it together
Use room temperature coconut cream and water to help everything mix together well, cold coconut cream might separate and appear to curdle. 
Nutrition
Calories:
50
kcal
|
Carbohydrates:
1
g
|
Protein:
0
g
|
Fat:
5
g
|
Saturated Fat:
4
g
|
Cholesterol:
0
mg
|
Sodium:
1
mg
|
Potassium:
48
mg
|
Fiber:
0
g
|
Sugar:
0
g
|
Vitamin C:
0.4
mg
|
Calcium:
2
mg
|
Iron:
0.3
mg
Did you make this recipe?
Share a photo on Instagram and tag us @TheFitCookie!
I recently re-did the photos on this blog post from May 2015, here's one of the old photos:
Sarah Jane Parker is the founder, recipe creator, and photographer behind The Fit Cookie. She's a food allergy mom and healthy living blogger based in Wyoming. Sarah is also an ACSM Certified Personal Trainer, ACE Certified Health Coach, Revolution Running certified running coach, and an ACE Certified Fitness Nutrition Specialist