If you're new to eating allergy friendly or you just need some inspiration for your next meal plan, we created this 1-week gluten free dairy free meal plan for you! This meal plan is great for families, and every recipe is gluten free and dairy free without having to change the recipes!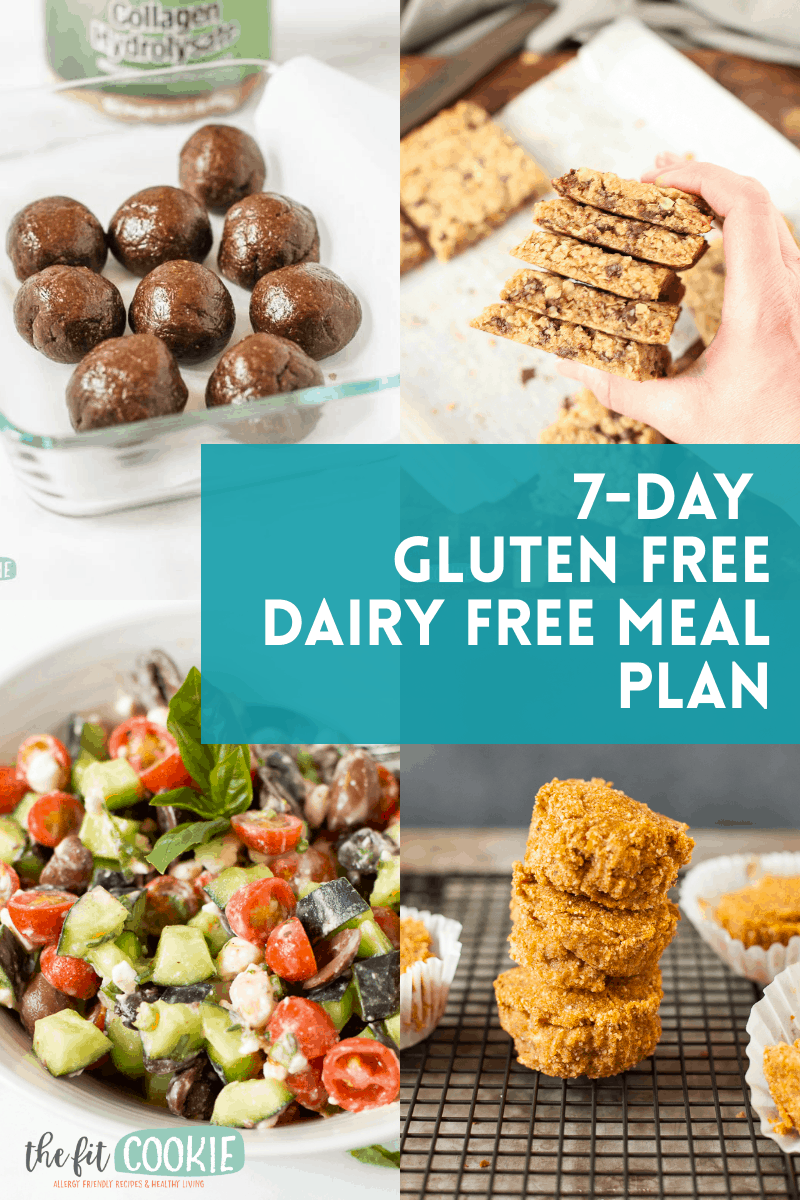 Hey, friends! I'm super excited to share this post with you today, we're giving you a gluten free dairy free meal plan that will last you a full week, complete with allergy friendly recipes for breakfast, lunch, dinner, and snacks.
In our food allergy Facebook group, I'll sometimes share my family's bi-monthly menus with the group, but those meal plans usually include other people's recipes that I alter to fit our allergies.
What's exciting about this 1-week gluten free dairy free meal plan is that it features recipes from The Fit Cookie that you don't have to modify to make them gluten free and dairy free. They're already allergy friendly!
Plus our dairy free meal plan is free, we're not charging anything or collecting emails with it since we just want to help out families with food allergies ❤️
If this allergy friendly meal plan goes over really well with our readers, we'll try to do more of them!
What's covered in our gluten free dairy free meal plan
Our dairy free meal plan is set up for 1 week so you can get started easily. We'll try to include more meal plans down the road if this is something you find helpful, so make sure to comment and let me know if you love this!
Here are a few things to note about our allergy friendly meal plan:
Healthy(ish) meals
All the recipes we've included in this meal plan are not only gluten free and dairy free, but most of them are pretty healthy, too, with more natural ingredients and mostly whole foods.
We tried to include plenty of fruits and vegetables each day, as well as protein and complex carbohydrates (if you're not eating low carb).
Several of the recipes are low carb and paleo as well, so you have the option to keep those recipes low carb or add some complex carbohydrates to them, depending on your dietary needs.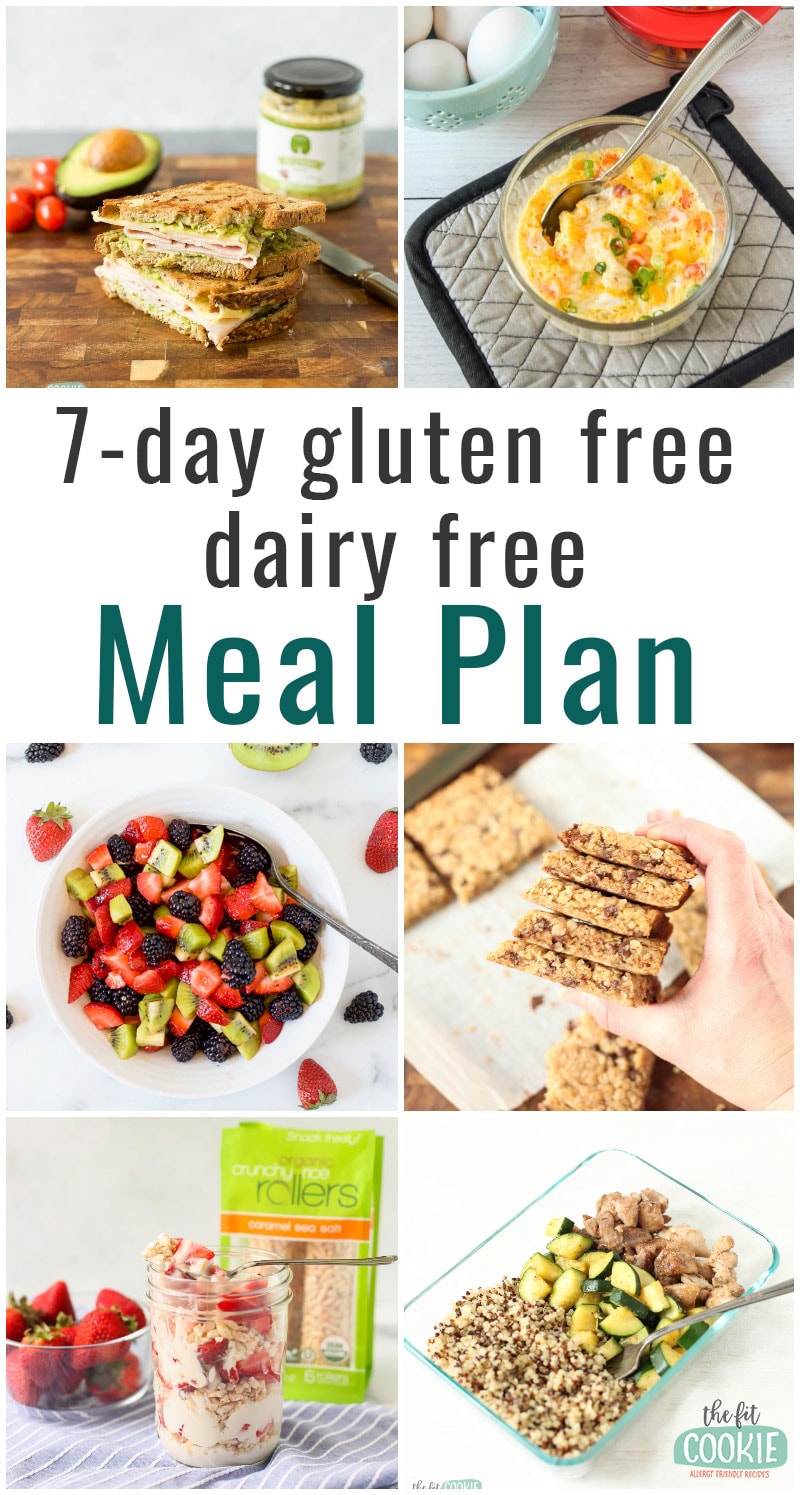 For example: we have salads listed for a lot of the lunches, but if you'd like some complex carbs with your salads for fiber, we added the option for whole grain gluten free crackers.
I can't have beans myself so I haven't added them to this menu or use them much in my recipes, but you can add beans and nuts to your salads if you want them and can have them.
Want to create your own meal plans? Check out our meal planning kits on Etsy!
Family friendly dinners
Nope, we don't mean that this meal plan is rated G 😉
This dairy free meal plan is family friendly, meaning that it's perfect for a family of 4 or more. The dinner recipes are created for 4+ people, and the recipes that are single serving (like some of the salads or smoothies) can be easily doubled or tripled to make them for multiple people.
If you're planning this for only 1 or 2 people, you can half the dinner recipes and some of the breakfast recipes, or freeze some of the breakfast recipes (like the muffins) for later!
Also, if you made a big batch of granola bars for snacks, you can have those as snacks for a couple of days instead of changing the snacks each day. The choice is yours, you can make this meal plan fit your needs.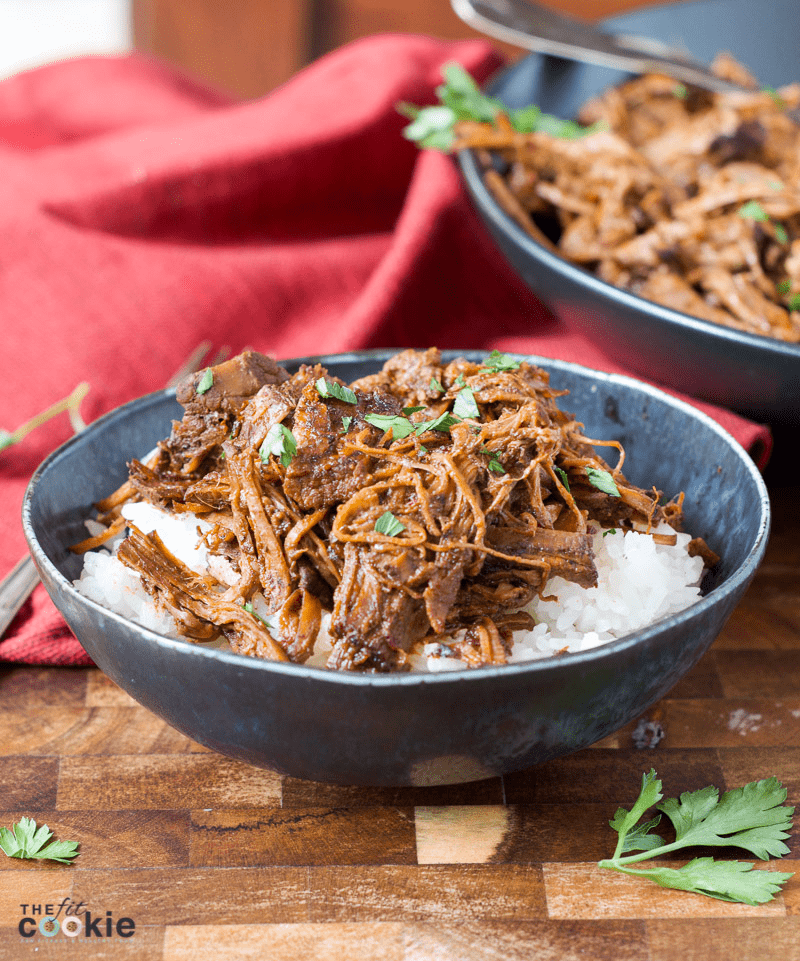 Customizable recipes
Everyone like different foods and flavors, so if you have different preferences or don't like something that's included (like fish), you can always swap any of the recipes for one of your favorite recipes.
The recipes included already cover a lot of common food allergens, but if you have other food allergies, it's easy to make these recipes fit your needs as well by swapping some ingredients.
Allergy friendly recipes
All of the recipes included in this meal plan are gluten free and dairy free, as well as soy free. Many of the recipes are also tree nut free, peanut free, bean free, and egg free as well!
You'll also notice that our 1 week meal plan also includes a lot of paleo, low carb, and vegan recipes. You can tweak these to fit your diet needs as well.
Update: you asked and we answered! We just added the grocery shopping list for this meal plan! Sign up for our email newsletter below to get the printable menu and shopping list.
Please note that the shopping list only contains the ingredients needed for the recipes, it does not include additional items that might be listed in the printable menu.
Sign up for Grow below and get our downloadable and printable menu page and grocery shopping list to to go with this meal plan!
Check out all of our other meal plans:
If you prefer to have an ad-free experience and get all your recipes in one place, we just added a paid option for this meal plan! Get all the recipes in an ebook file with the menu and shopping list for $19 (available on both Etsy and PayHip).
Buy Now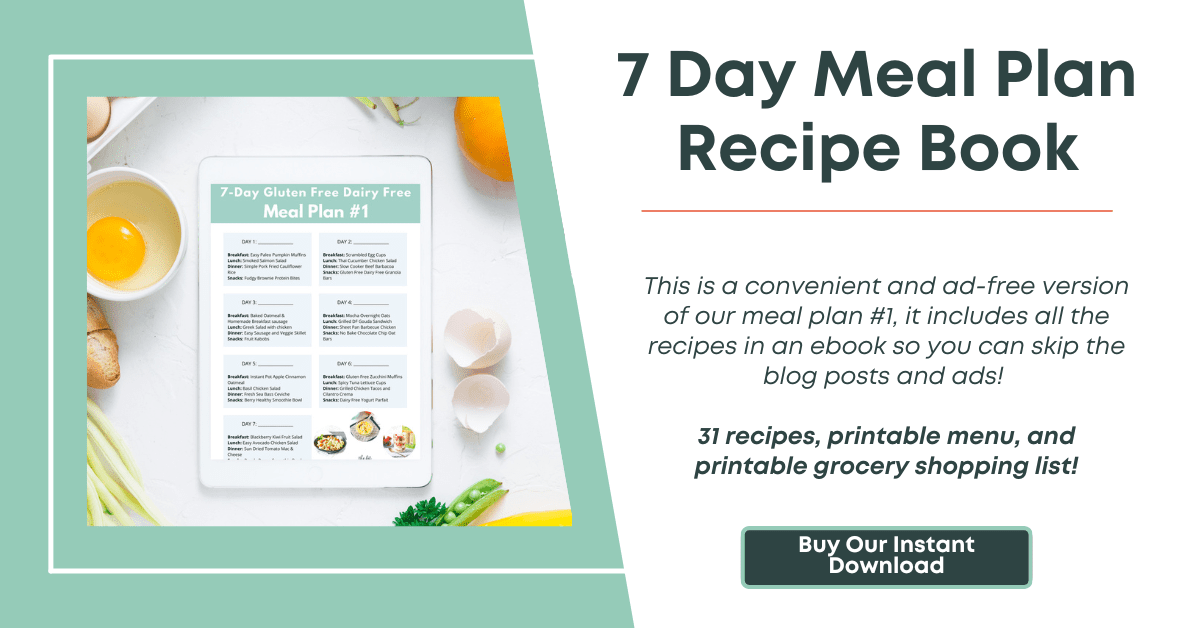 Gluten Free Dairy Free 7-Day Meal Plan
Here's your 7-day gluten free and dairy free meal plan! You can customize this plan to fit your food preferences and allergy needs as well.
I've added fruits and veggies to this plan in addition to what's included in some of the recipes, but feel free to add as many fruits and veggies on top of this plan as you'd like!
If you prefer to make your own meal plans and menus, check out our meal planning pages on Etsy!
Sarah Jane Parker is the founder, recipe creator, and photographer behind The Fit Cookie. She's a food allergy mom and healthy living blogger based in Wyoming. Sarah is also an ACSM Certified Personal Trainer, ACE Certified Health Coach, Revolution Running certified running coach, and an ACE Certified Fitness Nutrition Specialist