Pumpkin is everywhere! I try to refrain from posting tons of pumpkin recipes, just because not everyone likes pumpkin and people do want to see other recipes. But, I had to find a pumpkin muffin recipe that I could have. My stomach has been fickle lately and sometimes I do well with grains and other days not so much. Oy.
I don't want to stop baking, but baking grain-free without eggs is tricky (my kids and I can't have eggs). It can be a hit and miss! But these muffins turned out awesome with no grains, dairy, sugar, nuts (besides coconut), soy, or eggs!
I based this recipe off of one of my 3-minute banana cake that I posted a while ago. That recipe is so easy to make and it's an awesome quick sweet treat without added sugar!
I decided to make some muffins using that same recipe concept, and replaced some of the banana with pumpkin to cut down the amount of sugar. Fortunately, these muffins turned out perfect on the first try. I had to make a second batch a week later just to make sure I wasn't imagining things. Still great! 🙂
When you mix up these muffins, the batter will be quite thick, almost an airy dough (but not quite). The ample amount of baking powder in the recipe keeps the batter lighter, but stick with the listed amount of baking soda and don't be tempted to add more.
The amount of baking soda is just right for this recipe: if you try to add more baking soda to make the muffin's fluffier, the muffins will taste bitter. Trust me on that! Also, these will turn brownish after a day or 2 because there is a lot of banana in these muffins, so don't let that bother you. If you are making these for guests, make them fresh that morning to keep them fresh.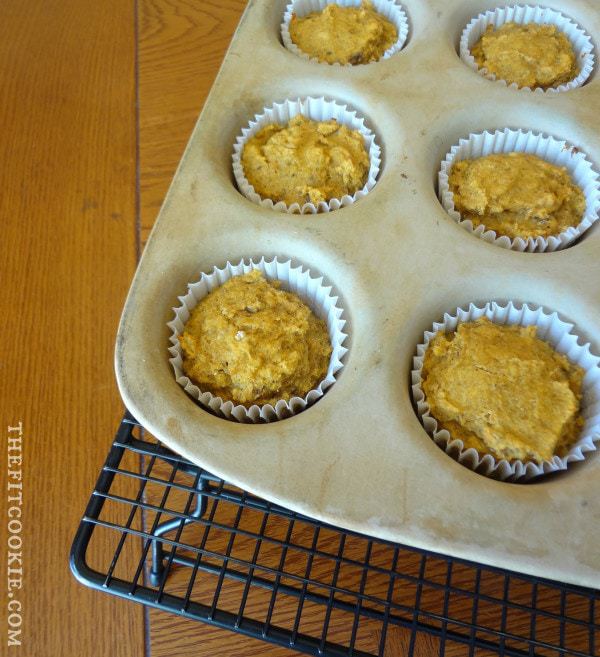 Grain-Free Pumpkin Muffins {Vegan}

Grain free, gluten free, paleo, vegan; Free of: dairy, eggs, soy, cane sugar, peanuts

Ingredients

1/2

cup

+ 1 Tablespoons coconut flour

3

Tablespoons

ground flax or chia seed

1

Tablespoon

baking powder

1/2

teaspoon

salt

1/2

teaspoon

cinnamon

1/4

teaspoon

baking soda

Dash each nutmeg and cardamon

to taste

3

medium bananas

mashed

3/4

cup

canned pumpkin

1/4

cup

non-dairy milk of choice

2

Tablespoons

mild olive oil

or melted coconut oil

2

teaspoons

vanilla

Vanilla creme Stevia

to taste (I used about 1/4 teaspoon)

Instructions

Preheat oven to 350 degrees F. Line a muffin tin with muffin papers and set aside.

In a small bowl, whisk together the coconut flour, ground flax seed, baking powder, salt, cinnamon, baking soda, nutmeg, and cardamon. Set aside.

In a medium bowl, mash the bananas until very well mashed and almost liquid. Stir in the pumpkin, non-dairy milk, olive oil, vanilla, and Stevia drops and mix well.

Add the coconut flour mixture to the pumpkin mixture and stir very well.

Spoon the thick batter into the prepared muffin cups to the brim. Gently smooth the tops of the batter if you like, but don't press the batter into the cups.

Bake for 30 minutes*. Cool in pan for 10 minutes, then move the muffins onto a cooling rack. Allow the muffins to cool completely before removing them from the muffin papers (this is important or they will stick to the papers).

Store these in a sealed container in the fridge. These muffins also freeze well.

Enjoy!

Recipe Notes

I used a stoneware muffin pan. If you are using a metal muffin pan, they may take a little less time to bake Calories: 92, 4g fat, 1g saturated fat, 13g carbohydrates, 4g fiber, 5g sugars, 2g protein