Make your meal planning and grocery shopping easier with our fourth gluten free dairy free 1 week meal plan! Our allergy friendly meal plan is family friendly and comes with a printable menu and shopping list.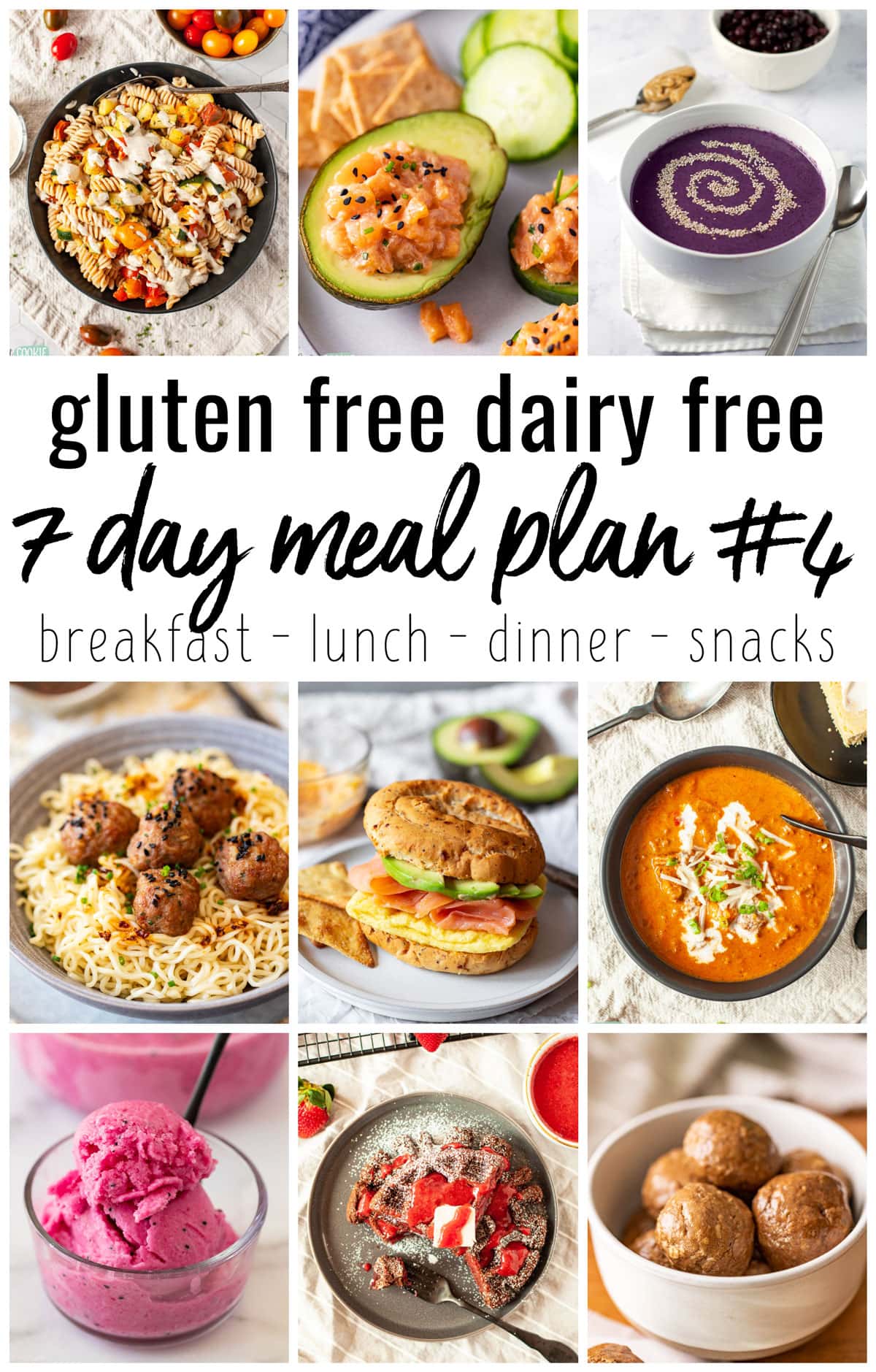 Hey friends! We've been busy behind the scenes putting together another gluten free dairy free meal plan for you and I just put the finishing touches on the printable shopping list and menu, and I can't wait to share it with everyone.
This is our fourth allergy friendly meal plan for our website! So combined with our three other menus, there is an entire month of dairy free and gluten free meal plans to make your cooking and grocery shopping easier.
Our meal plan includes recipes for breakfast, lunch, dinner, and snacks, and every recipe is gluten free and dairy free. Not only that, all the recipes here are also soy free and peanut free as well, with lots of egg free options.
Family-friendly meals and recipes
The majority of the recipes in our allergy friendly meal plan cater to families and most recipes can serve more than two people. There are only a few recipes in here that are single serving, and they are pretty easy to adjust to feed more. All of the dinner recipes we've included here will feed 4 or more people.
Each recipe card on our site also has a servings slider to adjust the number of servings and change the ingredients to make it easy to adapt recipes for more or fewer people. So if you don't want to make recipes for 4 or more, you can easily adjust each recipe.
Just note that the shopping list is created for the recipes as written, so if you make adjustments to the number of servings, you'll need to change ingredients in the shopping list by hand.
Personalizing our meal plan
Feel free to personalize these meals to your preferences and food allergies, making swaps if needed, moving meals around, and mixing and matching with our other meal plans. Also for the recipes that might be labeled vegan, you can also add any protein of your choice, such as adding chicken to the ranch pasta salad.
Please be aware that the printable shopping list below only includes the ingredients required for the recipes and does not include any extra items that may appear in the menu, such as fruit with waffles for breakfast, or vegetables sides with dinner recipes.
To accommodate for this, I included extra spaces in the shopping list for people to write in their own shopping list items to fill in any "gaps" you may find in the meal plan.
Want a printable menu and shopping list for this meal plan? Sign up for Grow and our weekly email newsletter (or sign into an existing Grow account) and get the free printable PDF menu and shopping list!
Keep scrolling for the links to the recipes!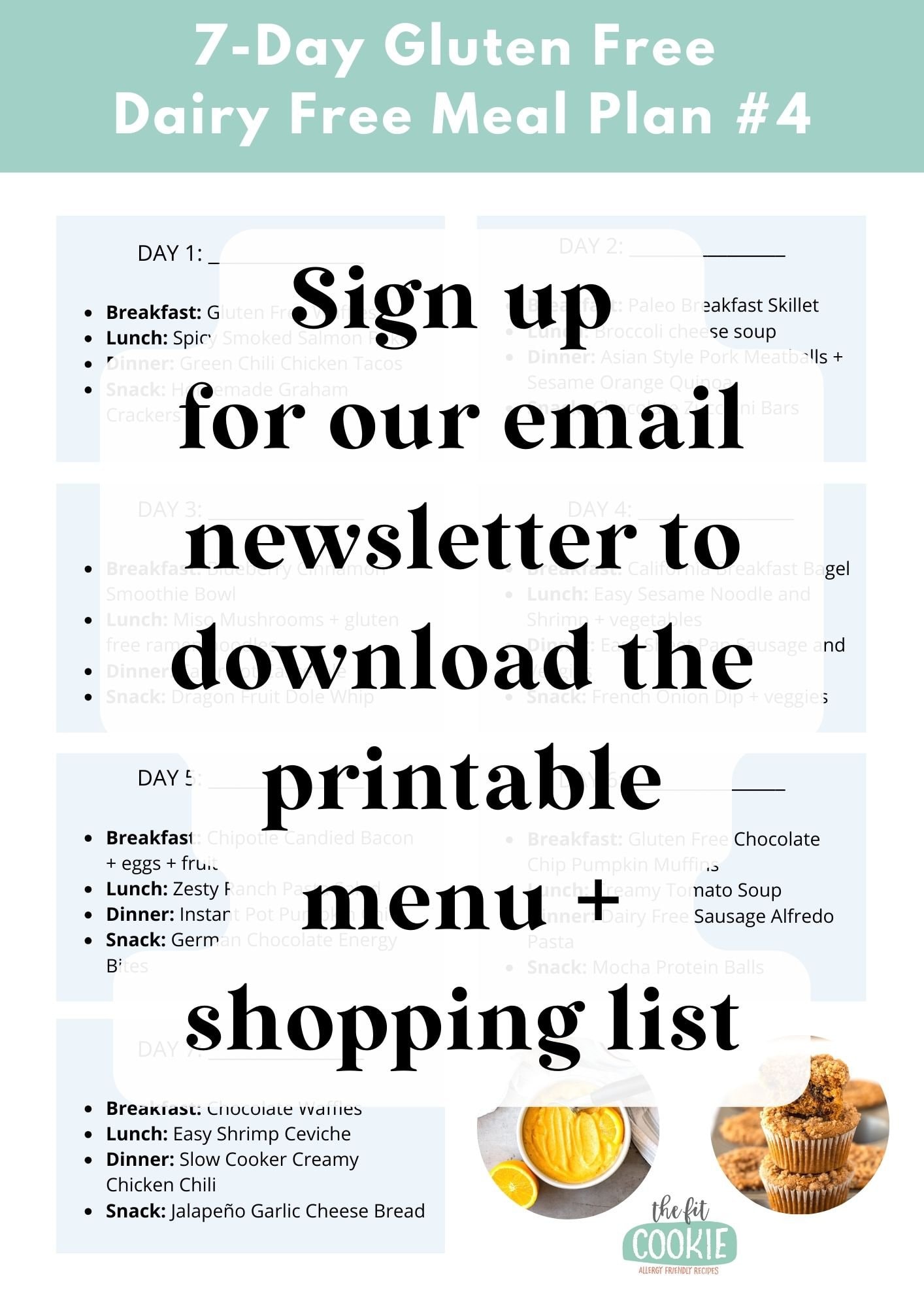 Check out our other allergy friendly meal plans:
7-day gluten free and dairy free meal plan #4
Here are the recipes for our 1 week gluten free and dairy free meal plan. Click on each image or recipe button to get the full recipe you can print or follow on your phone or tablet.
If you like cooking with your tablet vs printing out recipes, you can bookmark this page to get back to it easily!
Sarah Jane Parker is the founder, recipe creator, and photographer behind The Fit Cookie. She's a food allergy mom and healthy living blogger based in Wyoming. Sarah is also an ACSM Certified Personal Trainer, ACE Certified Health Coach, Revolution Running certified running coach, and an ACE Certified Fitness Nutrition Specialist