This Peppermint Chocolate Chip Nice cream is sweet and creamy with a hint of peppermint and lots of chocolate chips. Perfect for a cool homemade frozen treat anytime, plus it's dairy free and allergy friendly!


I am one of those people….the people who need to know the end of the movie before it's over, the person who it takes every ounce of will power NOT to read the end of the book first. I even like to know not just what the weather will be tomorrow, or for the next week! I love a good long range weather forecast for the next month, and as of this week, I think this might be the last super hot week we get.
So I figured that I better make the most of it: wearing all those summer dresses, contemplating heading to the waterfall for a quick dip (never done that and in all honesty, not sure I'll follow through!) and of course, nice cream! And why not celebrate St.Pats Day with all things green at the same time?!
Ice cream is not just a summer thing and in fact I think it tastes best on hot apple pie, but I have fond memories of when I was a kid we would ride our bike while Mum walked with us up to the local ice creamery. We would scan their 101 flavors so carefully and always end up choosing the same, slowly walk home with the chirp of the crickets and the sun setting behind the hills…. ahhhhh. Love a good memory!
I love me a little nice cream, not that there is anything wrong with ice cream, but I love nice cream. Delicious, cold, smooth and a little better for you!
Peppermint chocolate chip was always my cousin's favorite and I'll be honest, I didn't get it at the time. But like all good things, with age my taste buds matured to appreciate things like olives, mushrooms, and peppermint chocolate chip nice cream.
What is your favorite ice cream flavor… gimme some more nice cream inspiration!
Check out our other dairy free frozen treat recipes!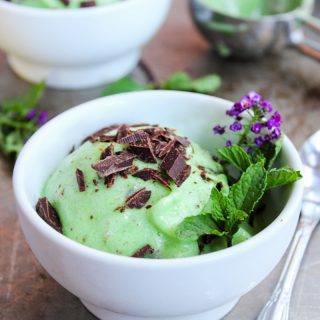 Peppermint Chocolate Chip Nice Cream
This Peppermint Chocolate Chip Nice cream is sweet and creamy with a hint of peppermint and lots of chocolate chips. Perfect for a cool chocolatey treat anytime!
Vegan, gluten free;
Free of: peanuts, eggs, dairy, soy, beans/peas
Print
Pin
Rate
Instructions
Peel and slice the bananas and freeze until hard (at least a couple of hours)

Once the bananas are frozen, place in a food processor with peppermint essence and natural food coloring.

If needed, you can add a little bit of coconut milk to help it blend easier

Blend until smooth and a soft serve consistency.

Add chocolate chips and stir gently to combine.

Serve immediately or you can refreeze.
Notes
I like to use natural powder food colors. If you want green color to this recipe, add a sprinkle each of yellow and blue natural food color powders and mix. Add a little bit of each at a time until you get the color you want. Remember: you can always add more, but you can't take it out once it's added!
Nutrition
Calories:
257
kcal
|
Carbohydrates:
40
g
|
Protein:
3
g
|
Fat:
10
g
|
Saturated Fat:
9
g
|
Sodium:
27
mg
|
Potassium:
597
mg
|
Fiber:
3
g
|
Sugar:
22
g
|
Vitamin A:
75
IU
|
Vitamin C:
10.2
mg
|
Calcium:
74
mg
|
Iron:
1.1
mg