If you're new to workouts or a beginner, here's a great workout plan that's quick, simple, and effective (we've included videos!)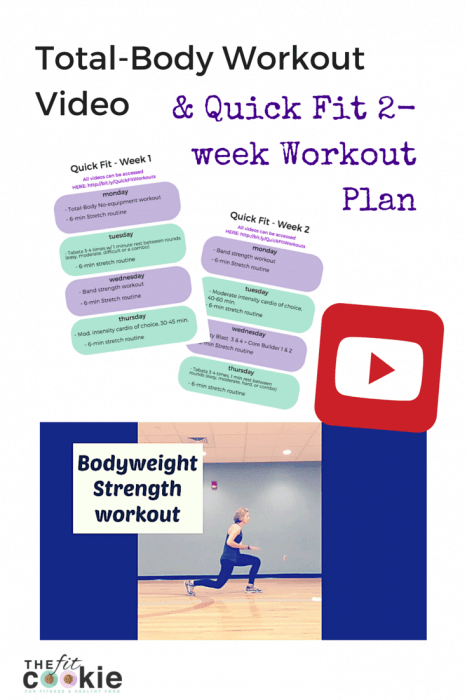 Hey, friends, are you up for another workout video? I hope so since I've got another great full workout video for you AND an accompanying 2-week workout plan! This is something I worked on last fall and put together a bunch of videos and a workout plan to put those videos all together.
After releasing each video over the last few months, I'm posting the final video along with the 2-week Quick Fit workout plan to go with them!
I called this 2-week workout plan "Quick Fit" since the workouts on this schedule are quick and manageable: less than 30 minutes for each workout and beginner-friendly. It's great for people who are pressed for time and need to do workouts during times that fit their schedule.
These workouts can be done just about anywhere, and there is little to no equipment required for these workouts. You just need a set of resistance bands for one of the workouts. Resistance bands are super affordable, easy to take with you places, and you can find them at places like Walmart and Target so they are easy to find.
I have posted all of the workout videos on my blog over the past couple months, but you can also easily access the Quick Fit videos on YouTube!
Here's the final video in my Quick Fit workout plan: a Total-Body No-Equipment workout that takes about 20 minutes. All of the Quick Fit videos can be done alone, put together, or added to your existing workout routine – so many ways to do them!
Here are the free workout plans, just click on the image and you will be taken to the PDF that you can print and download.
Sarah Jane Parker is the founder, recipe creator, and photographer behind The Fit Cookie. She's a food allergy mom and healthy living blogger based in Wyoming. Sarah is also an ACSM Certified Personal Trainer, ACE Certified Health Coach, Revolution Running certified running coach, and an ACE Certified Fitness Nutrition Specialist