Did you know that air fryers are a perfect way to make quick sweet treats? We gathered up over 20 gluten free and dairy free air fryer desserts. Our roundup includes fruit desserts, cookies, brownies, and more!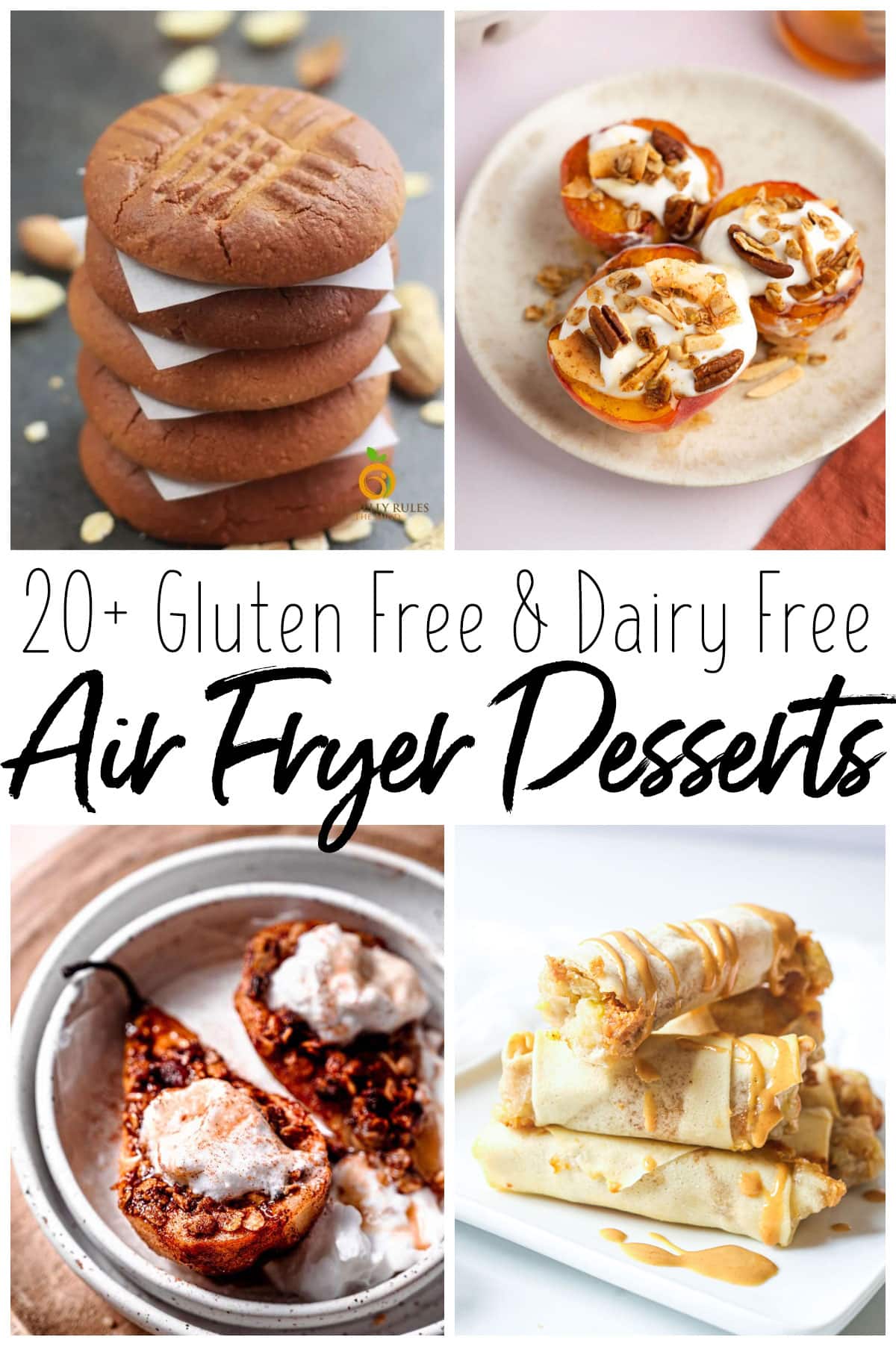 You probably already know that your air fryer can create crispy savory foods like french fries or potato chips without oil, but did you know that you can also make desserts in the air fryer?
We have the roundup for you if you're looking for more ways to use your air fryer beyond just savory foods. I gathered over 20 gluten free and dairy free air fryer dessert recipes for you to make delicious treats when your sweet cravings strike.
The delicious desserts we've included in this roundup are written as gluten free and dairy free, or can be easily made that way with easy swaps (such as swapping dairy free milk for regular milk in the recipe).
Since I had a harder time finding very niche air fryer dessert recipes, I decided to include some recipes in here that would easily adapt to allergy friendly swaps, like a dairy free milk swap.
If you're new to eating dairy free and want to learn more about how to make dairy free recipe changes, check out our post with ideas and tips for replacing dairy in recipes.
Can you make desserts in an air fryer?
Yes! You can make desserts in an air fryer, although some desserts are better suited for the air fryer than others.
People have successfully made things like brownies, donuts, banana bread, etc. in air fryers versus cooking them in the oven.
Just pay attention to the size of your air fryer if you need to make bigger batches of desserts (like cookies for instance) since you won't be able to put as many cookies in an air fryer basket as you can a large baking sheet pan for the oven.
Are air fryer desserts healthier?
In some ways, air fryer desserts can be healthier than regular desserts depending on the ingredients of each dessert you're making.
Since air fryers use circulating hot air (similar to a convection oven), you can use less oil in your cooking versus frying with hot oil. Skipping the hot oil usually means fewer calories from fry oil and you don't have to drain or soak up any excess oil from deep frying.
However, each dessert we feature here is made with different ingredients and some still include oil and sugar in the recipe, so they aren't necessarily healthier than a non-air-fried version.
But some of the recipes here are healthier or can be made healthier, like the baked apples or the air fried pears! Fresh fruit does really well in the air fryer and is featured in several of the recipes here.
You can also make easy swaps in many of these recipes to reduce the sugar as well.
What desserts can you make in an air fryer?
The best desserts for an air fryer would be ones that normally would be well-suited for frying, such as donuts, but you can also "bake" things in the air fryer, such as brownies and cookies.
Just keep in mind that the circulating hot air can crisp and cook the edges of your dessert much faster than baking it will, so it's a good idea to look for dessert recipes that were created specifically for the air fryer for the best results.
Delicious air fryer dessert recipes (gluten free and dairy free)
More amazing air fryer dessert recipes:
Sarah Jane Parker is the founder, recipe creator, and photographer behind The Fit Cookie. She's a food allergy mom and healthy living blogger based in Wyoming. Sarah is also an ACSM Certified Personal Trainer, ACE Certified Health Coach, Revolution Running certified running coach, and an ACE Certified Fitness Nutrition Specialist