Serve this simple and delicious chopped Greek salad with your favorite grilled dish or by itself. This simple but flavorful salad is grain free, dairy free, and low carb!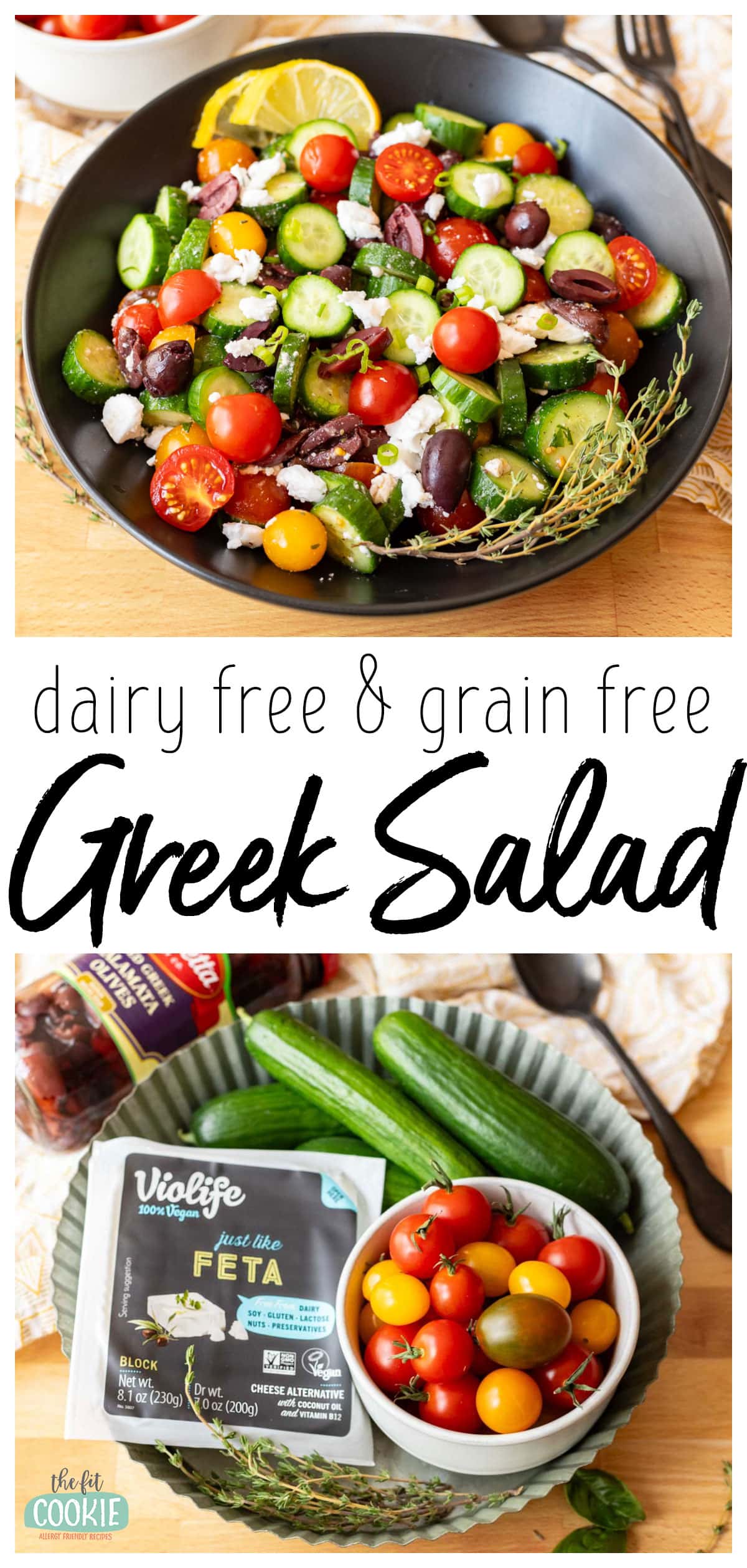 What's better than a fresh and cool Greek salad that's bursting with flavor on hot summer days?
Some Greek salads have a lot of dairy in them between the cheeses or dressings, but you don't have to worry about hidden dairy or other allergens when you make Greek salad at home.
Greek salad has been one of my absolute favorite foods for years and when we eat out, I usually love it topped with chicken souvlaki or gyro meat alongside some baba ganoush (another favorite since I can't have the legumes in hummus).
At home, we usually add some chopped grilled chicken to our salad, or just serve it alongside grilled meats, and sometimes I'll mix in marinated artichoke hearts in the salad as well. So good!
Allergy notes for our Greek salad:
Dairy free
Peanut free
Egg free/vegan
Soy free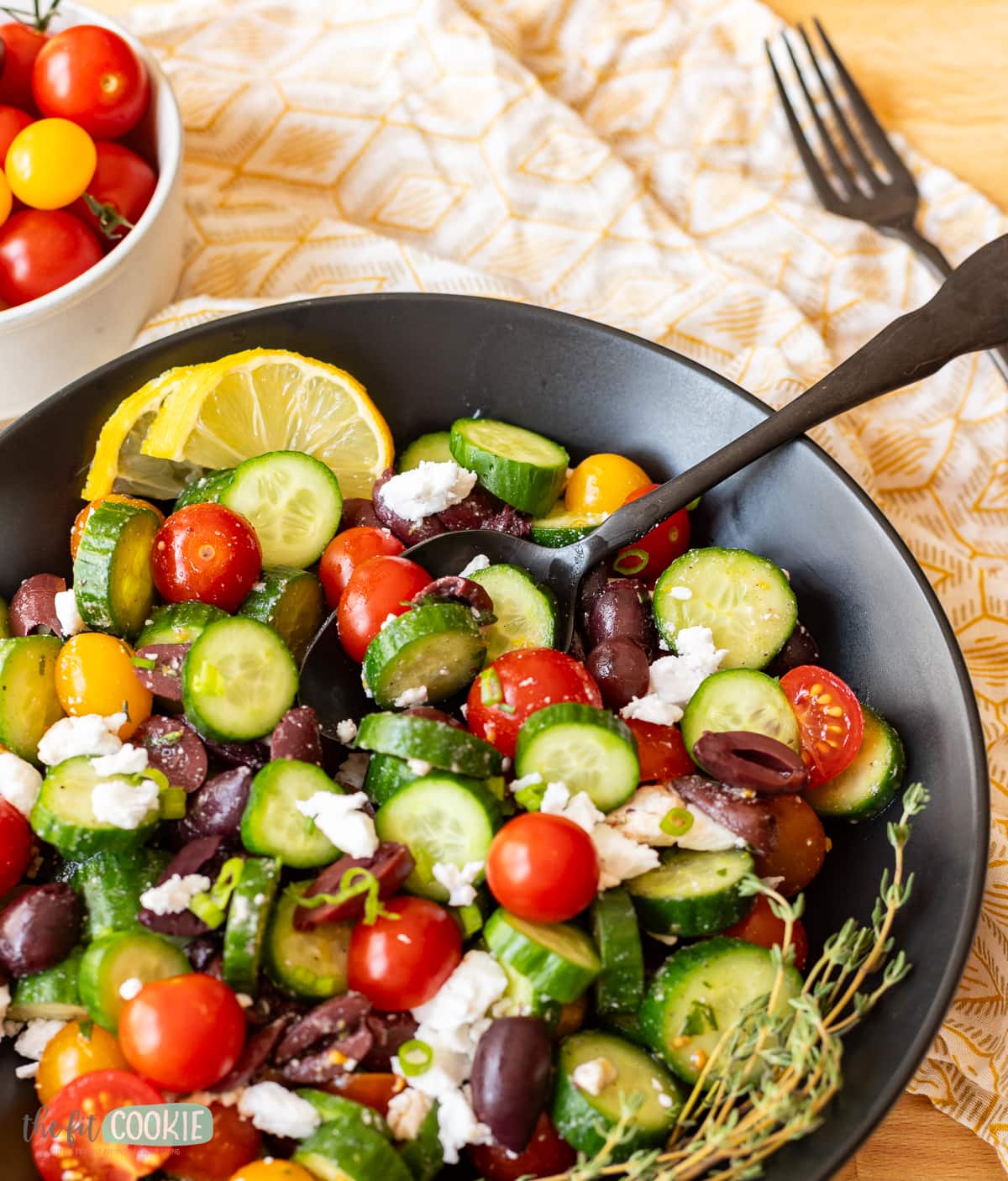 Why you'll love it
Simple & Quick: Whip up this salad in no time, whether you're craving a light lunch, a refreshing side dish, or an allergy friendly potluck contribution.
Easy to customize: easily change ingredients to match your personal preferences, and add some protein on top (like chicken or chickpeas) to round this out to make a full meal.
Can be made dairy free or with dairy: this recipe is written to be dairy free, but it can be made with dairy, too, if you can have it! Just use your favorite regular feta cheese for this salad.
Ingredient notes for our dairy free Greek Salad
Making this salad is super easy, so I'll skip my regular "how to make greek salad" section of the blog post and add some notes for the ingredients I think work best in this recipe!
Cucumbers: I love this recipe with the small English/hothouse cucumbers. There is less of a watery seed part of these little cucumbers, and they are the perfect size when sliced. But if you end up using a regular English cucumber, cut it in half and scoop out the seeds first before cutting into small pieces for the salad. This keeps the salad from getting watery.
Tomatoes: grape tomatoes work great in this recipe, you can cut them in half or leave them whole (I did a mix of both). But keep in mind that if you are serving young children or older seniors you'll want to cut the tomatoes in half so they aren't a choking hazard. Red grape tomatoes are great in this recipe, but I think the yellow grape tomatoes are even better since they are sweeter! If you're just chopping up a regular tomato, I like removing the seeds from the tomato before chopping to make sure the salad doesn't get too watery.
Kalamata olives: you can use whole or halved olives in this recipe, I have used both at different times. I do recommend using pitted kalamata olives vs whole with pits so you don't accidentally bite into a pit, especially if you're mixing this into the salad and serving to guests.
Dairy free feta: we have a list of some good dairy free feta options below, but you can serve this salad with the feta mixed into the salad or just sprinkled on top. I love it mixed into the salad personally, but serve it up how you like best!
Our Greek salad can be made right before serving, but it's even better if you make it a few hours ahead and chill it to let the flavors marinate and develop. So yummy! This is even more delicious the next day.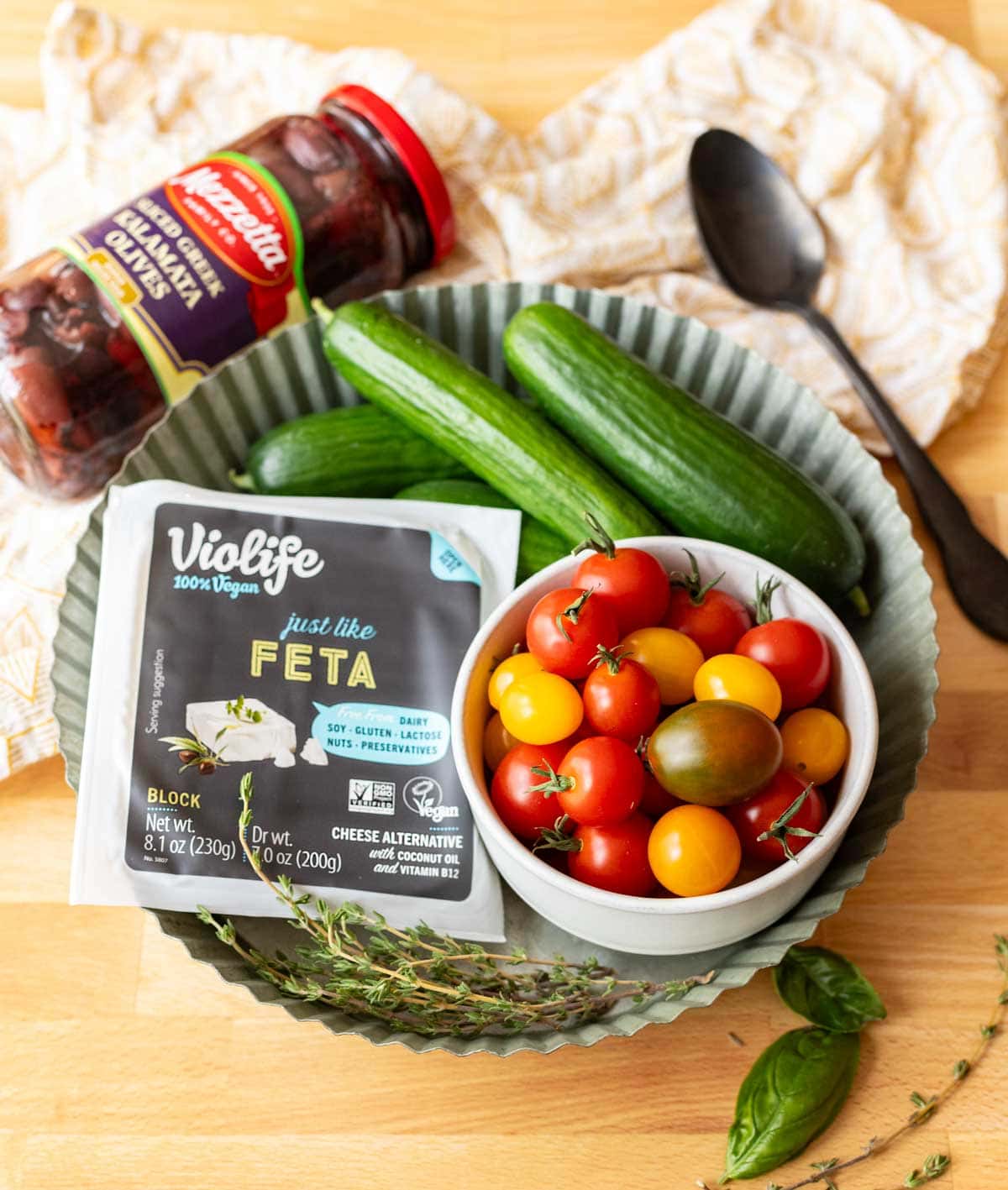 Dairy free feta cheese options
If you're not sure what kinds of dairy free feta cheese are available, you're in luck! There are several brands of allergy friendly feta on the market now to choose from. I remember there being nothing on the market for dairy free feta even just a few years ago, so the variety of options now is exciting.
Here are some options for dairy free feta along with my thoughts on the ones I've tried:
Violife feta cheese: my favorite dairy free feta cheese! It's best for cold dishes since it does not cook well (it gets pretty liquidy when cooked).
Daiya feta cheese: this one is pretty good, I prefer the Violife personally, but the Daiya one holds up better to cooking if you want to make a dairy free feta pasta. I did a video about the Daiya feta cheese and the Halloumi-style cheese on YouTube.
Follow Your Heart: I haven't tried this one yet, but it's pre-crumbled so it's easy to just sprinkle on your salad.
Treeline vegan goat-style cheese: this is made with cashews and has 3 different flavors: original, blueberry, and garlic basil.
You can also make your own feta at home, but most recipes call for tofu, such as this one from Loving It Vegan. So it's not always a great option for people with soy allergies, but there are soy free tofu options available, such as Pumfu (pumpkin seed tofu) and Tempt hemp tofu.
I'm not sure how those soy-free tofus would taste in a homemade feta cheese recipe, however, since pumpkin seeds and hemp seeds can have a bitter taste to them.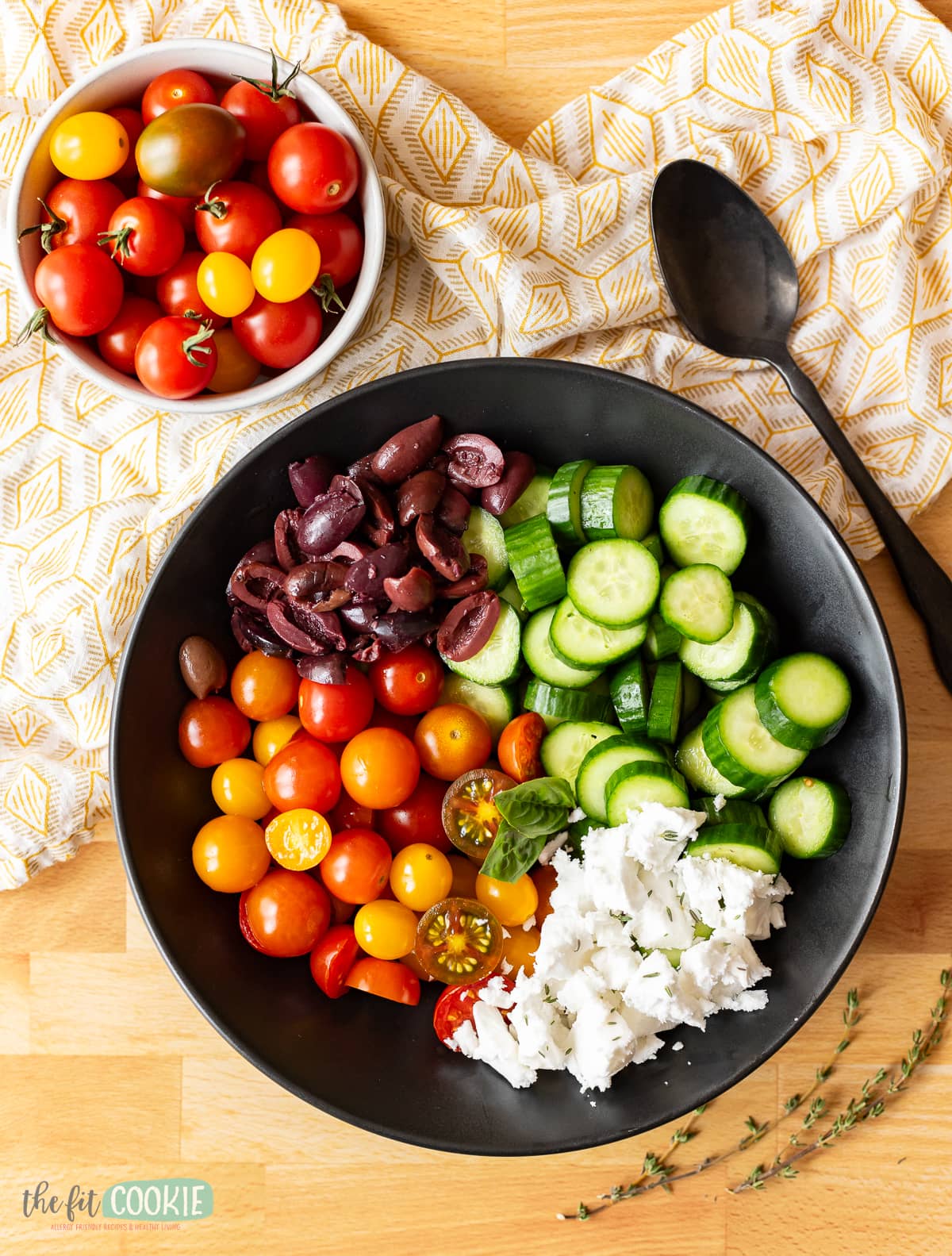 Is sheep milk or goat milk cheese safe for people with dairy allergies?
For most people with a true allergy to cow dairy proteins (casein and whey), they can't have goats milk or sheep milk products since those also contain similar casein proteins than cow's milk.
Different milks have different components of casein and whey. Some cow milk has more A1-beta casein (a more inflammatory type of casein) than goat or sheep milk, which has a higher percentage of less inflammatory A2-beta casein.
So some people seem to do better with goat milk or sheep milk than with regular cow milk products, but the goat milk and sheep milk still has casein in it, which is a problem for people with dairy allergies who are allergic to the casein. If you have dairy allergies, it's best to visit with your allergist about sheep and goat milk.
If you are someone that can't have cow dairy but can have goat or sheep milk, make sure to still read labels on feta cheeses since many in the US are made with cow milk and not sheep or goat milk (or sometimes it's made with combination of cow and goat or sheep milks).
It's important to note that lactose intolerance is not the same thing as a dairy allergy. Lactose intolerance is an inability to digest/break down the milk sugar (lactose) in dairy products, while dairy allergies are an allergic reaction to the proteins in dairy products (such as whey and casein).
Go Dairy Free has a great post on goat and sheep milk products as well, but in general if you have allergies to cow dairy, it's best to avoid goat and sheep milk as well.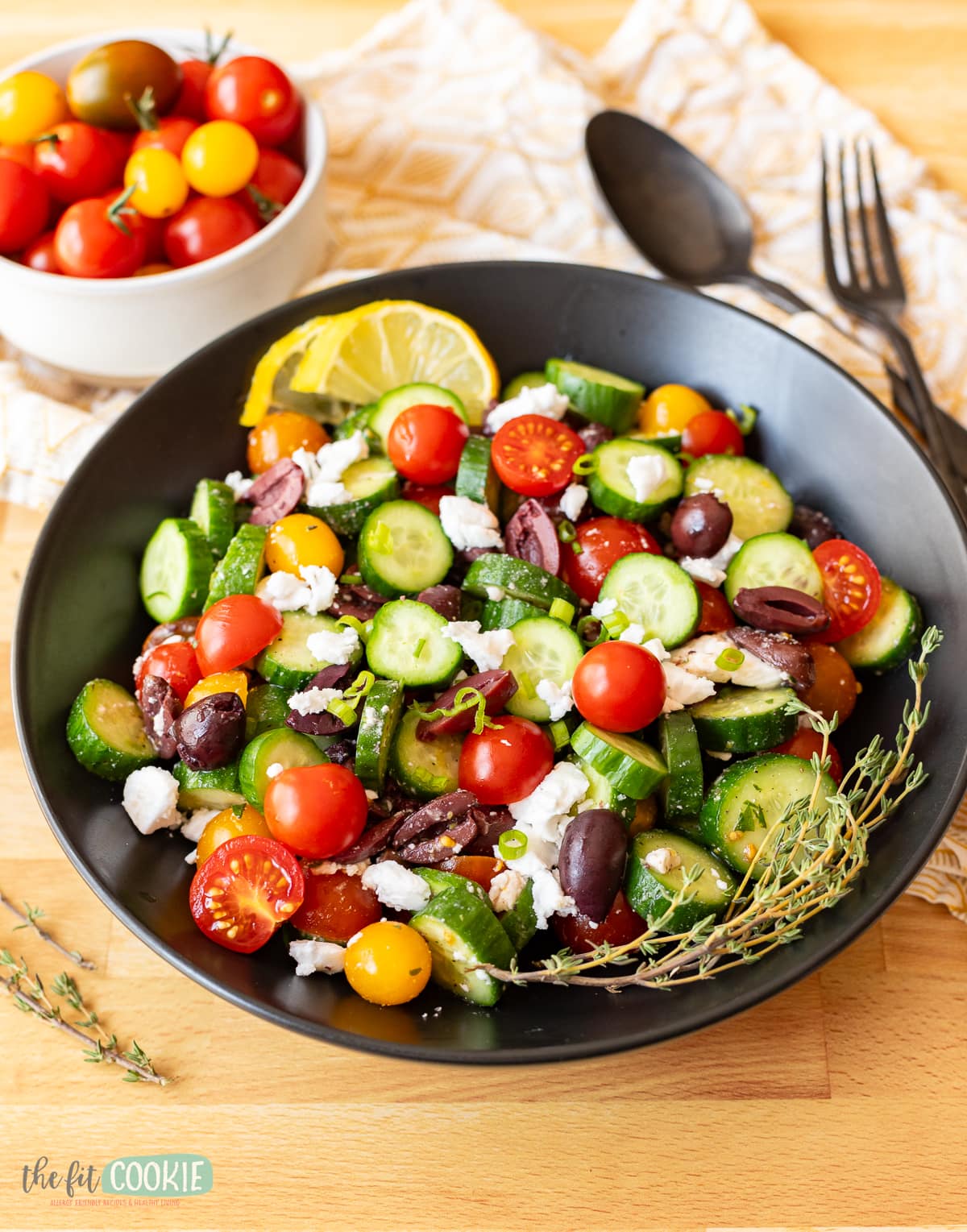 Check out our other salad recipes:
Dairy Free Chopped Greek Salad (Low Carb)
Serve this creamy and cool Classic Greek Salad with your favorite summer main dish. This simple but flavorful salad is grain free, dairy free, and low carb!
Makes 3 cups salad, about 6, ½ cup servings.
Grain free, dairy free, vegan; Free of: peanuts, tree nuts (except coconut), soy,
servings
Print
Pin
Rate
Ingredients
1 ½

cups

chopped and seeded cucumber, unpeeled

1

cup

grape tomatoes, halved

½

cup

pitted and sliced kalamata olives

1 ½

ounces

dairy free feta cheese, crumbled or chopped

(I use Violife)

1

Tablespoon

kalamata olive juice (from the jar)

1

Tablespoon

sliced chives or green onions

1

teaspoon

loose packed fresh thyme leaves, rubbed

1

teaspoon

loose packed minced fresh basil

zest of 1/2 lemon

Salt, pepper, garlic powder

(to taste)
Instructions
Remove seeds from your cucumber and chop (I leave the peel on the cucumber for more color) and add it to a large bowl.

Halve the grape tomatoes and add to the large bowl along with the other ingredients and stir to mix.

You can serve the salad immediately, or chill for several hours to let the flavors meld together.

If you don't want your salad creamy, add the feta crumbles on top of the salad before serving rather than mixing it into the salad.

Store in the fridge for up to 3 days.
Nutrition
Calories:
55
kcal
|
Carbohydrates:
3
g
|
Protein:
1
g
|
Fat:
5
g
|
Saturated Fat:
3
g
|
Sodium:
240
mg
|
Potassium:
104
mg
|
Fiber:
1
g
|
Sugar:
1
g
|
Vitamin A:
315
IU
|
Vitamin C:
5.3
mg
|
Calcium:
13
mg
|
Iron:
0.3
mg
Did you make this recipe?
Share a photo on Instagram and tag us @TheFitCookie!
This post was originally published on June 26, 2019. I recently re-wrote it and took new photos, here's one of the photos from the original post!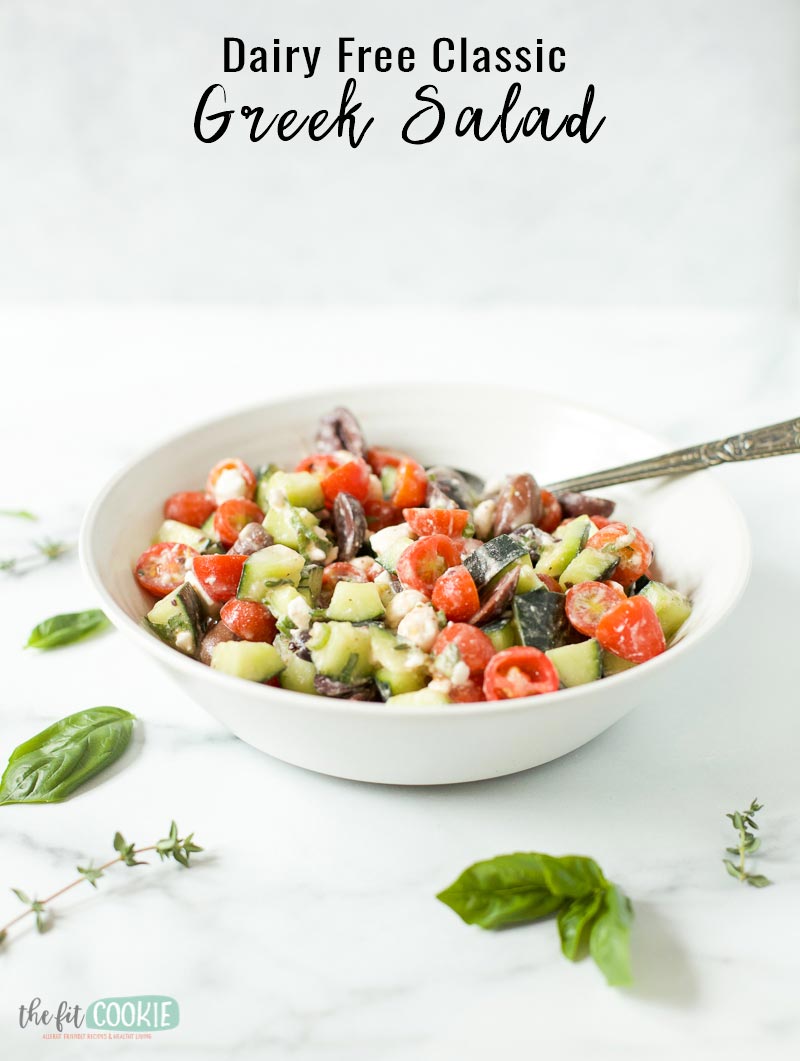 Sarah Jane Parker is the founder, recipe creator, and photographer behind The Fit Cookie. She's a food allergy mom and healthy living blogger based in Wyoming. Sarah is also an ACSM Certified Personal Trainer, ACE Certified Health Coach, Revolution Running certified running coach, and an ACE Certified Fitness Nutrition Specialist