Curious about cupping therapy? If you follow fitness trends, cupping might be something you have heard about. But cupping therapy is more than just a trend: it's an ancient alternative medicine technique that is making a comeback as a fitness recovery tool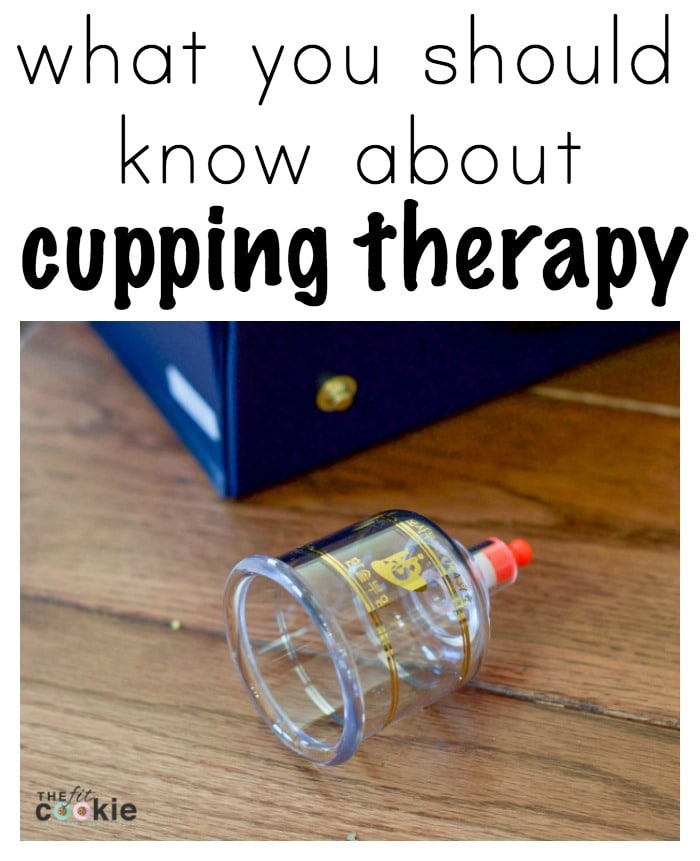 Being hurt sucks. If you are an active individual, you more than likely have had some injury during your fitness journey. Even though I don't really consider myself someone who overdoes it with fitness, or an endurance athlete, I have battled tendinitis quite a bit over the years.

Unfortunately I am still struggling with tendinitis in the outside of my right knee which has been off and on for the past 3 years. I really want to kick it for good! Foam rolling, stretching, and cupping are regular parts of my fitness routine now, and they help a bunch.
The first time I had any cupping done was last year when I went to a new physical therapist. I had been to plenty of PTs before, but no one had ever done cupping on me. Even though I'm still dealing with tendinitis in my knee (mostly from squats and lunges unfortunately), cupping has made such a big difference in my tendinitis issues.
Most of this info is stuff that I have learned from my physical therapist, found through research, and discovered what has worked for me. This is not medical advice, and I am not a physical therapist. If you're not sure if this is going to work for you, talk to a doctor or physical therapist first.
I created a Facebook live video about cupping, check it out!
Benefits of Cupping
Cupping began as an ancient Chinese alternative medicine technique, traditionally with glass cups, but in recent times has evolved into a physical therapy modality and deep tissue massage technique. I have only ever had it used in the physical therapy capacity, so that's what I know and will share about mostly.
When cupping is used for physical therapy, it works through myofascial decompression. When we foam roll, that is a type of myofascial release through compression, similar to how massage works. Cupping works in a different way by lifting or decompression versus compression.
Sometimes when we get injured or we build up scar tissue from heavy exercise, our tissues create adhesions and can begin to stick or "glue" together and become less flexible. While targeted compression (through massage or foam rolling) helps to break up scar tissue adhesions, cupping releases scar tissue adhesions by creating space and lifting tissues a bit.
Cupping can help break up scar tissue and adhesions on muscles and connective tissue, and it can help move blood and lymph to the area to speed healing.
While the risks with cupping are generally small, do avoid cupping if you have bleeding disorders or are on medications or blood thinners. Always talk to a doctor before starting anything new like this!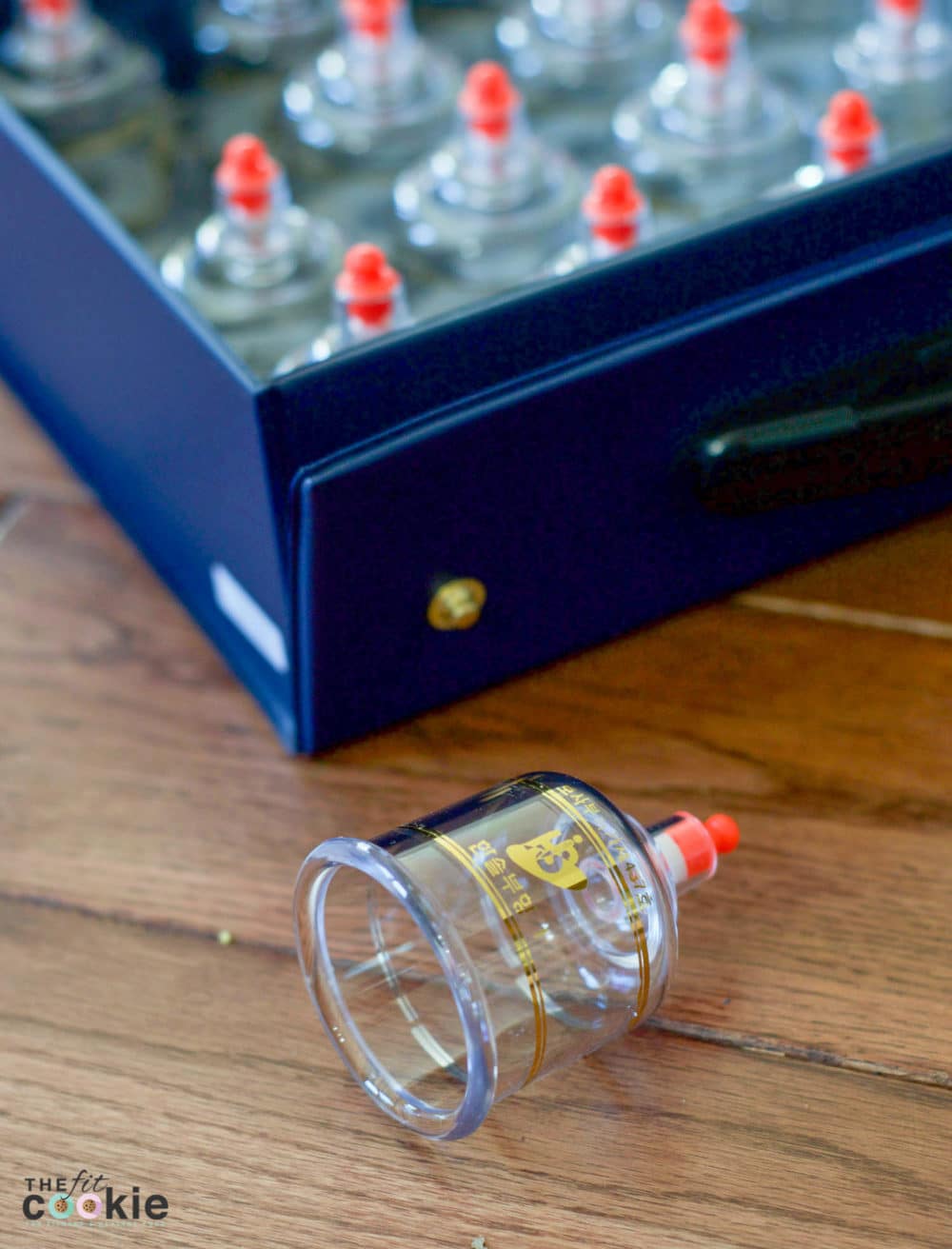 There are different types of cupping therapy: wet cupping (where cuts are made in the skin, ouch!), fire cupping (using glass cups with fire), and soma cupping (using soft pliable plastic cups). My PT and I both use the hard plastic cups and a suction gun, and this has worked really well. I have a set of regular cups and curved cups that can be used for the side of joints (like knees).
The plastic cups with a suction gun like I have are very safe to use, wet cupping and fire cupping need to be done by a trained practitioner.
My PT recommended that I get a set of cups for home that I could do some of this on my own, and I bought a set on Amazon for maybe $36 and I have been cupping at home several times a week since then. It has become an integral part of my fitness and recovery routine!
Cupping Therapy Tips
Do start out small, with small amounts of suction and shorter amounts of time to allow your body to acclimate. If you have very tight muscles and you put too much suction on at first, it can make your muscles tender
Don't use cups right on joints or bony areas (unless you have a curved cup)
Do use massage cream, oil, or lotion when cupping
Bruising is normal. Some people will bruise much easier than others, and some areas of your body will bruise easier than other parts of your body. That's normal and okay. For me, my legs rarely get lasting bruises, but my back gets longer lasting bruises
Don't cup around the abdominal area unless directed to do so by a doctor or physical therapist
Do cup several times a week as a part of your recovery routine (along with foam rolling and stretching) if you tend to get tendinitis easily
Don't cup around the femoral artery
If you have bleeding disorders or are on blood thinners, consult a physician or physical therapist about the safety of cupping for you
Cupping Therapy Techniques
Even with one type of cup, there are different ways to use them and different techniques:
Stationary cupping: the cup is placed over trigger points and left there for a few minutes. Beginners can start with a couple minutes and build up to doing 10 minutes at a time
Moving the cup ("gliding cupping"): Once a bit of suction is placed on the cup, the cup is then moved around the area of interest. This can be pretty intense and painful at times, so build up to this! If you plan on moving the cup, don't add as much suction and you must have a lotion or oil of some kind on your skin
Stationary cup but moving the body: in this method, the cup is placed on a trigger point and then the person moves their body rather than moving the cup. For example, when I use this on my IT bands, I move my leg around a bit. This helps to release fascia in some different planes of movement
Cupping muscles in a stretched position: I use this method on my husband's back sometimes and it works well if you want to progress from regular stationary cupping. Simply find a place where you can hold a comfortable stretch and apply the cups to the stretched muscle. For example, you can move into child's pose stretch then apply the cups to the back muscles. Or use the cups on your inner thigh muscles during a supported and seated butterfly stretch.
I personally find physical therapy, cupping, needling, myofascial release, and those sorts of things to be super fascinating! I'm always curious about how the body works. If you want to read up some more about cupping, here are some more useful articles:
Videos about cupping and techniques:
Disclaimer: this information is intended to be informational only and is not intended to replace the advice of your qualified healthcare professional.
Sarah Jane Parker is the founder, recipe creator, and photographer behind The Fit Cookie. She's a food allergy mom and healthy living blogger based in Wyoming. Sarah is also an ACSM Certified Personal Trainer, ACE Certified Health Coach, Revolution Running certified running coach, and an ACE Certified Fitness Nutrition Specialist