Stay cool this summer with our easy dairy free orange sherbet! Our recipe comes together in a few minutes, and it's naturally sweetened, allergy friendly, and paleo.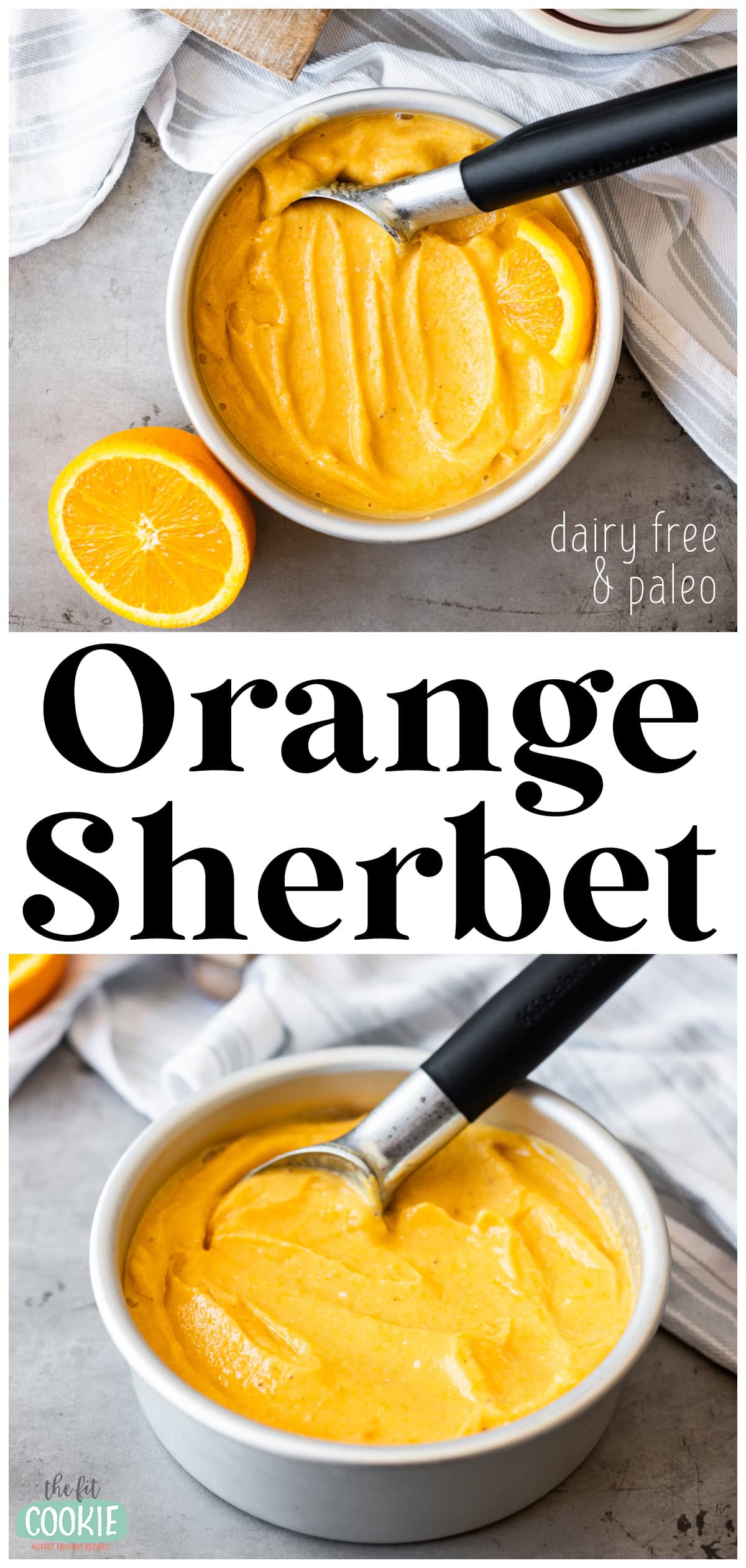 Nothing beats a nice cold orange sherbet on a hot summer day! This creamy and cool citrus treat really hits the spot, and it's allergy friendly and naturally sweetened.
This recipe reminds me a little of the orange creamsicle push pops we used to get as kids. It's sweet and tart, and comes together in just a few minutes so it's easy when a frozen dessert craving strikes!
Our recipe is:
Dairy free
Peanut free
Grain free and paleo
Naturally sweetened
Vegan/plant based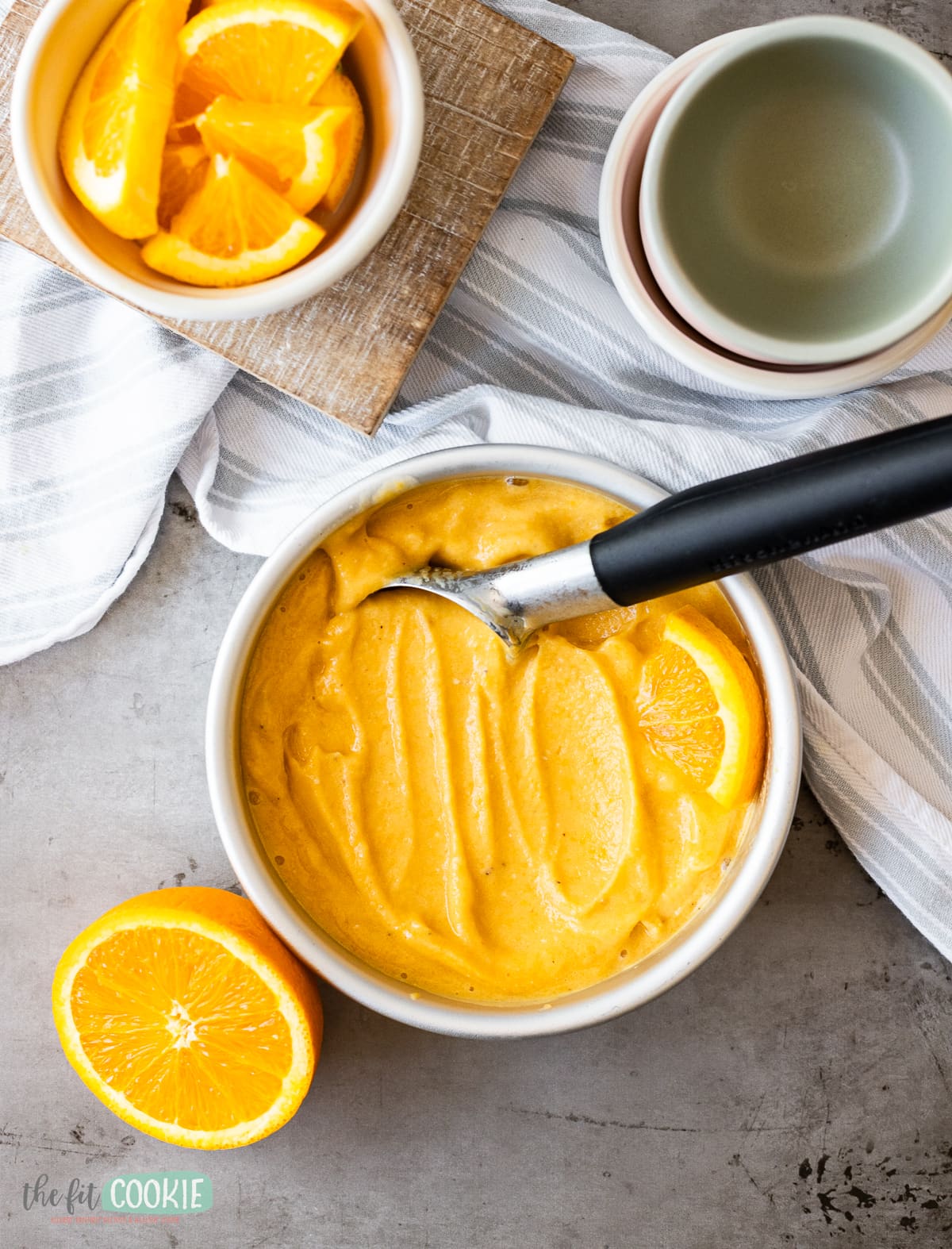 What is sherbet?
In America, sherbet is typically a frozen dessert similar to sorbet but usually made with fruit juice and some milk. In other areas, like South and West Asia, sherbet refers to a drink. In the UK, it's a sweet and fizzy powder to make drinks or add to desserts. In the UK and Australia, it can sometimes be used to refer to beer.
Our recipe is a version of the American type of sherbet as a frozen dessert cousin to ice cream or sorbet. My recipe is made more naturally than the store-bought kind (no polypropylene glycol in this one!), and made with coconut milk vs the regular dairy milk sherbet typically uses.
Wait, is it sherbet or sherbert?
Ok so I'll admit here that my entire life I've been calling it sherbert and thought everyone else calling it sherbet was wrong. It wasn't until I started doing some digging that I found out that sherbet is the correct way to refer to this frozen dessert.
I feel a little dumb about that, but honestly I'm not sure I can change how I say it now even though I know sherbert isn't technically correct. Saying it the correct way doesn't sound quite right to my ears after having said it "wrong" for over 30 years! It will probably take some practice haha.
Grammarist says that there were mentions of sherbert in books from the 18th and 19th centuries, so it's possible this was just a spelling variation or mispelling that took hold and got passed down. So maybe it's not necessarily right or wrong, but just a regional variation passed through families. It's been used enough it has found a place in dictionaries alongside sherbet.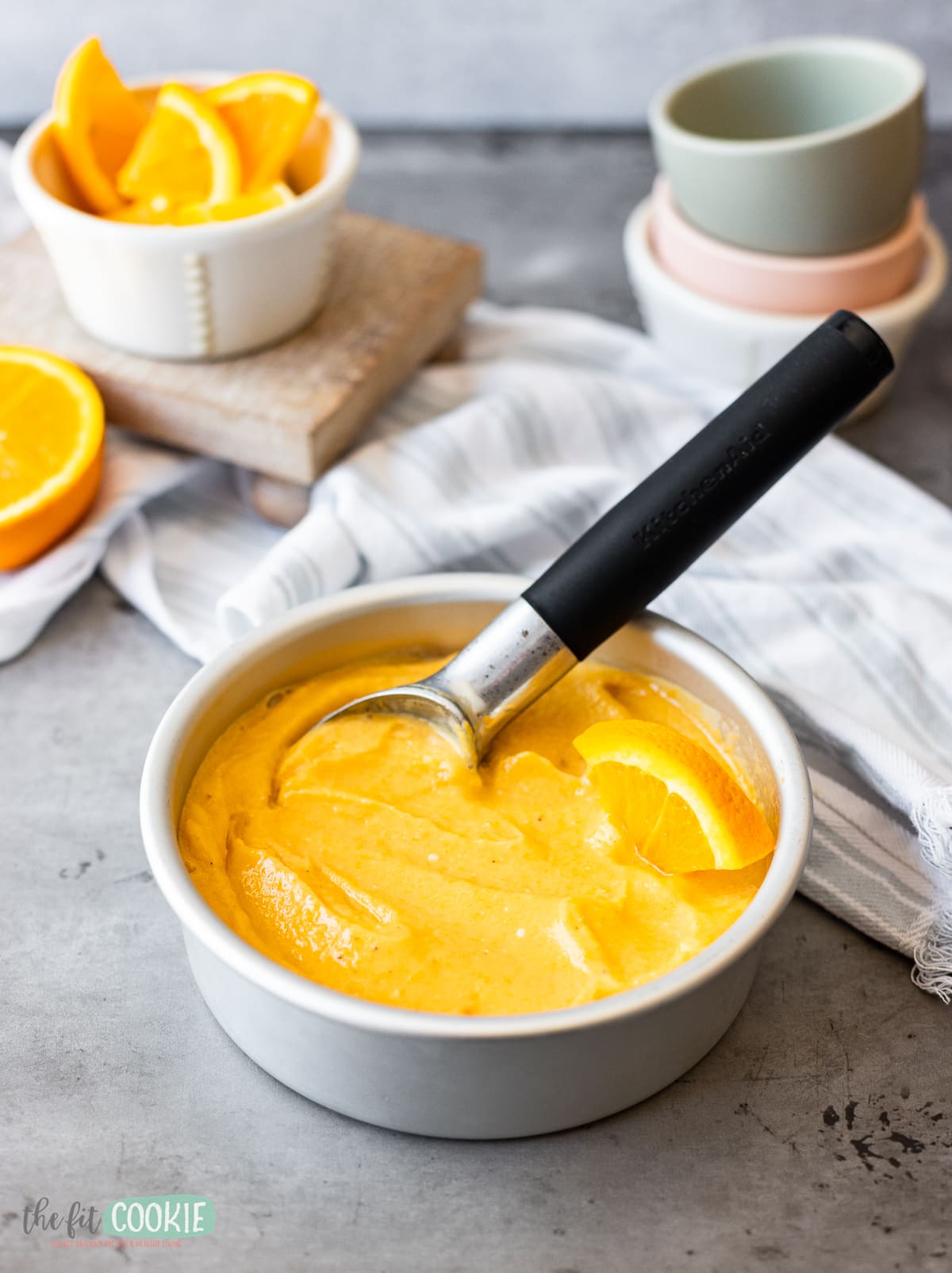 How to make easy orange sherbet
It's super easy to make this orange sherbet recipe, here are the steps (this is just an overview, the full recipe card is at the end of the post):
Add all the ingredients to the blender in the recommended order of the blender instructions. In a regular blender, this probably doesn't matter much, but with the Ninja Twisti I have, it recommends adding liquid first so it's clos.
Blend until smooth and a soft serve consistency, using the scraper or tamper to help with blending. Blender settings will vary, but on my Twisti I use the "spoonable bowl" setting for handling frozen fruit without a lot of added liquid.
You can add more coconut milk as needed for making it easier to blend, but this will also make it less thick, so use a little at a time when adding additional coconut milk.
Serve immediately or scoop into an airtight freezer container to freeze for scooping later.
Store leftovers in the freezer for about 1 month.
What kind of blender should I use for this recipe?
You'll want a high powered blender for this recipe if you want this to be a soft serve consistency right out of the blender. You can make this with a regular blender, you may just have to add a bit more liquid to help it blend and it won't be as thick then.
If you have a blender with a tamper or scraper built in, that's even better! I have a Ninja blender that has multiple blades along the length of the tall blade column that actually does not work great for these kinds of recipes, at least the model I bought.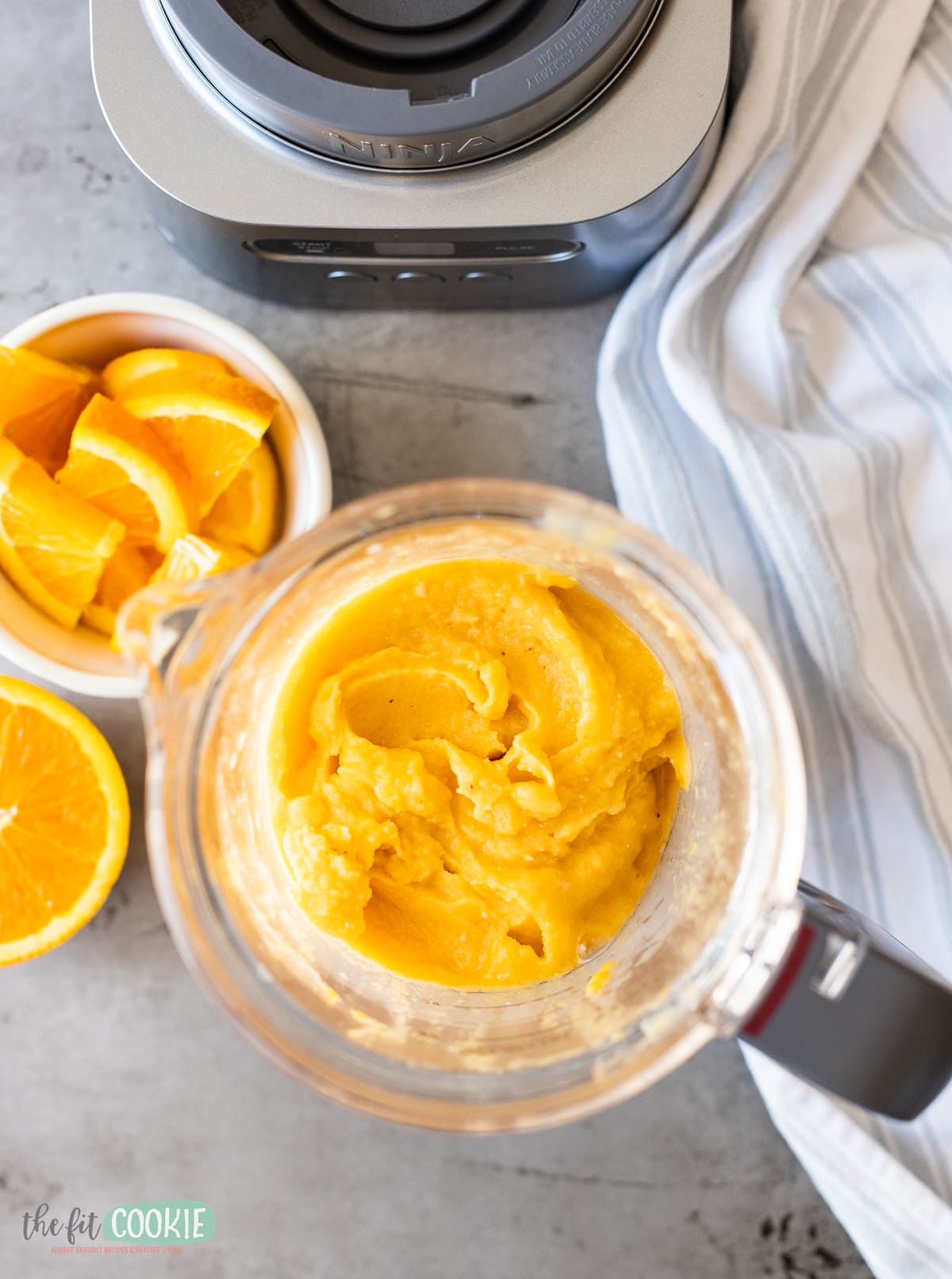 I bought it years ago thinking it'd work for frozen stuff, but it's just not great with these kinds of recipes when you want really thick and creamy results.
Since I kept having problems making thick frozen sorbets and sherbets, I ended up buying the Ninja TWISTi that has a built-in scraper for making thick smoothie bowls with frozen fruit. It's way better than the other blender I was using, but a heads up it is very loud.
I personally really like the Ninja Twisti I bought for this, but any really good blender with a built-in tamper or scraper should work for this type of recipe. The nice thing about the Twisti is it's about $99 while Vitamix and Blendtec can run $300-700 depending on which one you get.
Alternatively, you can use a regular blender, add a bit more coconut milk to help with churning, then add the resulting sherbet into an ice cream maker to churn to make it a thicker soft serve consistency.
Check out our other dairy free frozen dessert recipes!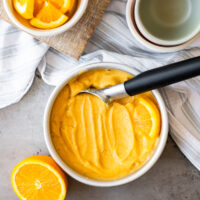 Easy Dairy Free Orange Sherbet
Stay cool this summer with our easy dairy free orange sherbet! Our recipe comes together in a few minutes, and it's naturally sweetened, allergy friendly, and paleo.
Makes about 2 ½ cups of sherbet
Paleo, vegan/plant based
servings
Print
Pin
Rate
Ingredients
¼ – ⅓

cup

canned coconut milk

(+ more as needed for facilitating blending)

2

cups

frozen seedless orange segments

(clementine oranges work great)

1

cup

frozen sliced banana

2

Tablespoons

pure maple syrup

1

Tablespoon

fresh lemon juice

2

teaspoons

vanilla extract
Instructions
Prepare your fruit by peeling several mandarin oranges and putting the individual sections in a freezer bag or freezer container and freezing for at least 4 hours until solidly frozen. Navel oranges also work, just cut the segments into smaller pieces before freezing. Do the same with sliced banana (unless you're buying bags of frozen fruit).

Add the canned coconut milk, frozen orange segments, sliced frozen banana, maple syrup, lemon juice, and vanilla to a high powered blender (ideally with a scraper or tamper).

Blend until everything is smooth and thick, the texture of soft serve ice cream. Depending on your blender, you may need to add more coconut milk a little at a time to help facilitate blending.

If your oranges are more tart, you can reduce the lemon juice or add more maple syrup to your liking.

I used a Ninja Twisti blender to help with blending so mine came out nice and thick, but if you add more coconut milk your resulting sherbet might be less thick.

Serve immediately or place in a freezer proof dish for scooping later.

This can be stored in the freezer in an airtight container for up to 1 month.
Nutrition
Serving:
0.5
cup
|
Calories:
115
kcal
|
Carbohydrates:
22
g
|
Protein:
1
g
|
Fat:
3
g
|
Saturated Fat:
3
g
|
Polyunsaturated Fat:
0.1
g
|
Monounsaturated Fat:
0.1
g
|
Sodium:
3
mg
|
Potassium:
293
mg
|
Fiber:
3
g
|
Sugar:
16
g
|
Vitamin A:
181
IU
|
Vitamin C:
42
mg
|
Calcium:
41
mg
|
Iron:
0.4
mg
Did you make this recipe?
Share a photo on Instagram and tag us @TheFitCookie!
Sarah Jane Parker is the founder, recipe creator, and photographer behind The Fit Cookie. She's a food allergy mom and healthy living blogger based in Wyoming. Sarah is also an ACSM Certified Personal Trainer, ACE Certified Health Coach, Revolution Running certified running coach, and an ACE Certified Fitness Nutrition Specialist