October 22nd is National Nut Day! If you have nut allergies, don't feel left out: make this easy and healthy nut-free and gluten-free trail mix to celebrate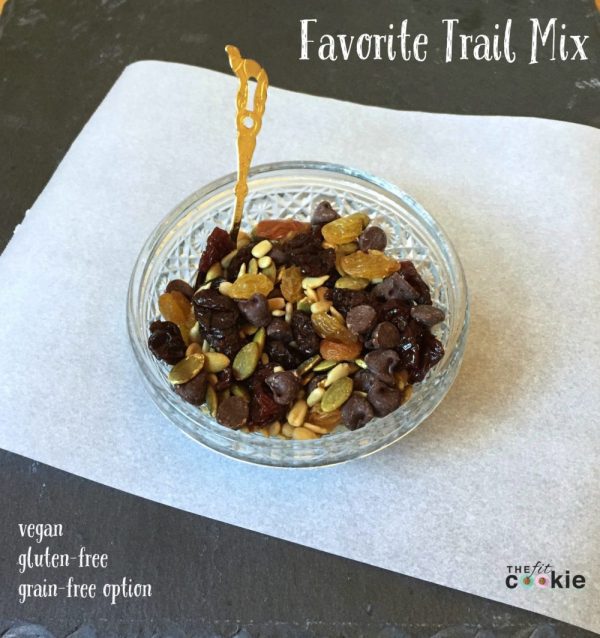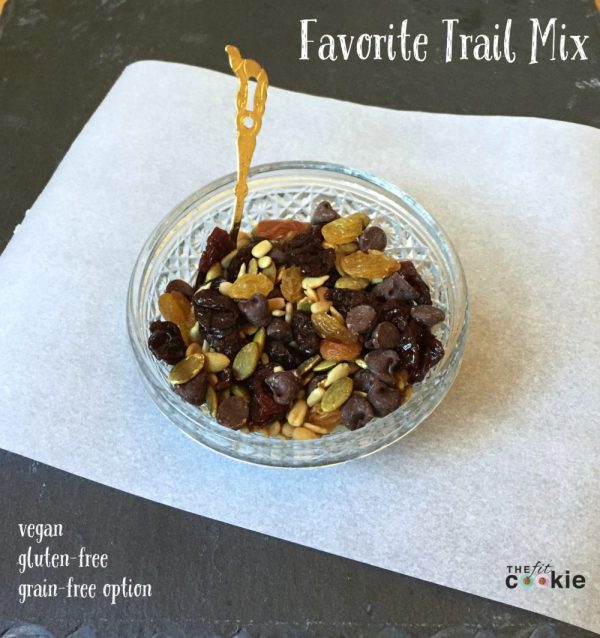 Hey friends, it's time for the October Recipe ReDux! Believe it or not, this month's theme is not Halloween inspired, it's all about nuts.
A Nutty Nut Day
We had to take advantage of the fact that National Nut Day (October 22nd) falls on one of our ReDux monthly theme post days – so we can all go nuts! Share a healthy nut-filled recipe: Think whole nuts, chopped nuts, ground nuts, nut butter and/or nut flour. And Happy Nut Day!
I personally love peanuts and tree nuts but since my kids have allergies to both, I decided to make a nut-free recipe for National Nut Day and Recipe ReDux so my kids and all the other nut-allergic kids out there won't feel left out 🙂
The grain-free version without cereal
I have posted some nut recipes on my blog before (like the Apricot Almond Bites), but for the most part I try not to cook with nuts since my kids both have peanut and tree nut allergies. I keep a few nut products around for me to eat (like my almond or cashew milk), but I am cautious about cross contamination and I keep things sealed up and separate. Hazelnuts and peanuts are the biggest offenders in my house so we keep those out of the house altogether.
Originally I was going to post a recipe for SunButter blondies, but after a couple failed attempts, I decided to skip that for now and share our favorite nut-free trail mix recipe. I won't give up making a great SunButter blondie recipe, but I'm giving that a break for a few days and I'll come back to it and try again.
The trail mix version with your favorite gluten-free cereal (we used Chocolate Cheerios)

If I hadn't procrastinated on this recipe I probably would have had it done in time. Once I had this recipe ready to go I discovered my camera battery was dead so my iPhone was the camera today. Procrastination = the bane of the blogger's existence. I do pretty well otherwise but this time I was behind. But no worries! We will have SunButter blondies soon 🙂
If you have nut allergies you know it's tough finding pumpkin seeds that aren't processed in a facility with nuts! And the same goes for dried cherries, or any dried fruit for that matter. I used SuperSeedz brand pumpkin seeds that are packed in a nut-free facility. Craisins are a generally safe option if you can't find the cherries. They even make cherry-flavored Craisins if you want.
If you're going somewhere warm, you can cut out the chocolate chips so they don't melt. Also, if you're avoiding chocolate (like I am), you can sub in SunSpire vegan carob chips instead.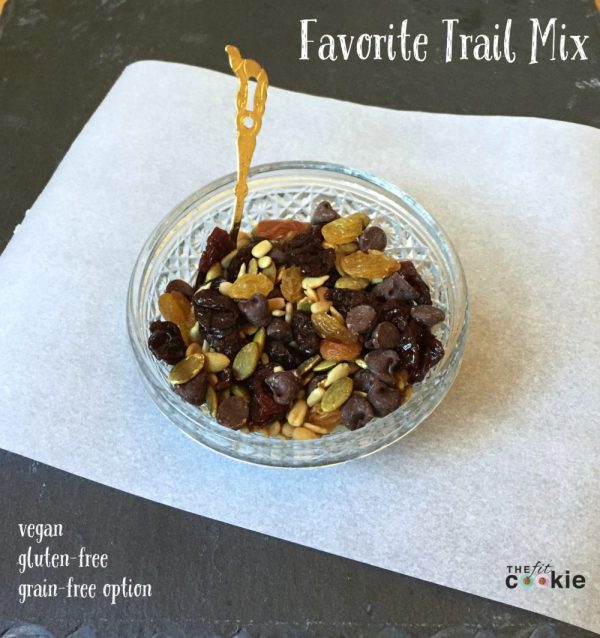 Favorite Trail Mix (Gluten-Free, Vegan, and Nut-Free)
Nut free, gluten-free, vegan, grain-free option; Free of: soy, dairy, eggs, corn, coconut
Servings
:
8
1/4-cup servings
Ingredients
1/4

cup

roasted pumpkin seeds

1/4

cup

roasted sunflower seeds

1/4

cup

golden raisins

1/4

cup

allergy-friendly dark chocolate chips

dairy-free

1/3

cup

generous! dried cherries

1/2

cup

favorite allergy-friendly cereal or granola
Instructions
Combine all ingredients in a tupperware container and shake or stir to combine

Store in a sealed container at room temp for up to a week

Enjoy!
Nutrition Facts
Favorite Trail Mix (Gluten-Free, Vegan, and Nut-Free)
Amount Per Serving
Calories 100
Calories from Fat 45
% Daily Value*
Total Fat 5g 8%
Sodium 15mg 1%
Potassium 121mg 3%
Total Carbohydrates 12g 4%
Protein 2g 4%
* Percent Daily Values are based on a 2000 calorie diet.
Loading InLinkz ...