Grilling isn't just for meat and main dishes, you can use your grill to make awesome desserts like our gluten free Grilled Cherry Crisp! This recipe is fun to make, delicious, and has easy cleanup (not too many dishes to clean afterward!)
If you're looking for summer dessert recipes that won't heat up your kitchen, here's a delicious and fun recipe using fresh seasonal cherries: Gluten Free Grilled Cherry Crisp!
What's not to love about tender crisp fresh cherries sprinkled with sweet and crispy crumb topping! You can even add some mini chocolate chips to the mix if you want a little chocolate in there, too.
This cherry crisp is a delicious way to make summer desserts that won't create a ton of dishes. Since this cooks in a foil packet, it's also great for camping as well and we share some ways to adapt this for campfire cooking.
Our grilled cherry crisp recipe is:
Dairy free
Gluten free
Nut free
Peanut free
Soy free (depending on the dairy free butter you choose)
How to make grilled cherry crisp
If you love to grill, this is a perfect recipe to add to your grilling recipe collection! It's easy and delicious, and there's very little cleanup or dishes afterward.
Here are the steps to make this recipe (the full recipe card is at the bottom of this post!):
Wash and pit your fresh cherries with a cherry pitter. This is probably the most tedious part of the whole recipe, but if you have kids that would enjoy this sort of thing, delegate it to them (you might have a mess in your kitchen though!).
Preheat your grill and clean it if needed. Get your temperature to about 350-400 degrees F and set it to medium or medium low to keep the temperature consistently that temperature.
Cut the cherries in half and set aside.
In a medium bowl, mix together the dry ingredients.
Melt the dairy free butter and stir it into the dry ingredients with a fork to make a crumbly mixture. Add mini chocolate chips if you like.
Tear off 5 sheets of foil about 18 inches long. Divide the cherries between each piece of foil, and divide the crumb topping between each foil pack and top the cherries with the crumb topping.
Fold the foil over and fold over the edges to create a closed foil packet.
Grill your foil packet on the grill for 12-15 minutes. Make sure not to flip over your foil packet or your crumb topping will end up on the bottom and soggy from the cherry juices. It will cook fine on one side and the crumb topping will stay crispy.
Take the packets off the grill, allow to cool, then open and top with dairy free ice cream or dairy free whipped cream!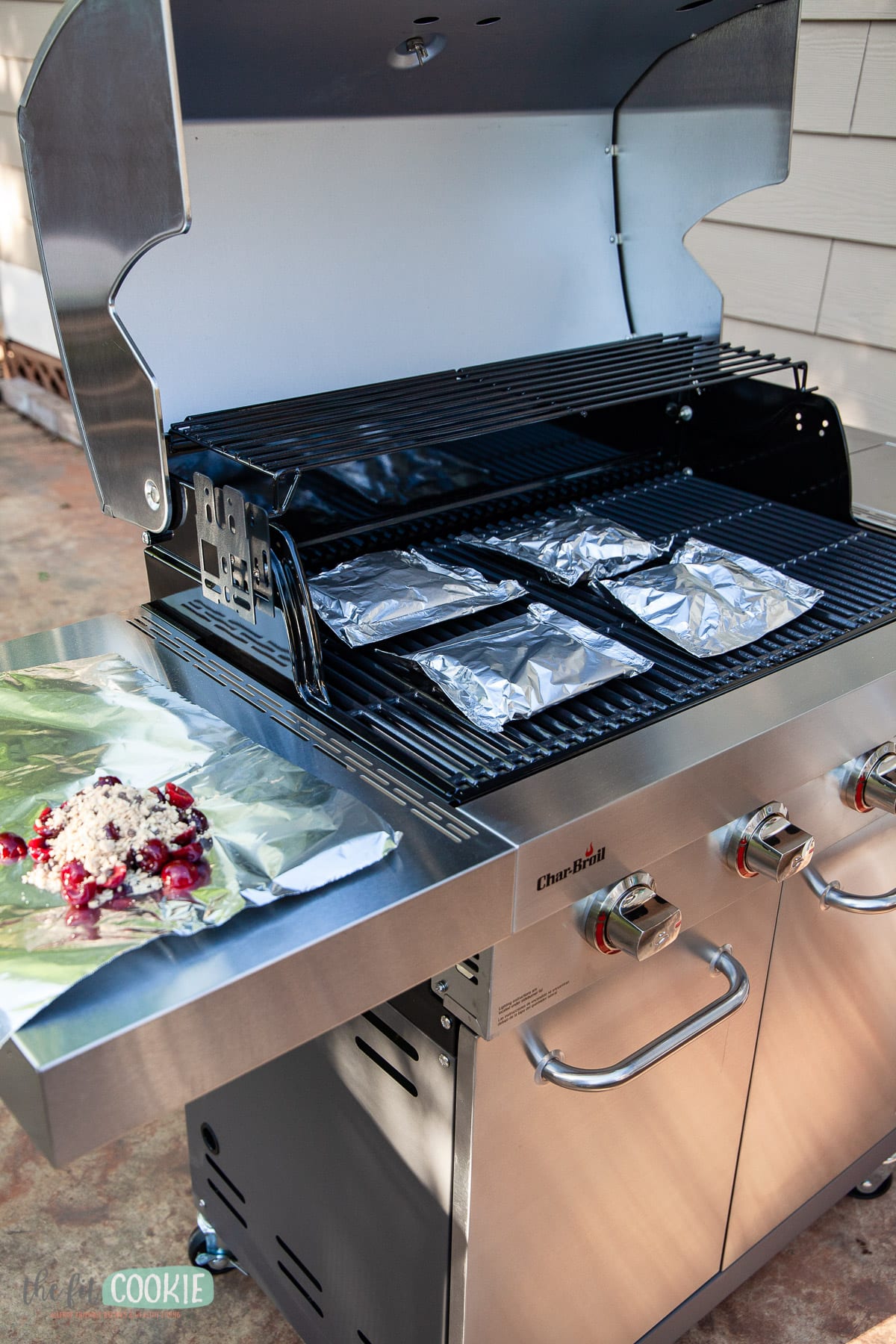 We used a single cherry pitter and it takes forever (I won't do that again). So if you like cooking with fresh cherries, use a 6-cherry pitter or a bigger container-type cherry pitter to keep this from getting too tedious.
How to adapt this cherry crisp recipe for camping
This cherry crisp recipe is not only great for grilling, but also great for camping with a few small changes.
Here are some ways to adapt this recipe for camping:
Swap the dairy free butter for oil: Instead of using dairy free butter that has to be chilled, bring along a tightly sealed container of oil to use in this recipe instead of melted dairy free butter. It's a good idea to place the oil in a ziploc bag as well in case it leaks (like we do with toiletries when traveling).
Prep your cherries ahead of time. Pit your cherries ahead of time and keep them in an airtight container or bag with ice in your cooler until you're ready to make the cherry crisp.
Premix your dry ingredients. Mix up the dry ingredients beforehand and put the mix in ziploc bag so it's ready to mix up. When you're ready to mix up your oil and dry ingredients, just mix it together right in the bag! No mixing bowl or spoon needed.
Cook over indirect heat. If you're cooking over a campfire and have a grate, or you're cooking over a charcoal grill, make sure to move these away from direct heat and cook over indirect heat farther away from the flame to keep these from burning.
Rotate your foil packets. If you're cooking over a campfire, make sure to rotate your foil packets every 4-5 minutes or so to ensure even cooking.
Can I use frozen cherries instead of fresh cherries in this recipe?
We haven't tried this recipe out with frozen cherries yet, so we can't say for sure how well this would turn out with frozen cherries.
If you try this recipe with frozen cherries, you may need to increase the cooking time to 20 minutes and make sure your cooking heat on the grill is staying at 350 and not increasing (if it gets too hot it will likely burn if you cook it longer).
Frozen fruit usually produces more moisture once it's cooked as well, so your cherry crisp might have more liquid if it's made with frozen cherries.
I recommend using fresh cherries, but if you use frozen cherries, leave a comment and let us know how it turned out for you!
Check out our recipe roundup of gluten free and dairy free camping recipes!
Did you make this recipe?
Tell us what you think! Add a rating to our recipe card and share your creation with us on Instagram by tagging @TheFit Cookie
Gluten Free Grilled Cherry Crisp (Dairy Free)
Grilling isn't just for meat and main dishes, you can use your grill to make awesome desserts like our gluten free Grilled Cherry Crisp! This recipe is fun to make, delicious, and has easy cleanup (not too many dishes to clean afterward!)
Dairy free, gluten free, vegan; Free of: eggs, tree nuts, peanuts, soy (depending on the DF butter you choose)
Print
Pin
Rate
Instructions
Pit and halve your fresh cherries. 

Preheat your grill to about 350 degrees F. 

Stir together the oats, flour, brown sugar, cinnamon, salt, chocolate chips (if using), and melted butter.

Divide the cherries onto pieces of foil (about 1 cup of cherries in each foil packet). 

Divide crumb topping onto cherries (about 1/4 cup crumb topping for each packet). 

Fold the foil over the cherries and seal the edges by filing them over several times. 

Cook for 12-15 minutes on one side (don't flip these since you want the crumb on top of the cherries).

Allow to cool about 5-10 minutes before opening. 

Serve with dairy free whipped cream or dairy free vanilla ice cream.
Nutrition
Calories:
316
kcal
|
Carbohydrates:
51
g
|
Protein:
4
g
|
Fat:
12
g
|
Saturated Fat:
5
g
|
Polyunsaturated Fat:
1
g
|
Monounsaturated Fat:
4
g
|
Trans Fat:
1
g
|
Cholesterol:
1
mg
|
Sodium:
97
mg
|
Potassium:
350
mg
|
Fiber:
5
g
|
Sugar:
34
g
|
Vitamin A:
109
IU
|
Vitamin C:
10
mg
|
Calcium:
42
mg
|
Iron:
1
mg
Sarah Jane Parker is the founder, recipe creator, and photographer behind The Fit Cookie. She's a food allergy mom and healthy living blogger based in Wyoming. Sarah is also an ACSM Certified Personal Trainer, ACE Certified Health Coach, Revolution Running certified running coach, and an ACE Certified Fitness Nutrition Specialist