Let us help you with your camping meal planning and prep! If you have food allergies, we created our roundup of 30+ gluten free and dairy free camping recipes just for you. Some of these recipes are perfect for making ahead of time to pack along, and other recipes are designed for cooking over your campfire.
Camping is a wonderful way to spend time with friends, family, and the outdoors!
Whether you're camping in the mountains or on a lake, or just in your backyard, everything seems to taste even better when made over a campfire.
If you're planning camping trips this summer, we've gathered up over 30 gluten free and dairy free recipes for your next camping trip!
These are all great recipes that everyone will enjoy, too, so even if you don't have food allergies or want to share these recipes with people who can have dairy and gluten, these recipes will be a hit!
How to choose food and recipes for camping
If you're planning on doing a lot of hiking as well and want to make packable snacks ahead of time, choose foods that:
Are lightweight
Easy to pack
Need no refrigeration
Don't melt easily if it's hot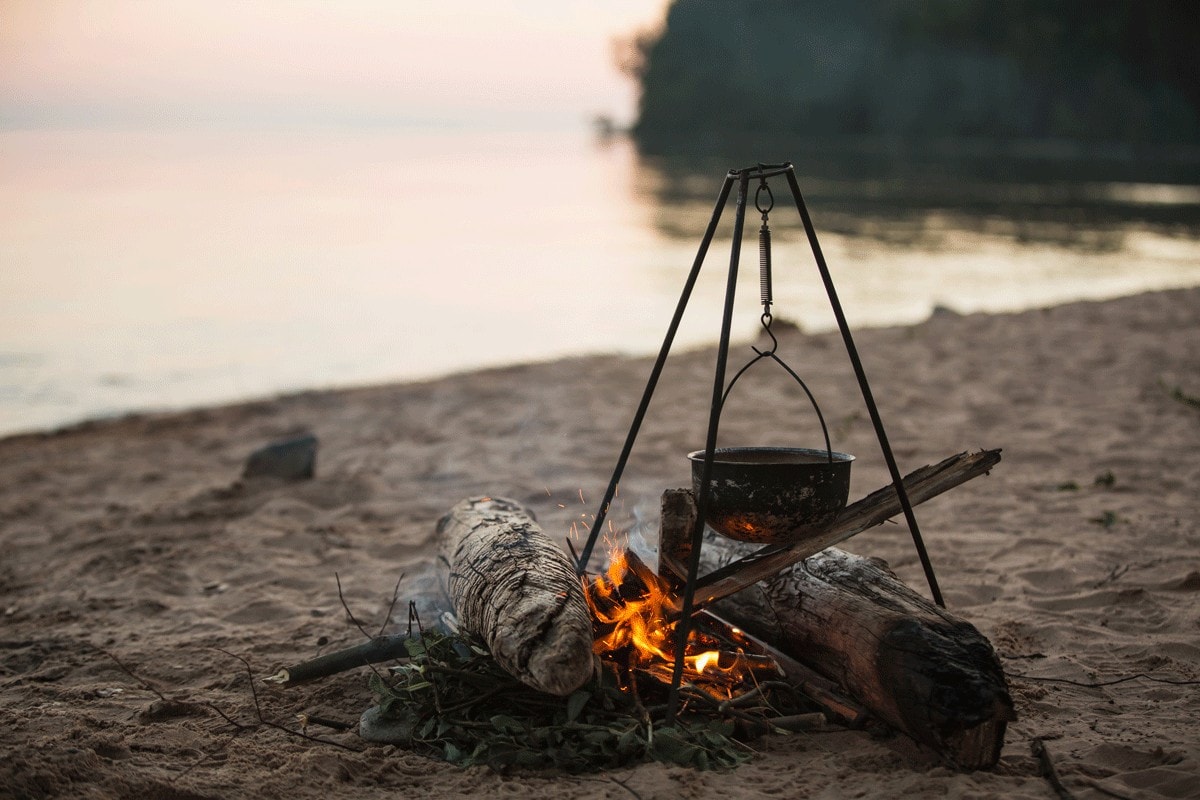 For camping dinners and meals made over a grill or over a campfire, find foods and meals that:
Are easy to make
Uncomplicated and have simple ingredients
Have ingredients that are canned or can be kept in a good cooler (find a cooler that can keep ice from melting for several days to keep your food fresh)
Don't use a lot of pots, pans, or dishes (like one pot meals or foil packet dinners)
If your cooler doesn't keep things very cold and you're camping longer, make the fresh foods at the beginning of your camping trip and plan canned or preserved foods toward the end of your trip so you can use up your fresh foods first.
Gluten free dairy free camping recipes
Here are over 30 dairy free and gluten free recipes that are great for your next camping trip!
Some of these recipes are ones you'll want to make ahead (like the snacks and the breakfast cookies), but most of these are recipes that you can make at the campsite over your campfire.
If you have an RV with a mini kitchen, you have even more flexibility with your cooking (like Instant Pot recipes or oven recipes), but since not everyone uses an RV to camp, we focused this roundup on recipes that can be cooked over a grill or campfire.
Some of these recipes call for regular oats, but choose certified gluten free oats in place of regular oats if you need the oats to be certified gluten free!
For the overnight oats recipe, take a few plastic containers with lids and you can use them to prep your breakfast the night before. No cooking required!
A few tips for these recipes:
Pre-cut your meat and store it in a bag with the meal name and day on it for easier prep and cooking.
If possible, pre-cut your veggies or fruit and put them together in a bag labeled with the meal you plan on having it.
Plan out your camping menu in advance to make prep and cooking even easier! You can use our small meal planner pages to make this easy.
Sarah Jane Parker is the founder, recipe creator, and photographer behind The Fit Cookie. She's a food allergy mom and healthy living blogger based in Wyoming. Sarah is also an ACSM Certified Personal Trainer, ACE Certified Health Coach, Revolution Running certified running coach, and an ACE Certified Fitness Nutrition Specialist