Want to nurture your garden the natural way? Here's a simple step-by-step tutorial for building your own compost bin, with a video
In the quest for organic produce and a healthy garden, many people are turning away from plant-growth chemicals and getting trying their hand at natural plant fertilizers with composting.
People are taking an interest in composting in recent years as people are looking for new ways to recycle while reducing the amount of chemicals used in their gardening. If you are interested in keeping your garden growing tall the natural way, check out this easy DIY compost bin video and whip up your own bin in a couple of hours!
I have never used a compost bin before, but honestly, none of my past gardens have ever lived long enough to need compost! Regardless, composting isn't something you should be intimidated by. It is easy to build your own compost bin and start adding to it in less than a day.
The compost bin I made is quite large (4'x4'x4′), but you can customize the bin to your own tastes and scale it down to the size you need.
If want to compost, the first thing to do is buy a compost bin or build one yourself. The Home Depot has an easy plan for building a compost bin, like I did, or they have several ready-made compost bins that you can purchase in-store or online.
After you have decided what compost bin to use or make, you can get started on your compost with some easy composting tips from the EPA on what you should (and shouldn't) put in your compost bin.
For my DIY compost bin project, I used a compost bin building plan off of The Home Depot Outdoor Living community. I mostly used the plan to guide and inspire my bin – I didn't follow it exactly and adjusted it a bit to accommodate what was available at the time and make it a bit simpler. Here are the materials I used:
2 pounds (3-1/2 inch) Decking screws (you will need more if you decide to make a lid)
2 pcs. (4″x4″x8′) lumber, cut in half into 4-foot pieces
20 pcs. (2″x4″x8′) lumber, cut in half into 4-foot pieces
It took me a little while to find the right lengths and type of wood on my own, so I asked for help from The Home Depot staff. They didn't have the 8-foot cedar 2×4's that I was looking for, but they recommended using the ProWood eco-treated lumber.
Normally you shouldn't use treated lumber for gardening or composting because of the chemicals, but the ProWood lumber treatments are SCS Certified Environmentally Preferable and NAHB Green Approved, so it is safe for use around children and in vegetable gardens and compost bins.
My next step was cutting the wood. We don't have a circular saw at home, so I just had The Home Depot cut the wood for me. This saved me a quite a bit of time and made it easier to haul the wood back home.
The measurements are easy: the compost bin is a 4′ (48″) cube, so all of the wood just needed cut in half into 4′ lengths. It's easy to remember and there is no waste!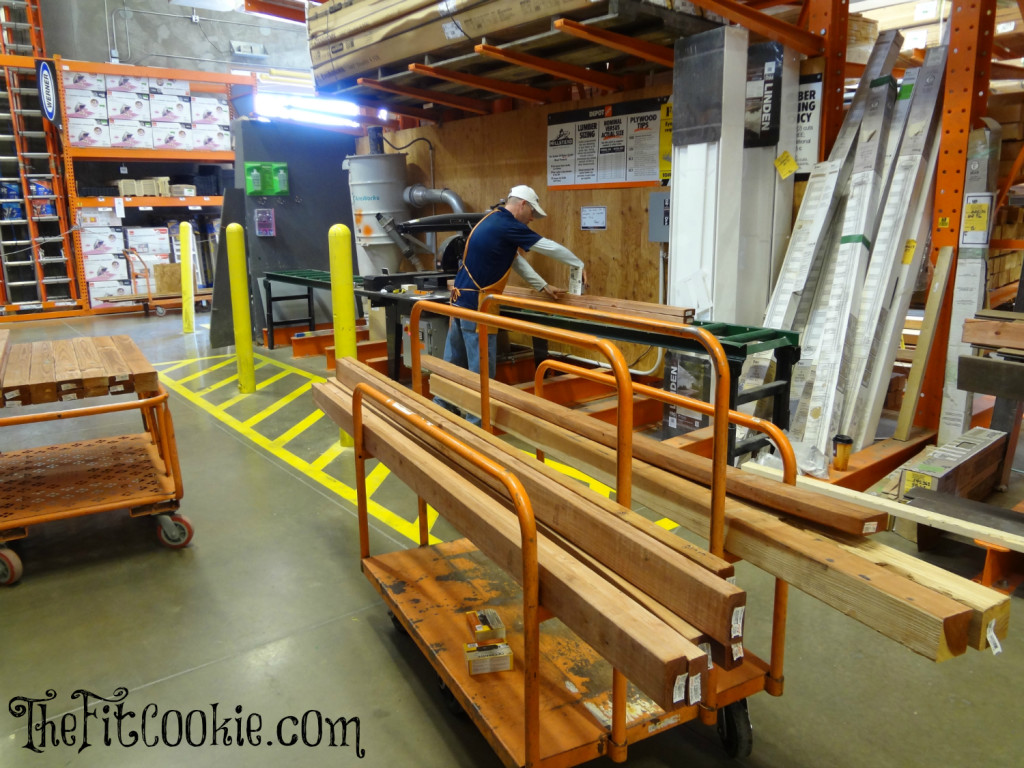 Once you get your wood home, you need to lay out your wood and lay out your wood and decide how you will set up the first 2 sides of your bin. For my bin and the wood I used, I had 2 (4'x4's) and 7 (2×4's) for the first 2 sides of the compost bin.
Spread out the 2×4's evenly depending on the space you want between each board. Mine worked out to about 3-1/2 inches between each board.
Once you have it set up the way you like, begin building the first 2 sides. Use 2 decking screws in each end of the board (4 screws per board).
Once you have your first 2 sides created, join the 2 sides by adding 3 support boards between the 2 sides.
For the last step, fill in the sides evenly with boards! I decided to skip making the lid on this project since the lid would be very heavy and difficult to lift off the bin without help from someone due to the weight of the treated wood. So we decided to skip the lid.
If you happen to have problems with animals getting into your compost bin, I would add a lid to keep them out.
Voila! A simple, sturdy, and weather-resistant compost bin that is built to last! This project was fun to make and I had my kids help me build it! The 4-foot size of the compost bin is quite large, but you can always scale it down if you want to.
My compost bin is also very sturdy: this thing will withstand any Wyoming wind (except maybe tornadoes, haha!). And with the eco-treated lumber, the wood will stay weather-proof and decay-proof for quite a while without harming my composting efforts.
It's home improvement time, and The Home Depot has everything you need to #DigIn for Spring. No matter what projects you want to tackle, they have great values on all you need. They're ready to help you with renovation ideas and expert advice, too.
Get over $300 in email exclusive savings each year, sneak peeks on new products, monthly lawn & garden ideas for your region and access to The Home Depot's gardening experts. Click here to join the world's largest garden community today! Or go to homedepot.com/gardenclub to see some of the many benefits of membership.
This is a sponsored post written by me on behalf of The Home Depot.
Sarah Jane Parker is the founder, recipe creator, and photographer behind The Fit Cookie. She's a food allergy mom and healthy living blogger based in Wyoming. Sarah is also an ACSM Certified Personal Trainer, ACE Certified Health Coach, Revolution Running certified running coach, and an ACE Certified Fitness Nutrition Specialist