Want to keep your kiddos busy this summer? Check out The Home Depot's Kids Workshops to spend quality family time creating useful projects!
School is getting out very soon (1 more week here!) and summer is on it's way – are you ready?
During the summer, it can be a challenge to keep our kids busy in a constructive way, so I am always looking for fun and purposeful activities to keep our kids away from the television. One of the things we are going to do to stay busy this summer is participating in hands-on Kids Workshops with The Home Depot.
The Home Depot offers Kids Workshops the first Saturday of every month, where kids get the opportunity to create useful craft projects while learning hands-on skills. Each month a new theme and project is offered to keep kids engaged, plus the Kids Workshops are always free!
At the beginning of May, we went to our first Home Depot workshop! I helped my kids make some easy hanging herb planters. We were provided with a kit for each child to make the herb planter, along with additional materials such as glue, tools, and paint.
Gabe and Nyah got to choose which herbs they wanted to plant, and we were given the soil in small bags as we could finish planting at home. This was perfect: no spilled dirt on the car ride home!
The theme for the May workshop we attended was the animated film Epic, so the emphasis was on backyard exploration. July's workshop features a surprise Despicable Me 2 project! You can check out The Kids Workshop page for more details on the upcoming workshop projects and register to participate.
One thing that is great about the Kids Workshops is that they are open from 9 am to 12 pm in an open area so you could come and go at a time that works best for you and your kids. This flexibility is perfect, especially on Saturdays!
Plus, the activities are simple and easy to put together (our project too less than 1/2-hour), so you don't have to worry about committing to a multi-hour project if you have limited time.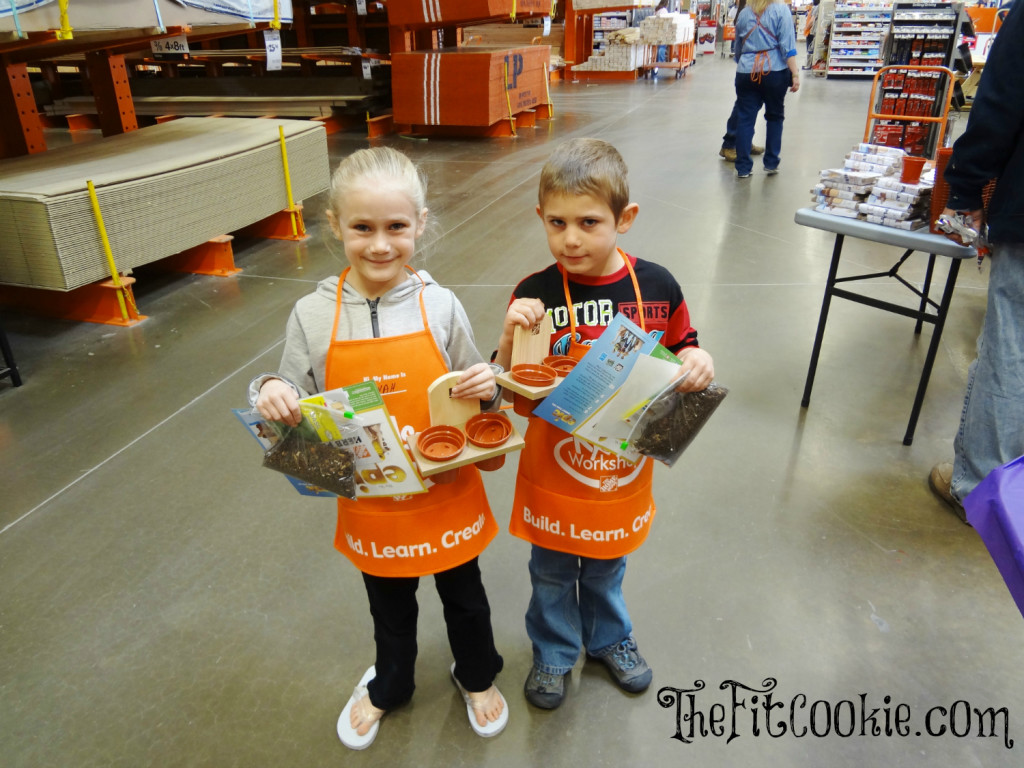 Gabe and Nyah had a lot of fun at the workshop! The employees were helpful and gracious, and both kiddos loved their personalized aprons. I love those aprons, too: they will come in handy for painting projects down the road!
Gabe loves plants and gardening, so this activity was the perfect fit for him. This little project gives us a chance to grow some herbs in the house, plus I am now inspired to start more herbs growing indoors!
Our Kids Workshop included everything to create an herb planter (including seeds of our choice), a personalized Home Depot apron, a commemorative pin, and an Epic-themed sticker sheet and activity sheet.
We are looking forward to going to more workshops this year! You can check out the Kids Workshop schedule and register for the next workshop coming up in June. They are free, fun, and flexible, so they are perfect family activities to do all year round!
It's home improvement time, and The Home Depot has everything you need to #DigIn for Spring. No matter what projects you want to tackle, they have great values on all you need. They're ready to help you with renovation ideas and expert advice, too.
Get over $300 in email exclusive savings each year, sneak peeks on new products, monthly lawn & garden ideas for your region and access to The Home Depot's gardening experts. Click here to join the world's largest garden community today! Or go to homedepot.com/gardenclub to see some of the many benefits of membership.
This is a sponsored post written by me on behalf of The Home Depot.

Sarah Jane Parker is the founder, recipe creator, and photographer behind The Fit Cookie. She's a food allergy mom and healthy living blogger based in Wyoming. Sarah is also an ACSM Certified Personal Trainer, ACE Certified Health Coach, Revolution Running certified running coach, and an ACE Certified Fitness Nutrition Specialist