Indulge your sweet tooth a bit healthier with these easy to make Dairy Free Scotcharoos – they're also gluten free and peanut free!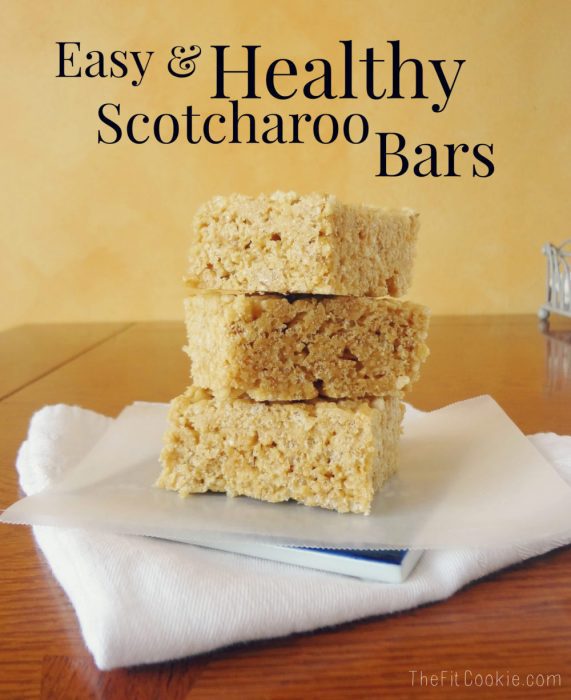 Time to re-make some of my old recipes! The 3 year blogiversary for The Fit Cookie is coming up at the end of next month, and I have been looking through some of my old recipes and decided I needed to give them some love: update the photos, tweak and improve the recipes, and use recipe cards so the recipes can be printed easily.
I wanted to make everything more consistent, user friendly, and visually appealing because, well, my old photos are pretty awful! My photography and writing skills have come a long way, so it's time to give my old recipes new life. There are some really good recipes buried in here!
The first recipe I wanted to re-do was this recipe for Dairy Free Scotcharoos. I made several batches of these again over the last couple weeks and made adjustments to the recipe, and I took some better photos. Still not blow-you-away phenomenal food photos (I'm still learning), but they are a huge improvement.
————————————–
These yummy bars are a healthy remake of one of my favorite childhood treats: Scotcharoo Bars. My mom used to make Scotcharoos when I was younger and I LOVED them! Not much has changed, I think I could eat an entire pan of these if I really wanted to!
I'm definitely NOT recommending you eat the whole batch, by yourself, just exaggerating how delicious these are. With chocolate on top, these can be truly addicting!
You may notice that something is missing from the other photos: chocolate. Most Scotcharoos have a lovely layer of chocolate on top, but I left the chocolate off my second batch of bars since chocolate doesn't agree with me so well anymore. You can choose to have chocolate on your bars or omit it, depending on your personal tastes or allergies.
I used super thick raw and unfiltered honey in this recipe. Our honey is so thick that it is a solid at room temp and I have to pry it out of the bucket to make recipes with it. It is amazing honey! We got it from a local honey guy in Riverton, Wyoming, not too far from here.
If you use store-bought liquid honey in this recipe, consider using a bit less honey to start ensure the bars will stick together. Because these bars have coconut oil in them as well, these store best and stick together best when kept in the fridge.
5 Ingredients, simple, delicious, and healthy! 'Nuff said!  😉
Dairy Free Scotcharoos (Peanut Free)
Indulge your sweet tooth a bit healthier with these easy to make Dairy Free Scotcharoos - they're also gluten free and peanut free!
Vegetarian, Gluten Free; Free of: dairy, soy, eggs, tree nuts (except coconut), peanuts
bars
Print
Pin
Rate
Ingredients
Chocolate topping (optional):
Instructions
Prepare a 9x9-inch square pan by lining with parchment paper or waxed paper. Set aside.

In a small microwavable bowl, combine the honey, SunButter, and coconut oil. I usually have to heat my honey for 20 seconds to make it mixable.

Whisk the vanilla into the honey mixture.

In a large bowl, add the honey mixture to the the rice crispy cereal and mix to coat well.

Scoop the coated cereal into the prepared pan and press firmly into the pan.

Chill in the fridge until well set and firm throughout.

If you want to put chocolate on top, melt 1 cup chocolate chips and 1 teaspoon coconut oil in a medium bowl in 20-30 second intervals, stirring between heating segments, until the chocolate melts completely. Pour the chocolate over the cereal mixture and spread evenly. Chill in the fridge until the chocolate and the bars are completely set.

Cut into 12 bars and enjoy!
Notes
Because these bars have coconut oil in them, they are best stored in the fridge.
Nutrition
Calories:
216
kcal
|
Carbohydrates:
27
g
|
Protein:
2
g
|
Fat:
12
g
|
Saturated Fat:
7
g
|
Cholesterol:
0
mg
|
Sodium:
1
mg
|
Potassium:
18
mg
|
Fiber:
1
g
|
Sugar:
18
g
|
Vitamin C:
0.2
mg
|
Calcium:
27
mg
|
Iron:
1.6
mg
Did you make this recipe?
Share a photo on Instagram and tag us @TheFitCookie!
I refreshed my old post by improving the recipe and taking new photos of the bars. My photography has come a long way! It's still far from perfect, but here's my old post photo:
Sarah Jane Parker is the founder, recipe creator, and photographer behind The Fit Cookie. She's a food allergy mom and healthy living blogger based in Wyoming. Sarah is also an ACSM Certified Personal Trainer, ACE Certified Health Coach, Revolution Running certified running coach, and an ACE Certified Fitness Nutrition Specialist