Indulge your sweet tooth a bit healthier with these easy to make Healthy Scotcharoo Bars – they're gluten free, dairy free, and peanut free!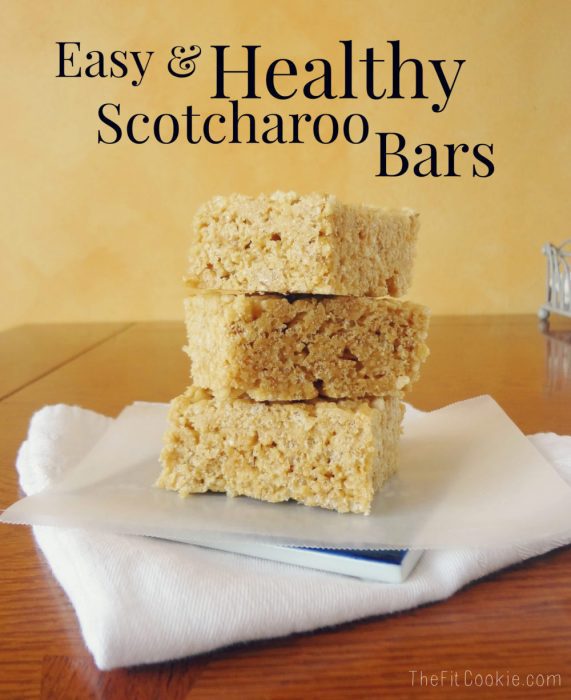 These yummy bars are a healthy remake of one of my favorite childhood treats: Scotcharoo Bars. My mom used to make Scotcharoo Bars when I was younger and I LOVED them! Not much has changed, I think I could eat an entire pan of these if I really wanted to!
I'm definitely NOT recommending you eat the whole batch, by yourself, just exaggerating how delicious these are. With chocolate on top, these can be truly addicting!
You may notice that something is missing from the other photos: chocolate. Most Scotcharoo Bars have a lovely layer of chocolate on top, but I left the chocolate off my second batch of bars since chocolate doesn't agree with me so well anymore. You can choose to have chocolate on your bars or omit it, depending on your personal tastes or allergies.
I used super thick raw and unfiltered honey in this recipe. Our honey is so thick that it is a solid at room temp and I have to pry it out of the bucket to make recipes with it. It is amazing honey! We got it from a local honey guy in Riverton, Wyoming, not too far from here.
If you use store-bought liquid honey in this recipe, consider using a bit less honey to start ensure the bars will stick together. Because these bars have coconut oil in them as well, these store best and stick together best when kept in the fridge.
5 Ingredients, simple, delicious, and healthy! 'Nuff said!  😉
I refreshed my old post by improving the recipe and taking new photos of the bars. My photography has come a long way! It's still far from perfect, but here's my old post photo:
Sarah Parker @ TheFitCookie

Yields 12 bars

Healthy Scotcharoo Bars

Vegetarian, Gluten Free; Free of: dairy, soy, eggs, tree nuts (except coconut), peanuts

Ingredients

4 cups brown rice crispies (if you are celiac check to make sure they are gluten free)
1/2 cup thick raw honey
1/4 cup SunButter
1/4 cup coconut oil
1 teaspoon vanilla
* 1 cup allergy-friendly chocolate chips
* 1 teaspoon coconut oil

Instructions

Prepare a 9x9-inch square pan by lining with parchment paper or waxed paper. Set aside.
In a small microwavable bowl, combine the honey, SunButter, and coconut oil. I usually have to heat my honey for 20 seconds to make it mixable.
Whisk the vanilla into the honey mixture.
In a large bowl, add the honey mixture to the the rice crispy cereal and mix to coat well.
Scoop the coated cereal into the prepared pan and press firmly into the pan.
Chill in the fridge until well set and firm throughout.
Cut into 12 bars and enjoy!
* If you want to put chocolate on top, melt 1 cup chocolate chips and 1 teaspoon coconut oil in a medium bowl in 20-30 second intervals, stirring between heating segments, until the chocolate melts completely. Pour the chocolate over the cereal mixture and spread evenly. Chill in the fridge until the chocolate and the bars are completely set. Cut and enjoy!

Notes

Because these bars have coconut oil in them, they are best stored in the fridge.

7.6.4

115

https://thefitcookie.com/healthy-scotcharoo-bars-2/

Sarah Parker @ The Fit Cookie