Switch up your workouts with this fun weights and HIIT combination routine! Our second HIIT the Weights workout is a full-body workout that's perfect for home or the gym (check out our first HIIT the Weights workout!)
Hey friends, it's time for a workout! I haven't posted a ton of workouts lately since I have been only teaching yoga these days and I usually post my class plans for workouts here. But since I've still been personal training and doing plenty of my own workouts, I've been itching to get more out to you guys!
A while ago I subbed several times for a HIIT/cardio class and I put together this workout for one of our classes. This is a variation of my first HIIT the Weights Workout I posted a while back.
This workout is such a great way to get your cardio and strength into one workout! I love this workout format so I've used it several times for different fitness classes over the last couple years and students seem to like it.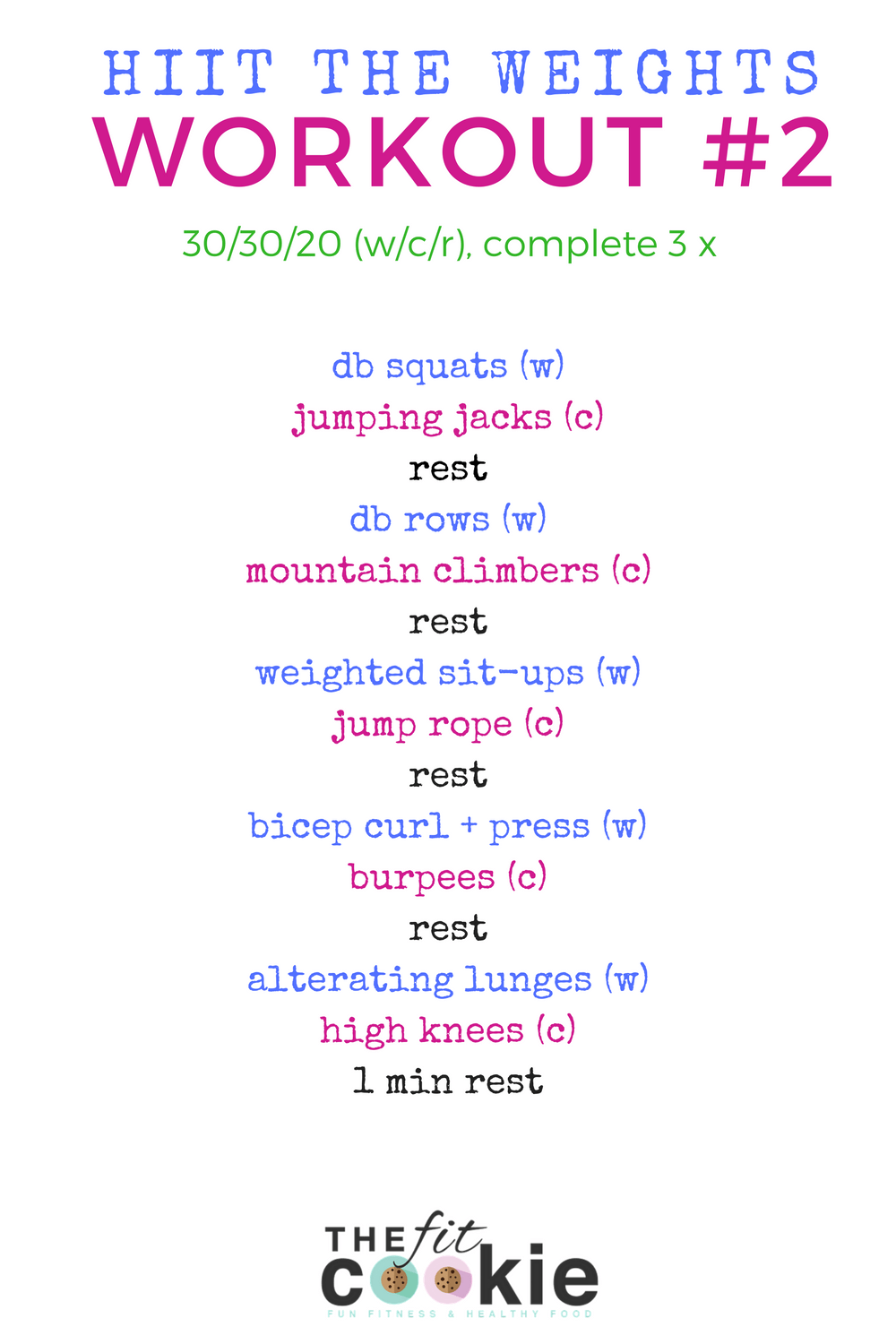 Here's a key for the workout:
DB = Dumbbell (you can use a barbell for most of these exercises too)
W = weights/strength
C = cardio
30/30/20 = 30 seconds strength, 30 seconds cardio, 20 seconds rest
This HIIT the Weights workouts are easy to customize: you can use bodyweight strength exercises instead of exercises with weights or you can use resistance bands. You can do more rounds for an advanced exerciser or 1 or 2 rounds for a beginner. You can even increase the work intervals if you want! The sky's the limit here.
Here are the exercises in the workout:
Squats: hold dumbbells (or use bodyweight for beginners)
Row: use dumbbells, pumpkin, or exercise band
Mountain Climbers: do these quickly for more cardio
Weighted sit-up: use a dumbbell, plate, or bodyweight (or a pumpkin!)
Burpees (with or without the dumbbells, if using dumbbells, use ones with flat sides)
Alternating Lunges
Sarah Jane Parker is the founder, recipe creator, and photographer behind The Fit Cookie. She's a food allergy mom and healthy living blogger based in Wyoming. Sarah is also an ACSM Certified Personal Trainer, ACE Certified Health Coach, Revolution Running certified running coach, and an ACE Certified Fitness Nutrition Specialist