Check out some of the new things we're trying these days at The Fit Cookie: Soniclear, at home cupping, FitCode, and more!
Hey friends, it's time for another round-up post of things I'm doing and trying these days! There's plenty of fun stuff in here: some beauty and health products I've been trying and some coupon codes!
The pumpkin I got for myself this year – I love the colors on it!
I've got some fun treats coming up this week! I've been collaborating with some food bloggers lately on themed posts, our first one is this week so stay tuned for that! I always need recipe inspiration, so our monthly themed recipes will be great for my blog.
I've also been trying out the Soniclear Elite Deluxe cleansing brush system from Michael Todd Beauty the past few weeks. They sent me a free unit to try out for free and review, and I've been loving it!
I keep my Soniclear in the shower and use it once a day on my skin, which seems to be plenty to see results with my skin. 2 times a day would probably be too much since I have sensitive skin, but once a day is just right for me.
The Soniclear Elite Deluxe comes with:
Facial brush, antimicrobial
Body brush
PEDI treatment head
Super soft brush for sensitive skin
Shower organizer
Extension handle
Travel case
Charging stand
Here are the Soniclear Elite Deluxe features:
Sonic cleansing with 300 sonic movements per second, cleaning your skin 6x better than washing with your hands
Cleansing timer alerts you when it's time to move to another area
Built-in antimicrobial protection for brushes
Fully waterproof
6 speeds
C-Boost™ Technology provides a pulsating massage
Cordless and rechargeable
5 year limited warranty against defects
The Soniclear device has made a nice difference in my skin in the last couple weeks that I've been using it. It exfoliates my skin and it smooths the texture of my skin, plus I feel like I don't have quite as many breakouts since using it because it does a better job at cleaning my pores than regular face washing.
The Soniclear Elite comes with a nice shower caddy that holds the device, an extra head, and the body brush extension for using the body brush on your back if you choose. The body brush extension comes in 2 pieces that screw together, but I found that I don't like the body brush extension since the extension handle keeps untwisting and coming apart when I use it.
A couple months ago I got to try out a super cool new fitness test called FITCODE from Orig3n! Orig3n has created at-home DNA testing kits that you send in so they can analyze certain areas of your DNA related to fitness (FITCODE), nutrition (FUEL), skin health (AURA), and "superhero" attributes like speed and intelligence (SUPERHERO).
Orig3n sent me a FITCODE test kit to try out and it's pretty cool! You do a cheek swab for DNA then send in the sample – easy! They will have your results in about a month or so, and they send you a detailed report through email, or you can login to their app to see the results.
Want to try the FITCODE test for yourself? Get 30% off FITCODE with the coupon code TFC at checkout
Our local science center added a new display about sugar content in beverages. It's awesome they added this so kids can get a visual reference of how much sugar is in their favorite drinks.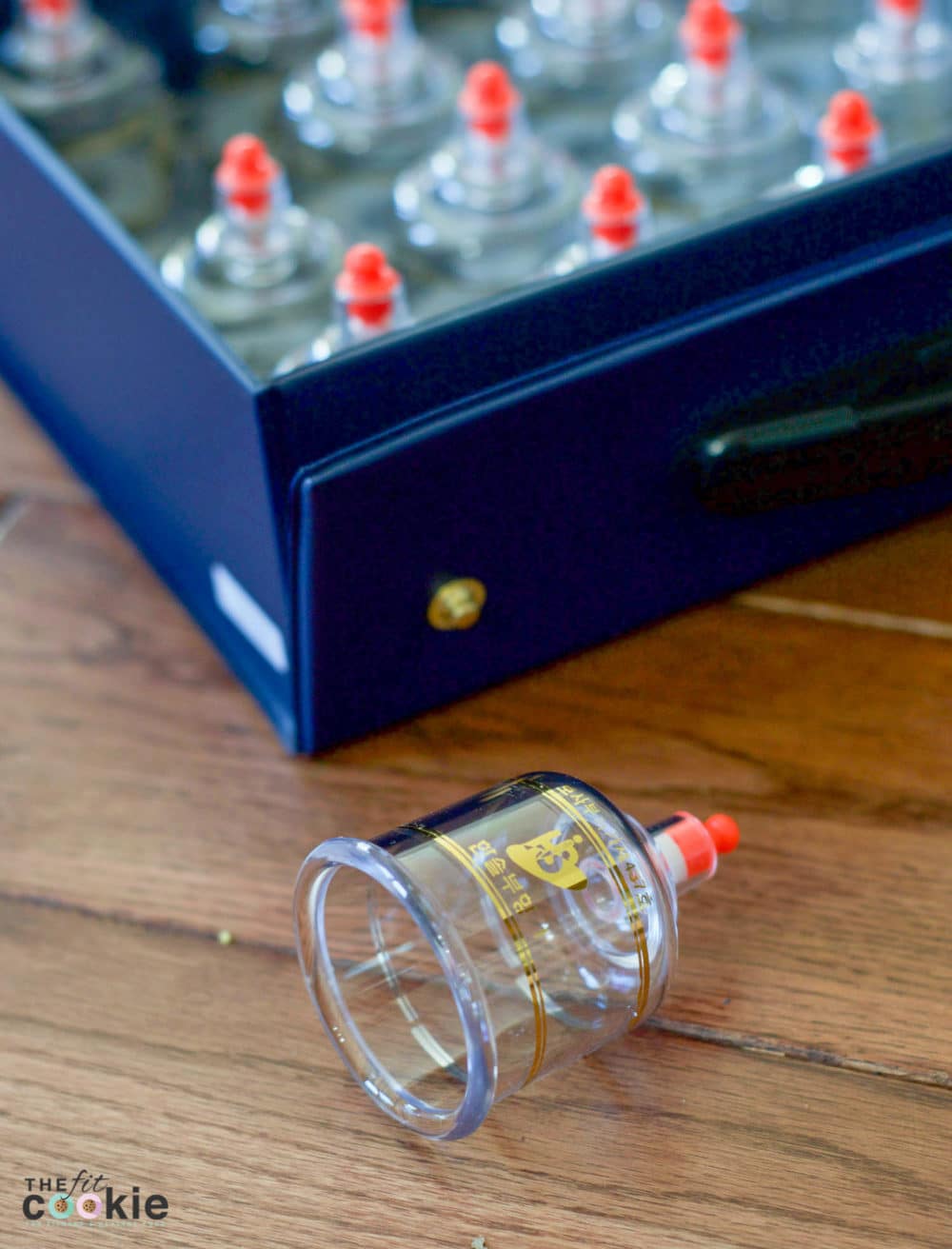 My tendinitis knee pain has flared up again over the last couple months so I haven't been running a whole lot lately and I've been back at the physical therapist's office.
The last couple weeks things have been much better, and a lot of it has been because my new PT has been doing cupping therapy on my IT band. Cupping isn't comfortable sometimes, but it is effective! I've had such good results, I bought my own cupping set online from Amazon and it's awesome.
This cupping set just doesn't have curved cups which are great for joints (like the side of the knee). Cupping is an ancient Chinese technique and the current idea around cupping is that it helps to pull up on tissues, bringing more blood flow and healing to the area.
With regards to the IT band, cupping is great because if you're IT band gets adhesions to your underlying quad muscles, cupping can help to gently pull the IT band up, releasing adhesions. Here's a really good video on IT band cupping using a different type of cup. It's long but worth watching if you have IT band issues.
I recently found a cool online store of handcrafted goods from global artisans called Discovered. They sent me a credit for their to buy something and I picked a beautiful hammered silver ring from Thailand. I love this! I don't wear a lot of jewelry normally but this one fits me so well since it's simple.
A little encouragement for the end of our week from Christine Caine!
Sarah Jane Parker is the founder, recipe creator, and photographer behind The Fit Cookie. She's a food allergy mom and healthy living blogger based in Wyoming. Sarah is also an ACSM Certified Personal Trainer, ACE Certified Health Coach, Revolution Running certified running coach, and an ACE Certified Fitness Nutrition Specialist