I recently had hip surgery to repair a torn labrum on my left hip. I share my experience with surgery and my recovery so far!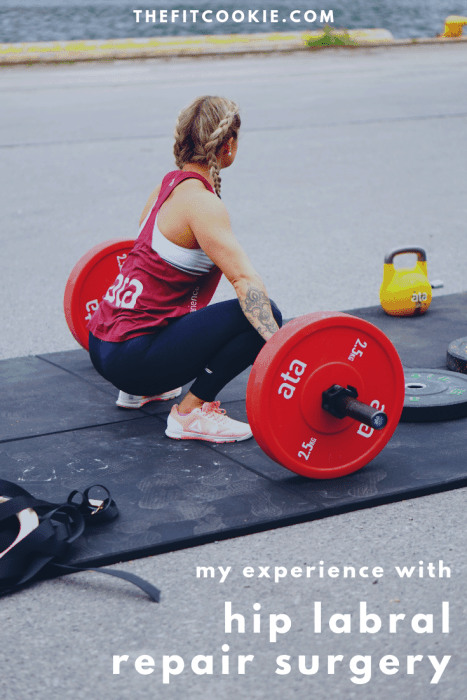 Hey friends! I'm back with another health update as promised 🙂 If you follow me on Instagram, you may have seen some posts about my recent hip surgery. I got a lot of questions from people who were going to have this surgery, so I wanted to write down our experiences so far as a little encouragement for people who are getting this done.
Earlier this month, I had an arthroscopic surgery to repair torn labrum in my left hip, and also shave down some of the bony impingement I had as well. My surgery went great, they didn't have to do a ton of work, and I'm on the mend! I'm 3 weeks out from surgery, and I'm healing up good.
I plan to keep adding updates to this post or create new posts as I continue on my road to recovery, as well as on Instagram and Facebook so make sure to follow me there as well.
Please note: these are my personal experiences, and not meant to replace any advice you receive from your medical professional. Also, every person is different and every procedure is different, my experience with this surgery is not a guarantee that your experience will be similar.
Back in September, I had torn the labrum in my left hip when I was training a client and showing them how to do a deadlift. I was doing everything correctly, the weight was light, and I only did a few reps (about 3), but everything was lined up just right with my existing FAI hip impingement to tear the labrum, of course I didn't know it at the time.
My hip got sore for several days, and once the muscle soreness went away, I had a nagging pain in my hip. I began to suspect a labral tear and asked my physical therapist for some good hip specialists that she knew of and started the process of looking for a doctor.

Picking a hip specialist
Originally, I was going to go see a hip surgeon that specialized in complete labral reconstruction surgery, and his office said I was a good candidate for the surgery. Rather than just repairing the labral cartilage, reconstruction removes the labrum completely and replaces it with cadaver tendon stitched in place.
It would have been quite extensive: 6+ weeks on crutches and about 6 months recovery time, along with very strict guidelines about movements, sleeping, etc.
Well, after working remotely with that particular surgeon's office, it all fell through with him and I had to find another surgeon. Some of his office staff were dragging their feet, they wouldn't move forward until I was able to get a final verdict from work comp about my case (the injury happened while I was working as a trainer), and to top it all off, they wouldn't even get me on the surgery schedule until I paid a $2500 deposit. Just to be on their schedule.
I complained to their office, and they said it was in their contract (I read through it and it said nothing about not being able to schedule surgery without a deposit). After 3 months of back and forth with this doctor's office, I walked away and found someone else.
Everything was done long distance, so I had never even spoke with the doctor himself or even saw him face-to-face, I had only spoke to his staff and arranged everything remotely. In hindsight, I'm so glad I decided not to go with this doctor (divine intervention?) because as it turned out my labral tear wasn't extensive enough to warrant a full reconstruction.
And looking back, not even meeting with the doctor beforehand does make me feel uneasy. So I'm glad I switched gears.
Labral tear repair surgery
Last year, my physical therapist had given me the names of two hip specialists that did great work with labral repair/reconstruction. I ended up researching both of them, and decided to go with the doctor that specialized in reconstruction, but I ended up seeing the doctor nearer to me that does both.
My new hip doctor was very conservative in his treatments, so he wasn't going to worry about releasing my IT band with the diamond incision if he didn't feel I needed it and if I didn't have trochanteric bursitis on my hip.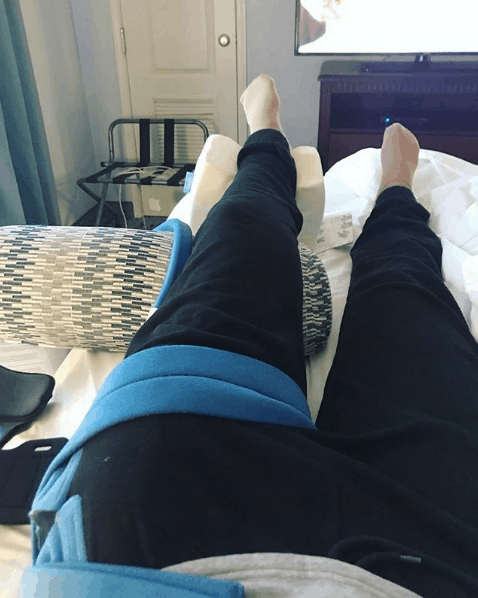 He double checked my MRI and there was no bursitis, so he wanted to do more conservative treatments for my left IT band, which always happened to be way better than my right IT band. My right IT band has always been a troublemaker.
One thing he also planned on doing was releasing my left psoas during the surgery if I needed it, but as it turns out, once he was in surgery, my psoas didn't need released.
Labral repair recovery equipment
We met with the medical equipment supplier at the surgery center before my surgery, and he fitted me for my hip brace (to be worn for 2 weeks post-op), crutches (also 2 weeks), and ice machine attachment for my hip (we already had an ice machine from my husband's foot surgery in January), and a CPM machine (continuous passive motion machine).
The ice machine attachment (nor the actual ice machine) and the CPM machine weren't covered by insurance, so I had to pay for those out of pocket. The CPM machine was for rent, so we got it for 3 weeks but returned it during my 2-1/2 week follow up doctor appointment.
I was a little nervous about how my hip surgery would go, but I had a feeling that everything would go great (unlike my last surgery). The surgery center was great, I ended up having a spinal block for anesthesia instead of general anesthesia, and everything went smoothly. The doctor was even ahead of schedule so we started a little early!
Post labral repair recovery
Oddly enough, I was more nervous about taking Percocet after surgery than anything else. Narcotics don't make me feel great, and I've had *ahem* digestive issues with them after previous surgeries. Suffice it to say, being constipated after abdominal surgery is NOT fun.
Right after surgery, I had hip pain (of course) but didn't feel too bad until later in the afternoon when I started moving around on my crutches. They gave me Percocet right after surgery, and the Percocet made me sick once I started moving around 🙁
After that I was able to get by with just Tylenol. I was determined to avoid more Percocet if possible, and fortunately my hip pain was pretty tolerable for me and I was able to manage it with regular Tylenol.
I wore the hip brace for 2 weeks while moving and sleeping, but I could take it off for resting, sitting, icing, and using the CPM machine. Sleeping with the brace was a bit rough, it caused some back pain for me.
Right now, I'm currently 3 weeks out from surgery and I've been recovering pretty well. I got off crutches earlier this week and started physical therapy 2 days ago. I've been walking a little funny this week since my hip flexors are so tight my biomechanics are completely wonky, but we'll get them gently stretched out over the next few weeks, along with my now tight hamstrings.
It's been weird seeing my flexibility start going away. No fun!
My doctor has me set up for 12 weeks of physical therapy, so I'll be in PT for 2-3 days each week for 3 months, which is what I had anticipated would be the case. I'm following up with my doctor again in 4 weeks, and he'll take a look at my right knee while he's at it and the pes anserine bursitis in both my knees.
So what's up with all my chronic leg problems?? Thanks to a little big thing called femoral retroversion.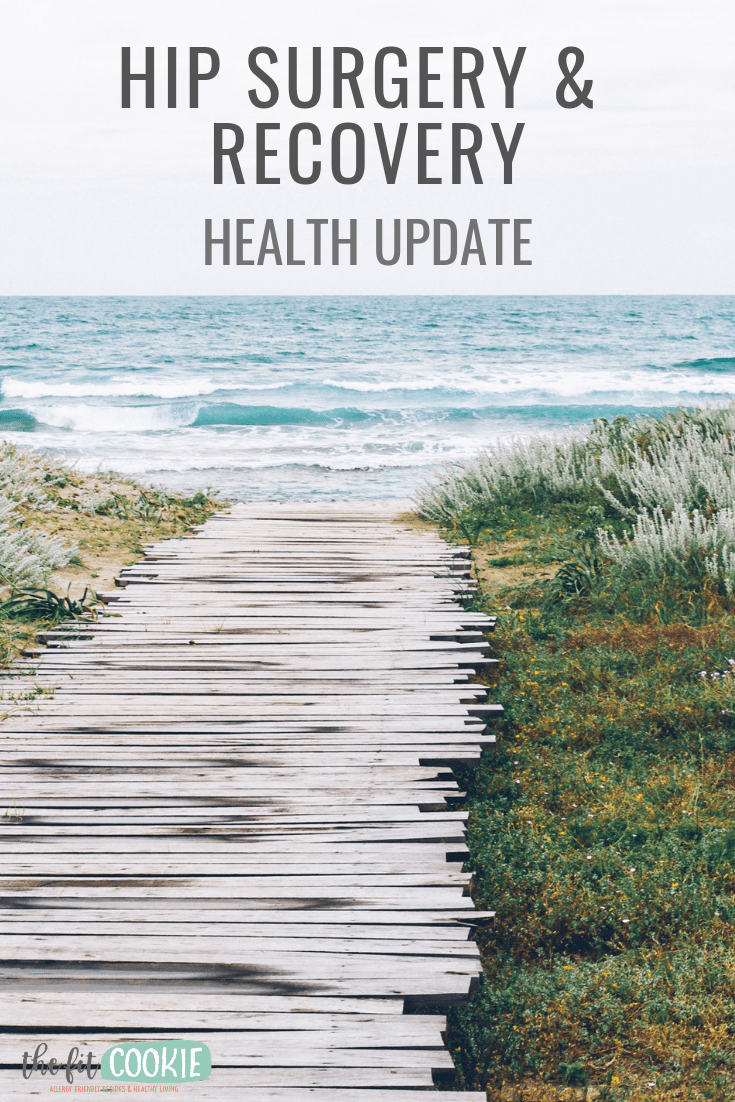 Femoral retroversion diagnosis and my chronic leg problems
Back when I saw my doctor in January almost 3 months ago, he mentioned that I had femoral retroversion, a fancy way of saying that I my femurs rotate outwardly. My case is probably more bone deformity than muscle imbalance since they said it was something that I would have to live with for the rest of my life. Bummer.
So now the answer to all my leg issues was finally explained. For years, I couldn't figure out why I kept having multiple issues with my legs and hips, and this explains it all. My doctor said it was all connected: the retroversion, FAI, IT band problems, and knee bursitis.
One of the ways orthopedists can treat femoral retroversion is by femoral osteotomy, an extensive surgery in which the femur is cut in half, rotated, and pins and rods are added. My doctor felt that was too extreme a treatment for me (and I agree!), so we're going to address issues as they arise.
Where do I go from here?
Moving forward, I'm not sure what to expect this year or the coming years with my body or my exercise. I'm going to get my right knee looked at next month since I've had 5+ years of ongoing IT band problems with it and more than likely bursitis as well.
I'd like to get back to running again, but will probably have to make sure that I keep my distances lower. Not sure with how my legs are built they can handle long distances and many miles. I had always wanted to run a half marathon, but not sure if that is feasible at this point with my chronic leg issues.
My weight lifting will have to change a bit to focus on smaller muscle groups to make sure that my body is staying balanced. More hip exercises and fewer squats and lunges. More isolation exercises for my legs and fewer compound exercises. Lots of core exercise and hip stretches.
Overall, I feel good about my decision to stop teaching group fitness and stop personal training to just focus on The Fit Cookie and blog more. I sit more (not a good thing), but I'm not forcing my body into painful fitness routines because I have a class schedule to keep. My fitness is my own right now, and I really enjoy that!
I'll try to continue to post more updates on my hip repair healing. I've been posting a lot more of that on my Instagram account lately, so if you're not following me there, let's connect!
My labral repair hip surgery recovery timeline:
I'll keep updating this as I continue to recover from surgery! Remember: each surgical recovery journey is different, my recovery may not look like yours, and vise versa.
Week 1: pain has improved a ton and I'm getting around well with crutches. Just taking Tylenol for pain.
Week 2-3: Got off crutches at about 2-1/2 weeks, and also started physical therapy the same week! Gentle stretching in physical therapy to start, with some easy exercises. I'm walking funny right now since I can't extend my left leg back as far as normal when I walk, but this will improve with gentle stretching.
Week 4: physical therapy 2-3 times weekly, my hip mobility and discomfort is improving each day. My muscles are very tight, so the gentle stretching they have me do is helping tremendously. I've been back to normal housework for the past couple weeks, just no lifting more than 20 pounds and I have some minor restrictions with hip movements.
Week 5: I was able to do the recumbent bike in physical therapy this week and was released to start doing the recumbent bike and light walking exercise at the gym!! So I can now start working out as tolerated and within reason, starting out small and gradually building up. My incisions are almost completely healed (just a few tiny bits of scab left), and once those scabs are completely gone, I can do water walking and pool workouts.
Week 6: adding more movements to my physical therapy routine, like small squats, side walking (without a band at first), and can walk for up to a mile at a time to keep the impact off my hip (don't want too much pounding at first).
Week 7-11: continuing to add more exercises at physical therapy, like leg press machine, retro treadmill (backward walking, etc.), light hopping ladder drills, unlimited walking, etc.
Week 12: followed up with the hip specialist again for my 3 month/12 week checkup, and he said I'm cleared for all activity except for running. He said I needed to wait another 4 weeks to begin running to help prevent hip flexor tendinitis. Since I scheduled my IT band release surgery for 6-1/2 weeks after my 12-week hip follow up, I decided not to run again until my knee heals up from my knee surgery. My hip will be 100% by then!
Week 15: hip is doing great! I have some tightness that will take a while to continue to resolve, but if I continue to stay active and stretch, it will improve. At my 12 week appointment, my doctor told me that I needed to continue to stay active and exercise to keep scar tissue from forming in my hip joint as the year goes on. So I need to keep moving!
4-1/2 months: I had my knee surgery about 4-1/2 months after my hip surgery, and the sitting from my knee surgery has made my hip tight! As my knee heals, I have to make sure that I'm adequately stretching my hip flexor on my surgery side to keep the scar tissue from re-forming in my hip and under the incisions. So it's important for me to make sure that I'm continuing to stretch and stay active!
5-1/2 months: my IT band on the surgical side after my hip surgery has gotten tight from slight neglect after my knee surgery, so we're going to work on that in physical therapy. I also need to start foam rolling it again now that I am released to do that after my knee surgery. Let the pain/rolling commence!
1 year post surgery
I just passed the 1 year mark after my surgery 4 days ago (March 7th), yay!
So far things have been doing great, I'm back to running as my knee allows (I've struggled with getting my kneecap in the right place after my knee surgery) and have returned to my full workouts (barring anything my knee disagrees with of course).
Right now my only limitations are my bugger of a knee (different side than my hip surgery), but that has been getting better and has improved.
My hip hasn't bothered me at all running or weight lifting, but I have noticed that my surgery hip gets tighter much easier when I do glute exercises and stuff, so I have to keep working on the knots in that hip.
The aching in my hip joint if I sit too much has improved, but I'm still quite tight in my inner thigh muscles. I have some adhesions and things I need to keep working on from surgery.
Foam rolling has become my regular hobby ?But it has helped a lot, along with my percussion massager that helps me to get into some of those hard to reach places (like my hip flexors and my surgery scars) that I can't get with the foam roller.
I still don't have very good internal rotation of my surgical hip. I didn't have very good internal rotation before the surgery anyway, so it's not really something that was drastically changed.
I still have discomfort when I try to do a knee to chest stretch with that hip, so I'm not sure if that will always be there or I just need to work on improving that mobility somehow. Something I need to ask the nurse about at my surgeon's office I guess.

Sarah Jane Parker is the founder, recipe creator, and photographer behind The Fit Cookie. She's a food allergy mom and healthy living blogger based in Wyoming. Sarah is also an ACSM Certified Personal Trainer, ACE Certified Health Coach, Revolution Running certified running coach, and an ACE Certified Fitness Nutrition Specialist