Dealing with chronic IT band pain for years? I battled IT band problems for over 5 years and ended up getting IT band release surgery. Here's my recap of the surgery and my recovery so far.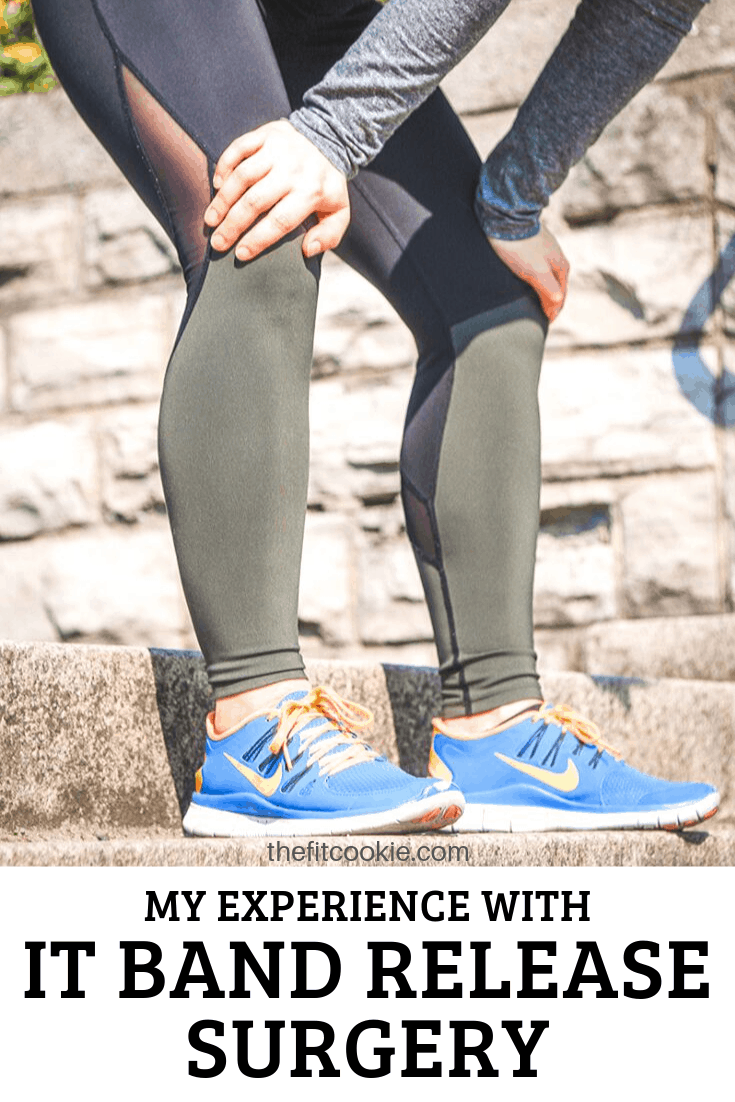 Hey friends! If you follow me on Instagram, you know that I just had another surgery last month (my 5th surgery in 2 years, and hopefully my last…).
On July 22 and I went in for an IT band release surgery and I wanted to share the surgery with you and outcomes so far. Yesterday was the close of 3 weeks post-surgery, and I'm doing well so far! Here's a recap of the surgery.

Just fix it, doc
I've shared previously on the blog about my struggle with IT band syndrome over the years. For too long, actually. It's been about 6 years since I started having IT band problems and while I had a few times where it looked like it was improving, it kept getting worse and worse.
We tried everything: physical therapy (I was a very frequent visitor there), dry needling, massage, cupping, Graston/iStim, ultrasound therapy, electro stim, targeted strength training and stretching routines, taping, and eventually last fall 2 cortisone shots from my knee surgeon.
Nothing helped for very long. Relief was only very temporary, if I got any at all.
Just like with my hysterectomy surgery, I had tried everything I could to make things better consistently for years and nothing helped, so surgery was the next step.
We had planned on doing my knee surgery last fall/winter, but I injured my hip and had to put off my knee surgery until my hip was completely healed.
I was finally ready to have surgery and FIX IT permanently. I was ready to feel better already!!
My knee surgery
Once my hip was completely healed up from my labral hip repair surgery, I was ready for the IT band release surgery. This of course meant that my summer was pretty much down the drain from 2 surgery recoveries, but the sooner I could get this fixed the better.
It had gotten to the point where I couldn't even do 10 minutes on the arc trainer/elliptical at my gym without having to stop due to knee pain. Not good.
My surgeon went ahead and did a scope inside the knee to check my meniscus (which was fine) and he found some plica in my knee on the lateral of my knee so he removed that. Plica can cause knee pain as well, so it was probably one of the culprits in my chronic knee pain.
Then he made a large incision on the outside of my knee to remove the bursa (it was very angry, inflamed, and red), and then released the IT band by making multiple small incisions in the band to loosen it.
So I ended up with 3 incisions in my knee, but the doctor closed them up with mesh and surgical glue, so they will heal up very nicely, much smaller scars than if he had used stitches.
Healing up after knee surgery
My labral hip repair surgery in March went so well and I had so little pain with that surgery that I was expecting something similar with my knee. Boy was I wrong.
My knee post-surgery wasn't excruciating or anything, but I definitely had more pain than my hip surgery and more pain than I was expecting to have. After my hip surgery went so well, I was expecting less pain. Hopefully this is my last surgery for a while (or forever, I'd be okay with that!).
The surgeon released me without crutches or a brace, so I was immediately released to walk as tolerated, and we drove 4 hours home right after I was released from the surgery center.
After surgery, I didn't take percocet or vicodin because narcotics really mess with me (Percocet makes me sick and both Vicodin and Percocet make my bowels slow…), so I made do with Tylenol and Ibuprofen, and managed pretty well with those.
If I had had a more extensive knee surgery, I'd definitely have used the vicodin. Knees are painful 🙁
I was also put on antibiotics for 5 days, but the doctor let me stop taking it after 2-1/2 days since it hurt my stomach so badly. It was a pretty aggressive antibiotic and dosage, and my stomach couldn't handle it. One day I took my afternoon and evening dose too close together, and I was up almost all night with horrible GI spasms.
That was the worst experience I've ever had with antibiotics, even worse than partially losing my sense of taste with some antibiotics I had to take in the past!
My IT Band Surgery recovery timeline
Here's my IT band release recovery timeline, please note that surgery recovery is unique to each individual and my experience may not be the same as other people's experience. This is not meant to replace medical advice, just an overview of my experience with healing from my knee surgery.
Week 1
Lots of sitting and ice the first week! I had my Ace wrap and dressing on my leg for 3 days, and also started physical therapy on day 3. We started PT so early to make sure that my IT band gets stretched out as it heals to prevent scar tissue from forming and causing tightness again.
My physical therapist recommended a cane for me to help with walking if I needed since limping can cause muscle spasms and muscle imbalances. But I worked through my walking issues by moving slowly and deliberately, and it improved.
Week 2
My knee pain and swelling is improving, and small improvements in range of motion, but my knee is still painful and has swelling in it. Right now, we're doing 3 physical therapy sessions each week. I'm walking more normal now.
My physical therapy appointments always help, we work on some exercises and mobility within ROM, and we use compression, ice, elevation, and e-stim simultaneously to get the swelling down (I usually have pretty great ROM after my PT appointments).
My knee started swelling up pretty good during week 2, so I got a lightly compressive knit sleeve from physical therapy to help keep the swelling down in my knee, and that has helped some.
I was also told not to sit too long on one position, I needed to keep changing positions and moving to keep things from getting stiff and to help move the fluid out of my knee.
Week 3
I started into week 3 with a little bit of recumbent bike during physical therapy, so that's good! I had to reach a certain degree of flexion on my knee joint before I could start using the recumbent bike.
Exactly 2 weeks out from surgery (starting into the 3rd week), I'm officially off of pain medication (which at this point was just Tylenol). My pain is pretty much gone, I just have a little bit of discomfort with swelling and some weird spasms behind my knee sometimes (probably from swelling pressing on nerves, the sleeve helps that).
I had my follow-up appointment with my surgeon on the 2 week mark (ending 2 weeks and beginning into the 3rd week) and he said my knee had more swelling than he'd like to see, so I'll be wearing a tighter compression sleeve on my knee daily (not at night) until the swelling goes down.
Week 4
Moving into week 4, the swelling is improving and the range of motion in my knee is better! The sleeve is helping quite a bit, with the swelling reduced, my knee moves and feels better. I'm also upping my icing sessions to help with swelling too.
My kneecap keeps popping since it's not sure what to do with itself yet while I'm walking, but once the swelling goes down more and the surgical sites completely heal, my kneecap will find its proper place.
At the end of week 3 going into week 4, I was able to finally remove my surgical tape/mesh. The doctor used a mesh with surgical glue on it as wound closure, and it worked great to keep my incisions together while bending my knee, but I still had an allergic reaction to the wound dressing.
My incisions look great so far, but since people can be squeamish about that stuff, you can see the photo of my knee incisions by clicking here rather than me posting the photo right in the post. 😉 They should heal up nicely!
So far I've had allergic reactions to every surgical tape that's been used after my surgeries, and it's gotten so bad a few times that I ended up with some pretty bad blisters from it. I had perfectly square shaped rashes on my knee once we removed the mesh, and the itching was crazy, but now that it's gone my allergic reaction should heal up in a week or so.
I've noticed that since I've been sitting more after my knee surgery, my hip has been getting tight again due to scar tissue trying to form again after my hip surgery 5 months ago. I have to make sure that I'm stretching my hip regularly otherwise scar tissue will try to form and get painful again!
I'll make sure to keep posting here with updates as I continue to heal!
Sarah Jane Parker is the founder, recipe creator, and photographer behind The Fit Cookie. She's a food allergy mom and healthy living blogger based in Wyoming. Sarah is also an ACSM Certified Personal Trainer, ACE Certified Health Coach, Revolution Running certified running coach, and an ACE Certified Fitness Nutrition Specialist