As some of you already know, I am not a vegan, but we have multiple food allergies in our house that make baking with eggs and dairy a no-no. This is challenging when we go to birthday parties and we want to make sure that our kids stay allergy-free when there is cake and ice cream galore. My daughter's class celebrated her birthday at school a couple weeks ago, and then we had a birthday party for my son on Monday. I needed to make a good cupcake recipe that would keep 30+ kids happy and keep my kids away from dairy and eggs.
I tried a cupcake recipe online, but the batter was too thin and they overflowed and sank in the middle – not so great looking! I was able to disguise this with frosting, but I decided to make my own recipe that worked better.
Cupcakes for my son's birthday party
Just a heads up, this recipe is not gluten-free or sugar-free! My kids can have gluten and wheat so I decided to make cupcakes that everyone (including the other children) would enjoy.If you would like a gluten-free cupcake recipe, check out these vanilla cupcakes.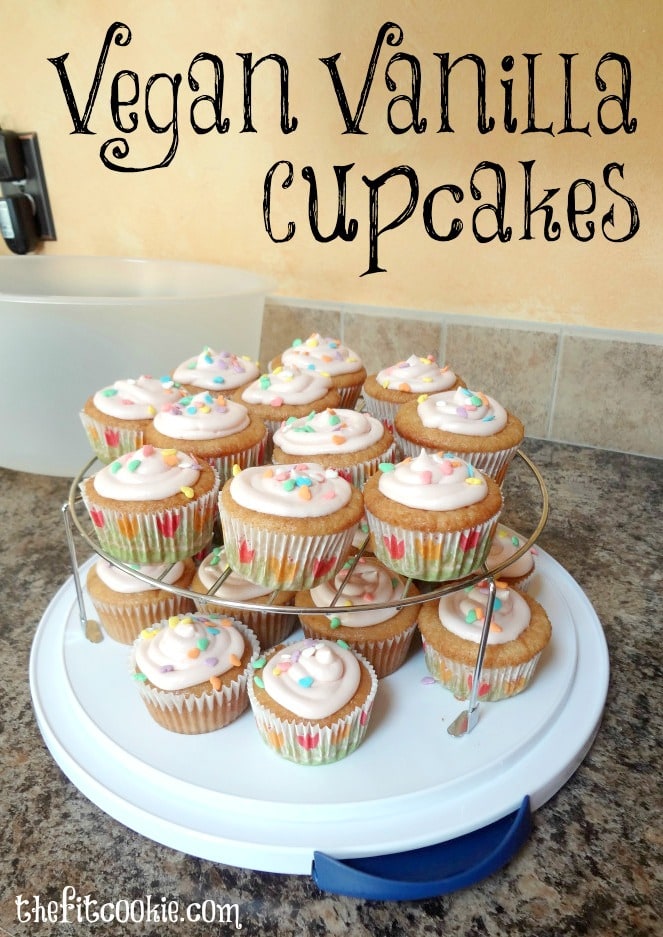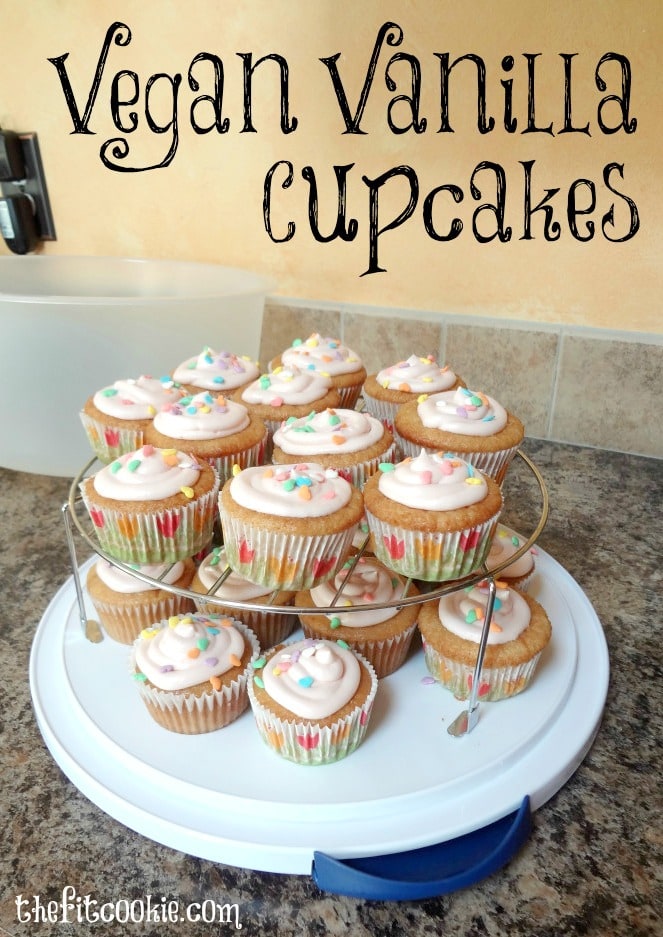 Cupcakes for my daughter's birthday party
This recipe makes 3 dozen cupcakes! You can adjust the recipe to meet your needs if you like. Since I was making cupcakes for a crowd, this was perfect. Also, to scoop the batter into the muffin pans, I used a 2-Tablespoon sized protein powder scoop and it delivered the right amount of batter so these didn't overflow. The cupcakes baked right to the edge of the paper and it made 3 dozen cupcakes – pretty handy! If you find that these are sinking in the middle a bit, simply add a bit more flour 1 Tablespoon at a time, or reduce the milk by 1 Tablespoon at a time until the batter is perfect!
Sarah Jane @ The Fit Cookie
Yields 36 cupcakes
Vegan Vanilla Cupcakes (Egg & Dairy Free)
Contains wheat, Vegan; Free of: soy, dairy, nuts, eggs
Ingredients
3-1/2 cups all-purpose flour (whisked and scooped into measuring cups)
1-1/2 cups sugar
2 Tablespoons baking powder
1/2 to 1 teaspoon salt (depending on your preference)
2 cups rice milk
1/3 cup oil
1 Tablespoon vanilla
Instructions
Preheat oven to 350 degrees F
Line muffin pan with muffin papers
In a large bowl, whisk together the flour, sugar, baking powder, and salt. Set aside
In a medium bowl, whisk together the rice milk, oil, and vanilla
Add the liquid ingredients to the dry ingredients and mix well.
Using a small measuring cup (protein powder scoops work really well), scoop the cupcake batter into the prepared muffin pan until each muffin cup is 2/3rd's full. Make sure not to over-fill the pan otherwise the cupcake batter will overflow as it bakes.
Bake the cupcakes in the pre-heated oven for 17-19 minutes or until a toothpick inserted into the center comes out clean. If you are using a stoneware pan, they may take a little bit longer to bake.
For chocolate cupcakes, reduce the flour by 1/4 cup and add 1/2 cup cocoa powder
7.6.4
19
https://thefitcookie.com/vegan-vanilla-cupcakes-egg-free-and-dairy-free/
Sarah Parker @ The Fit Cookie
Buttercream Frosting
Contains sugar, Vegan, Gluten-free; Free of: soy, dairy, nuts, eggs
Serves 36
Ingredients:
1/2 cup butter flavored palm oil (I use Spectrum)
3 cups powdered sugar
Dash salt
2 teaspoons vanilla extract
2-3 Tablespoons rice or coconut milk
Instructions:
In a medium bowl, beat the palm oil with a hand held blender until creamy

Blend in the powdered sugar, salt, vanilla, and rice milk, and cream together until well blended

Adjust the consistency of the frosting by adding more rice milk to thin it or adding more powdered sugar to make it thicker. 

For chocolate buttercream frosting, replace 1/4 cup of the powdered sugar with 1/4-1/2 cup cocoa powder, depending on how dark you want the chocolate flavor