If you have food allergies, it can be tough to find great recipes to send to school for parties. Make some of these Vegan Vanilla Cupcakes for your next birthday party or school event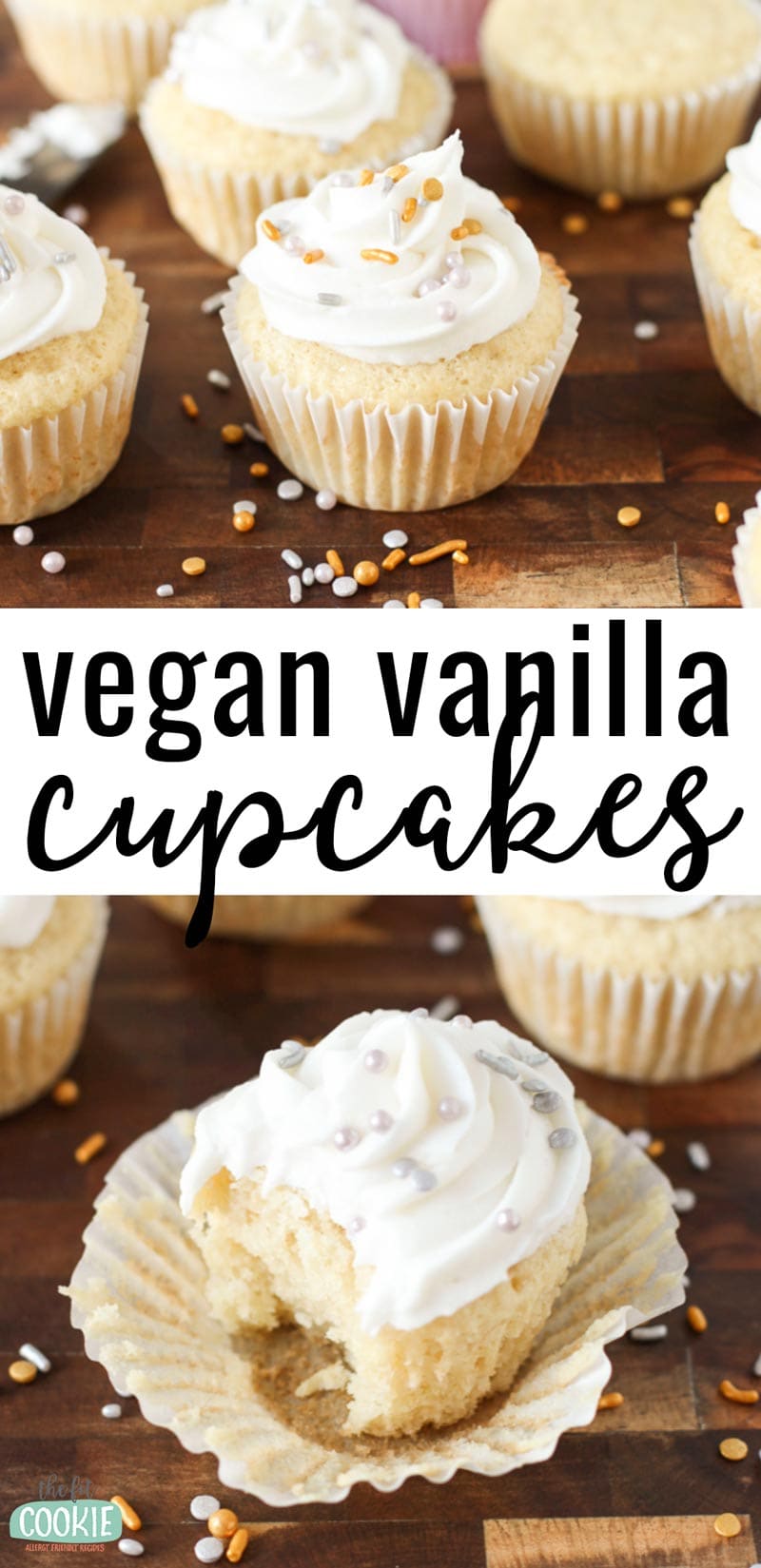 As some of you already know might know, I post a ton of vegan recipes and baked goodies, but I'm not a vegan. In our house we have multiple food allergies that mean we can't always bake with eggs and dairy, along with peanut and tree nut allergies. Every person in our home has slightly different allergies and intolerances, so baking and eating out gets tricky!
This is also quite challenging when my kids go to birthday parties when there is cake and ice cream galore. It's always hard to know what's safe to eat and what's not, so we usually end up packing them something sweet they can eat at parties.
When my daughter and son had their birthday parties in elementary school, I needed to make something that fit their allergies but something that would also keep 20+ kids happy. That's how these Vegan Vanilla Cupcakes came to be 🙂
I tried a vegan cupcake recipe online, but the batter was too thin and they overflowed and sank in the middle – not so great looking! I was able to disguise this with frosting, but I decided to make my own recipe that worked better and was easier to make.
Just a heads up, this recipe is not gluten free or sugar free! My kids can have gluten and wheat so I decided to make cupcakes that everyone (including the other children) would enjoy.
Want a gluten free cupcake recipe? Try our Gluten Free Vegan Vanilla Cupcakes, they are top 8 allergen free!
Making vegan vanilla cupcakes

This recipe makes 3 dozen cupcakes, but you can adjust the recipe to meet your needs if you need less. Since I was making cupcakes for a crowd at the time, this was perfect, but not everyone needs a bumper crop of cupcakes haha. Our recipe card has a nifty servings slider button, and I've also written the recipe for one dozen cupcakes underneath the recipe card as well.
For these dairy free cupcakes, I use a 2-Tablespoon sized protein powder scoop to scoop the protein powder into the cupcake papers and it delivered the perfect amount of batter so these didn't overflow. If you want to get fancy, you can use a batter dispenser for less mess!
The cupcakes baked right to the edge of the paper and it made 3 dozen cupcakes – pretty handy! These do not peak at the top like regular cupcakes since they don't have eggs, and they are slightly more dense in the middle, but still so moist and delicious.
These bake up great with regular cupcake papers, I haven't tried these vegan cupcakes with silicone muffin/cupcake liners yet, but imagine they'd be just like our other cupcakes: our cupcakes bake fine in silicone muffin liners, but you don't want to leave them in the silicone liners too long or they'll sweat and get soggy on the bottom.
If you find that these are sinking in the middle too much, make sure you don't overfill your muffin pan. And add about 1 Tablespoon more flour to the batter to help with sinking.
This post is originally from June 2013, and we recently updated the photos and text. Here are some of the original photos: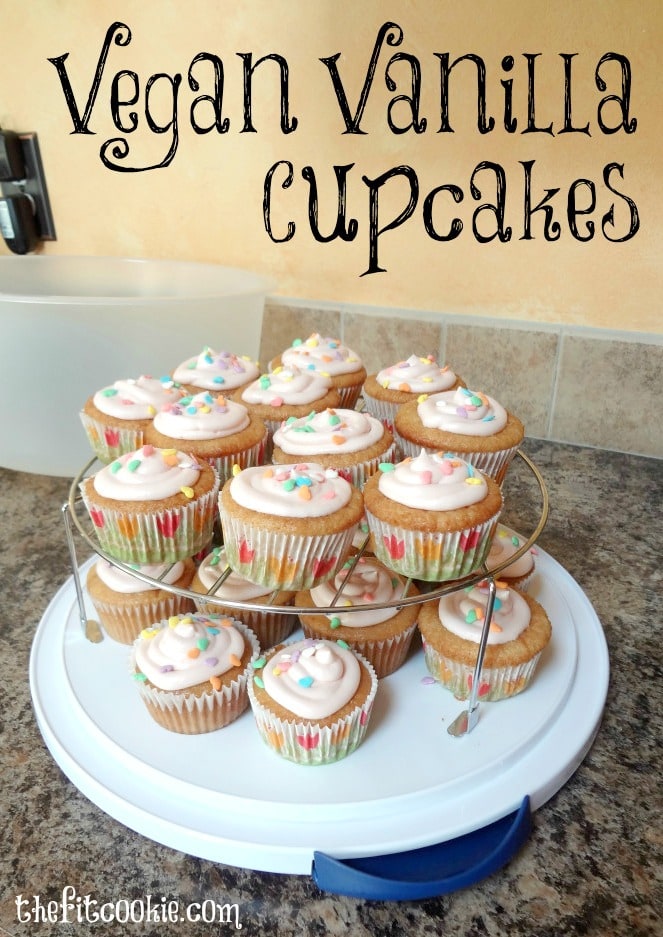 Vegan Vanilla Cupcakes (Dairy Free and Nut Free)
If you have food allergies, it can be tough to find good treats. Make some of these Vegan Vanilla Cupcakes for your next birthday party or school event!

Vegan, dairy free, nut free; Contains wheat; Free of: soy, dairy, nuts, eggs
cupcakes
Print
Pin
Rate
Instructions
Preheat oven to 350 degrees F

Line muffin pan with muffin papers

In a large bowl, whisk together the flour, sugar, baking powder, and salt. Set aside

In a medium bowl, whisk together the rice milk, oil, and vanilla

Add the liquid ingredients to the dry ingredients and mix well.

Using a small measuring cup (protein powder scoops work really well), scoop the cupcake batter into the prepared muffin pan until each muffin cup is 2/3rd's full. Make sure not to over-fill the pan otherwise the cupcake batter will overflow as it bakes.

Bake the cupcakes in the pre-heated oven for 17-19 minutes or until a toothpick inserted into the center comes out clean. If you are using a stoneware pan, they may take a little bit longer to bake.

For chocolate cupcakes, reduce the flour by 1/4 cup and add 1/2 cup cocoa powder
Nutrition
Calories:
56
kcal
|
Carbohydrates:
8
g
|
Fat:
2
g
|
Sodium:
5
mg
|
Potassium:
72
mg
|
Sugar:
3
g
|
Calcium:
31
mg
|
Iron:
0.3
mg
Did you make this recipe?
Share a photo on Instagram and tag us @TheFitCookie!
Recipe for one dozen Vegan Vanilla cupcakes:
We have a batch-size adjustment option on the recipe card, but to make it easier, here are the measurements for 1 dozen cupcakes:
1 cup + 3 Tablespoons flour
1/2 cup sugar
2 teaspoons baking powder
1/4 teaspoon salt
2/3 cup rice milk (or other non-dairy milk)
2 Tablespoons oil (canola or olive)
1 teaspoon vanilla
Instructions and bake times are the same
Making the vegan vanilla buttercream
Below is the recipe for the buttercream frosting. I love using the non-dairy butter flavored palm shortening from Spectrum, but if you can't find the butter flavored kind, you can use the regular palm shortening and add a little imitation butter flavor. That's totally optional and only if you want a dairy free buttery taste to the buttercream!
Sustainable palm shortening (solid palm oil) works the best to make this kind of buttercream frosting. It doesn't have soy in it, it's non-hydrogenated, and I use sustainable brands like Spectrum and Nutiva.
You can use non-dairy butter flavored coconut oil instead of palm shortening, but I can't guarantee the results. Coconut oil is not as shelf stable and frosting made with it separates easier. If you make it with coconut oil, don't beat it too much (it will melt if you mix it a lot), and you might have to use more powdered sugar.
Vegan Vanilla Buttercream Frosting
Contains sugar, Vegan, Gluten-free; Free of: soy, dairy, nuts, eggs
Tablespoons
Print
Pin
Rate
Instructions
In a medium bowl, beat the palm oil with a hand held blender until creamy

Blend in the powdered sugar, salt, vanilla, and rice milk, and cream together until well blended

Adjust the consistency of the frosting by adding more rice milk to thin it or adding more powdered sugar to make it thicker.

For chocolate buttercream frosting, replace 1/4 cup of the powdered sugar with 1/4-1/2 cup cocoa powder, depending on how dark you want the chocolate flavor
Notes
*If you don't want to use palm oil, you can use completely softened dairy free butter and omit imitation butter flavor. You may need to add a bit more powdered sugar to get the stiffness/structure in the frosting that you prefer.
Nutrition
Calories:
99
kcal
|
Carbohydrates:
15
g
|
Protein:
0
g
|
Fat:
4
g
|
Saturated Fat:
2
g
|
Cholesterol:
0
mg
|
Sodium:
2
mg
|
Sugar:
14
g
|
Iron:
0
mg
Did you make this recipe?
Share a photo on Instagram and tag us @TheFitCookie!
Sarah Jane Parker is the founder, recipe creator, and photographer behind The Fit Cookie. She's a food allergy mom and healthy living blogger based in Wyoming. Sarah is also an ACSM Certified Personal Trainer, ACE Certified Health Coach, Revolution Running certified running coach, and an ACE Certified Fitness Nutrition Specialist