Do you like to live in clothing that lets you move and be active? Check out my review of the stretch Halle pants from prAna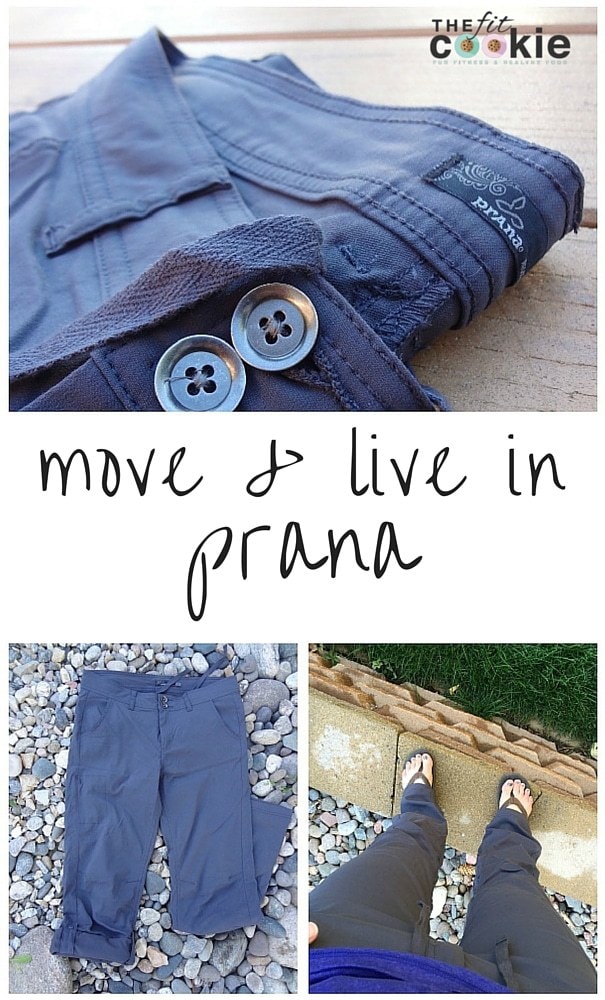 Hey friends! It's so crazy that fall is only a few weeks away. I'm usually surprised at how fast time is going lately – I think it goes faster as I get older haha 😉 Those fall season transitions make clothes shopping interesting, especially when you live in a place where weather changes fairly rapidly (like Wyoming).
It gets cold in the mornings and hot mid-day, and sometimes we get snow by the end of September…too soon!
When the seasons change, it's nice to have great looking clothes to wear that are a break from my usual jeans and hoodies but still work great for the fall weather around here. Right now I think I have found one of my favorite summer/fall pants! Fit Approach and prAna sent me a pair of their Stretch Zion Halle pants in Coal.
I got these a bit late so none of my #7daystretch Instagram challenge photos have these pants in them, but I'm doing a review and sharing a prAna discount code!
So far I love these pants! They fit perfectly and they are comfortable. I am 5′ 6″ so I got the Regular length and they are just right: not too long and not too short. The Halle pants are mid-rise and relaxed fit, so they are easy to move around in. The back flap pockets stay flat (I'm a stickler for that!), and the fabric is durable but comfortable.
Some of the awesome features of the Halle pants:
Roll-up legs with snaps
Water resistant fabric
Stretch fabric
Internal waistband drawstring
Articulated knees
Hidden zipper stash pocket
Comes in 3 lengths and 5 colors
You can bend, move, and have fun in these pants!
These pants fit true to size and have a great fit! The Halle Pants are made out of the Stretch Zion fabric from prAna and these were designed with climbers and outdoor adventurers in mind, but they are perfect for casual wear or light activity (like hiking or walking). Since they are lightweight and comfortable, these also make a great travel pant.
Sarah Jane Parker is the founder, recipe creator, and photographer behind The Fit Cookie. She's a food allergy mom and healthy living blogger based in Wyoming. Sarah is also an ACSM Certified Personal Trainer, ACE Certified Health Coach, Revolution Running certified running coach, and an ACE Certified Fitness Nutrition Specialist