If you love tropical flavors, you'll love our delicious and fruity soursop lemonade (or guanabana lemonade)! This is amazing over ice for hot summer days, and would taste fantastic mixed with our guava lemonade recipe.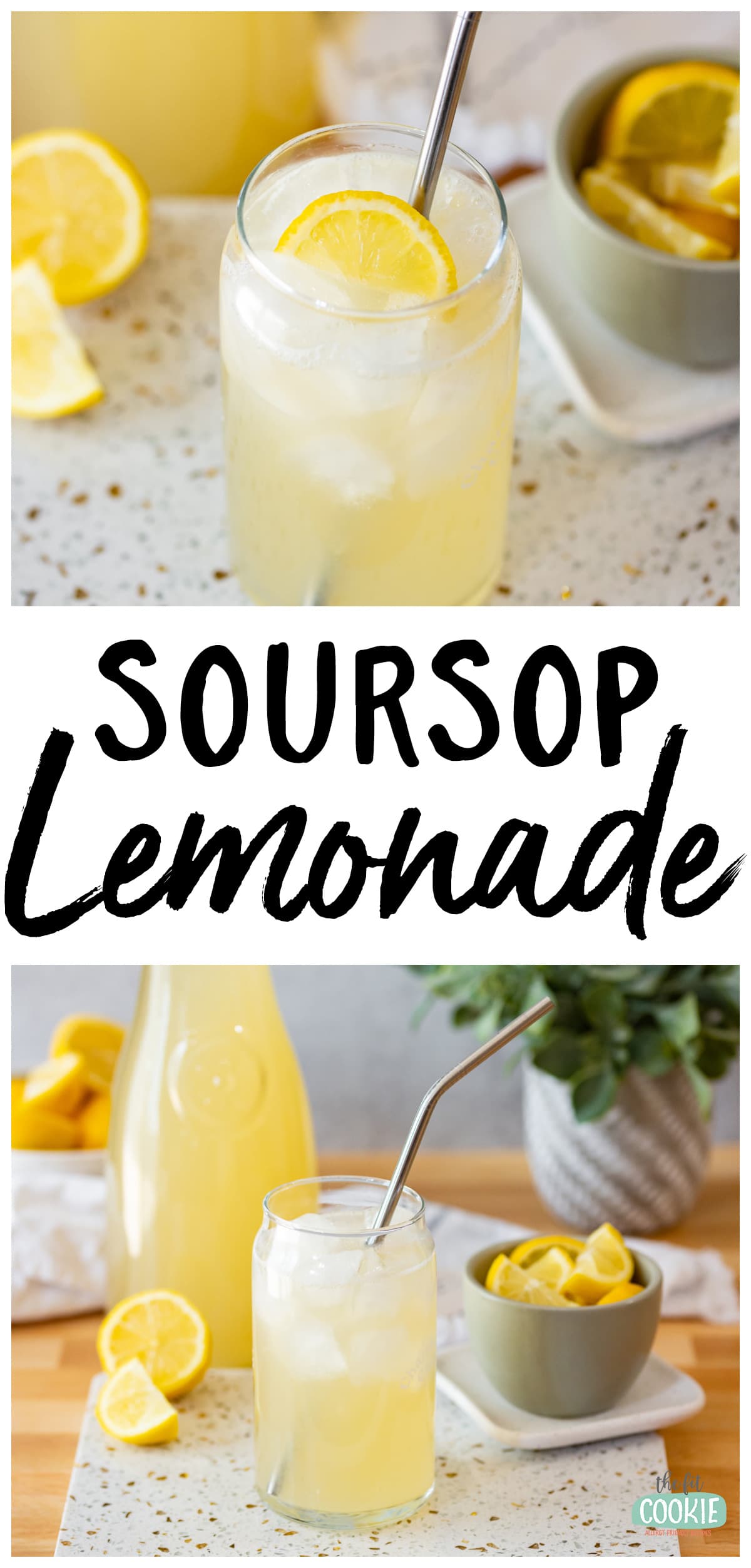 I am a huge fan of trying new foods and expanding our food horizons (when our food allergies allow it), so when I saw a brand new soursop juice on the shelf at our local store, I jumped at the chance to try it. I had seen videos of soursop fruit before and wanted to try it, but couldn't get it fresh without spending an arm and a leg, so the juice was the next best thing.
And it did not disappoint!
As soon as I tasted it, I started thinking of all the different recipes I could make with it, including this soursop lemonade. So brace yourselves, you're in for several recipes made with soursop/guanabana! We went on a recipe testing frenzy with this, and no one in my house is complaining though since it is that good.
Our lemonade is perfectly sweet and tart with delicious mellow lemon flavors from the lemon oils in the peel. This lemonade would also taste pretty amazing mixed with our guava lemonade for a blend of tropical flavors!
Food allergy notes:
What is soursop/guanabana?
We're going to nerd out a bit on the soursop fruit, if this isn't what you're here for, keep scrolling for the recipe!
Soursop is a tropical fruit that is native to North America, South America, Africa, and the Caribbean, and also grows in tropical areas of China and Southeast Asia. In the US, soursop has been successfully grown in Florida, online tropical fruit sellers like Miami Fruit sell soursop grown in south Florida that you can order online (they tend to be pretty expensive unfortunately).
Soursop has quite a few other names, sometimes depending on location, including guanabana, graviola, prickly custard apple, and paw paw. I had seen conflicting info online that it is the same thing as a cherimoya/custard apple/sugar apple, then other sources saying it's not the same thing. Looking at the photos, they didn't look the same, and since I wasn't sure, I had to look into it more.
Digging a bit deeper, the cherimoya and the soursop both belong to the Annona genus/family that has over 170 different species. Each are different but they have similarities since they are in the same family (cousins so to speak). Here are common varieties of Annona:
Soursop, Annona muricata
Cherimoya, Annona cherimola
Custard apple/sugar apple/sweetsop, Annona squamosa
Atemoya, Annona squamosa × cherimola (cross between cherimoya and sugar apple)
Even though these are all different fruits, some of their common names get interchanged with each other in different regions, which explains why I saw conflicting info online about the different names.
While soursop seeds are toxic and there is mixed safety info on consuming the leaves in tea, the soursop fruit itself is safe to eat. It is high in vitamin C, fiber, and polyphenols like quercetin.
Unfortunately I haven't haven't been able to enjoy a fresh soursop fruit myself, the tropical fruit boxes are so expensive. But the Nilo 100% soursop juice tastes to me like a tropical gummy bear with floral and sweet pineapple notes.
It's quite sweet, slightly tart, and flavorful. I could say that the flavor is like a mix of guava, mango, and pineapple, but it has its own unique flavor and that description doesn't really do it justice.
How to make soursop lemonade
If you've followed us for a while, you know that one of my favorite ways to make lemonade is cooking the lemon juice and sugar with some slices of lemon for a nice addition of lemon oils from the rind that give it a delicious mellow lemon flavor to counterbalance the tart lemon juice.
The process for this recipe is the same as our other guava lemonade and raspberry lemonade, except we don't have to process our own fruit for this one. Here are the steps for this recipe (the full recipe card is a the end of the post):
Add the lemon juice, sugar, water, and lemon slices to a 2 quart saucepan and bring to a simmer over medium heat, stirring occasionally.
Once it starts to simmer, lower the heat slightly to medium-low heat and simmer for 12-15 minutes. This is essentially creating a lemonade concentrate.
Fill a 2-quart pitcher halfway with ice cubes (1 quart of ice), choose a pitcher that is heat resistant (sturdy glass is great).
Remove the lemon slices from the lemonade concentrate and pour the concentrate over the ice in the pitcher (you don't have to worry about cooling this down before pouring it over the ice).
Stir in the soursop juice, then fill the rest of the pitcher with cold water to the 2-quart line to make 2 full quarts of lemonade.
Serve immediately or chill for later. The soursop pulp will settle so make sure to stir this again right before serving.
The Nilo soursop juice is pretty sweet to me so I brought down the amount of sugar in this lemonade recipe vs the guava lemonade. But if you prefer more sweet and less tart lemonade, or if your soursop juice is more tart, you can use the full 1 1/4 cup sugar in the lemonade rather than the 1 cup + 1 Tablespoon we use in this recipe.
This lemonade is seriously amazing. Out of the several we have posted already, I think this is my favorite flavor so far. They are all so good, but this one is the best if you love tropical flavors (our guava flavor is a very close second!).
This tastes delicious with a little bit of tequila added, we served some at a family gathering and it was a big hit. We also posted a recipe for soursop margaritas that are pretty amazing as well!
Where to find soursop juice
If you have access to fresh soursop, you can make your own juice at home. But if you're like me and can't get it fresh guanabana near you, there are several different brands of soursop/guanabana juice on the market.
I'm not sure what other brands are like, but I used the Nilo brand of soursop juice for this lemonade. It's the one our local Walmart is now carrying and it is 100% juice with pulp, it has no added sugar, no preservatives, and is not from concentrate.
You can buy soursop juice in local Hispanic markets, Asian grocery stores, and some big box grocery stores may carry it (like our local Walmart has it in the juice aisle). Or you can order it from online retailers like Amazon. Make sure to look for 100% juice, many juice cocktails or nectars will be a little bit of actual juice mixed with sugar, water, and flavorings.
Soursop (Guanabana) Lemonade
If you love tropical flavors, you'll love our delicious and fruity soursop lemonade (or guanabana lemonade)! This is amazing over ice for hot summer days, and would taste fantastic mixed with our guava lemonade recipe.
Makes 2 quarts (64 ounces) of lemonade
Top 9 allergen free
Print
Pin
Rate
Instructions
Juice your lemons and strain out the seeds to make 1 ¼ cups fresh lemon juice. You'll need about 5-7 lemons depending on their size to get that amount of fresh juice.

Add the lemon juice, sugar, water, and the lemon slices to a 2-quart saucepan and bring to a simmer. Simmer over medium-low heat until the sugar is dissolved and the lemon slices start to turn translucent (about 12-15 minutes). This creates a lemonade concentrate.

Don't skip the lemon slices in the lemon/sugar mixture! The rind will not make this lemonade bitter but contributes lemon oil which adds wonderful mellow lemon flavor to this lemonade.

Once the lemonade concentrate has cooked, remove the lemon slices and discard.

Add 4 cups (1 quart) of ice to a heat resistant 2 quart pitcher. Pour the lemonade concentrate over the ice, you don't have to wait for it to cool down first, pour it over the ice while it's hot and stir to combine.

Add the soursop juice to the pitcher, stir to combine.

Add enough cold water to top the pitcher off to a full 2 quarts of lemonade.

Serve immediately with ice or refrigerate for later.
Notes
*You can adjust the amount of sugar to your tastes and use less if you want a more tart lemonade. 
Nutrition
Serving:
8
fluid ounces
|
Calories:
137
kcal
|
Carbohydrates:
35
g
|
Protein:
0.2
g
|
Fat:
0.1
g
|
Saturated Fat:
0.02
g
|
Polyunsaturated Fat:
0.01
g
|
Monounsaturated Fat:
0.004
g
|
Sodium:
28
mg
|
Potassium:
137
mg
|
Fiber:
0.3
g
|
Sugar:
32
g
|
Vitamin A:
4
IU
|
Vitamin C:
27
mg
|
Calcium:
17
mg
|
Iron:
0.4
mg
Did you make this recipe?
Share a photo on Instagram and tag us @TheFitCookie!
Sarah Jane Parker is the founder, recipe creator, and photographer behind The Fit Cookie. She's a food allergy mom and healthy living blogger based in Wyoming. Sarah is also an ACSM Certified Personal Trainer, ACE Certified Health Coach, Revolution Running certified running coach, and an ACE Certified Fitness Nutrition Specialist