The Fit Life: News and New things #6. Check out the fun stuff I have been trying lately: Yuni Beauty, Hammer Nutrition, Tempt Hemp Yogurt, Avitae, and more!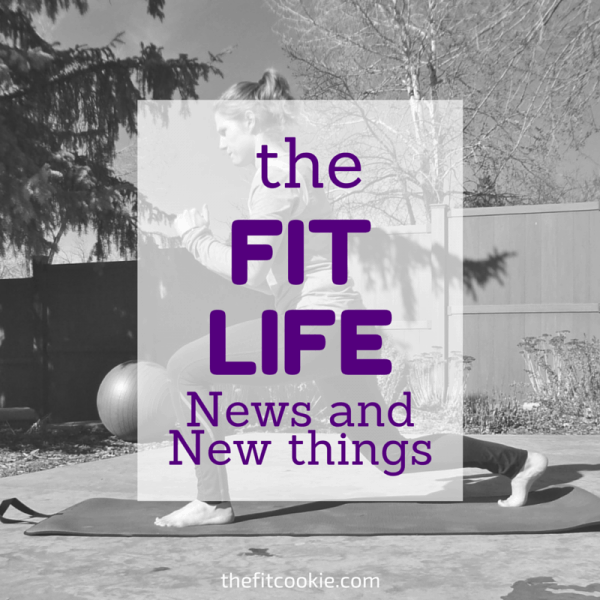 Hi friends! Time for another roundup of new things I'm doing and trying these days. Here is my 6th installment of The Fit Life: News and New Things. It's always fun to do these posts!
First off, I have some super exciting news: tomorrow I am heading to the NOW Foods headquarters in Illinois to meet up with a group of 11 other FitFluential Ambassador ladies for a fun influencer immersion event! Our group will be having dinner (excited to meet everyone!), taking a fitness class, touring the NOW Foods facility, watching a cooking demo, and participating in an oil tasting. I am so honored to have been chosen to participate!
You can follow all of the bloggers on our trip with the hashtag #NOWGetFit. Check out the FitFluential blog post about the trip and meet some of the other amazing bloggers who will be there. I will post about my trip in early May, so stay tuned!
I also participated in the Fabulous Fit Gear Swap hosted by Renee at Bendiful Blog for April and had fun getting to know some other fun fitness ladies and exchanging cute gear. I would definitely like to do this again! I have done a couple other blogger swaps before and they are always lots of fun. This particular fitness gear swap is open to all fitness enthusiasts, not just fitness bloggers, so feel free to sign up if you like!
I was actually paired with 2 ladies for this swap: Annmarie from Fit Foodie Mama and Joanna. Not sure how I got 2 partners, but it was double the fun 😉
Here's what I got from Annmarie: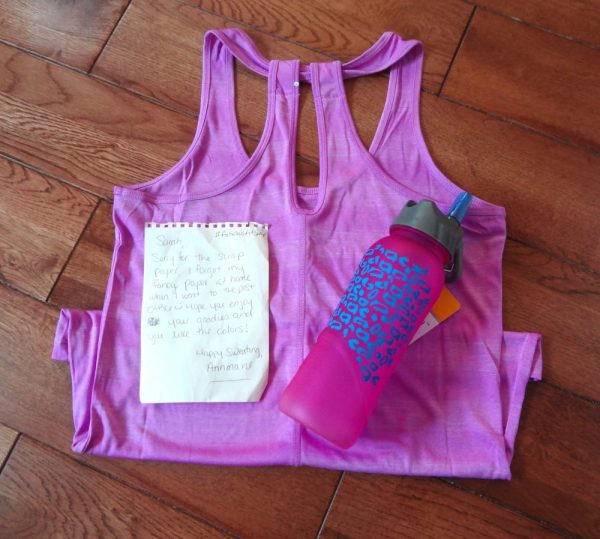 A cute and light tank (I'm showing off the back of it) and a water bottle! If you want to see what I sent Annmarie, check out her Fabulous Fit Gear Swap blog post
Here's what I got from Joanna:
Can't wait to try the nakd bars and I love rooibos tea 🙂
I ordered some stuff from Hammer Nutrition (p.s. that's a referral link) and I think I love them! It was my first order from them so they gave me a bunch of free goodies, very cool. Plus, they are based in Montana, my home state and neighboring state to Wyoming, so I guess I'm a little biased anyway 😉
The gels and drinks are very low sugar compared to other brands (they only have 2 grams sugar per gel), which is perfect for me since I'm trying to cut back on sugar even for fueling. AND they are low FODMAP: no fructose or honey, so I'm optimistic. They have a referral program so you can get a discount and I can get free fuel 😉
Hammer also sent some really good reading material on proper fueling and hydration during endurance events and training, so I will be reading through it to build my knowledge base. I love sports nutrition and I'm a science geek so it's perfect.
I also discovered that Hammer has some other really good looking supplements, like joint supplements, natural allergy relief, etc. so I want to try some of their other products. So far I have tried the Hammer Gels (raspberry is my favorite so far) and the Heed drink mix. I think I prefer the gels to the Heed drink mix: not sure I like drinking my carbs (I'm all for the electrolytes though).
Got some hemp yogurt to try and it's not too bad. I like that it has more protein than most other non-dairy yogurts. It is a bit gritty, but otherwise not too bad. Something I will buy on occasion, but it is a bit expensive to buy all the time (at least at our local health food store).
I had to give this a try! One of our local stores started carrying the Coconut Bliss brand so I saw this salted caramel and had to try it. It is a little too salty for me, which is odd considering I tend to like salt. But this was a fun flavor to try anyway. The kids could have it and liked it with chocolate syrup on it.
I found some caffeinated water to try! This is purified water with fruit essence (no sweeteners or sugars) and 90 mg of caffeine from green coffee beans (similar to Lyft that I like). This is pretty good! If you can have caffeine it's a nice change of pace from coffee in the early afternoon. Of course I still love my coffee and try not to have caffeine after 2-3 pm so I can sleep good 🙂
I am trying out some lab samples from Yuni Beauty. Some other bloggers and I are trying this out and doing surveys. The company is getting formulations put together and getting feedback from people, so they haven't launched their products yet. But I'm looking forward to seeing more of their stuff! It is great quality and natural, and has aromatherapy qualities so there is natural herbal scents.
Since I'm in the Detour Influencer program, Detour Bar sent over a free box of their new flavor of Simple Bars: Chocolate Chip Caramel. And in a new snack size! These have 10 grams of protein and 2 grams of sugars, and all-natural ingredients.
I can't eat these because I can't have dairy, but I will share these with my students or hold a quickie Instagram giveaway – I haven't decided which one to do yet!
We tried a new restaurant in Rapid City the other day: Ciao Italian Eatery. We usually have sushi when we travel over there, but since we got an amazing sushi place in Gillette we have been trying some other places. This is a great place to eat! Fresh and delicious. I still can't get over how pretty the Antipasti Salad looks (without beans and cheese of course).
Sarah Jane Parker is the founder, recipe creator, and photographer behind The Fit Cookie. She's a food allergy mom and healthy living blogger based in Wyoming. Sarah is also an ACSM Certified Personal Trainer, ACE Certified Health Coach, Revolution Running certified running coach, and an ACE Certified Fitness Nutrition Specialist